Whether you love chocolate or raspberries, you don't have to decide combine those two ingredients. Chocolate Raspberry Layer Cake Recipe is moist and filled with 3 layers of raspberry filling and chocolate frosting. This cake is super moist, layered with smoothed chocolate ganache with raspberry fill. Buttery chocolate creamy frosting coats the cake layers and top with an added layer of ganache, sprinkled with chocolate chips. Piped dollops of chocolate frosting with fresh raspberry garnishes this delicious cake.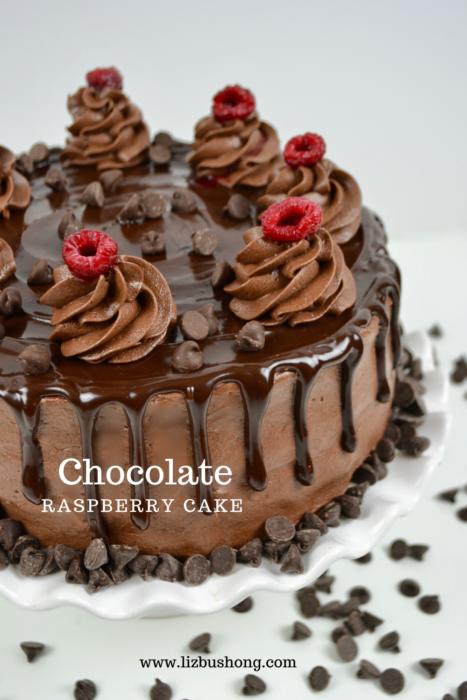 Using a chocolate cake mix instead of from scratch makes the process simplified and just as great tasting. Because I like to make things simple, I baked the two layer 8″ cake the day before and froze until ready to frost.
Tips to make this chocolate cake
I used Duncan Hines Cake Mix and package of instant chocolate pudding & pie mix along with additional ingredients to make a moist and pound like cake texture.
Use fresh or frozen raspberries for the filling. In a saucepan, cook down the berries with sugar and cornstarch until thickened, then chill until cooled. Make this early morning the day of frosting to help with assemble.
Make the chocolate frosting after making the raspberry filling. Rewhip the frosting right before frosting the cake to remove air bubbles if they should be developed during the beating. Add more cream to frosting to make it smooth and creamy to frost cake.
Cut frozen cakes in half to create 4 layers. Keep layers frozen during assembly. Will make it easier to stack and frost.
Slice into small slices for this cake is very very sweet. Delicious but very sweet.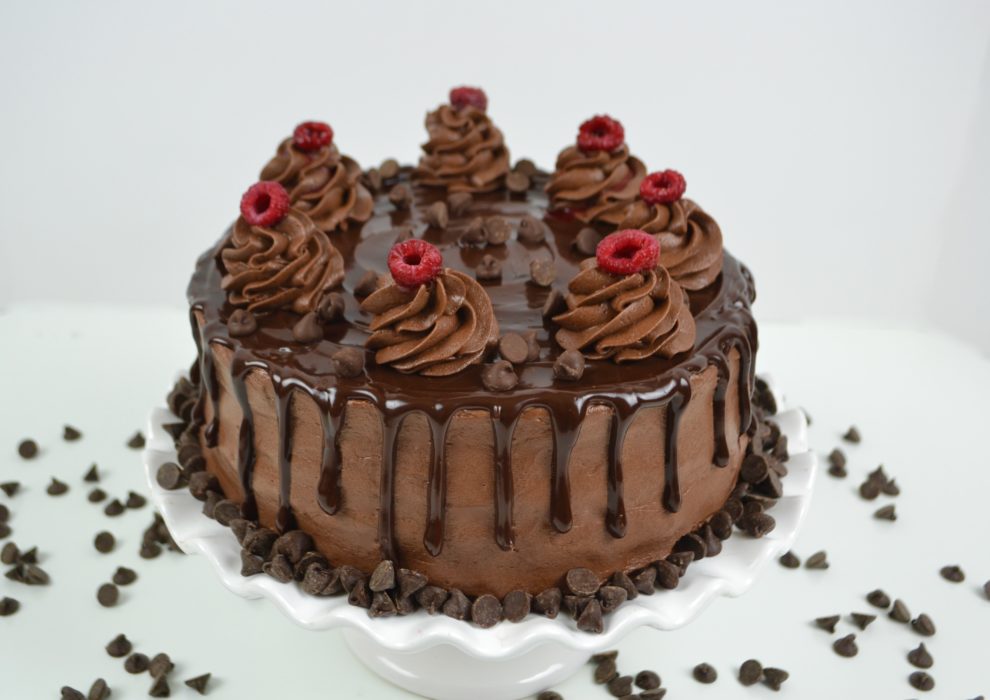 Chocolate Ganache is everywhere
Meaning inside the cake layers and on top of the cake with drips down the sides. Making ganache is simple to make. In medium bowl, heat 1/2 cup heavy whipping cream in microwave until warm, then pour over 1 cup chocolate chips. Stir until smooth and slightly thickened.
Cake Assemble- takes some time but worth it!
On cake plate, place one frozen cake layer. Fill pastry bag with wide open tip or clip end of pastry bag with no tip with chocolate frosting. Pipe the frosting around the outer edge of cake round creating a well.
Fill the inside of the well with 2 tablespoons chocolate ganache, then spoon chilled raspberry filling over the ganache. Add another cake layer and repeat the process leaving the top cake layer.
Frost entire cake with chocolate frosting. Chill cake if you can to help set the frosting.
Drip ganache down sides of cake using a squeeze bottle or spoon. Cover top of frosted cake with ganache, with off set spatula smooth the top of the cake.
Pipe frosting dollops using tip 1M and garnish with fresh single raspberry and chocolate chips if desired.
Enjoy the recipe. Let me know if you make it. Remember it is very sweet, so a small slice goes along way.
I shared this cake with my neighbors and coffee girl friends. You will love this cake! Super delicious!!!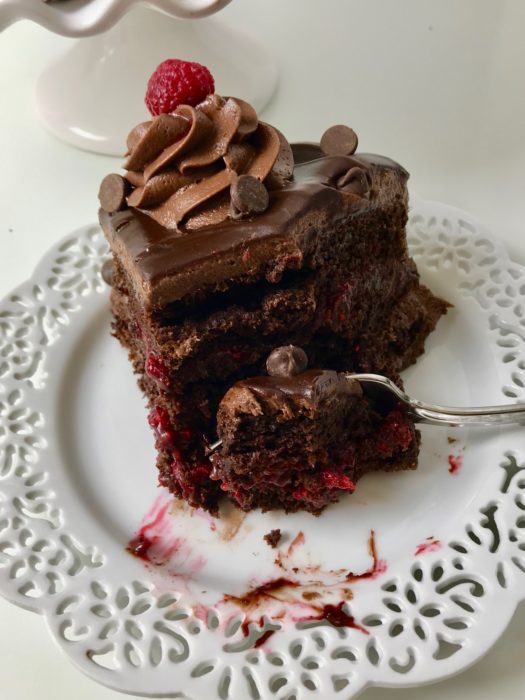 Print
Delicious Chocolate Raspberry Layer Cake Recipe
Author: Liz Bushong
Prep Time:

60 minutes + freeze time

Cook Time:

25 minutes +Assemble 60 minutes

Total Time:

2 hours

Yield:

8

-

10

servings

1

x
Category:

Dessert

Method:

Baking-Decorating

Cuisine:

American
Cake
1–15.25 ounce dark chocolate fudge cake mix- tested Duncan Hines
1–3 oz package chocolate instant pudding and pie mix-dry
1–1/3 cups water
1/2 cup vegetable oil
3 eggs
1 teaspoon vanilla
Frosting:
1 cup butter, softened
1 –1/2 cups chocolate chips, melted
4 tablespoons special dark Hershey's cocoa
5–6 cups confectioner's sugar
10–12 tablespoons half n half or heavy cream
1 teaspoon vanilla
1/2 teaspoon salt
Raspberry Filling
2 cups frozen or fresh raspberries, thawed
1/4 cup granulated sugar
1 tablespoons cornstarch
2 teaspoons water
1/2 teaspoon lemon juice- optional
Ganache
1– 1/2 cups chocolate chips + extra for garnishing if desired
3/4 cup heavy whipping cream
Garnishes: 7-15 fresh raspberries, chocolate chips
Instructions
Cake: 
Preheat oven to 350.  Prepare two 8 " round cake pans with parchment paper and cooking spray. Set aside.
In large mixing bowl, combine cake mix, pudding mix, water, oil, eggs, and vanilla. Beat 2 minutes to blend.
Divide batter in half about 2 cups per cake pan.  Pour into prepared cake pans.
Bake cake 20-25 minutes or until toothpick comes out clean. Allow to cool, remove from pans, wrap and freeze 60 minutes or overnight.
Raspberry Filling
In small saucepan, add sugar and cornstarch, water, lemon juice and berries. Stir until berries are cooked, slightly smash berries to help thicken filling. Put filling in small bowl and chill until ready to assemble cake.
Frosting: In large mixing bowl using a stand mixer with beater attachment, whip softened butter until fluffy.   Add melted chocolate and cocoa mix until combined with butter on medium speed.  Add vanilla and salt, with one cup of confectioners sugar. Whip to blend, continue adding confectioner's sugar along with cream.  Beat on medium high speed to create a smooth spreadable frosting. Set aside til ready to frost cakes. Fill pastry bag fitted with wide round tip # 808 with frosting, set aside.  You will also want to fill another pastry bag fitted with Tip # 1 M for piping the dollops on top of finished cake.
Ganache-  In microwaveable safe bowl add heavy cream, heat for 50 seconds or until cream is very warm but not boiling.  In medium mixing bowl, add chocolate chips and pour warmed cream over the chips. Stir with spatula until chocolate is melted and smooth.  Ganache will set up as it sits. Set aside til ready to assemble cake.
Assemble the Cake
Remove frozen cake from freezer, slice both cakes in half horizontally. Place one cake layer on serving platter/cake stand.
Pipe frosting creating a dam around inside outer edge of cake layer.  Fill inside the wall of frosting 2-3 tablespoons of ganache, smooth across cake top.  Spoon raspberry filling over the top of ganache in a thin layer, dividing the filling so you have enough for two additional layers.
Add another cake layer over the top of raspberry filled bottom cake.  Repeat process with ganache and filling, two more times leaving the top cake layer.
Cake is stacked.  Place in freezer if you can to firm up the cake for 30 minutes.  If this is not possible. Chill in refrigerator to firm up stacked cake.
Frost entire cake with chocolate frosting.  You may need to rewhip the frosting to a creamy state, add additional cream if necessary for smoothness. Using an off set spatula smooth top and sides of cake.  Create a crisp edge at the top of cake to help hold the ganache drips.
Place ganache in squeeze bottle or use a spoon and spoon ganache on top edge of cake and allow it drip down the sides.  Ganache needs to be slightly thickened but not too runny.  Rewarm in microwave a few seconds to get the right consistency.
Once drips are all around cakes edge, fill in the top center of cake, use off set spatula to smooth.
Pipe frosting swirls using tip # 1 M on top of ganache covered cake, about 7.  Add fresh raspberry to each swirl, sprinkle cake with chocolate chips if desired.
Refrigerate cake until ready to serve, slice into small pieces or as you wish.
Notes
Cake will stay fresh up to 3 days at room temperature in covered container.
Freezing cake really helps with frosting and will keep cake edges straight.
Be careful not to overfill the layers with ganache and filling for the cake layers will slip and slide on you while frosting if they are too full.  If they do slip… just slightly jiggle your cake plate to the side to even out cake.  🙂
Keywords: #chocolate #cake #raspberry
Other Recipes you might like to try: