Nothing taste like fall without caramel and apple cider. Why not make a caramel flavored coating in the shape of a round ball filled with natural home made apple cider spice mix? Because beverage bombs are the fun to make they are even more fun when they melt in hot apple juice. When the bombs hit the hot juice or cider, they melt beautifully into your mug. Check out how to make peanut butter mocha hot chocolate bombs here.

So what's in the Apple Cider Bomb?
Inside this caramel shell or bomb contains a home- made natural apple cider mix. The mix has brown sugar, granulated sugar, lemon zest, ground cinnamon, allspice, cloves, nutmeg, ginger and cardamon. Believe me, it tastes just like apple cider in apple juice.
To make this mix, start with combining spices in a medium bowl. Stir to blend, then fill in an air tight decorative jar with the mix. I used a small mason jar. then printed a label. This is also great for gift giving. This recipe for natural apple cider mix makes 1-1/4 cups but can be doubled or tripled.
Because this mix is so easy to make, I used this to make the apple cider bombs. I didn't want artificial apple cider mixes so I found this recipe and adapted to make my own.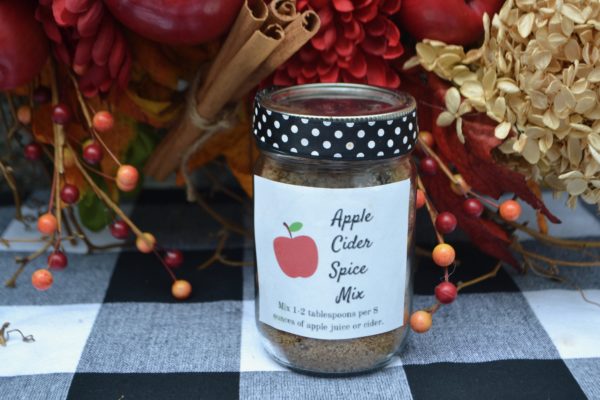 How to Make the Beverage Bombs
I really don't like using the term bombs for this beverage but really, when it reacts to hot apple juice or cider it literally pops open and melts in the liquid. So it is sooo much fun to watch. I will be honest though, they are a bit tricky to make. But with patience you can make some too.
Begin with the right tools, you will need a half round sphere silicone mold.
I have used this mold for many other desserts and beverage bombs so purchasing this will give you additional ways to use the mold. You will also need salted caramel candy melts, which I ordered from Amazon. When the melts arrived, they were somewhat melted. Being that the melts were somewhat melted by the heat of the ride in the delivery truck or who knows where it sat in a warehouse… the melts did not perform as well as I would have like. Not being able to find this salted caramel melt at Michaels or Hobby Lobby when I made these I found them online.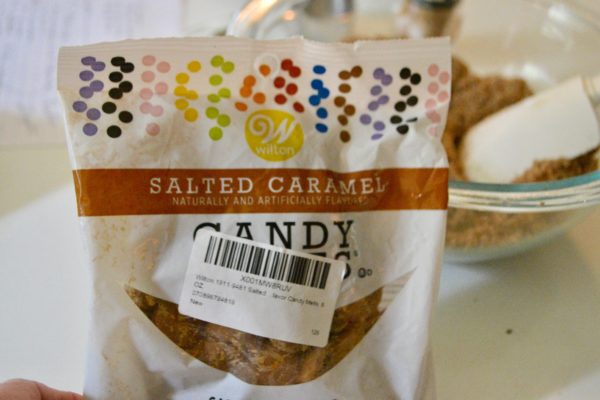 The melts melted ok, but hardened faster than normal and cracked easily. So moral of the story… don't use candy melts if they are melted in the bag. Ha Ha.
Ok, back to the bombs…
You will also need a small leaf cookie cutter if you want to make the bomb look like a caramel apple and a 1/2″ cinnamon stick.
To make the shells, melt candy melts in microwave at 15 second intervals until melts are softened then stir to melt. Be careful not to burn your candy melts at high temperatures.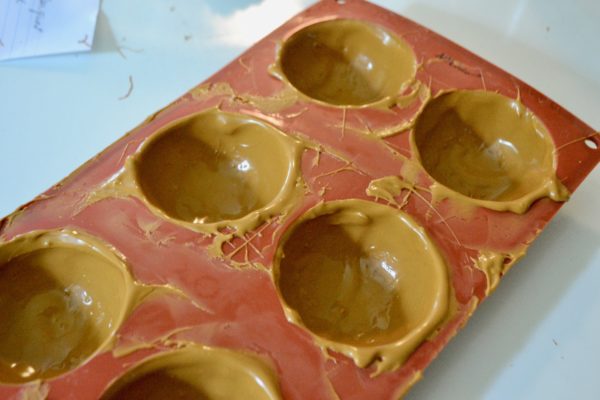 Pour a tablespoon or so of the melts into the round sphere and push candy up the sides and over the mold using a small brush or back of spoon. Place mold on a baking sheet and chill in refrigerator 10-12 minutes or until shell is hardened. The thinner the coat the faster it will set up, but too thin of coat will break when releasing from mold. If first coat is too thin add another layer of melted candy and chill again.
Remove candy from mold carefully by turning the mold upside down and gently pressing to release. Heat a skillet over med heat allowing the skillet to get warm. Wearing gloves if you have them, melt off rough edges of molded rounds in the skillet.
Once edges are slightly smoothed, place on the back of mold to fill. Fill half of the rounds with 1 tablespoon of spice mix, leaving the remaining halves empty. Return the empty shell back on warm skillet to melt slightly and quickly attach to the sphere with apple cider mix forming a round ball. This is the tricky part but take your time you can do it.
Allow the balls to set, then with melted candy drizzle over the top of the round ball bombs.
To Make the Leaf Cut Out and Attaching Cinnamon Stick for Stem
With leftover melts, melt in microwave and smooth out candy on parchment paper. Allow to harden slightly then using a small leaf cookie cutter, cut out desired shapes.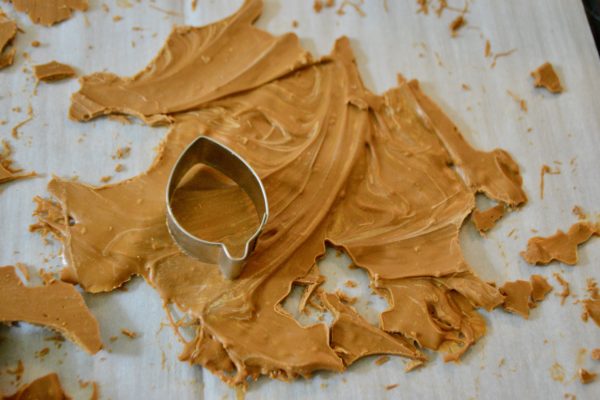 Dip one end of the cinnamon stick in melted candy and attach to the top of the bomb, creating a stem look. Be careful not to push the stick into the shell. it will stick to the top if you hold it steady for a few seconds while melt hardens.
After stick is hardened to the round bomb, dip stem end of leaf in melted candy and attach to the front of the stem. Allow the leaf to rest agains the cinnamon stick for added support. Hold in place a few seconds.
To make the apple bomb to stand, use a piece of hardened candy melt as a foot. Attach with melted candy to bottom of bomb round.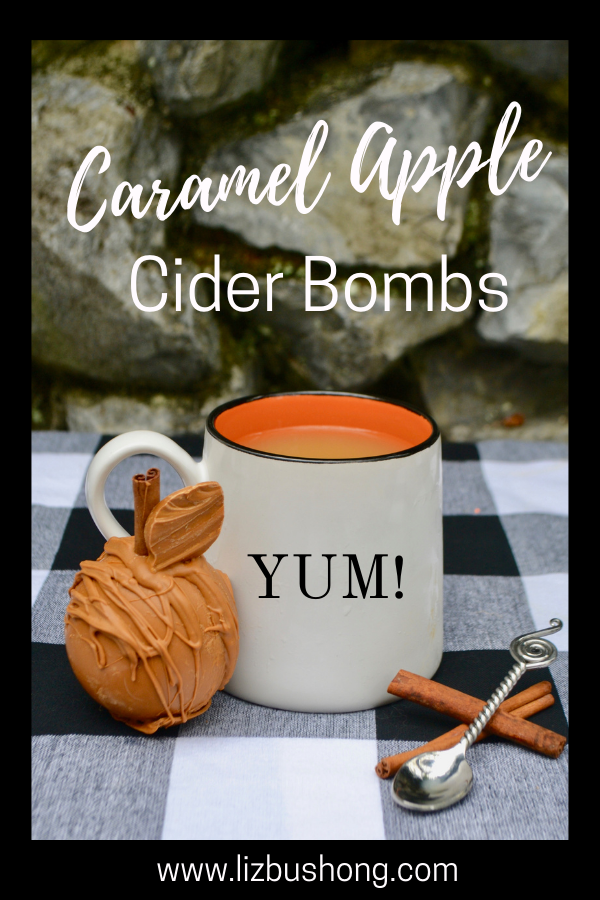 Print
DIY Caramel Apple Cider Bombs
Salted caramel candy melts form bomb shell that is filled with made from scratch apple cider mix.  Candy melt leaf and cinnamon stick is attached to the finished bomb to resemble a caramel apple.
Author: Liz Bushong
Prep Time:

20 minutes

Cook Time:

12-15 second microwave

Total Time:

35-40 minutes

Yield:

3

-

2

-1/2" round balls

1

x
Category:

Beverage

Method:

Melting and Assembly

Cuisine:

American
1 bag salted caramel candy melts- tested wilton
1 silicone half sphere mold
3– 1/2" cinnamon sticks.
24 ounces Organic or unsweetened Apple juice
Instructions
In microwave safe bowl, melt one package of candy melts at 15 second intervals in microwave.  Stir and repeat until melts are fully melted.
Place silicone mold on a small baking sheet one that will fit inside your freezer or refrigerator.
Spoon melted candy inside the mold cavities using a small pastry brush or back of spoon.  Push candy up and over the sides of the mold.  Chill 10-12 minutes in freezer or refrigerator.
Gently remove the candy from the mold, by pressing gently to release. Once released, place shell upright on the back side of the mold to hold in place while filling with dry mix.
In warm skillet, gently melt all half spheres to remove uneven edges. Turn three of the molds upright on the back side of your mold to hold in place as you fill those with dry mix.
Fill three of the half rounds with 1 tablespoon spice mix or as desired.
Return the remaining three half round spheres to the skillet and slightly melt edges then attach to filled rounds forming a ball or 'bomb'.
With remaining melted candy, spread on a parchment lined baking sheet to 1/4″ thickness. If necessary reheat melts until it is fully melted and smooth.
With a small leaf cookie cutter, cut out three leaves for the the three bombs.
Melt candy melts again, and drizzle over the bombs for decor.
Dip one end of the cut 1/2 " cinnamon stick in melted candy and attach to the top of the bomb for an apple stem, then dip stem end of candy leaf in melted candy melts and attach to the top of the bomb leaning on the stem to hold in place. Hold in place for a few seconds until it is secure on top of the rounds.
To serve:  Fill mug or 8 ounce cup with hot apple juice and drop in bomb. Stir to melt.
Be sure to remove cinnamon stick before drinking as not to swallow the stick.
Notes
Apple cider can be used, but make sure it is not too sweet for the bomb is sweet.
Keywords: Apple cider bombs
Other Ideas You Might Like to Try: