Create the best black and white pumpkin table scape using orange as the accent. Black and white plaid table cloth grounds the hand painted faux pumpkin centerpieces. Stack and arrange the painted faux pumpkins on white and black cake stands for various heights.  At each place setting white square plates, black and white checked napkins, and medium orangey red pumpkin with diamond cabinet knob stem sits pretty on orange chargers.  To make the pumpkins check out these ideas.
Pattern play on pumpkins with stripes, diamonds, and dots
Whether you choose real or faux pumpkins to paint the technique is the same, although faux pumpkins makes your works of art displayable year after year. Decorate the pumpkins in diamonds, stripes, glitter, and dots for lots of fun and excitement. Remove the stems for decorative cabinet knobs for extra bling and intrigue.  See more DIY pumpkin paining here.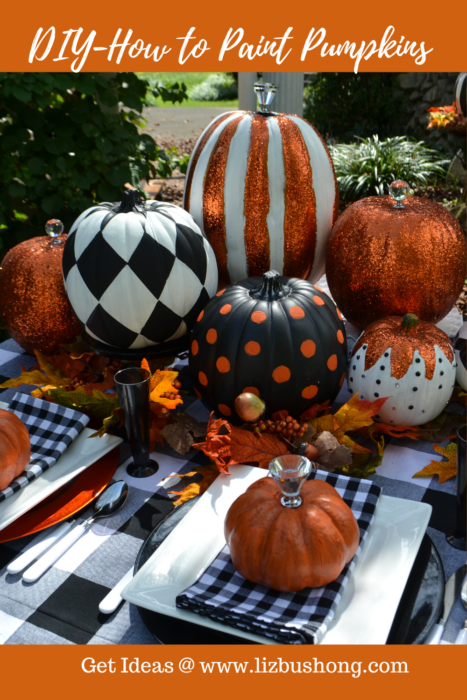 Start the table scape with black and white large plaid table cloth, then add layers of color and dinnerware to complete the look.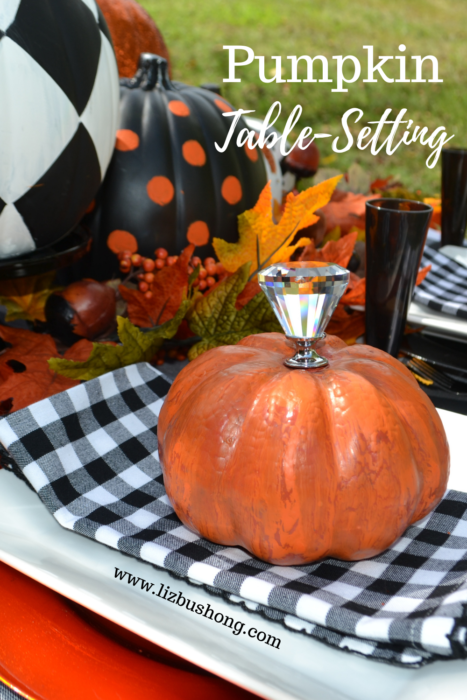 Decorate each place setting with orange charger, white dinner plates, black and white checked napkins.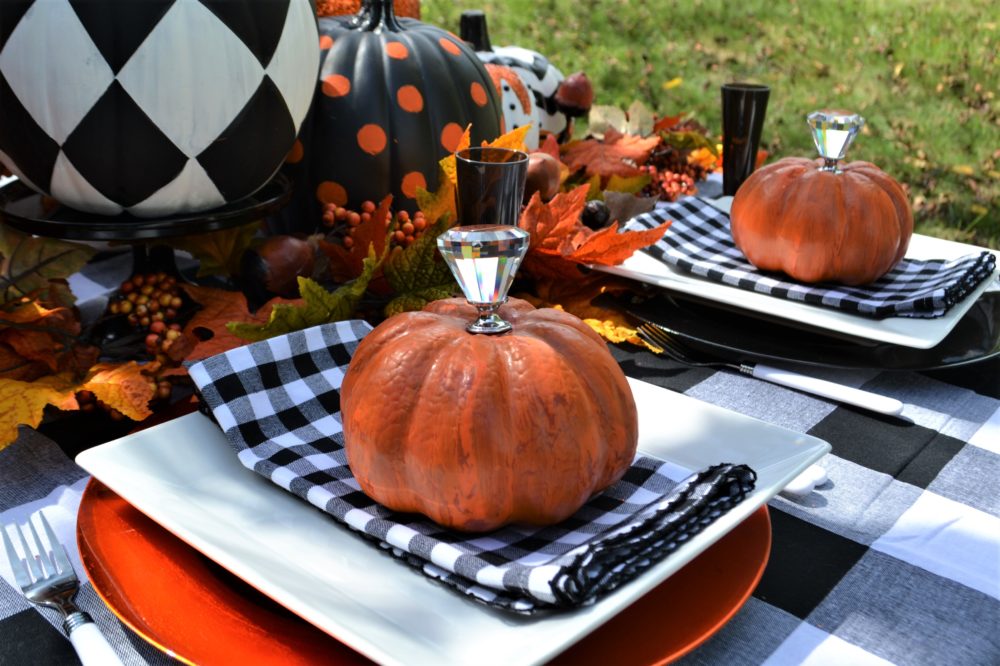 Where to set the pumpkins on the table for this table scape?
Center the pumpkins on a bed of fall leaves and berries, then arrange with large pumpkins first, medium second and smaller ones in front. This is a one sided table for 2 but if setting the table for 4 or more, you will need to make sure your pumpkins are medium to small size in variety so you can see your guests sitting across from you.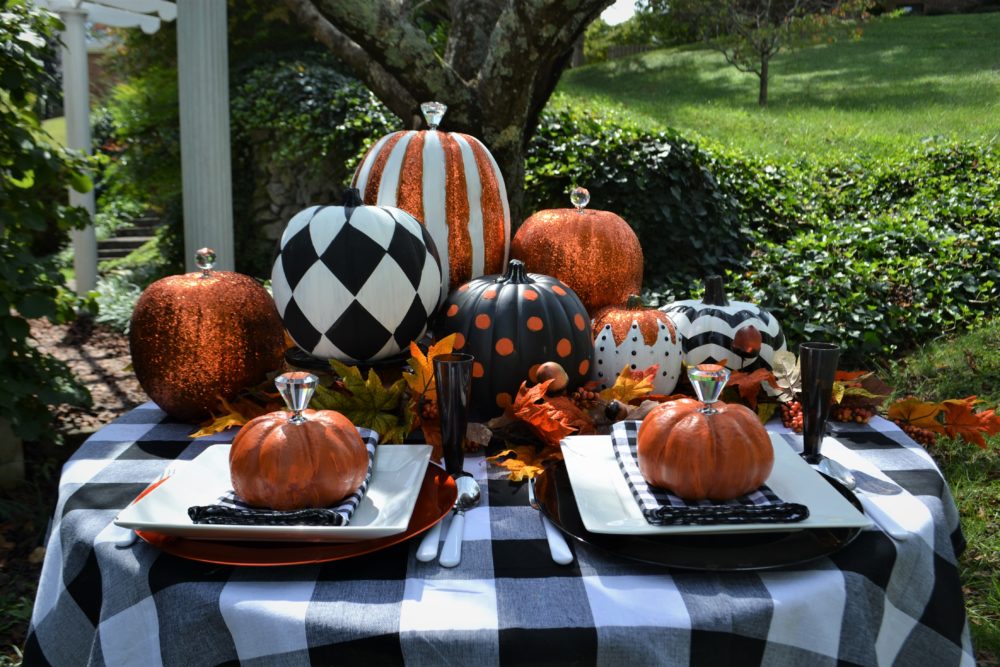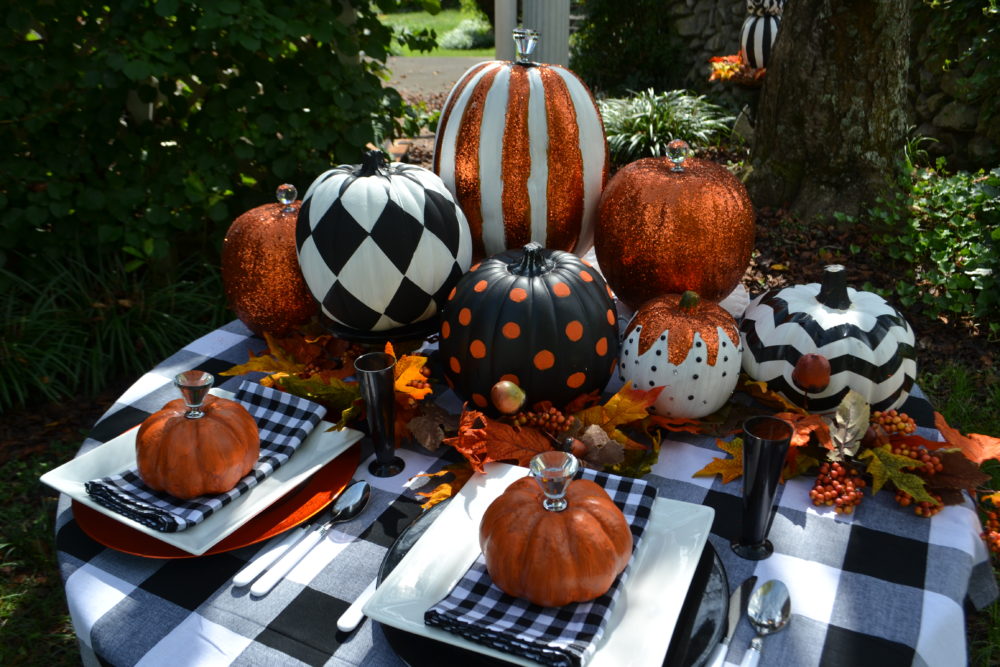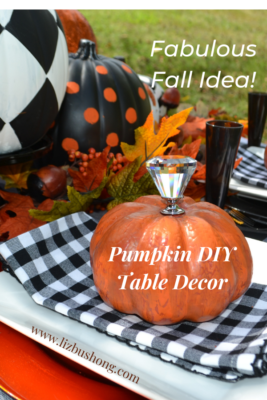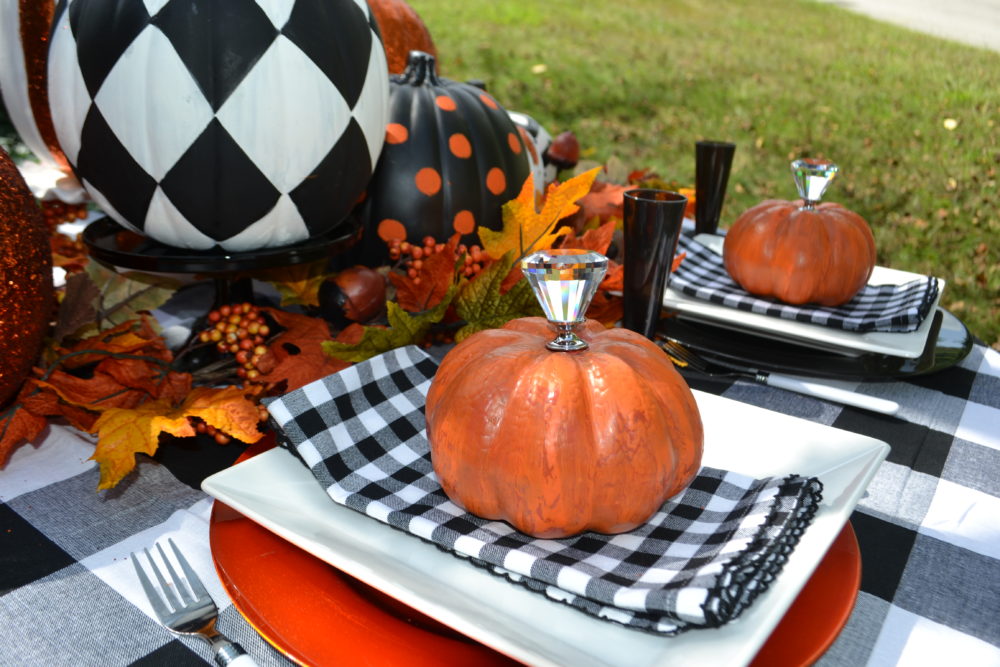 DIY how to make the patterned painted pumpkins and topiary go here.
How to paint the small pumpkin on each place setting.
The painted pumpkins with *crystal stems (above photo)  were painted red and allowed to dry. Next step: a thin layer of liquid Elmers white glue was brushed in one stroke or direction around the pumpkin, while the glue was wet, orange acrylic paint was brushed in same direction all over the pumpkin to create a crackled finish. After completely dry, coat pumpkins with liquid Elmer's Glue.
To create pumpkins in photo,  start with different sizes and shapes of faux pumpkins,  paint with acrylic paints, white, black and orange.  Create dots, glue and glitter all over, black stripes, and diamonds, use electrical tape for zig zags or paint.
Note:  If you brush the glue back and forth as you normally would paint, you will not get a good crackle.  ( Ask me how I know this? ha ha).  You can speed up the drying time to see the crackle by using a hair dryer.  So fun to watch it crack.
Check out how to create this pumpkin topiary. Paint the pumpkins, cut off large and medium stems, run a dowel through bottoms of pumpkins and more here.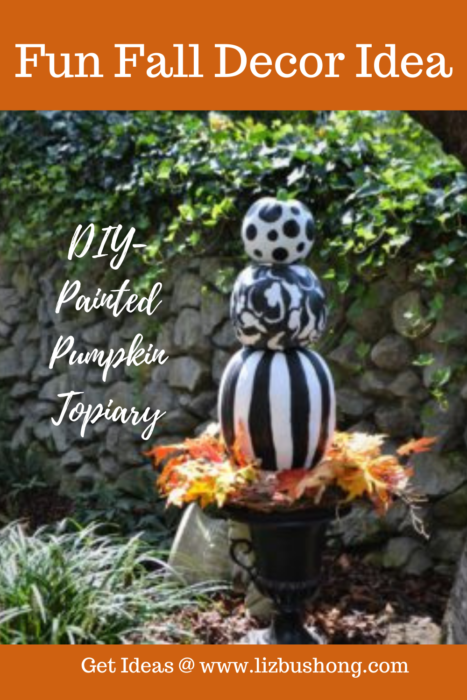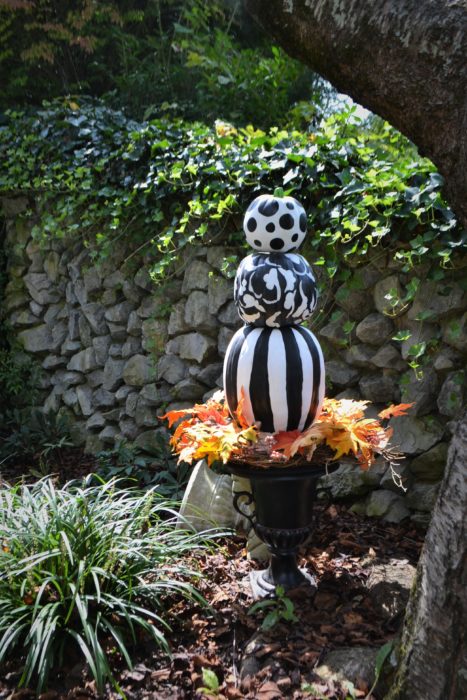 Hope you enjoy this project. Make it yours! xo Liz
Other ideas you might like to try:
How to make acorn napkin rings and wooden slab chargers 
Watch video on how to make the mason jar luminaries.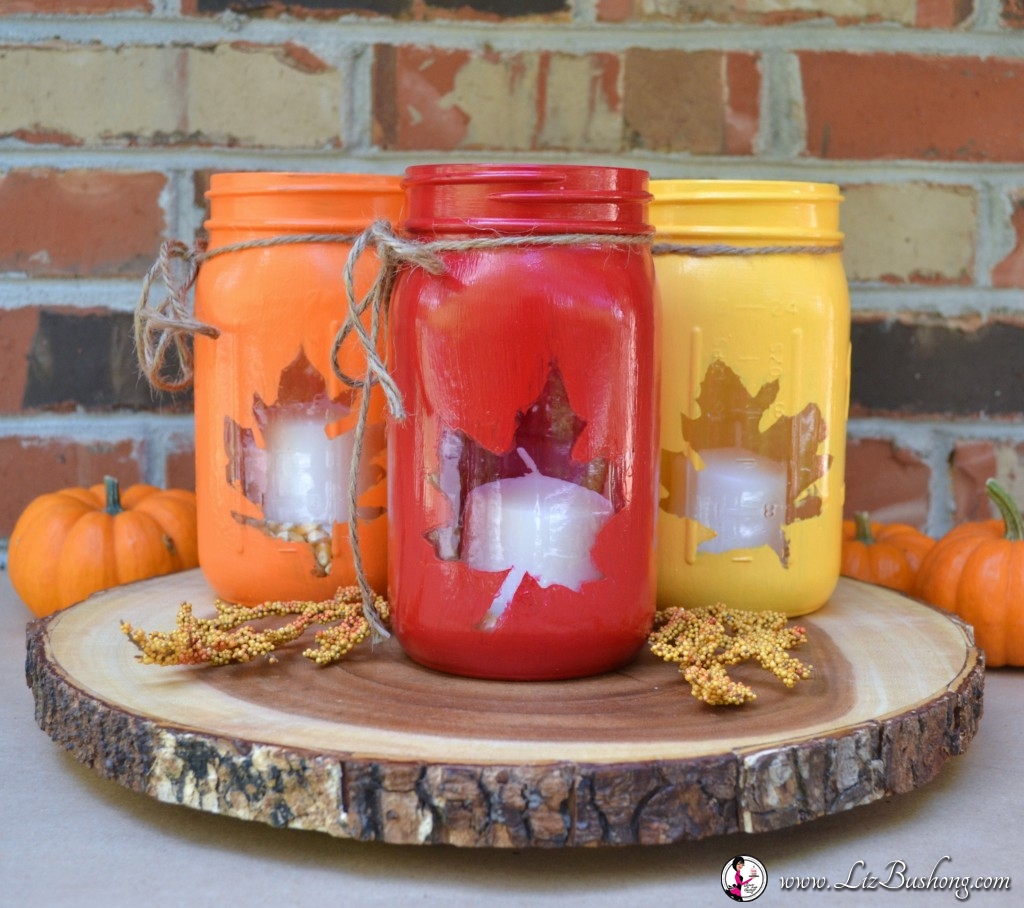 How to make caramel apples recipe