Need a quick idea for dining outside?  Check out these impromptu table decor ideas and menu for Dining Alfresco (outside). It all begins with inspiration from nature. Shades of green creates a natural color scheme for this easy to entertain table scape.  The table is set for four with butcher paper bands as a table runner.  Chalk painted names at each place setting shows guests where to set at this pretty table. They will love the fresh rhododendron leaf chargers and pocket napkin fold at each place setting.  For a simple centerpiece serve a colorful main dish "Rustic Caprese Galette"

How to Set the Table| Rhododendron Leaf Chargers
At each setting hand-crafted rhododendron leaf rounds serve as the charger for the white dinner plate and solid green napkin fold.  Eating utensils are held together in one place inside the simple folded napkin that compliments the living green charger. Assigned seating can be noted with individual names written with a chalk paint pen.
Centerpiece as the Main Course| Rustic Capresse Galette |Click on photo for recipe
As an appetizer and pretty centerpiece, Caprese Galette is served on a large food-safe log slice.  The tomato themed rustic tart provides a colorful focus to the table.
Dessert Anyone?
For Dessert try Fig Balsamic-Tomato, Strawberry & Peach Topping served over vanilla ice cream. Unique flavor as it is sweet and savory, tart and tangy.  The fig balsamic balances the tart and sweet flavors.  Click on link or photo for recipe.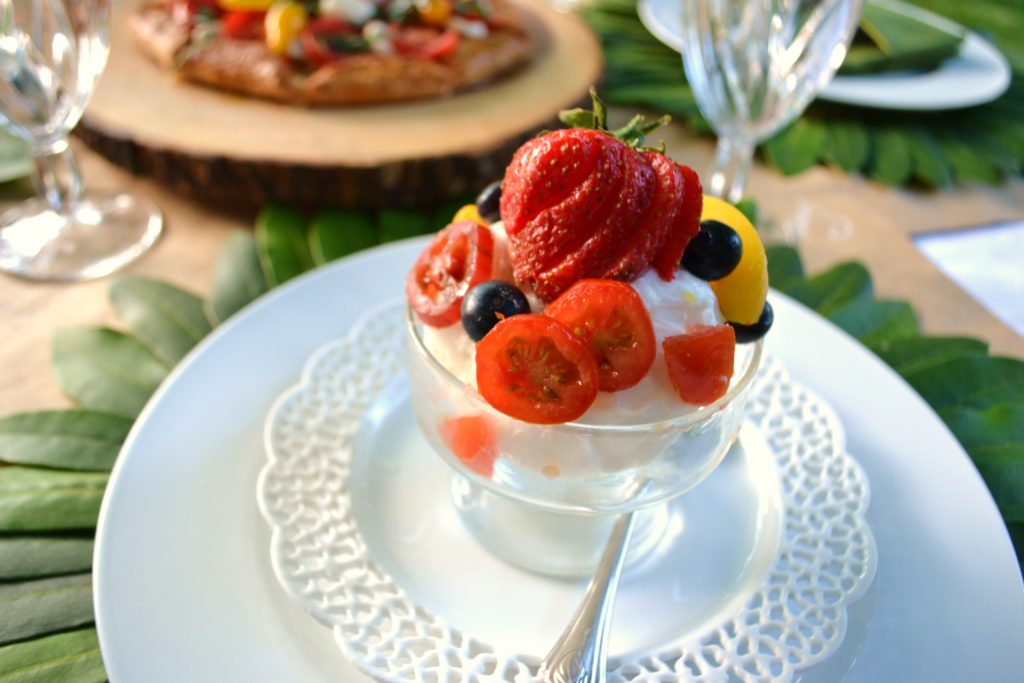 To help with the ambiance of the evening and to provide soft lighting, glass globes with green peas and tea lights are hanging on branches of a cherry tree.   As the sun sets the tree lights up like fireflies in the darkness of a summer night. This table setting is simple décor that looks to nature for inspiration.
This dinner party was featured in VIP Seen Magazine. 
Helping you Make a Statement, Make it Sassy and Make it Yours! ®
Magazine Recipes :
Fig Balsamic Tomato Berry Dessert.
Decorate:  DIY- Rhododendron Leaf Place mat
Tablescapes: Napkin Fold