Hop on over and get this recipe for Easter Bunny Butter Cookies with Royal Icing. Easy butter cookies piped with royal icing and tiny candy mold. The mold for bow makes 7 at a time using candy melts that takes moments to set up and un-mold. Fun, festive and delicious little cookies for Easter.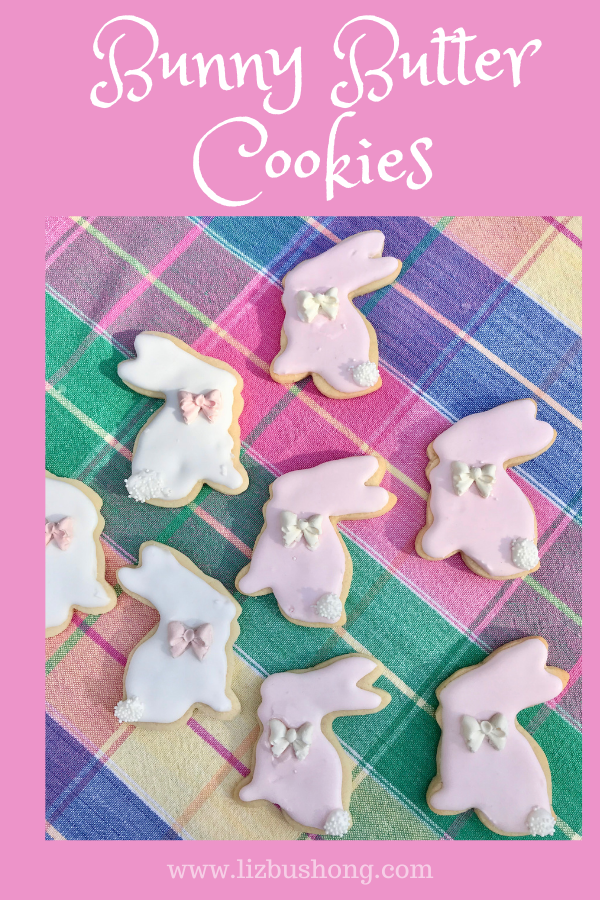 How to make butter cookie dough
You will need to bake a batch of butter cookies a day before you decorate. Mixing the simple cookie dough begins with softened butter and sugar creamed together with one egg, then flour, baking powder and salt is added. The dough will form a ball inside your mixing bowl. Remove dough and flatten into long rectangle pieces on a baking sheet, or smooth flat ovals. Wrap ovals or trays of dough with plastic wrap and chill 20 minutes or overnight. Cut bunny shapes from chilled dough with metal cookie cutter. Bake at 350 for 6-8 minutes or until lightly browned. Allow cookies to cool before frosting with royal icing.

Making royal icing with meringue powder
Royal icing gives the cookies a smooth flat finish with no brush strokes. Mixing the icing is pretty simple. You will need a large mixing bowl fitted with paddle attachment, meringue powder, confectioners sugar, flavoring, and water. Meringue powder is used instead of raw egg whites for safety; as well as the icing whips up beautifully. Most craft departments have meringue powder or you can order online. 5 tablespoons is all you will need for this recipe, about 4 dozen- 2″ cookies. Use food gel to tint the icing a little at a time for best results.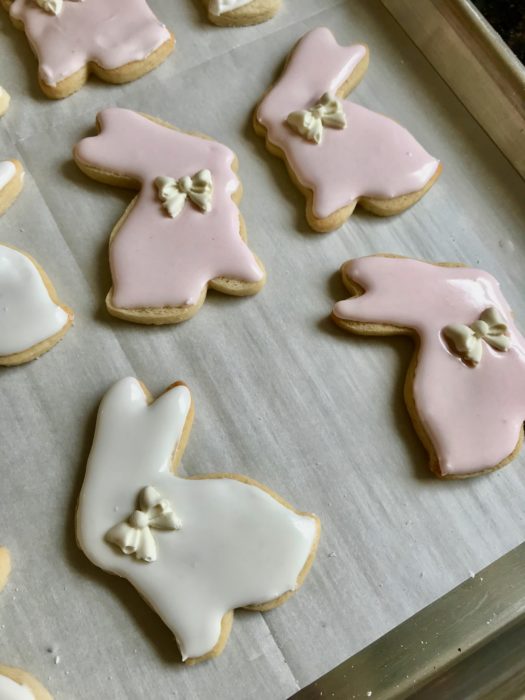 How to outline the cookies for royal icing
After whipping the royal icing 8 minutes so it is very white and correct consistency, separate 2 cups to tint pale pink. Attach tip # 5 or smaller round tip to disposable piping bag. Fill bag with tinted royal icing.
Pipe around the outer edge of the cookies, then fill in body of cookie with icing.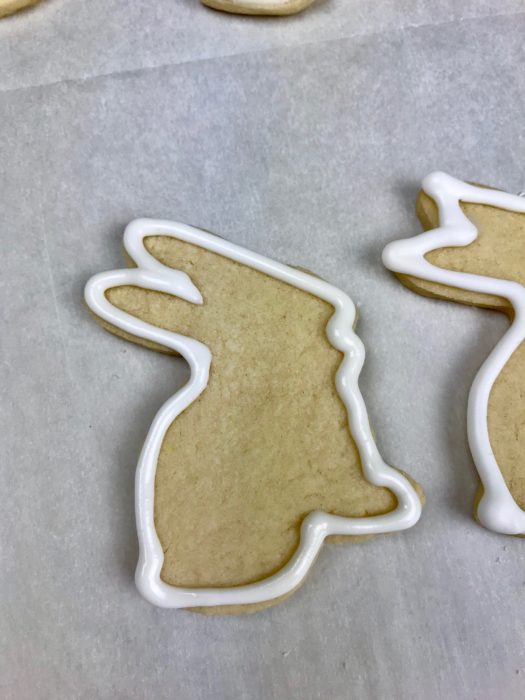 Sweet Ambs Cookies has a great tutorial on flooding cookies, here is a great video to help you flood the cookies with frosting.
Making the cute little bow
This cute little bow is so simple to make. You will need one bag of bright white candy melts and a mold. Here's the mold I found that makes 7 tiny bows. The bows are about 1/2″ long. I tinted the candy melts with soft pink food gel for the pink bows.
Melt 1/4 cup candy melts in microwave safe bowl for 12 seconds, stir and repeat until melted. Stir until smooth. Spoon the melted candy over the mold and filling each bow. Use an off set spatula to smooth the excess candy off the mold. Place in refrigerator to set about 5 minutes. Remove bows from mold and repeat the process.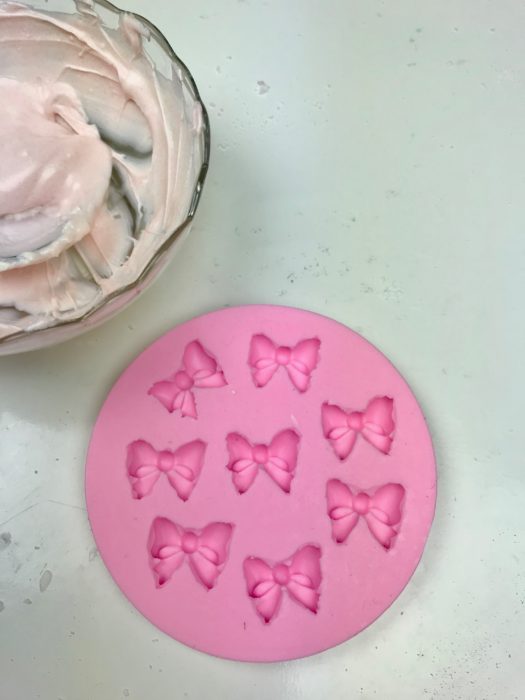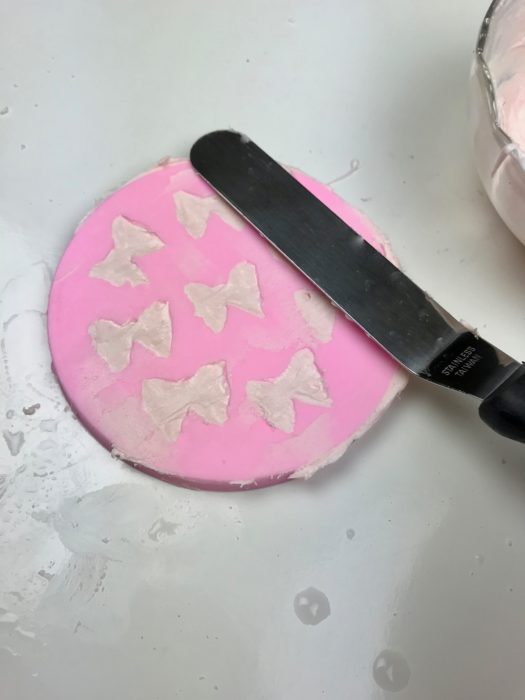 Adding the bow to the cookies
If the icing has set on the cookies, pipe a small dot on the back of the bows and attach to the neck of the bunny or as desired. Alternate the white and pink bows, white on pink cookies, pink bow on white cookies for nice look.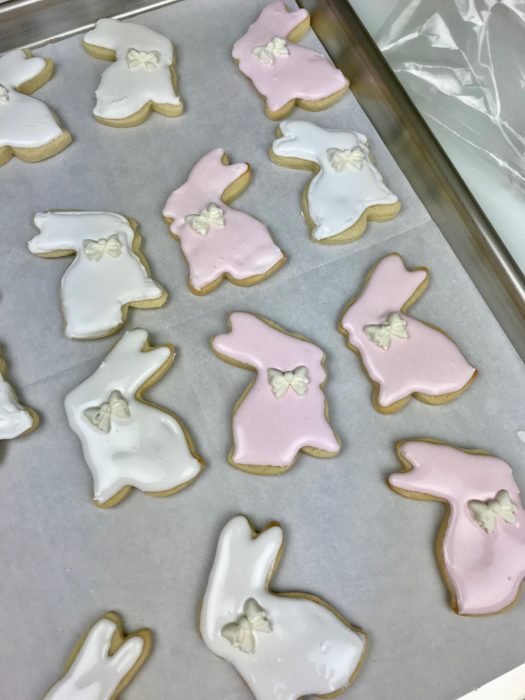 Add the bunny tail and non perils
Pipe round ball for tail and immediately sprinkle with white non perils sprinkles.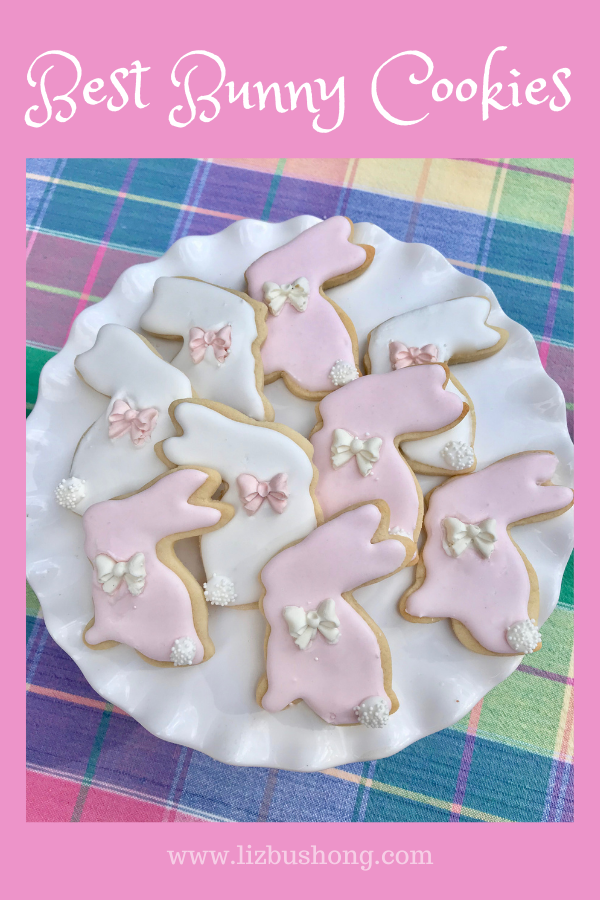 Hope you will make these cookies. They are fun to make but plan ahead. Baking the cookies one day ahead will help cut down on decorating time. Cookies can be baked and frozen without icing for up to 30 days.
Recipe for Bunny Cookies
Print
Easter Bunny Butter Cookies with Royal icing
Butter cookies cut into bunny shapes, frosted with white & pink royal icing and candy melt bows.
Author: Liz Bushong
Prep Time:

30 minutes

Cook Time:

8-10 minutes

Total Time:

60 minutes +decorating time

Yield:

4

dozen- 2" cookies

1

x
Category:

Desserts- Cookies

Method:

Baking

Cuisine:

American
Butter Cookies
6 cups

 all purpose flour

3 teaspoons

 baking powder-tested Rumford

1 teaspoon

 salt

2

 eggs

2 cups

 butter (

4

 sticks)-not margarine-tested: Land o Lakes salted

2 teaspoons

vanilla or creme bouquet flavoring

2 cups

granulated sugar
Royal Icing with Meringue Powder
1 pound confectioner's sugar, sifted
5 tablespoons meringue powder
1/2 cup water
1/4 teaspoon clear vanilla or creme bouquet flavoring
soft pink food gel
Decor
1 bag Bright white candy melts
1/2 to 1 cup white non peril sprinkles
bow mold
Instructions
Making the Cookies
With a stand mixer prepare cookie dough, cream sugar and butter until fluffy, about 5 minutes.
Add eggs and flavoring.
Mix dry ingredients in separate bowl and add to butter mixture. Mix well.
Divide dough in half and place between two sheets of parchment paper to roll into desired thickness, 1/8 to 1/2″.  I used 1/4″ thickness for these cookies.  Repeat with the rest of the dough.
Put the rolled dough including the parchment paper on a baking sheet and refrigerate for 10 minutes or longer. Your dough will be chilled and ready to cut and bake with no wait and no added flour! Repeat the process with scraps after cutting cookies.
Bake at 375 degrees for 8-10 minutes.  Let cool on rack.  Prepare royal icing the day you want to frost. Otherwise, wrap cookies and freeze up to 30 days until ready to decorate. When ready, remove from freezer to thaw 30 minutes to room temperature before frosting.
Royal Icing Instructions
Sift confectioners sugar in large mixing bowl fitted with paddle attachment.
Add remaining ingredients, beat on low speed until smooth and creamy 8 minutes.
If icing is too thick add more water, a teaspoon at a time.  If too thin, beat icing 2-3 minutes longer.
Color 1 cup icing with desired color. I used soft pink food gel. Gradually add food coloring gel a little at a time for desired color.
How to Flow or Flood Icing for body of cookies
To achieve a thin flowing icing, continue to add water, a teaspoon at a time until icing resembles the consistency of heavy cream.  Squeeze bottle work best for decorating the surface or body of the cookie, but you can use a disposable piping bag with small round tip for this kind of icing.
Decorating Cookies
Outline outside edge of cookie.
Flood in outlined area by using a disposable piping bag with small round tip- 1/8″  opening or tip # 5 which is closer to 1/4″.  Create back and forth brush-like strokes while squeezing out icing. Use tool pic or toothpicks to help spread icing into to corners or edges.  Small brush strokes works best. Dip tool end in wet frosting use small stirring motion while keeping the pic in the frosting but not touching the cookie, then move it slowly in the desired location.
Let cookies dry or set for 30 minutes.
Make the Bows
Melt candy melts in microwave safe bowl, heat at 12 second intervals until melted.  Spoon melted candy over mold, use off set spatula to remove excess candy off mold and fill in bow openings. Chill in refrigerator for 5 minutes. Remove from refrigerator and pop out tiny bows. Repeat with remaining melts.
To tint the melts soft pink, when white melts are melted and smooth, add tiny bit of soft pink food gel and stir to blend.
After cookies set, pipe small round dot of icing for bunny tail, sprinkle immediately with white non peril sprinkles.  To attach bow, pipe small dot of icing to back of bow and attach to the neck of the bunny cookie.
Notes
Cookies can be baked ahead and frozen up to 30 days.
Tip: The thicker the rolled dough the more time needed to bake. I used 1/4″                         thickness and 2″ bunny shaped cookie cutter.  The size of the cookie cutter will determine the yield amount.
Recipe adapted from Karen's Cookies
Other ideas you might like to try: