Making Hot Cross Buns for Easter dinner is a requirement at our house. Brioche Raisin Hot Cross Buns have a semi-sweet egg -butter yeast dough filled with golden raisins, ground cinnamon, nutmeg, ginger and cardamon. A zest of lemon adds brightness to the flavorful packed little roll.  After baking; the rolls are iced with a cross over the tops to symbolize Jesus Christ death, burial and resurrection.  Jesus paid the penalty for our sin so everyone who believes in Him has eternal life forever with God the Father in heaven. It's glorious good news!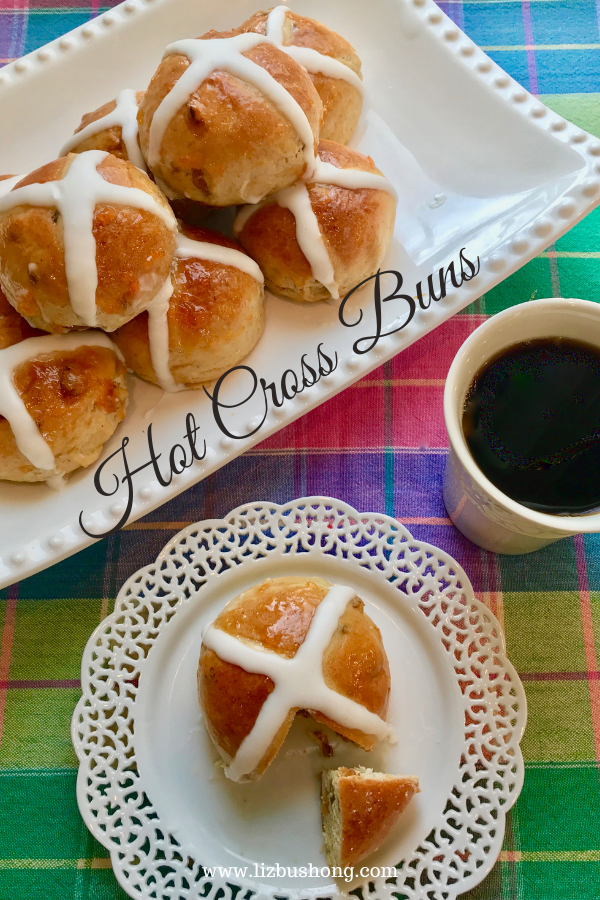 Baskets, Bunnies and Buns
Easter is not all about bunnies, colored eggs and Easter baskets although fun traditions celebrated. Easter is one of the most important holidays for Christians.
Once the round rolls are baked, melted apricot jam brushes across the tops of the warm rolls that sweetens the flavor. Served warm they are delicious.
What is Brioche Dough?
Brioche is a french term for bread enriched with butter and eggs. High proportion of  fat makes the bread crumb very fine and flakey soft like texture.
However, this recipe starts out the traditional way of baking bread. In a large mixing bowl of stand mixer, add warmed milk, one teaspoon sugar and yeast.  Allow the yeast to proof or rise up the sides of the bowl. Do not stir the yeast for the first 8-10 minutes.  Add the dough hook to mixer, then add eggs, remaining sugar, sea salt, flour with zest and ground spices.
Wheres the butter?
So glad you asked; you will mix the dough except for the butter on low speed for 4 minutes. Continue to mix on low speed for 30 minutes.  You are basically kneading the dough. When the dough begins to stick to the sides of bowl, add a few pieces of butter at a time, incorporating each addition before adding the next butter piece. Stop and scrape down sides and bottom of bowl as well as pulling the dough off the hook.  Continue to mix for another 10 minutes. Butter is room temperature.

When to Add Golden Raisins?
While your dough is mixing at the 10 minute mark, soak raisins in boiling orange juice or water. Orange juice will give the raisins great flavor. Allow the raisins to plump up in size. Once your bread is finished kneading your raisins are ready to drain.  Pat raisins dry with paper towel. Return raisins to a dry bowl and toss with vanilla.  Set aside until you roll out the dough.
Rolling Out the Dough
On lightly floured surface, gently knead dough so you will be able to shape the rolls but be careful not to over flour. Being a little bit sticky is a good thing. Not so sticky you can't work with it but sticky enough to hold it's shape.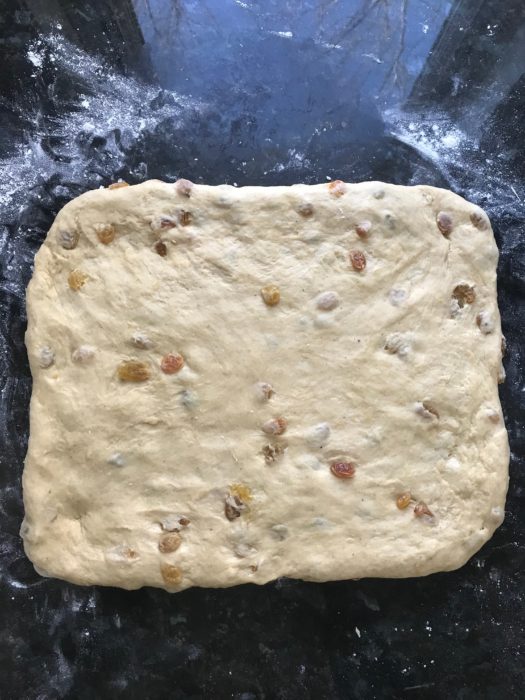 Pat the dough into a rectangular shape. Add the raisins to the dough and knead to incorporate the raisins.  Dough will be a little bit sticky.  Pat the dough into a rectangle again.
Stretch the right side of the dough out and fold over one third of the dough. Then stretch and fold the dough from the left side to the opposite side, like folding a letter.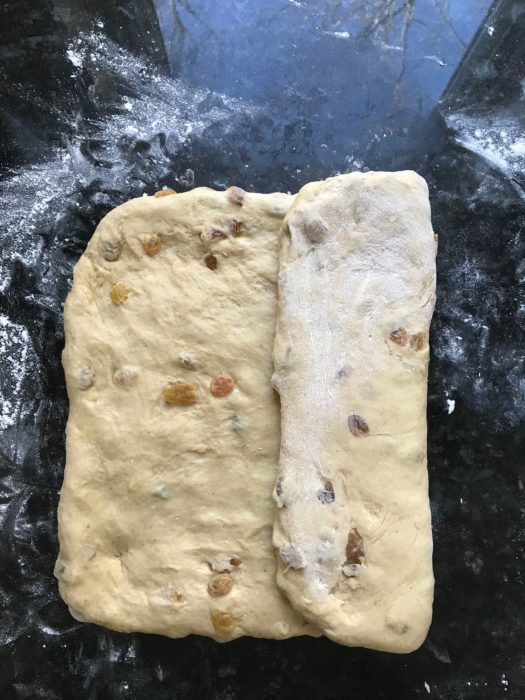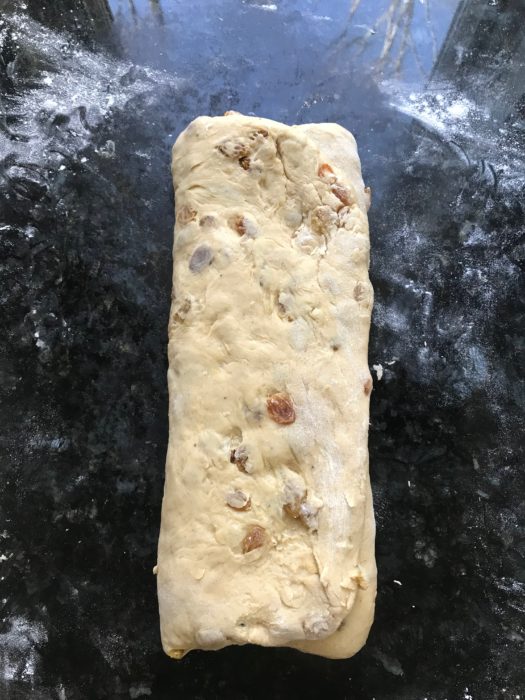 Repeat this process only this time using the top and bottom of the dough rectangle.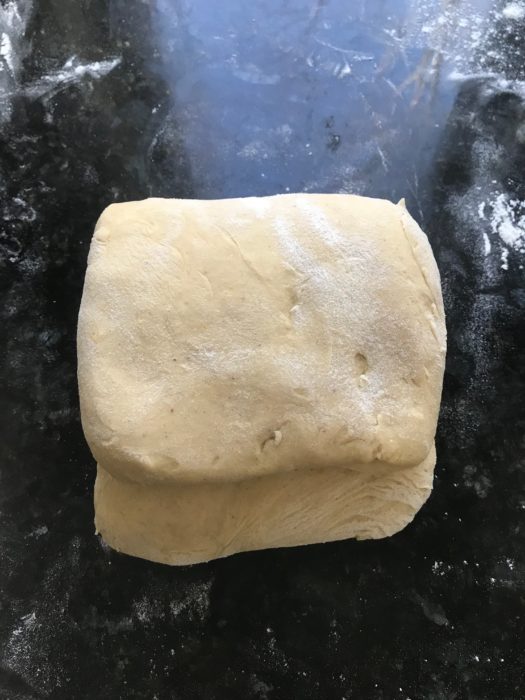 Turn the dough over with a bench scraper and repeat the process.  Place dough seam side down in lightly greased bowl. Cover with plastic wrap and allow to rise at room temperature for 45 minutes.
Preparing the Pan & Shaping the Rolls
Prepare a large baking sheet with non stick cooking spray. Line with parchment paper, spray the paper too. Set aside.
Lightly flour work surface and divide the dough into 12 equal portions. Cup your fingers and roll each portion into an individual smooth round ball. Continue rolling all 12 pieces of dough.  Space the rolls 2 inches apart on baking sheet.

Roll balls into rounds. Place on lightly greased parchment paper. Remove any raisins that poke through or stick out on rolls. They will burn during baking if exposed.

Meanwhile Mix Egg Wash 
For Egg Wash, mix 2 eggs in small custard cup, incorporating the egg whites with yolk, stir with fork.  Strain this mixture to remove whites that will not incorporate.  You will brush the rolls twice with the egg wash. Once before rising and once right before baking. Cover the rolls with tea towel or loose plastic wrap and allow to rise for 45 minutes.  You may not see a large rise out of the dinner rolls, but they will rise a bit in the oven.  These rolls are not a high rising roll.

Baking the Rolls
Bake rolls in 350 degree oven for convection or 375 for standard for 22-25 minutes.  After baked, melt apricot jam in small custard cup microwave at 25 second intervals until fully melted. Brush jam over top of warm rolls. Add icing cross.
Making the Icing Cross
Mix together 1-1/2  cups confectioners sugar, 2 tablespoons milk, and 1 teaspoon vanilla or lemon extract until smooth. Place in piping bag with a small round tip, pipe cross shape over the top of baked and cooled buns. Icing should be the consistency of thick pancake batter.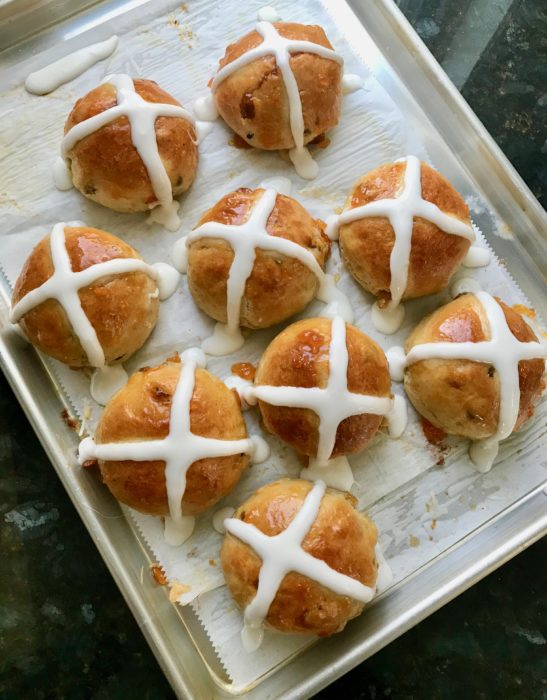 Serve warm. Buns are best served the day they are made but can be wrapped without icing or melted jam and frozen or stored at room temperature for up to 2 days. Just reheat in oven or microwave for 12 seconds.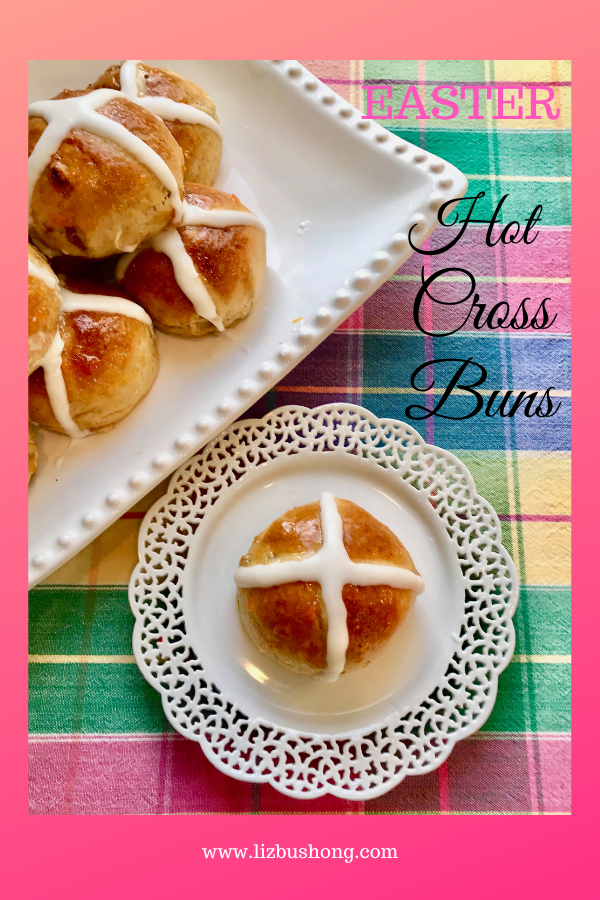 Hope you will make this a family tradition.  I know it takes some time, but enjoy the moments of solitude in the kitchen and reflect why you are making these rolls… the meaning behind the crosses.  Jesus will help you as well as redeem your time. He loves your heart for making these rolls so special. Your family will too.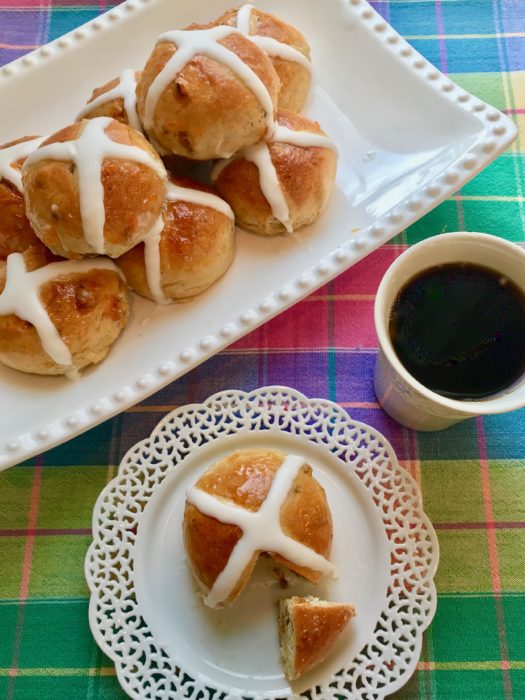 Print
Hot Cross Buns For Easter
Sweet Brioche dough chock full of golden raisins, cinnamon, ginger, nutmeg and cardamon, rolled into 12 rolls. Melted apricot jam is brushed on the baked rolls then icing piped crosses are added after baking and cooling.
Author: Liz Bushong
Prep Time:

30 minutes +2 1/2 hours rising

Cook Time:

20 minutes

Total Time:

2-3 hours

Yield:

12

Dinner Rolls

1

x
Category:

Bread

Method:

Baking

Cuisine:

American
Dough
3 cups all purpose flour + 1 cup more if needed
5 teaspoons active dry yeast or 2 packets
1/2 cup sugar
1–1/2 teaspoons fine sea salt
1/2 teaspoon ground nutmeg, ground ginger
1/4 teaspoon cardamon
1 teaspoon ground cinnamon
2 tablespoons lemon or orange zest
1 cup whole milk, heat to 105-110 F
2 eggs + 1 yolk-room temperature
1–1/2 teaspoons vanilla
2/3 cup unsalted butter cut into 1/2" cubes. room temperature
For the Buns after rolling out dough
1–1/4 cup golden raisins
1/3 cup orange juice or water
1 teaspoons vanilla extract
Egg Wash
1 egg plus leftover egg white-no water in this wash- but strain the egg mixture
4 tablespoons apricot jam, melted
Icing Cross
1–1/2 cups confectioners sugar
2 tablespoons milk
1/4 teaspoons finely grated lemon zest-optional
1 teaspoon lemon or vanilla extract
Instructions
Sort golden raisins and remove dark or green looking raisins, use only the golden or orange colored raisins in these rolls. Measure out 1-1/4 cups.  In small microwave safe bowl add golden raisins with 1/3 cup juice or water.  Microwave 25 seconds then cover with paper towel and let sit for 60 minutes to plump up the fruit. Drain fruit and pat dry with paper towel. Add vanilla. stir to coat, sit aside. Fruit will be added after the dough has risen and ready to shape into rolls
Making Brioche Sweet Dough
Place 2-1/2 cups flour and yeast in bowl of stand mixer fitted with dough hook, mix about 10 seconds to blend. Add sugar, spices, salt, zest, mix to blend.
Warm whole milk in saucepan or microwave to 105-110 degrees. Do not boil. Add vanilla and milk to dry ingredients in mixing bowl, mix.  Add room temperature eggs to dough, mix on low speed 4 minutes.  Add additional 2 tablespoons of flour if dough is not coming together.  Dough should be sticky. Continue to mix on low speed for 30 minutes.
Dough should stick to sides of the bowl.  Add butter a few pieces at at time, before adding additional butter. Continue to mix 10 minutes.  Remove dough from bowl.
Coat large mixing bowl with softened butter. Put dough in the bowl, turn to coat dough with butter. Cover with plastic wrap or tea towel, allow to rise at room temperature until double in size, about 60-90 minutes. 
Shaping the Rolls
Turn out dough on floured surface adding additional flour as needed to keep it from sticking. Pat down dough into a rectangular shape. Add reserved soaked raisins over dough, knead to distribute evenly. Dough will be sticky. Pat dough into rectangle again.
Stretch right side of dough out and fold over one third of the dough, repeat with other side, like folding a letter. Repeat the process but work from top to bottom. Turn dough over, repeat the letter folding process one more time, after last fold, cover dough with tea towel and let rest 45 minutes.
Spray baking sheet with cooking spray, line with parchment paper, spray again. Divide risen dough into 12 equal portions, roll pieces of dough in a circular motion to get a tight roll.  Remove any exposed raisins from roll to prevent burning. Transfer to baking sheet spacing rolls 2″ apart. Cover with plastic wrap let rise 45 minutes or until doubled. 
Preheat over to 375F. Remove plastic wrap, brush tops with beaten egg wash.
Bake rolls at 375F until golden brown about 25 minutes. 
While rolls are warm, glaze with melted apricot jam.
Make Icing: Mix all ingredients a small bowl, icing should be thick but pipe-able. Fill disposable piping bag fitted with #5 round tip or place in ziplock bag, clip one end and pipe crosses over the tops of cooled dinner rolls.
Serve warm.
Notes
Recipe is long but delicious.  Plan ahead when making these rolls.
Recipe can be doubled- Might as well if you are going to this much effort. 🙂
Rolls can be baked ahead and frozen without the icing and apricot glaze. Glaze and frost after warming in oven and just before serving.
Recipe adapted from Bouchon Bakery
Keywords: Hot Cross Buns, Easter Dinner Rolls, Brioche Bread
Other Ideas You Might Like to Try: