Charcuteries are the rage and for good reason. They are pretty easy to prepare and everyone loves serving themselves. For this epic board, grilled hot dogs, chili sauce, baked beans, chips, and condiments arranged on a large food safe board created a fun impromptu meal for 6. Whether it is 4th of July, Labor Day or just any summer suppers you will love this epic hot dog charcuterie board.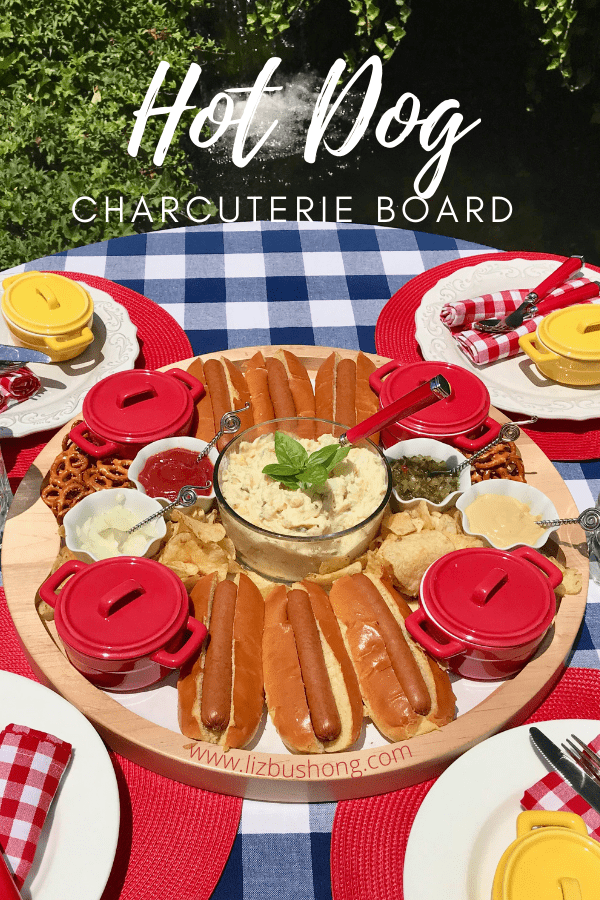 How to Make this Easy Hot Dog Charcuterie
This was actually a last minute meal for some friends that were visiting. Instead of heading out to a restaurant we decided to turn on the grill and grill hot dogs. Nothing like grilled hot dogs for summer, with the grill marks and toasty bun.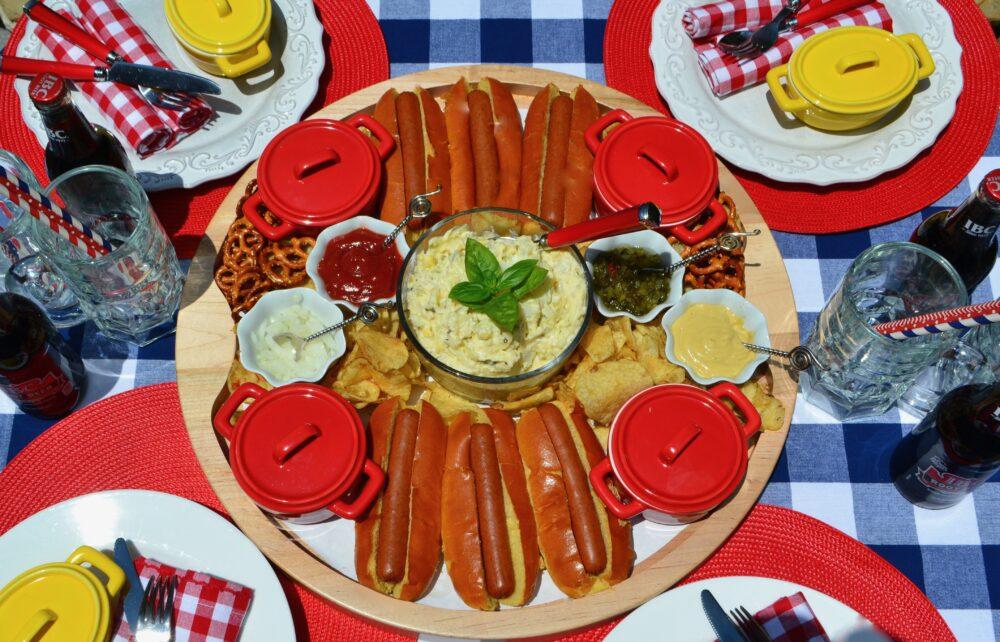 Let's Talk About the Hot Dogs and What Goes on this Board
I used Hebrew National hot dogs, all beef and longer than standard hot dogs… best part there are 6 dogs in a package just the right amount for the number of buns in the package. For the buns I used a brioche hot dog bun. I loved that I had the same amount of hot dogs to buns, normally you get 8 buns to a package and 6 hot dogs.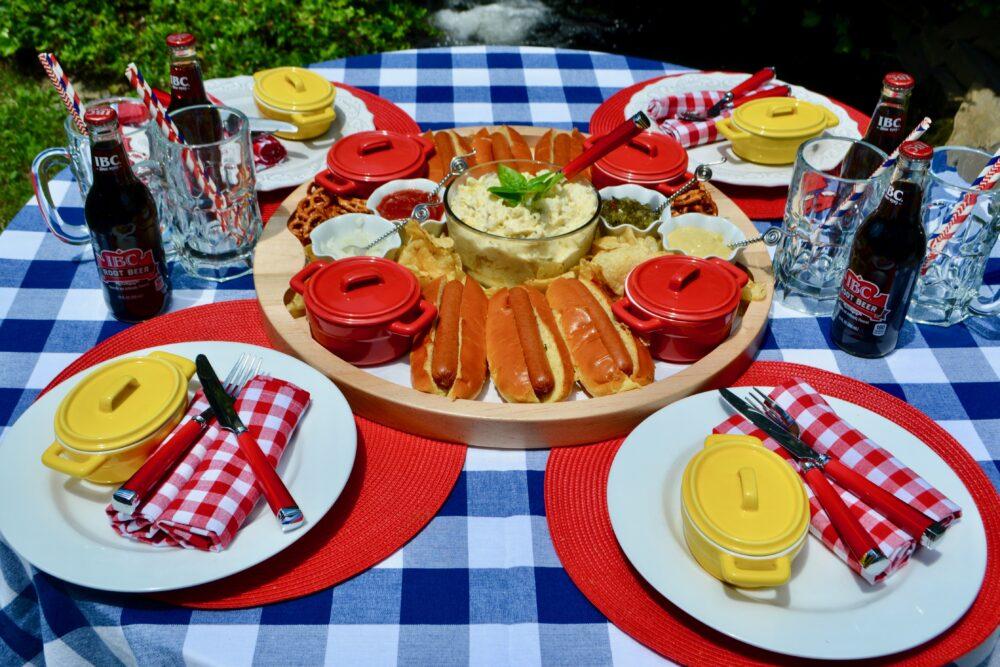 Whats on the Board?
6 Hot dogs, 6 brioche buns- they are soft and very tasty- home made chili sauce in 4- red mini casseroles, home made potato salad, ketchup, mustard, sweet relish, chopped sweet onions. At each place setting in the yellow mini casseroles with lid is baked beans. Chips and mini pretzels. On the table I served bottled root beer and frosted mugs. Sometimes if I have room in my freezer I will chill large mugs for root beer floats. So fun. I really miss root beer stands in our region.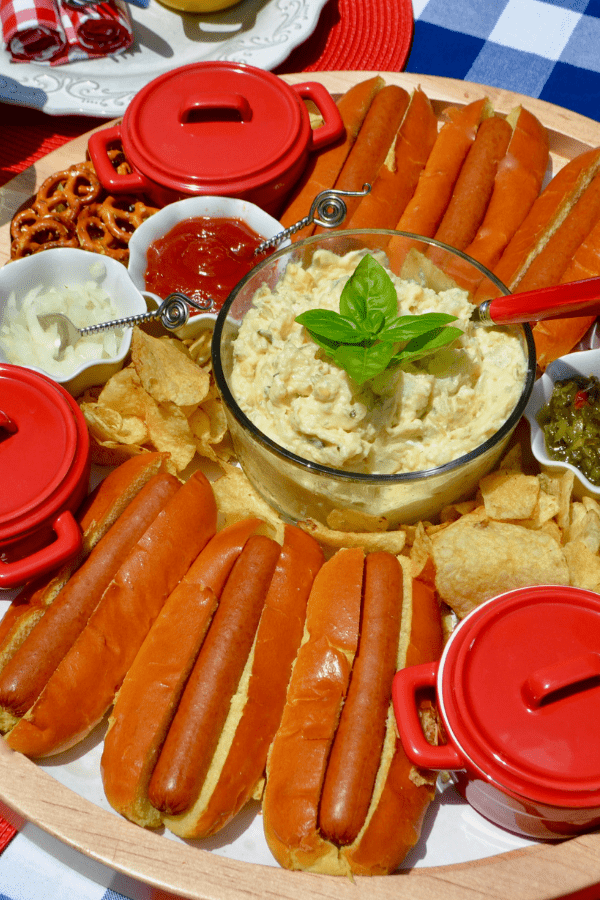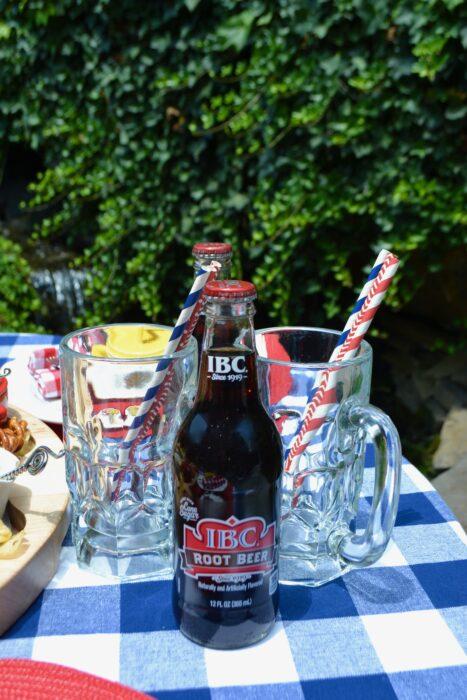 So to create this board, start with the board or large round platter. I purchased this board from reluctant entertainer last year and use it all the time. This board has a Lazy Susan effect with out the bearings on the board. It revolves around the table so everyone can reach what they need. I am sure you would love this board too.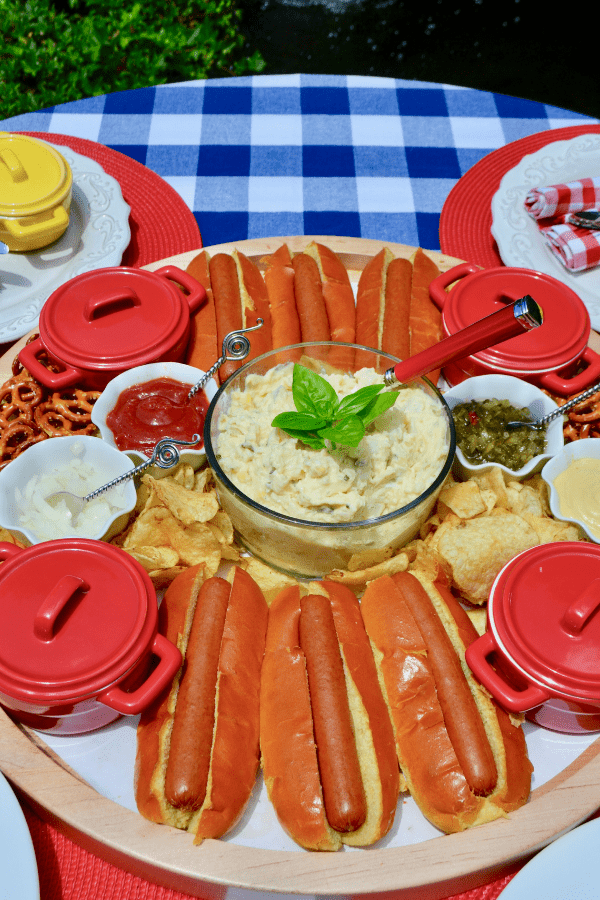 Now Building this Board
Prepare your large platter or board with parchment paper. I like to line the board with this paper to prevent staining. My board is 20″ round.
Begin with grilling 6 hot dogs and place in buns. The buns I used split down the top which cradled the hot dogs.
In the center of the board, place a large bowl of potato salad.
Next place 4 small casserole bowls with lids if you have em, if not use decorative small bowls. Fill with prepared chili sauce- (Recipe below)
Around the outside of board position three dogs n buns on opposite sides of each other on the board.
You can toast the buns ahead of time.
In small white bowls or cups, fill with ketchup, mustard, relish, chopped sweet onions.
Fill in the areas with potato chips and small pretzels if desired.
Serve in the center of your table. Don't forget to decorate your table with a pretty tablecloth, I used a red, white and blue color scheme.
The TableScape-Red, White & Blue Color Scheme
Blue and white checked tablecloth made the table perky and bright especially paired with red dishes , round red placemats and red checked napkins.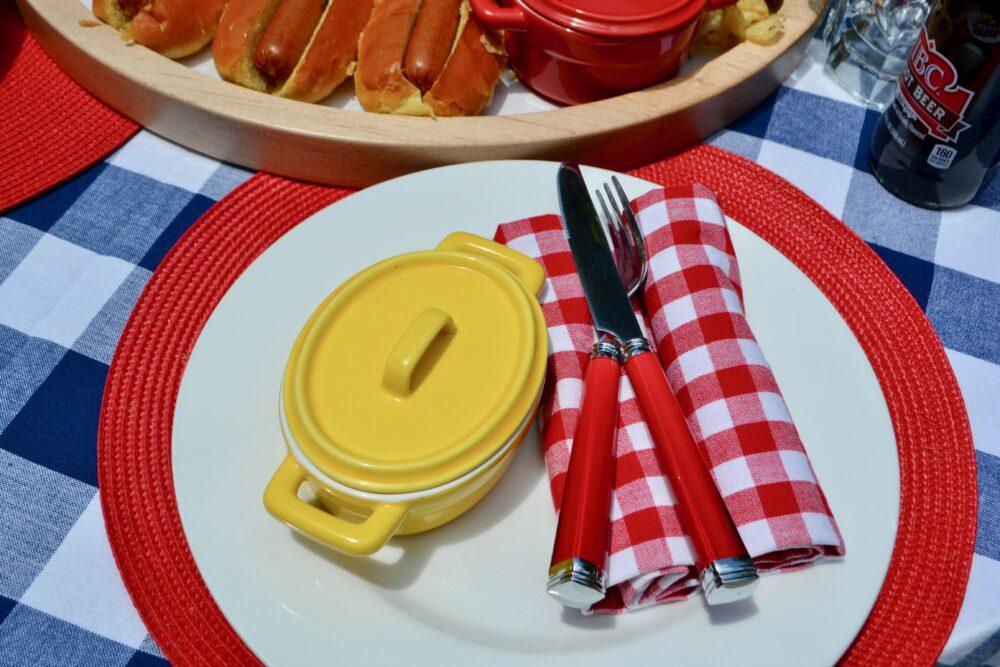 Set your table first to make it easy for you to add the centerpiece hot dog board. Add white dinner plates and simple napkin fold with silverware to the table. Next, set out your frosted mugs for bottled root beer. This is pretty much it! Easy entertaining at it' s best. Might have a few paper napkins handy and don't forget to add small serving spoons for the chili, and condiments. For dessert you could serve, baked Cherry Crisp with French Vanilla Ice Cream or Cherry Filled Cupcakes.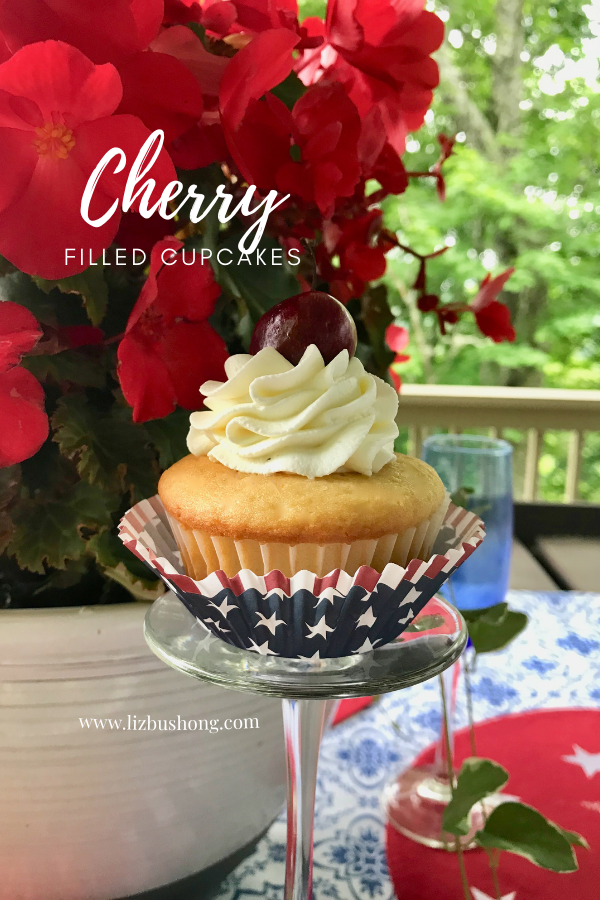 Print
Easy Hot Dog Charcuterie Board +Chili Sauce Recipe
Grilled hot dogs with brioche buns, home made chili sauce, potato salad condiments for a great hot dog charcuterie board.
Author: Liz Bushong
Prep Time:

15 minutes

Cook Time:

60 minutes

Total Time:

90 minutes

Yield:

8

servings

1

x
Category:

Savory-Beef

Method:

Cook top

Cuisine:

American
Board Ingredients
6 Hebrew National hot dogs or dogs of choice
6 Brioche hot dog buns or buns of choice
4 cups potato salad
2 cups home made chili sauce
Ketchup, sweet relish, mustard, sweet white onions, chopped
Chips, pretzels or snacks of choice
Chili Ingredients
2  pounds lean ground beef + 2 tablespoons olive oil-divided
1 1/2 teaspoon kosher salt
1/2 teaspoon freshly ground black pepper
1/2 teaspoon granulated sugar
1 cup

finely diced sweet onion
1/4 cup tomato paste
1/4 cup flour
1 cup beef broth
1 teaspoon ground cumin
1 tablespoon

chili powder
1 tablespoon chopped garlic
2 tablespoons

Worcestershire sauce
Instructions
In large saucepan or dutch oven, add 1 tablespoon olive oil and place over medium heat.

Add ground beef, salt and pepper. Brown beef, breaking up into small crumbles as it cooks.

Drain beef and any grease from saucepan/dutch oven. Remove beef to medium bowl.

Make the Sauce:

Turn heat to low, add 1 tablespoon of olive oil along with the chopped onions.

Cook for 7-8 minutes watch not to burn onions. 

Add garlic, tomato paste, sugar, cumin and chili powder stir into the onions and Worcestershire sauce, add flour and cook for 1 minute.

Add beef back to the sauce in saucepan. Add beef broth and stir. Bring to a boil, simmer on low heat for 1 hour.  Stir occasionally. Taste for seasoning, add additional spices if necessary.  

Serve warm with hot dogs.
Notes
Can be made one day ahead, or frozen in zip lock bag for up to 30 days.
Sugar added to the acid tomato base will help neutralize the acid. 
Recipe is good as a thick spaghetti sauce or served on bake potatoes/french fries.
Store leftovers in refrigerator.
Keywords: Hot Dog Chili Sauce, Hot Dog Meat Sauce, Organic Hamburger, Chili Powder, Cumin, Hot Dog Charcuterie
Other Ideas you Might Like to Try:
Fajita Board with all the trimmings