Nothing better than grilled chicken fajitas for summer entertaining. Kitchen's to hot to cook, but the grill gets a work out with grilled chicken. Several chicken breast are coated with home made fajita seasoning then grilled to perfection. Sliced into thin strips along with baked sheet pan peppers & onions make this charcuterie easy to put together.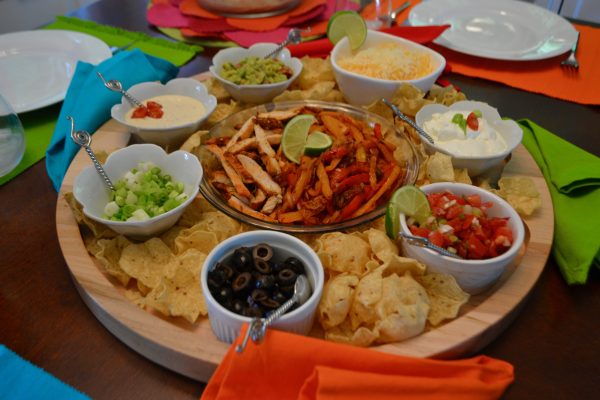 What's on this Chicken Fajita Board?
In addition to grilled fajita chicken strips and peppers, heres a list of what to include on your board. This is so easy and so pretty for entertaining. Everyone loves making their own fajitas.
Flour Tortillas
Home made Salsa
Cheddar Cheese or Cheese of Choice
Monterey Jack Cheese
Black olives
Red onions
Guacamole- Fresh made
Sour Cream
Jalapeno Ranch Dressing
Grilled Fajita Chicken Strips with Red, Orange, Yellow Peppers, Onions
Corn Chip Dippers
How to Make Chicken Fajitas
Prep 1 each red, yellow and orange peppers by coring, removing seeds and cut each piece in 1/4″ strips. Also cut one sweet onion or red onion into 1/4″ slices, cut slices in half. Toss veggies together in a medium bowl. Set aside while you make the seasoning.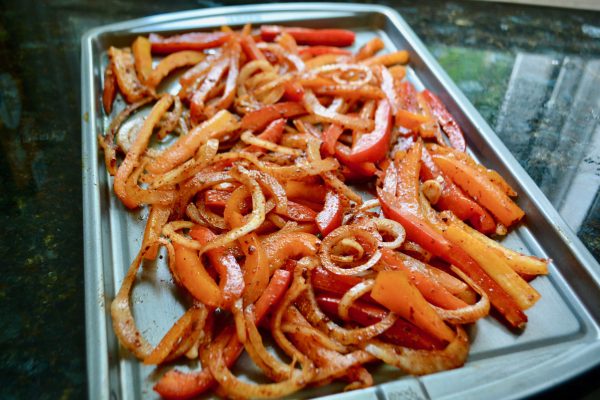 Making these fajitas, mix together the following spices, 1 tablespoon Chili powder, 1 teaspoon paprika, cumin, salt, garlic powder, onion powder, dried oregano and cayenne in a zip lock baggie. Toss. Remove half of the seasoning to toss over pepper mixture.
Meanwhile, place 4-6 chicken breasts in reserved seasoning in one of the baggies. Shake baggie to coat chicken pieces. Grill chicken over high heat 3-4 minutes per side until chicken reaches 165 degrees, temperature should be between 425 and 450 degrees. Remove from grill and allow to rest 5 minutes before cutting into 1/4″ strips.
While chicken is grilling, in a grill pan for vegetables, add cut peppers, onions coated with fajita seasoning, grill 5-8 minutes or as desired.
No Grill No Problem
All the chicken and veggies can be baked together on a sheet pan in a 400 degree oven if you don't have or want to heat up the grill. Brush sheet pan with olive oil, spread out veggies and make sure your chicken is cut into 1/4″ thin strips. Coat all veggies and chicken pieces with the fajita seasoning, Bake until veggies and chicken is cooked. Remove from pan and place on serving platter or board. I found this grilling fajita pan that I will be next time I make this board. It comes with an insulated board and handy mit for serving from oven/grill to table.
Heat flour tortillas in a covered casserole to keep them warm as guests create their own fajitas.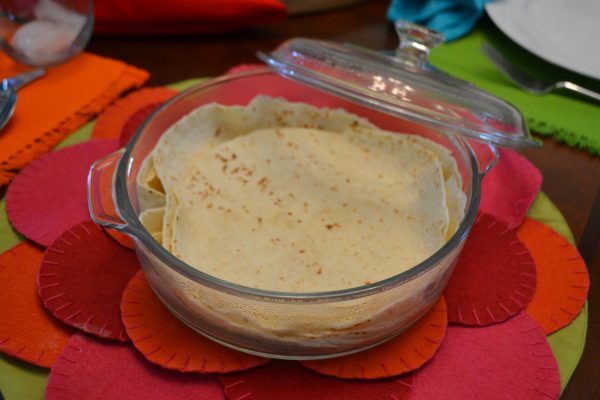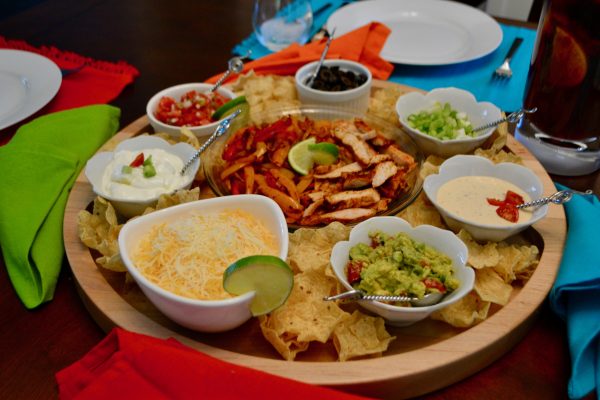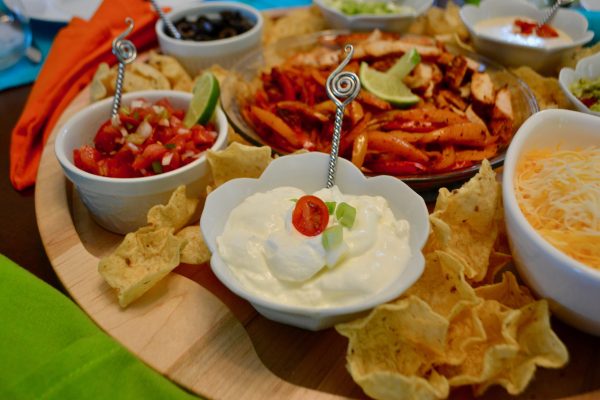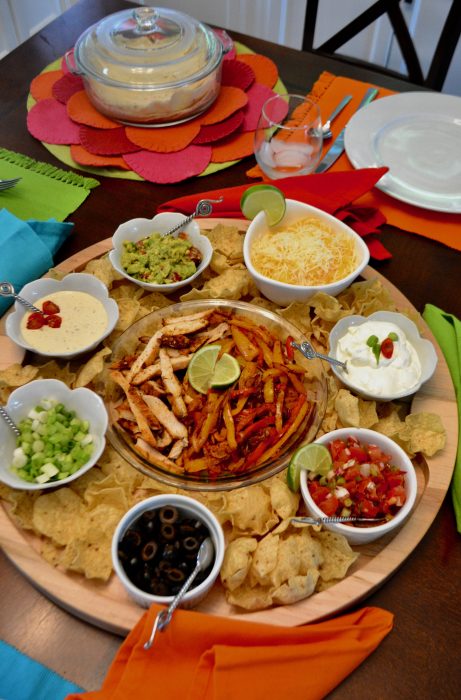 Jalapeno Ranch dressing adds a great flavor with the fajitas. It is purchased dressing found in refrigerated section.
Print
Chicken Fajita Grazing Charcuterie Board
Author: Liz Bushong
Prep Time:

40 minutes

Cook Time:

grill time 5-8 minutes

Total Time:

45-60 minutes

Yield:

6

–

8

servings

1

x
Category:

Charcuterie

Cuisine:

American/Mexican
4–6 grilled Chicken breasts, cut into 1/4" strips
1 red, yellow, green pepper, seeded, cut into 1/4" strips
1 red onion or sweet onion, thinly sliced
3–4 tablespoons olive oil
Serve with:
Warm flour tortillas-10″ or smaller
Shredded cheddar or Monterey jack cheeses
Guacamole*See recipe
Sour Cream
Jalapeno Ranch Dressing
Black Olives
Salsa* See recipe
Chopped parsley or cilantro
Lime Wedges
Fajita Seasoning Recipe
1 tablespoon chili powder
1 teaspoon ground paprika
1 teaspoon ground cumin
1 teaspoon sea salt
1/2 teaspoon garlic powder
1/2 teaspoon onion powder
1/2 teaspoon dried oregano
1/4 teaspoon cayenne pepper
Instructions
Place grilled chicken and peppers in pie plate in center of board, be sure to protect your big board with a pot holder or towel. 
Add bowls of sides around the pepper chicken mix.
Fill in spaces with tortilla chips or dippers.
Serve tortillas in separate casserole to keep warm. Wrap tortillas in a moist paper towel, place them in a foiled lined casserole. Bake at 350 for 5-8 minutes.  Remove paper towel and foil, serve in warmed casserole dish. 
Garnish with lemon wedges, sliced cherry tomatoes, green onions. 
Notes
Guacamole recipe;  mash 1 avocado in a small bowl, add lemon juice about 1 teaspoon, add 1/4 cup chopped red onion, 1/4 cup chopped cherry tomatoes or one roma, dash of red wine vinegar. 
Salsa Recipe:  In large bowl, cut and chop 6-8 Roma tomatoes, addd 1 can Rotel with diced chilis drain off  juice, add salt, pepper, 1 teaspoon garlic powder, 1 teaspoon onion powder, 1/2 cup chopped red onion, 1/4 cup chopped green onion, 2 tablespoons apple cider vinegar, 1 tablespoon honey or pinch of  sugar,  2 tablespoons lemon juice & lime juice. Mix all together, allow to marinate over night or at least 6 hours. 
Keywords: Fajitas, Chicken Fajitas, Salsa, Guacamole, Sour Cream, Tortillas, Green Onions
Other Ideas you Might Like to Try: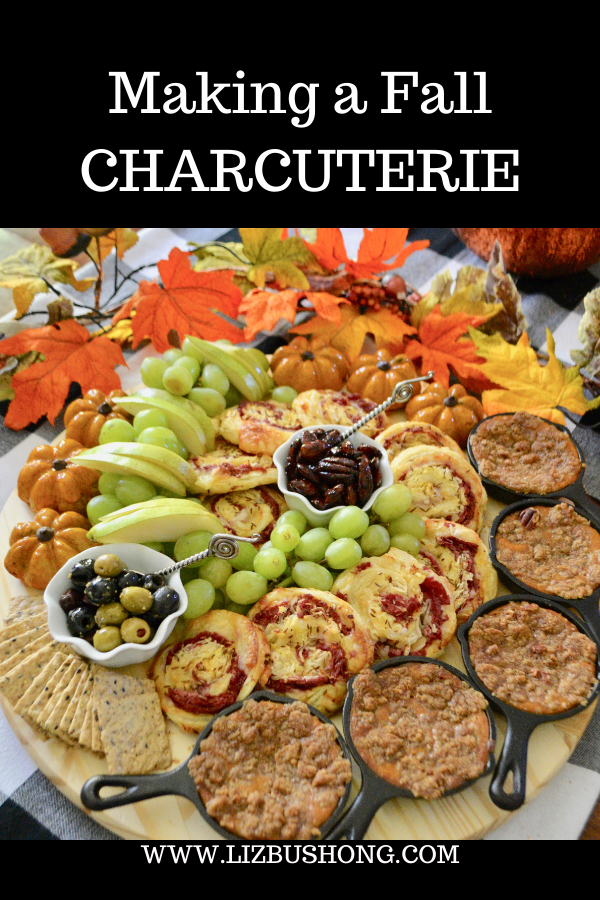 Sweet Snack Board