Need a quick dessert that is delicious and easy to make? You will enjoy this recipe for Easy Mini Strawberry Napoleons. Baked Puff Pastry rectangles are layered and filled with ganache, whipped cream, and fresh sliced strawberries. No technical skills needed for this recipe. Its an easy dessert everyone will love and you will love making em.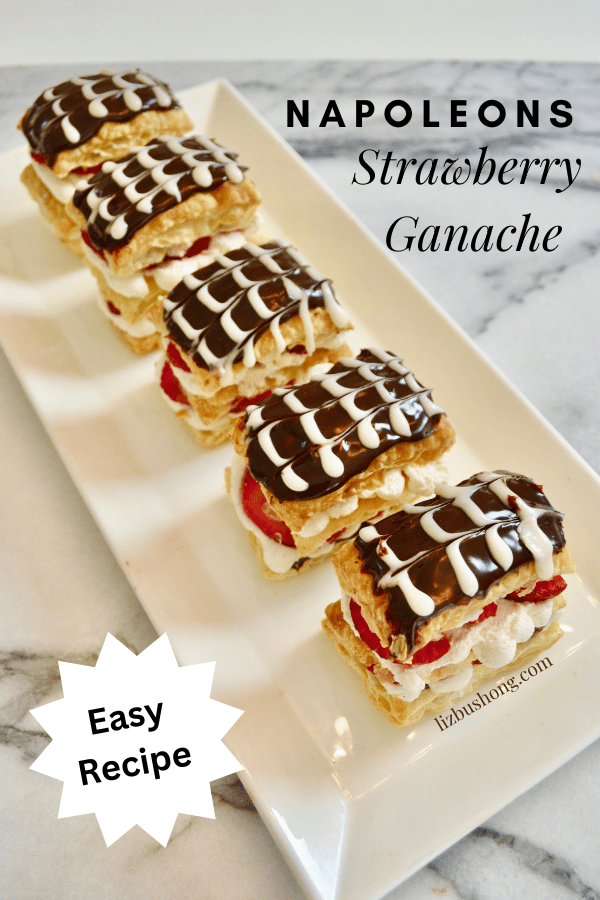 Mini Strawberry Napoleons is everything you want in a quick and easy dessert. Just in case I need an impressive dessert with great presentation, I like to keep a package of frozen pastry sheets in my freezer. Also on hand I keep heavy whipping cream and chocolate chips, this is for ganache to whip up in moments. So, if you need pastry sheets and ganache grab the heavy cream, chocolate chips, and frozen pastry sheets next time you grocery shop. You will be prepared for dessert when your family wants something sweet.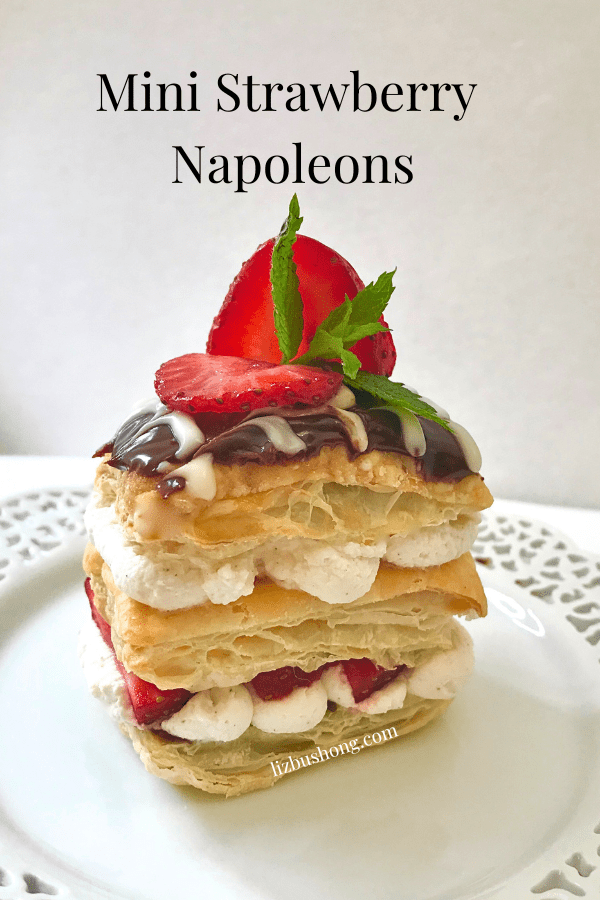 Pastry Sheets not to be Confused with Filo Sheets
"Filo or phyllo is a very thin unleavened dough used for making pastries such as baklava"…The sheets are paper thin and that is what gives baklava the crispy layers. Filo pastries are made by layering many sheets of filo brushed with butter; the pastry is always baked. Pastry Sheets is puff pastry using a lot of butter folded into the batter to make the rolls flakey tender. Pepperidge Farms is commonly used, but recently I discovered their products are GMO. The only PF product not GMO is the Cheese Crackers. So I you want to go non GMO try this brand. Schar Puff Pastry.
How to Make Mini Strawberry Napoleons
Unthaw frozen puff pastry sheets about 30 minutes from freezer. On a floured surface unfold the three sections. No need to roll this dough.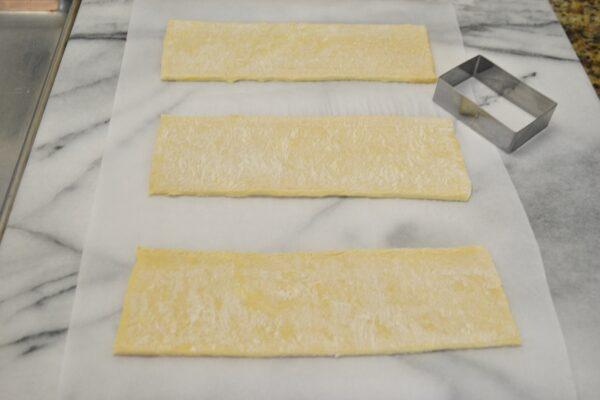 Using a 2″ x 3″ rectangular cookie cutter, cut out 27 pieces. You will be stacking three layers together to make one napoleon. Recipe will make 9.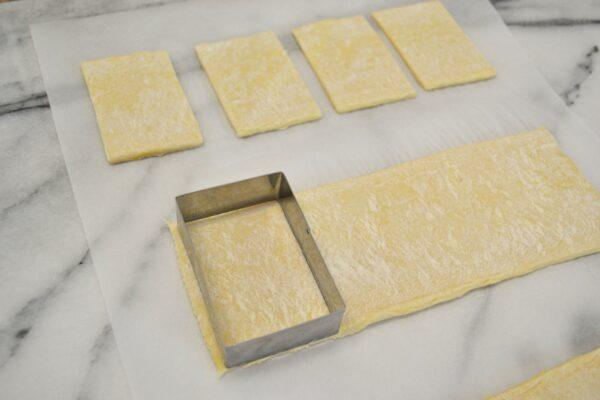 Add the puff pastry rectangles to a baking sheet lined with parchment paper or a silicone mat and bake in a preheated oven at 400 F for 13 to 15 minutes until they puff up and are golden brown.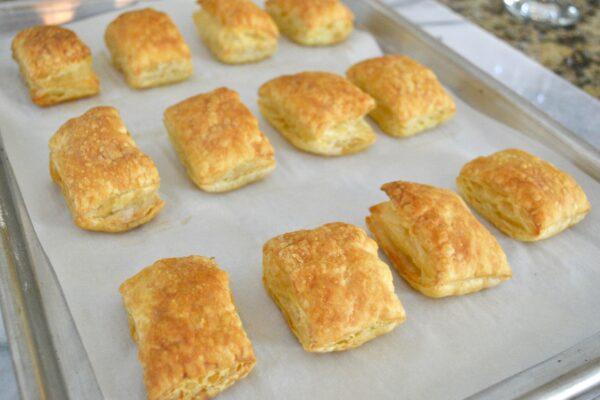 Remove from oven and allow to cool. When cooled to touch. Slice into thirds, if you are not able to get three slices, cut some in half. You will need 27 pieces to make 9 three layered napoleons.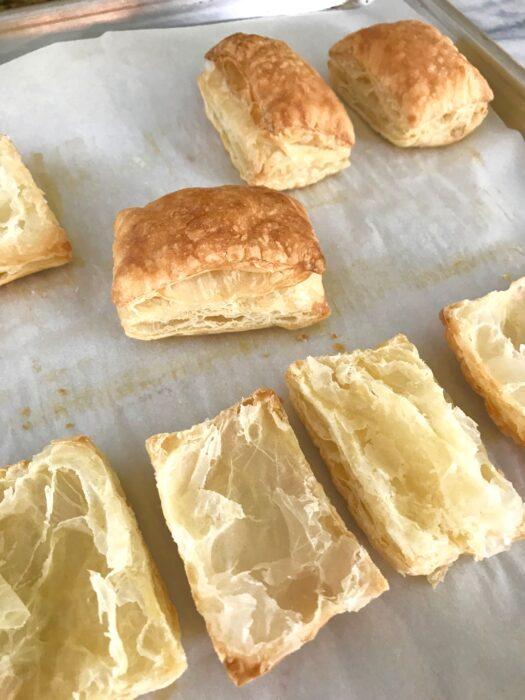 Meanwhile, whip heavy cream in bowl of stand mixer using wire whisk, whip on high speed with confectioners sugar and extract until cream is medium soft peaks. Place whipped cream in piping bag with round piping tip # 5. Or simply clip the end of the piping bag about 1/4″. You will be piping round dots or back and forth strips of whipped cream onto the pastry shell.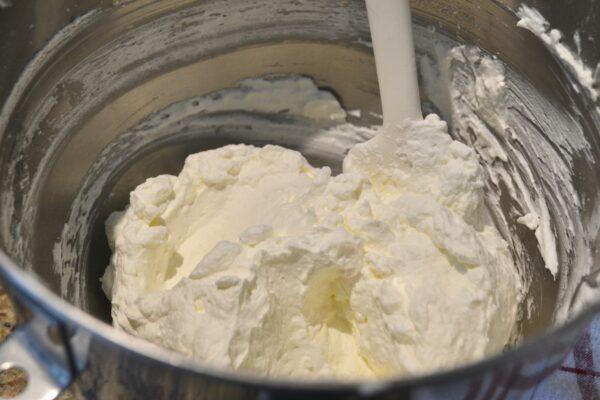 Ganache for Mini Strawberry Napoleons
Place chocolate chips in a mixing bowl. In microwave safe measuring cup, add heavy cream. Microwave for 40 seconds until cream is very warm. Pour warm cream over chocolate chips and allow to sit 5 minutes without stirring. After 5 minutes stir cream and chips until mixture becomes smooth and glossy.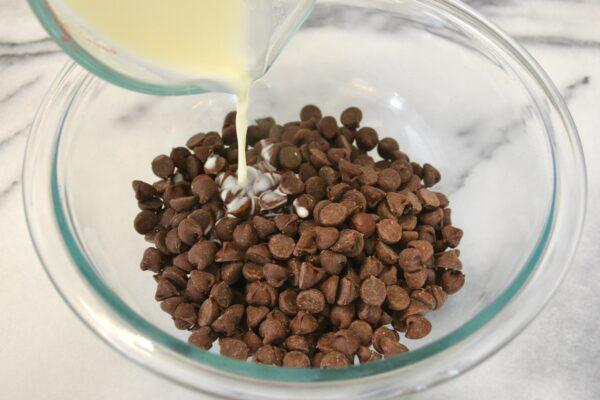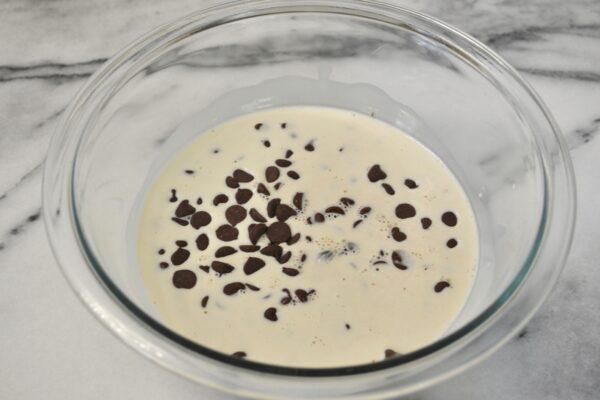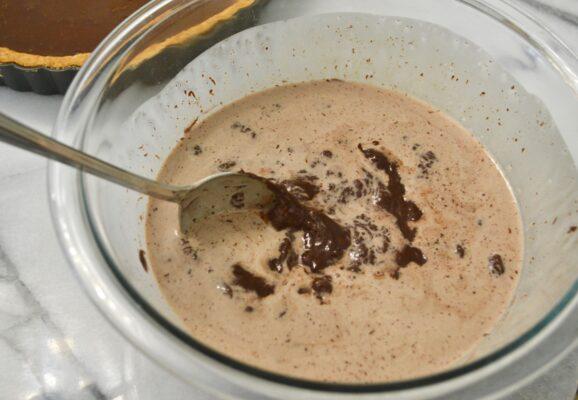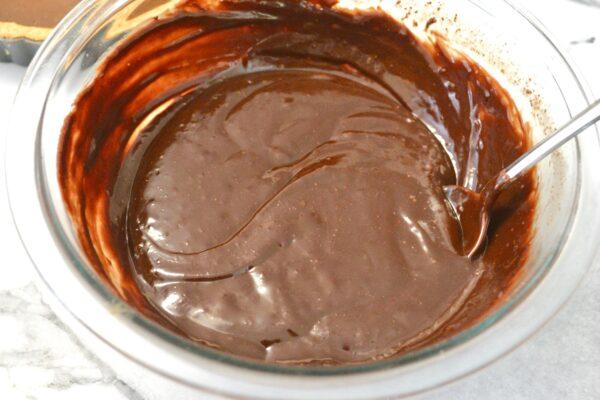 Assembling Napoleons
Slice strawberries in 1/4″ slices, pat dry on paper towel. Brush with melted strawberry jam.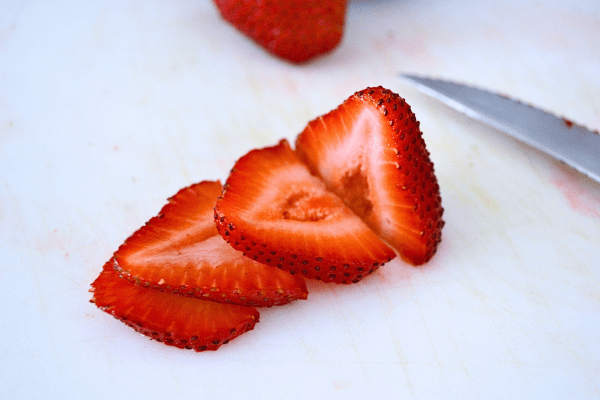 On baking sheet, place one pastry rectangle, fill with spoonful of ganache then pipe cinnamon flavored whipped cream. Cinnamon is optional.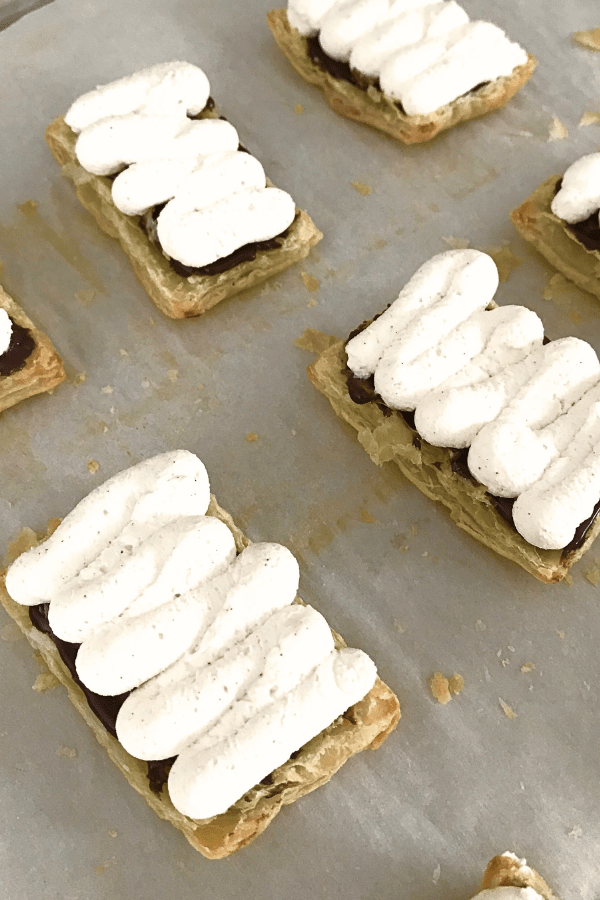 Add strawberries, brush with melted strawberry jam. If using raspberries use raspberry jam. The jam will help the flavor of the berries as well as help adhere next pastry layer together.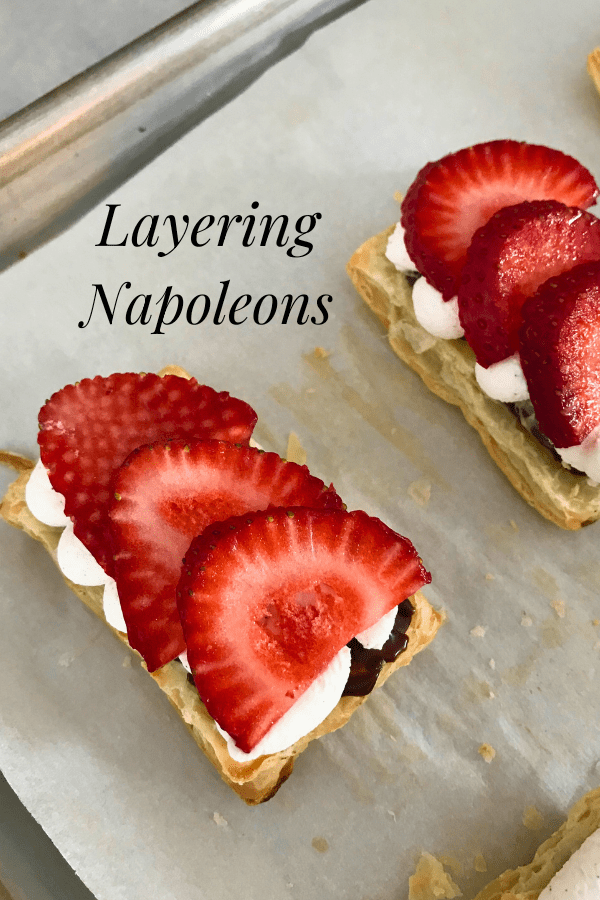 Add another layer of pastry and repeat with ganache, whipped cream and berries.  Dip tops of remaining 9 pastry layers in melted ganache to coat the finishing layer. 
Get ready to garnish the Mini Strawberry Napoleons with vanilla glaze and fresh strawberry.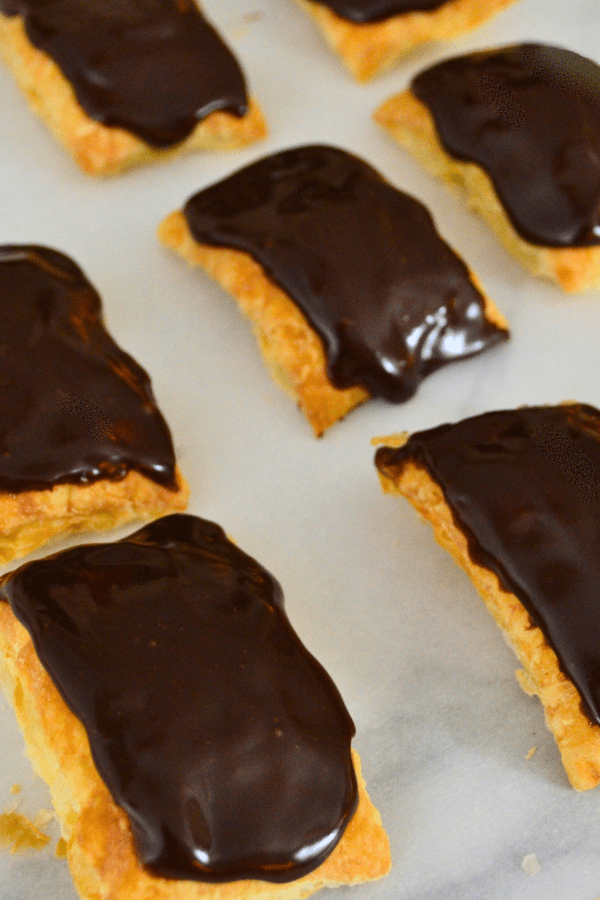 Making Vanilla Glaze for Garnish
In small mixing bowl, add confectioners sugar, vanilla and tiny bit of half n half, cream or water. Stir until medium consistency so it is drizzle-able. Not to thin not to thick…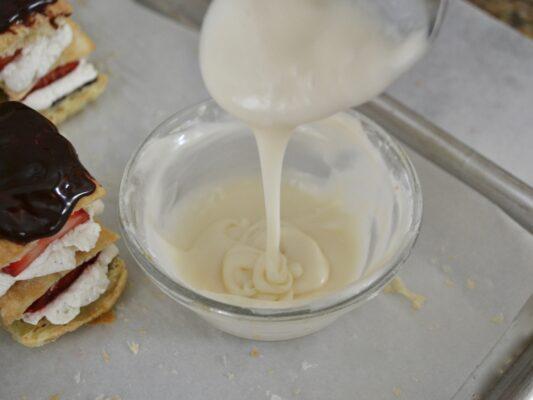 Place glaze in disposable piping bag with 1/8″ cut end or tiny round tip # 2. Pipe 4-5 horizontal stripes across top of ganache coated pastry. 5 is preferred.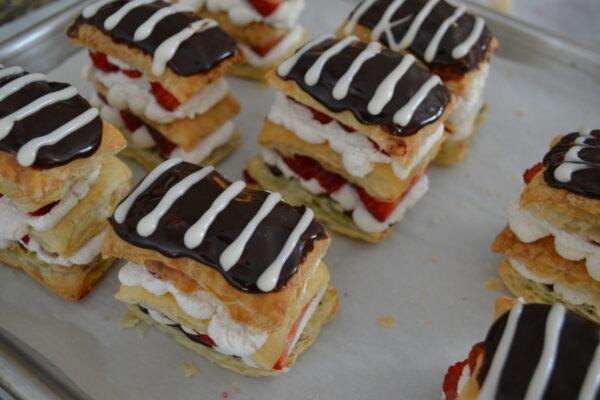 With a wooden skewer or toothpick, beginning at the top of the pastry, drag the pick through the ganache and glaze forming a line, repeat with remaining stripes to create the web or feathered design. Create 3-4 lines.  3 is preferred.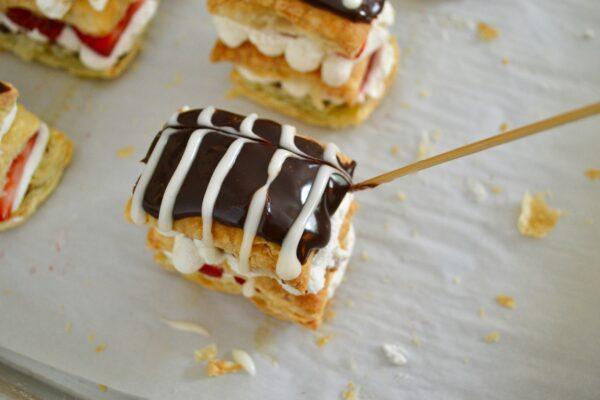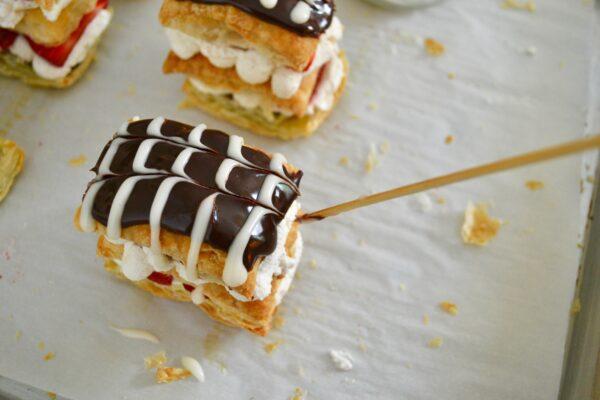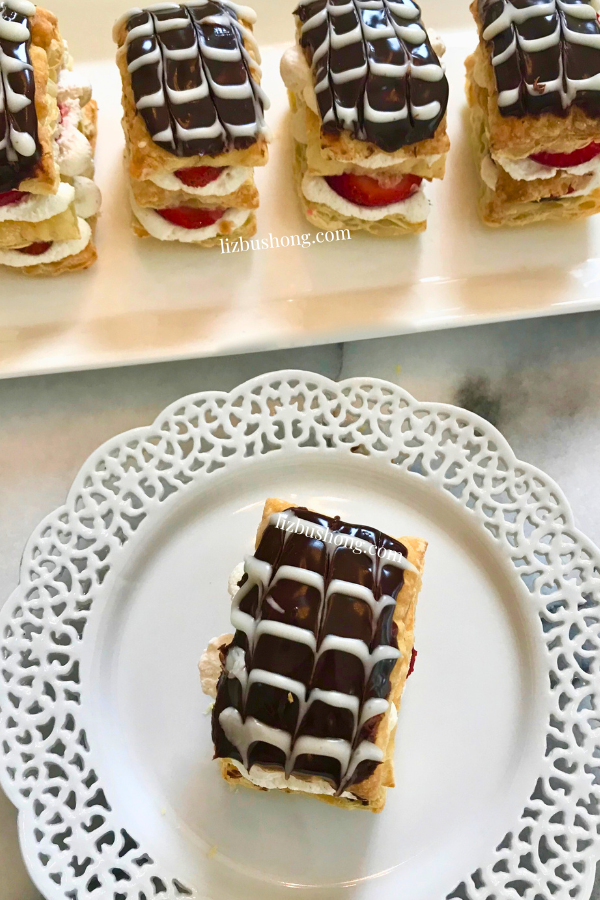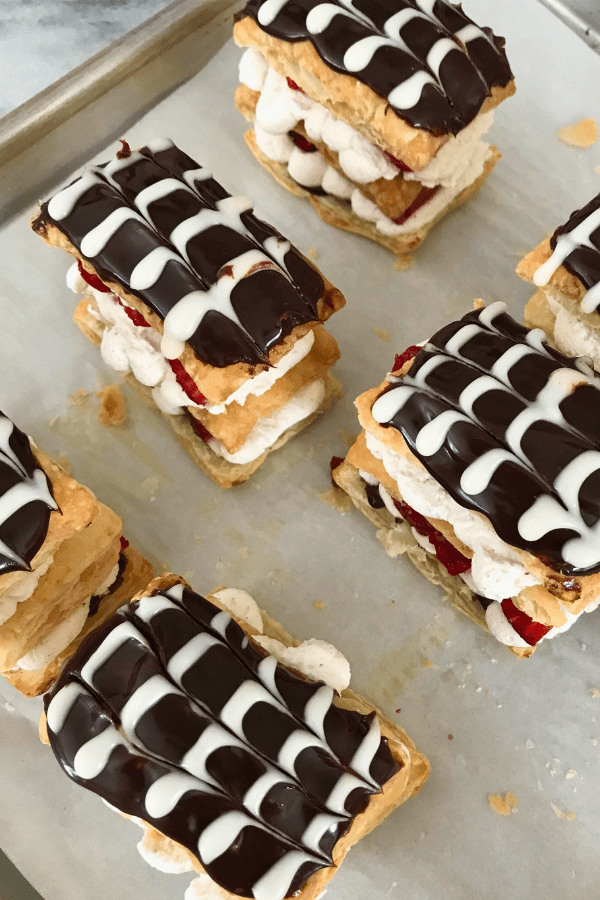 Add sliced strawberry and mini sprig if desired.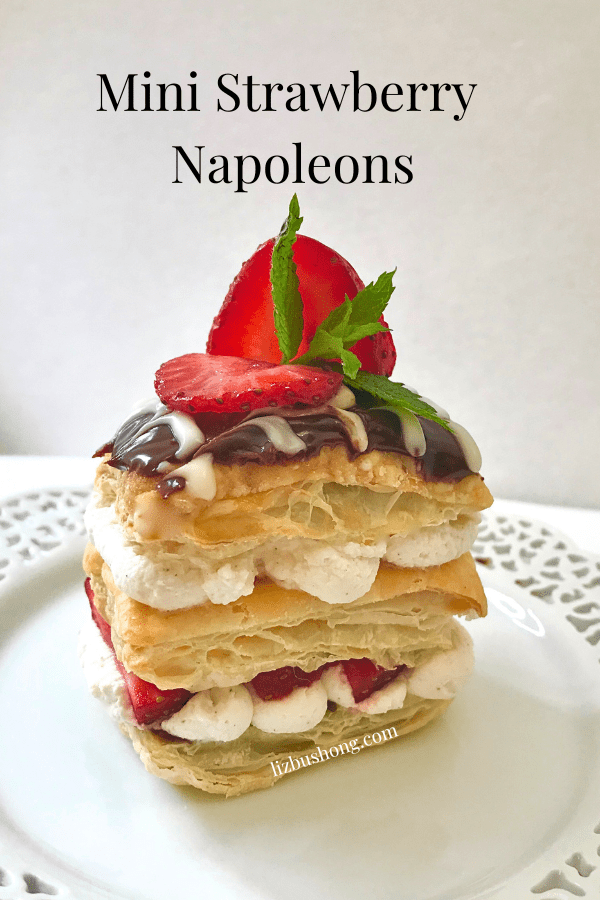 Do Ahead Tips
Bake pastries a day or two ahead, store in covered container or freeze until ready to assemble.  Make ganache and whipped cream right before assembling as well as slicing berries. Spread cut berries with jam before adding to napoleons. 
Napoleons need to be refrigerated until ready to serve, this dessert will last one day covered in refrigerator. Garnish with berry right before serving. 
Hope you will try this recipe, its really about assembling. Enjoy!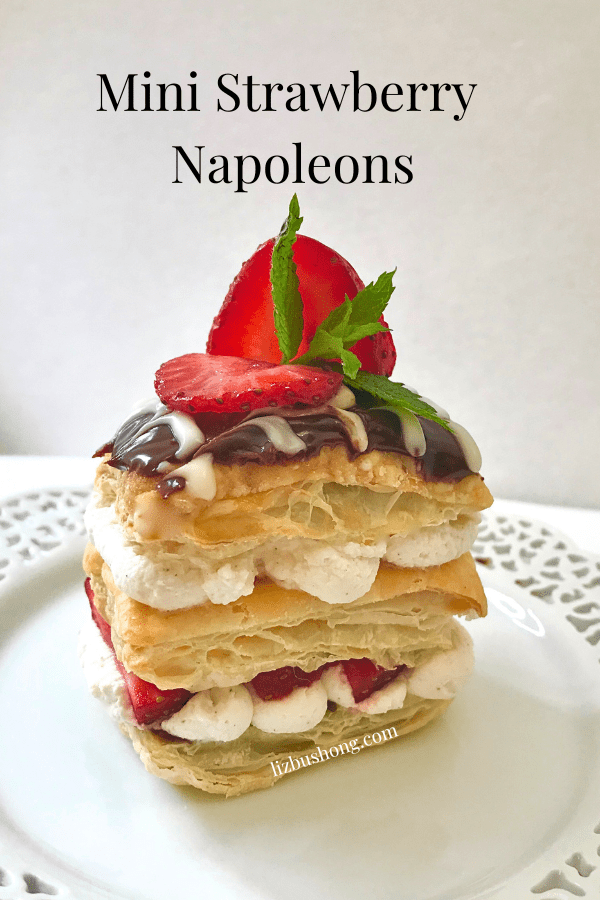 These are so good!!!  Light flakey and sweet with chocolate ganache, fresh whipped cream and strawberries brushed with strawberry jam.  They look cute too. 
Print
Easy Mini Strawberry Napoleons
Baked puff pastry layered with ganache, whipped cream, fresh strawberries make a pretty easy dessert, Mini Strawberry Napoleons. 
Author: Liz Bushong
Prep Time:

30 minutes

Cook Time:

12-15 minutes

Total Time:

90 minutes

Yield:

9

desserts

1

x
Category:

Dessert

Method:

Bake and Assemble

Cuisine:

French
Tools needed: one 2″ x 3″ rectangle cookie cutter, disposable piping bag, tip # 2 and round tip for piping whipped cream, whisk attachment for hand mixer or stand mixer.
1 package Puff Pastry Sheets- tested Pepperidge Farms
Ganache
1 cup heavy whipping cream
1/2 cup mini chocolate chips
1/4 teaspoon corn syrup
Whipped Cream
1–1/2 cups heavy whipping cream- well chilled
1/4 cup confectioners sugar
1/4 teaspoon ground cinnamon- optional
1 teaspoon vanilla or creme bouquet flavoring
Vanilla Glaze
1 cup confectioners sugar
1 teaspoon cream
1/2 teaspoon vanilla or creme bouquet extract
1 quart fresh strawberries or raspberries, rinsed, sliced, reserve 9 whole berries for garnish
1/2 cup melted strawberry jam or raspberry jam
Mint sprigs for garnish-optional
Instructions
Line baking sheet with parchment paper. Preheat oven to 400 degrees.
Unthaw both puff pastry sheets from packaging on floured surface. NO need to roll the dough.
Using a 2 x 3″ rectangle cookie cutter, cut 24 rectangles. These will be cut in half or thirds if pastry puffs enough for three layers.  You will need a total of 27 layers, 3 layers each making 9 desserts. (9 x 3=27)
Place cut pastry on baking sheet, bake in hot oven for 12-15 minutes or until puffed and browned. Remove from oven and allow to cool before touching.
Slice each pastry into 3 pieces, if you are not able to get 3 pieces,  cut as many pastries as you can and stack pieces into thirds making 9 napoleons. Set aside.
Make ganache
In small mixing bowl add mini chocolate chips.  In microwave proof measuring cup  or bowl, microwave heavy cream for 45 seconds. It should be steaming but not boiling.  Pour warm cream over chips in bowl.  Do not stir for 5 minutes.  Stir until smooth, add corn syrup and continue to stir until glossy smooth. Set aside while you make the whipped cream.
Making Whipped Cream
In chilled medium mixing bowl add chilled heavy cream, whip on medium speed with whisk attachment on hand held mixer or stand mixer until soft peaks form.  Add confectioners sugar, ground cinnamon (optional) and vanilla. Whip on high speed until stiff peaks form.  Place whipped cream in disposable piping bag fitted with large round or smaller clip end for piping.  You can pipe large dots or long strands, whatever you would like. Set aside until ready to assemble napoleons.
Prep Berries
Rinse and hull strawberries, reserve 9 whole berries for garnish.  With berry point side up, slice into 1/4″ slices. Place on paper towel for juices to absorb. Melt strawberry jam in microwave safe bowl and brush warm jam over berry slices. Ready to assemble Napoleons.
Napoleon Assembly
Place bottom puff pastry layer on baking sheet, fill with 1 teaspoon of ganache. Pipe whipped cream filling over entire space of layer, add three sliced berries to whipped cream.  Add second pastry layer, repeat with ganache, whipped cream and berries.  Finally, dip 9 round pastry tops in ganache to coat.  Melt ganache in microwave if necessary. If you would rather not dip pastry, use a spoon of ganache over the top layer and spread with off set spatula.  Once coated with ganache, place on top of 9 napoleons. Prepare vanilla glaze for drizzle.
Vanilla Glaze for Web or Feathered Design
In small mixing bowl, add confectioners sugar, vanilla and little bit of cream or water. Mix all ingredients until glaze is pourable, not too thin or too thick.  Place in disposable piping bag fitted with tip # 2, small round tip. 
How to Make Design
Pipe 4-5 horizontal stripes on top of the ganache coated napoleons. With a wooden skewer or toothpick, beginning at the top of the pastry drag pick through ganache and glaze stripes to the end of the pastry without lifting the pick.  Repeat with all lines making 3-4 drag lines.  This should make your pastry look like it has a feathered or webbed look on the top.  
Garnish with fresh sliced strawberry or whole berry with mint sprig right before serving.  Generously brush the berry garnish with melted strawberry jam for a shiny and flavorful garnish. 
Notes
Pastry can be baked a day or two ahead, frozen until ready to use or covered in container.  If it is going to be more than a day, freeze the baked pastries before cutting and filling. 
Make ganache, whipped cream and glaze right before assembling for best results. However, you can make the ganache a day ahead and chill. When ready to assemble place in microwave for 10 seconds to warm up so it is spreadable. 
Only prepare berries right before assembling and serving for best results. 
Keywords: Mini Strawberry Napoleons, Whipped Cream, Ganache, Puff Pastry, Strawberries
Other Ideas You Might Like to Try:
Cherry Pastry Note- 3 ingredients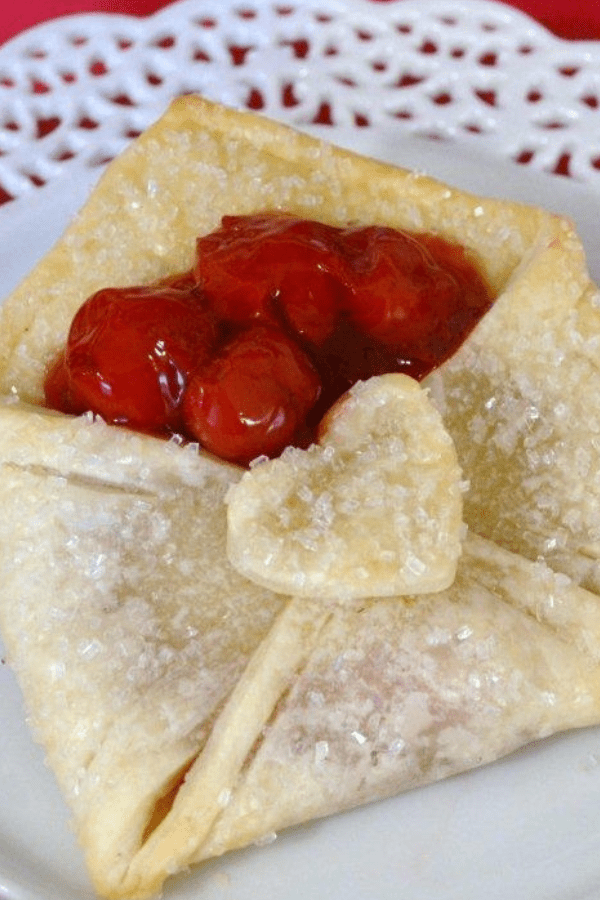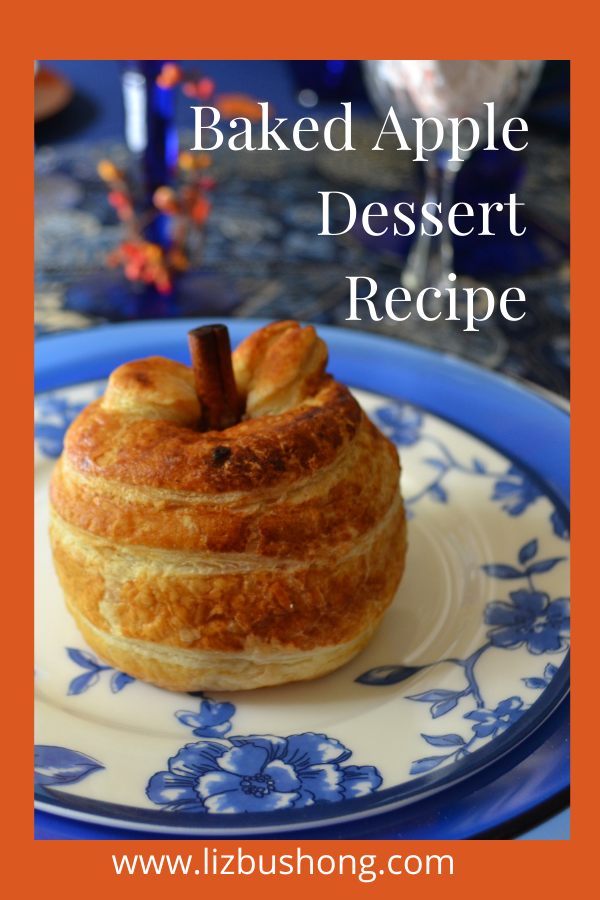 Beef Wellington Pastries-Appetizer