For a sweet treat, make a batch of crunchy thin peanut butter sandwich cookies filled with ganache. There are many peanut butter cookie recipes out there and so this one is added to the mix.  However, this cookie not only has crunchy peanut butter inside it has added chopped peanuts to the recipe.  If you like crunchy thin cookies this is your cookie.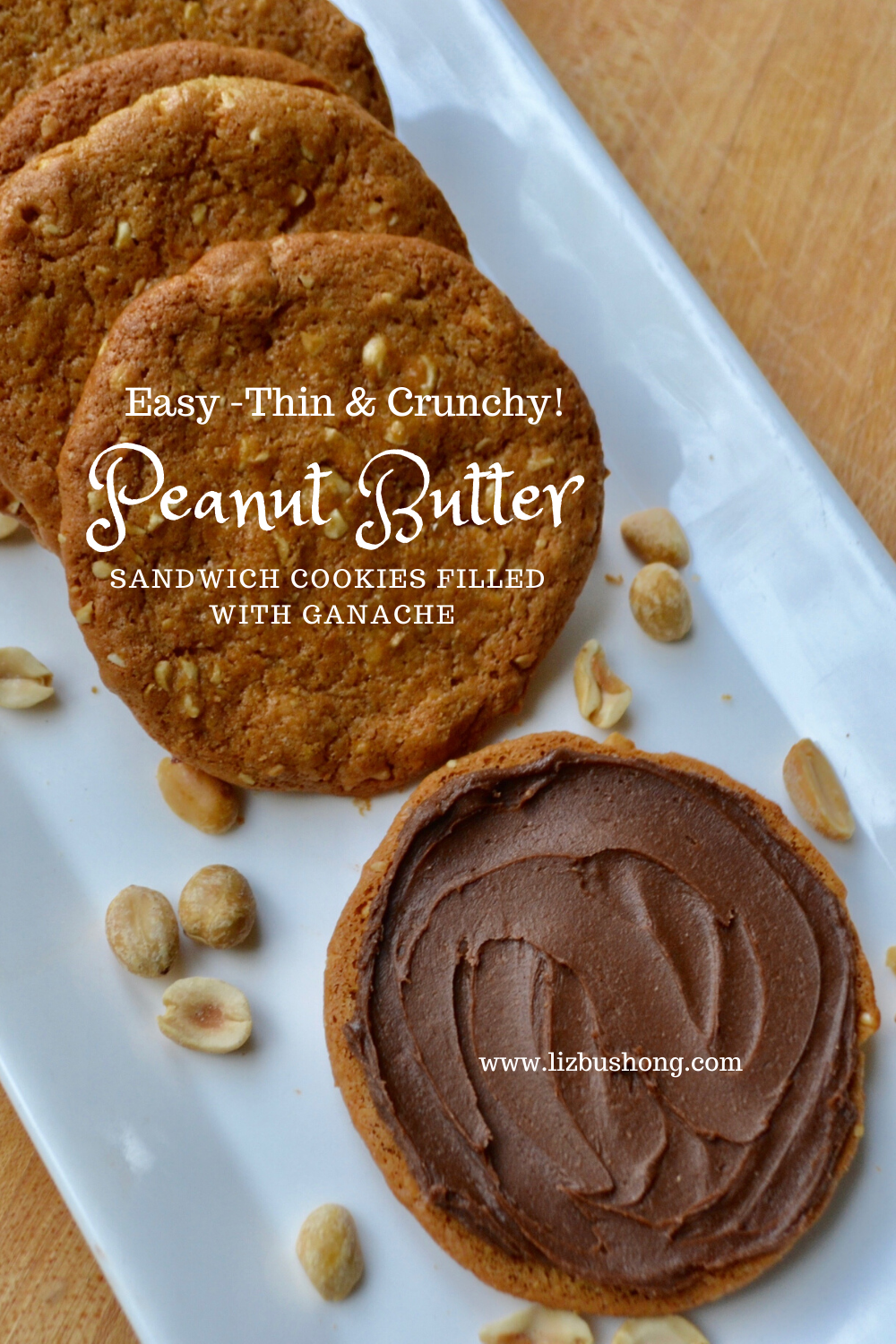 How to Make Thin Crispy Cookies
Ingredients and proportions will determine whether your cookie is thick and chewy or thin and crisp.  If you want to know more about ingredients and how they mesh together check out this website.
In a nutshell, for this recipe, less than a cup of all purpose flour, melted butter, dark brown sugar and no baking powder was used to make the cookie thin and crispy.  Of course crunchy peanut butter was a major ingredient for this peanut butter cookie.
After mixing the cookie dough in a stand mixing bowl, the dough was rolled into 1 " balls and placed on parchment lined baking sheet.  Flattening each ball with your hand will help the cookies become the same size and thin.  At this point if you want to add sea salt to the tops of cookies you can. Chocolate chips would be good too.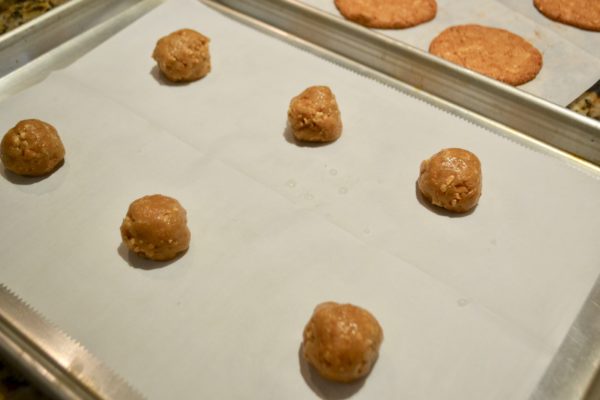 After baking the cookies are flat and round perfect for filling.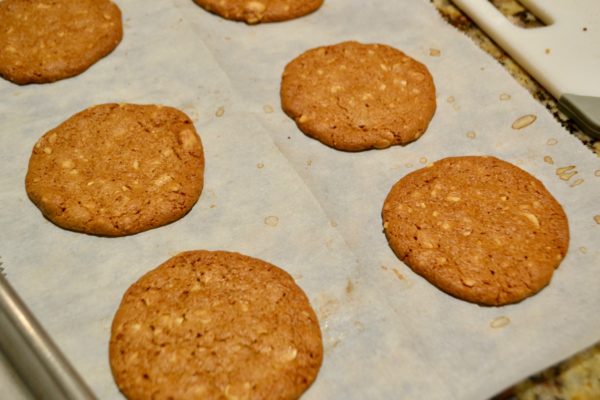 Let's Talk About the Filling
I used melted chocolate chips and heavy cream to make the ganache, but you could use Nutella, the hazelnut spread as well.  Some peanut butter cookies use peanut butter frosting as a filling. I also sampled almond butter as a filling .. that was good too!  Guess you can fill this sandwich cookie with your families favorite filling whether ganache, peanut butter, or jam.  Make it your own.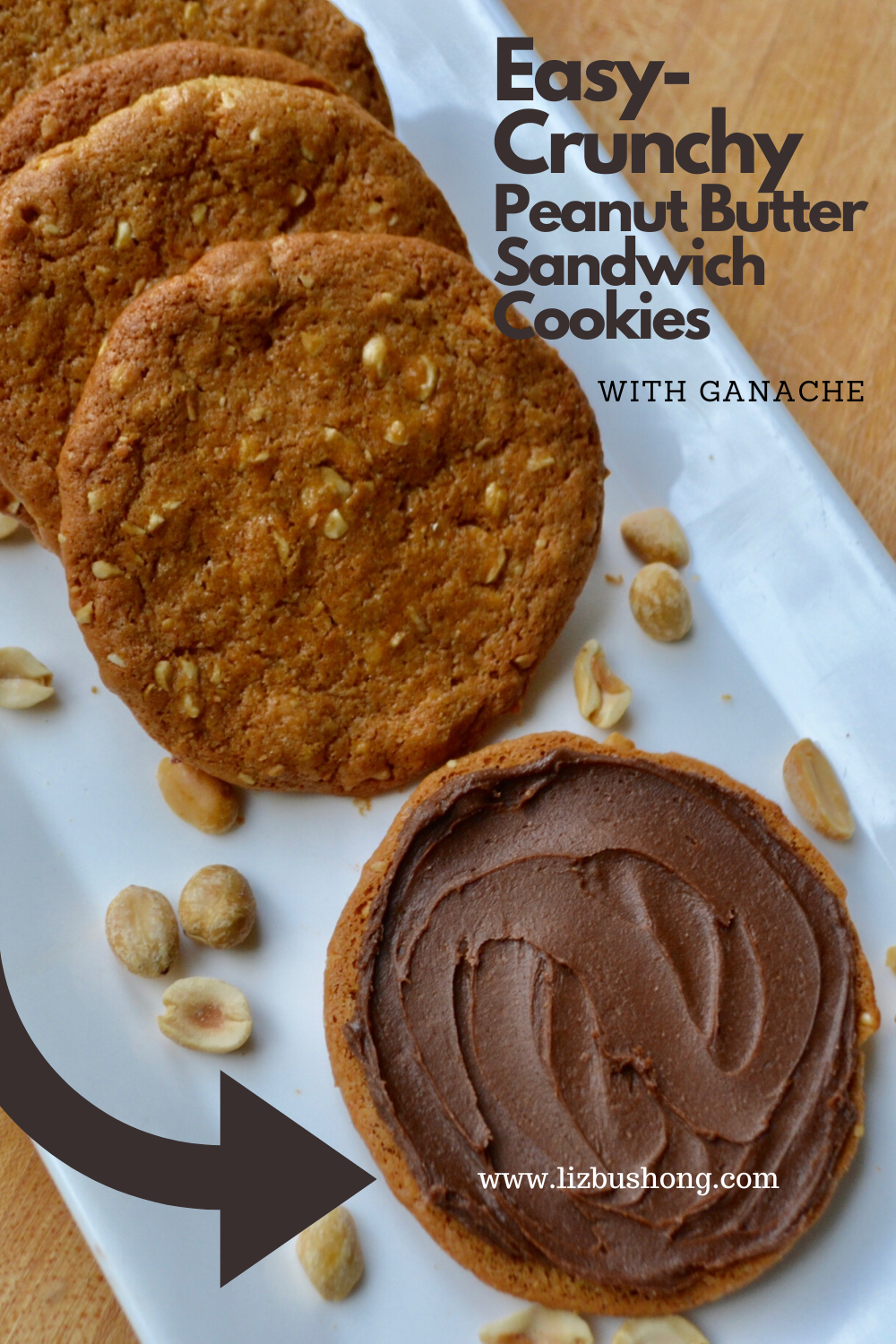 Hope you will make a batch soon. They are delicious, thin and crispy.  
Just a note: After freezing the cookies they will become soft and chewy.
Enjoy!! xox Liz
Recipe was inspired by Cooks Country, Martha Stewart and others.
Print
Easy Peanut Butter Sandwich Cookies with Ganache
Thin peanut butter cookies are sandwiched with chocolate ganache filling,  Extra peanuts are added to the cookie dough to make this cookie crunchy.
Author: Liz Bushong
Prep Time:

15 minutes

Cook Time:

15 minutes

Total Time:

60 minutes

Yield:

24

sandwich cookies

1

x
Category:

Dessert- Cookies

Method:

Baking

Cuisine:

American
1 cup peanuts- chopped in food processor
Cookie Dough
¾ cup flour
½ teaspoon salt
1 teaspoon baking soda (for thin cookie)
½ cup crunchy peanut butter
½ cup sugar
½ cup brown sugar (for caramelization & crispness)
3 tablespoons melted butter
3 tablespoons milk
1 large egg
Chocolate Ganache
1 cup heavy whipping cream
3/4 cup chocolate chips, mini for easy melting
Instructions
Preheat oven to 350 degrees. Line two baking sheets with parchment paper. Set aside.
Chop peanuts by hand or process slightly in a food processor. Set aside.
In medium bowl, add flour, salt and baking soda toss to blend, set aside.
In stand mixing bowl beat together egg, and sugars until light and fluffy about 5 minutes. Add crunchy peanut butter, melted butter and milk, beat to combine.
Add dry ingredients including the chopped peanuts to the dough. Mix on low speed to combine and incorporate.
Roll dough into 1″ round balls.  Place on baking sheets 2″ apart.  With fingers wet with water, gently flatten the dough balls on baking sheet.  Check the size to equal 2″ round. Dough is very easy to manipulate.
Bake in preheated oven 12-15 minutes.  Rotate half way through baking to evenly brown.  Remove from oven and cool for 5 minutes before removing from baking sheet.
After cookies cool, spread with ganache filling or filling of choice, sandwich two cookie halves together creating a cookie.
Ganache Filling:  Heat heavy cream in microwave safe bowl for 40 seconds.  Add mini chocolate chips and stir until smooth and creamy.  Let ganache sit for 3-4 minutes to thicken then spread on cookies to make the sandwich.
Store cookies in air tight container for you to 3 days.  To freeze cookies, use a freezer safe ziplock bag and before adding ganache for best results.
If you want to use peanut butter filling try this recipe:
3/4 cup creamy peanut butter
3 tablespoons softened butter
1 cup confectioner's sugar
1/2 teaspoon vanilla
Mix all together until smooth and creamy. Fill cookies and sandwich together.
Keywords: #Cookies, #peanutbutter #easy #recipes #dessert
Other Ideas you might like to try: Click on photos for recipes.