Create your own home decor inspiration with these ideas. Hired by a client to help her downsize from a 3-story home to a one level was daunting but very exciting. The goal of the clients new home was to use furnishings she already had. Where to begin?

Where it begins: Planning is Key
From a 5,000 square foot home to 2,000 square feet one level required a lot of planning and calculation. Having decorated for this client over the years I was familiar with her style and color loves.
With this in mind meeting with the client and asking a lot of questions was a must. Which furniture pieces did she want to take to new home, what pieces did she want to purchase new, which rugs, draperies, and accessories did she love and what to take to new home?
Tip 1: Starting with a color scheme will be your best friend and keep you from making decorating mistakes.
Once we determined draperies and rugs to keep, the color scheme began to take shape

My client loves shrimp colored corals, bronzes, and various shades of greens. The watery color coordinated with a guest bedroom bedding which she wanted to keep.
Tip 2: Determine size and location of large pieces of furniture that will fit in new home remodel.
A visit to my clients 3 story home with a package of stickers was an important step in determining the furniture pieces she wanted to use in her new home. In as much as stickers used to mark large pieces we also assigned accessories to keep. This helped with space planning for new home as well as providing the moving company which pieces to pack for new home.
Tip 3: What can you repurpose? What can you create as a show stopper?
Repurposing? The chandeliers got a face lift with new glass globes with dimmable Edison bulbs.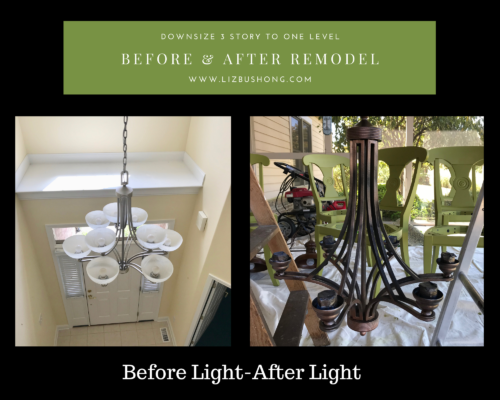 The glass globes purchased from amazon.
Each glass was perfectly wrapped with white gloves in each box. They fit the chandelier perfectly along with the dimmable Edison bulbs.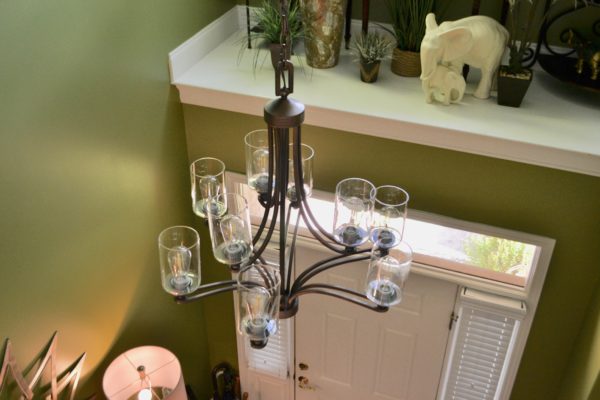 I repurposed many things in the home, draperies to shower curtains, extended long wooden drapery rods into smaller ones, painted kitchen table and chairs to fit color scheme, reupholstered chair pads and thought outside the box in showcasing collections.
Tip 4: Showcase collections in one area of one favorite space in the home. If you have many items in a collection, ask the home owner to select her favorite pieces and use those. Sell or give away remaining pieces.
Her 3-story home was filled with a collection elephants of all shapes and sizes. The photo below showcases the elephants in a loft space above the front entry door. Being 15′ from the floor, this area was the perfect location to showcase her collection as it will not be changed and everyone can see the display upon entering or exiting the home. These items the homeowner had on hand so nothing was new or purchased just displayed in layers, heights and positions.

Tip 5: Create a peaceful retreat in your home
The best place for a peaceful retreat is the master bedroom and bath. Soft soothing colors create a spa filled retreat. We repurposed my clients former dining room draperies in her master bedroom. The draperies are cream and sage wide stripes with a gold embroidered pattern over the sage. Gold wooden drapery rods and finals were extended to fit the new window. I also used her former dining room rug for the new master bedroom due to the various sage and greens in the rug. It was also the perfect size to fit under the bed.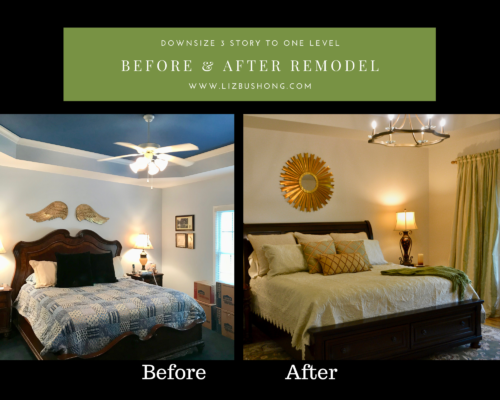 The before photo is from the previous home owner as the room was navy with navy carpet and tray ceiling. I changed the tray to a soft sage green and the walls a luscious cream. The bedding selected came from soft surroundings in a soft sage green. The throw pillows she had so they were the perfect accent. She also had the lamps but the starburst mirror I ordered from Home Depot. The chandelier was a soft brass ordered from Lowes. Really loved the shape and the elegance of the chandelier. Everything worked like a dream. Because the bed had beautiful wooden sides and end drawers we did not use a bed skirt.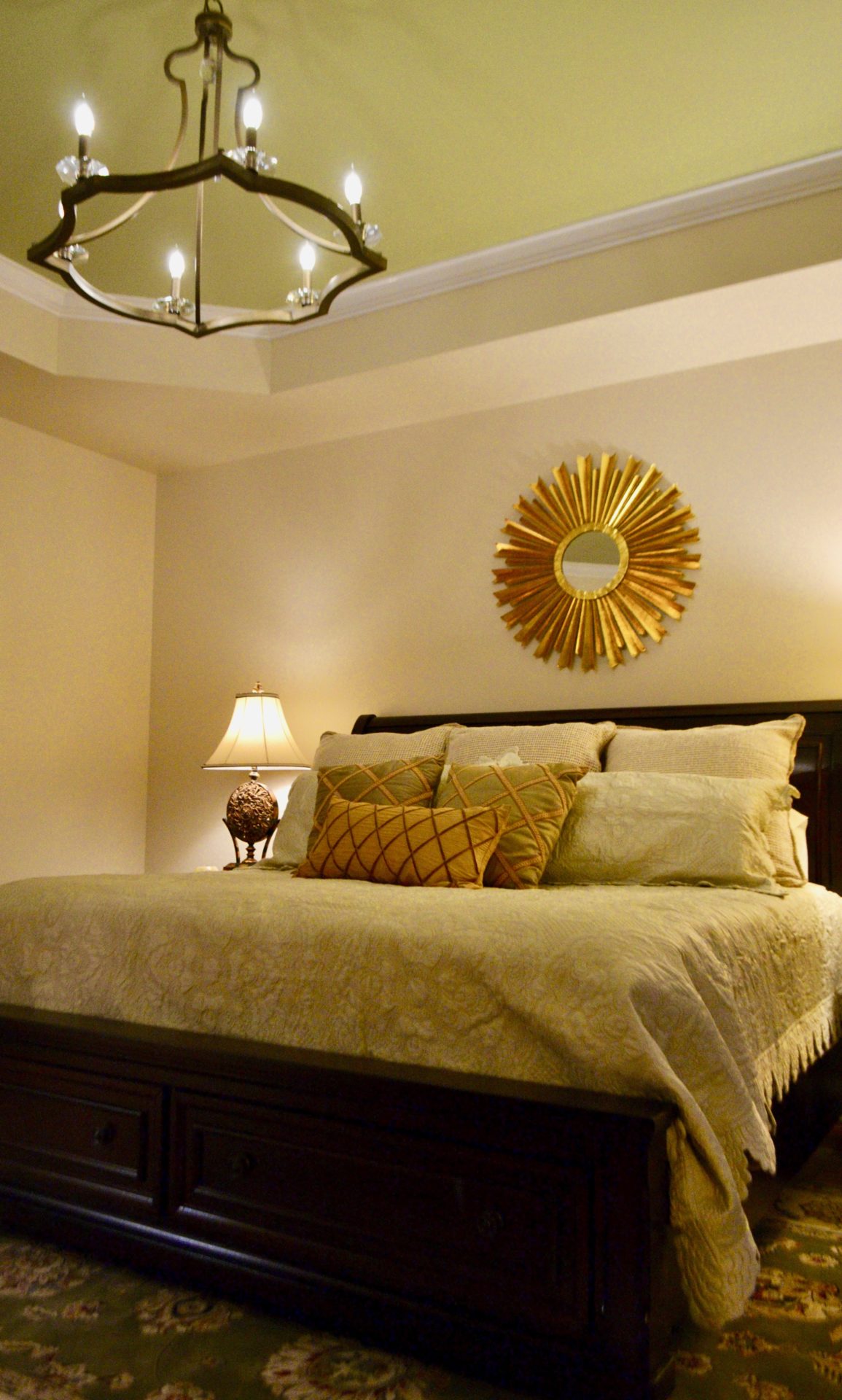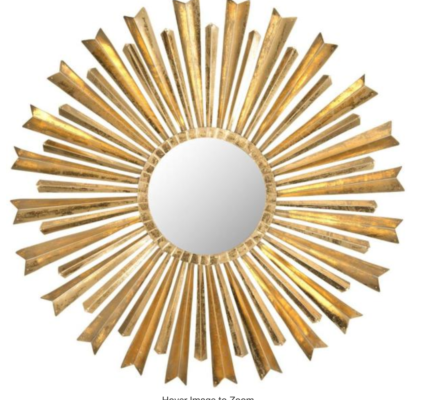 Draperies were not extended across the entire window instead the rods were 24″ long and hung just at the left and right side of window frames. She had blinds for privacy.
Tip 6: Create special touches in the master bath for spa feeling and whimsy.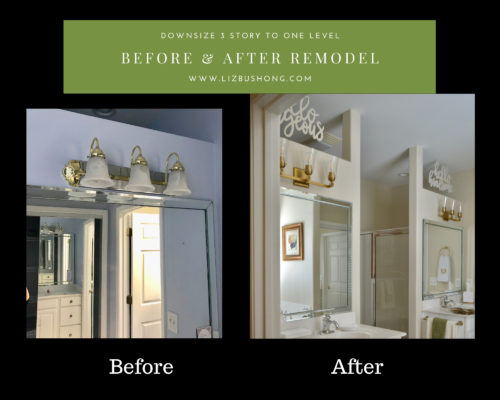 The master bath is a spa retreat. Soft cream coats the walls while brass light fixtures on the right showcase the cute signage, Hello Gorgeous and Hello Handsome. The cut out alcove was a strange opening in the master bath, so I decided to make it work with cute signage. She loved it! We kept the faucets and mirrors but wanted brass to go with the spa green from the master bedroom.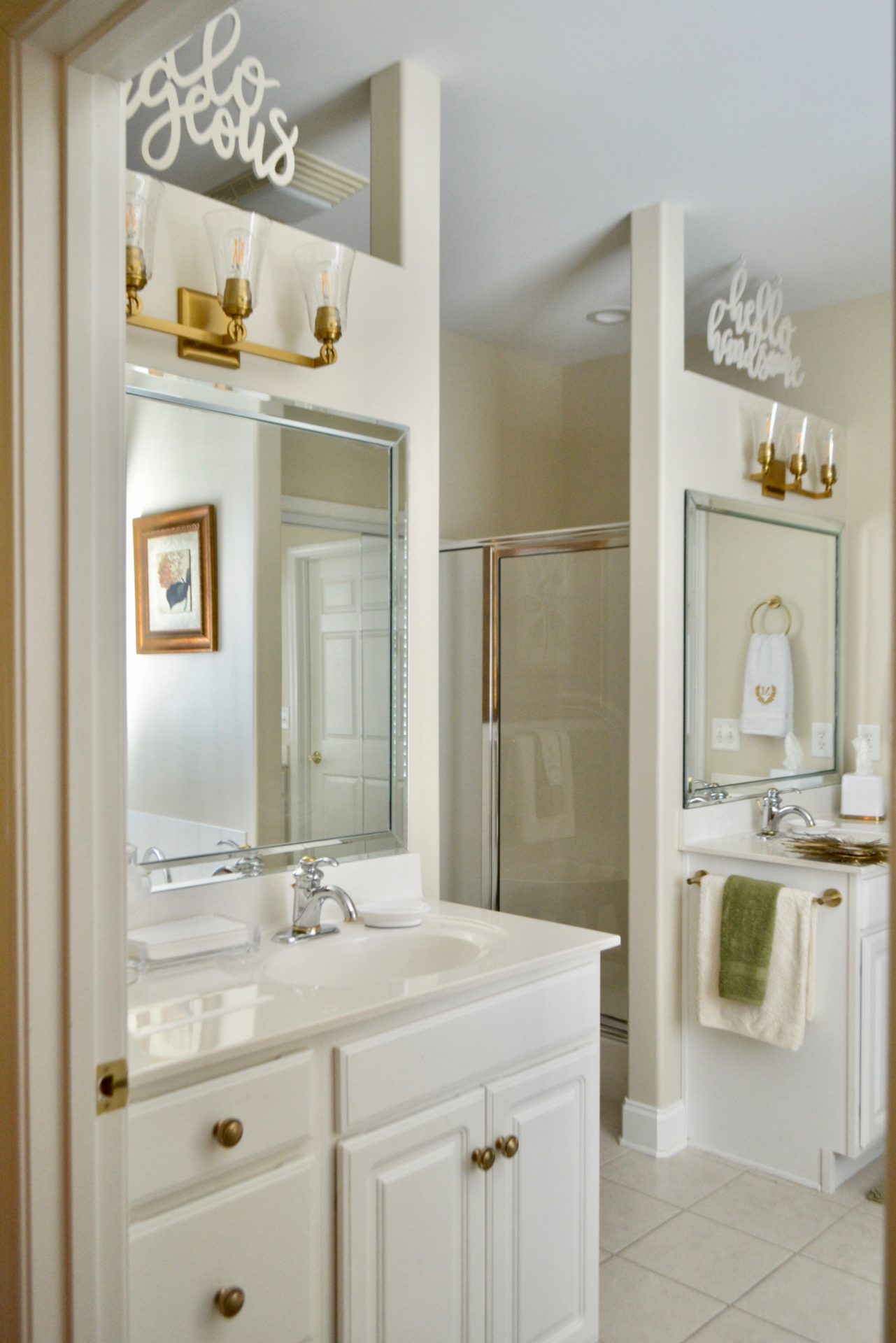 Home-made decorative soaps, epsom salts, cotton balls in apothecary jars makes a pretty display.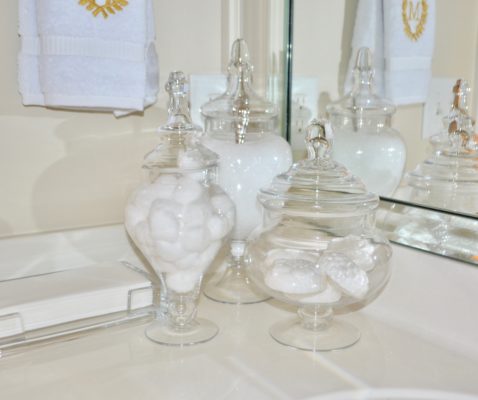 Found the Hello signage at Hobby Lobby, 40 % off. Screw eyes and hooks enabled the sign to hang freely. Same paint color, (Maison Blanche) as the walls enhanced the signage.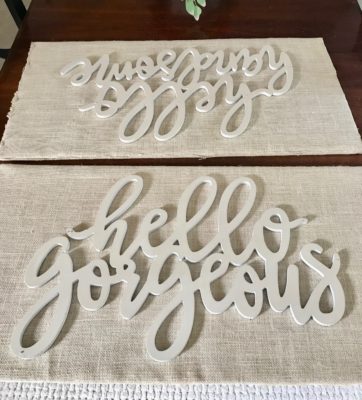 Because we did not want to replace these faucets we focused on the brass and not the chrome.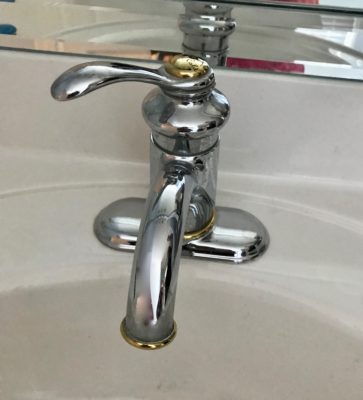 Tip 7 Create one painted piece to showcase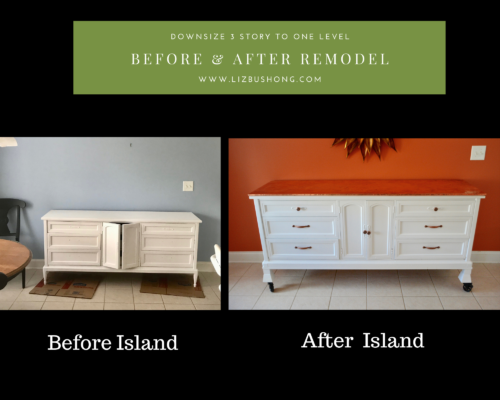 This is by far my favorite project. Creating this special dresser transformation into a kitchen island was a task but turned out beautiful. The dresser is solid wood with 9 drawers. The center double doors open with three additional smaller drawers perfect for storing silverware and serving tools for entertaining.
The top of the piece was outfitted with hammered copper and the feet were enlarged to host rolling casters. To see the DIY for this project go here.
Tip 8 Discover formal dining with ease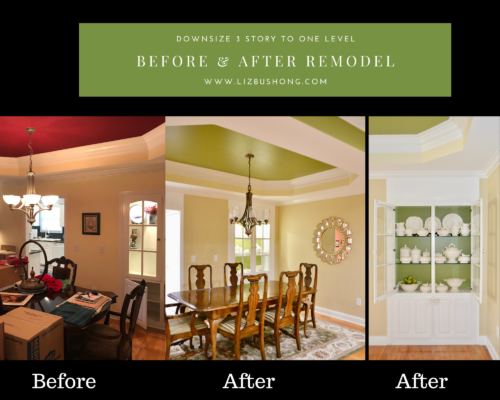 Before photo showcases a red tray which is lovely, but my client did not like the red. Personally I loved it and it would have coordinated with my clients red sofa, but client is always right and she wanted green.
I also love this green color, it is called Tansy Green and it glistens in the tray and china cabinet. Because the dining room is a floating room, meaning it has no walls except the back wall, I asked the painters to paint the entry and wall connecting to the dining area the Tansy Green. It is beautiful!
Tip 9 Make a big entrance in the Entry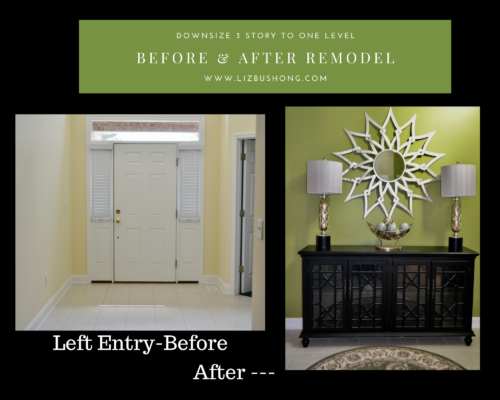 The before entry was a lemon yellow, which was also pretty however, my client wanted green. This is tansy green from Sherwin Williams and it is lovely. The lamps, mirror and buffet was purchased new.
Tip 10 Make guests feel special with comfortable rooms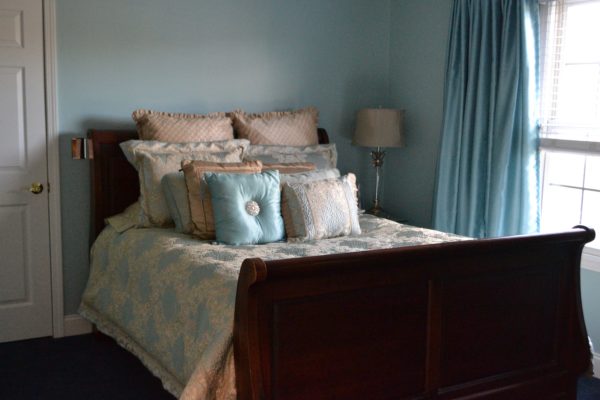 Guests will love this pretty bed room with the cool paint color watery on the walls. Six panels, full and luscious "watery blue" were repurposed from the clients 3-story home. These were in her downstairs den at one time. I also took these drapes and created a pretty shower installation for the main floor bath.
Tip 11 Living room spaces can be casually elegant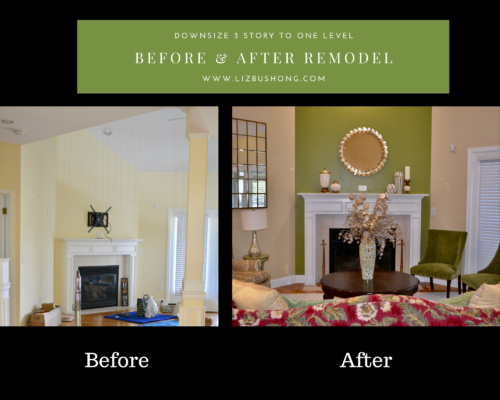 Lemon yellow walls sported this open living concept prior to the remodel. After remodel, the wall color was Believe-able Buff and Tansy Green on the fireplace wall. Painting the fireplace wall extended the green color to create a cohesive flow in this open concept room.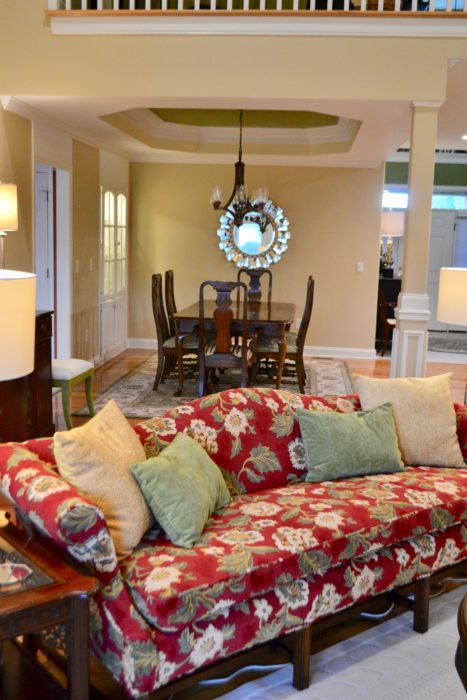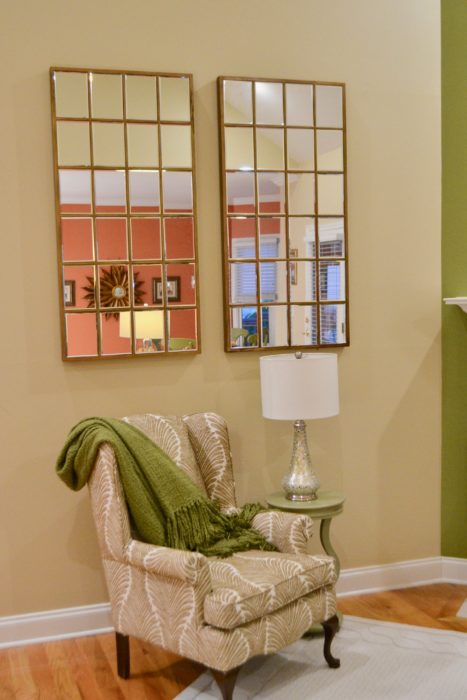 Tip 12 Consider indoor outdoor carpet to ground a space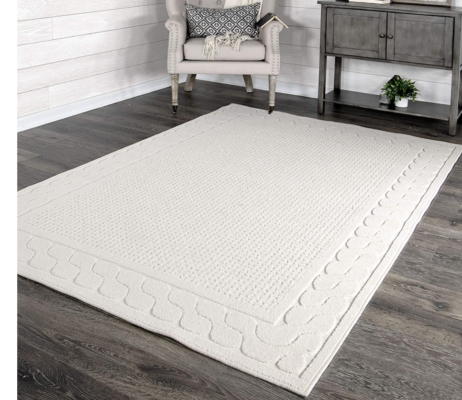 Photo compliments of My Texas House by Orian Indoor/Outdoor Picket Fences Area Rug, 7'9″ x 10'10", Natural. This is the area rug I selected for the floating living room. It was perfection and creamy white or natural.
Tip 13 Repurpose a room- bedroom to den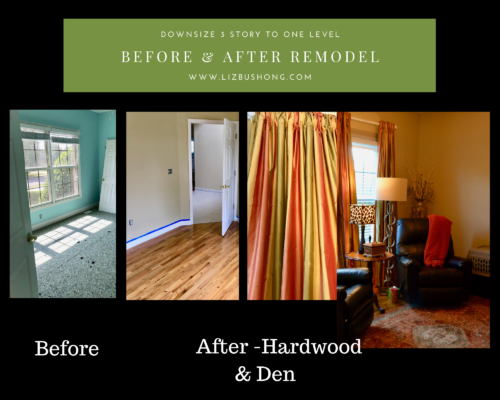 It's ok to repurpose a room, we took a bedroom changed the carpet to hardwood flooring and turned the room into a small den. Repurposed in this room includes the coral oriental rug, which had been in her kitchen, and the striped draperies which had been in her den. There is a large television on one wall while a future snack bar awaits the remodel in the closet.
Tip 14 The kitchen- the hub of the home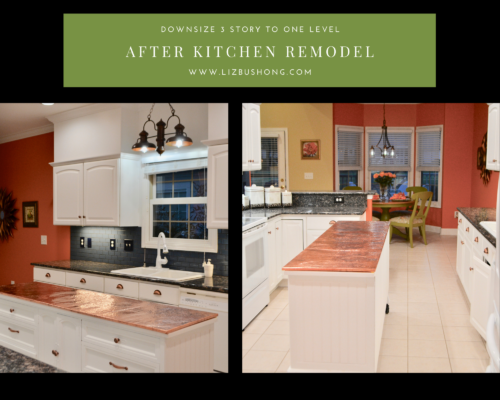 Planning a remodel in the kitchen can be daunting but in this kitchen we only added upper cabinet built ins above the existing cabinets. Crown molding wrapped the faux boxes which extended the height of the cabinets making it look more high end. I also changed all the blue knobs to copper pulls and knobs.
Before Kitchen Update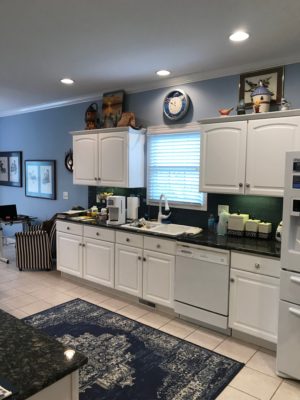 After Kitchen Update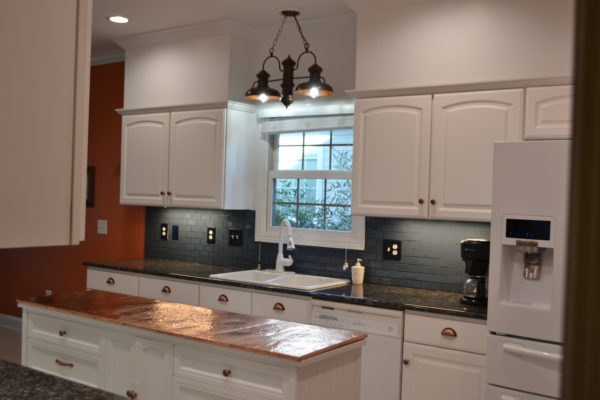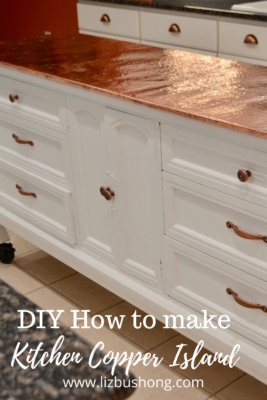 Tip 15 Decorate main level bath with drama.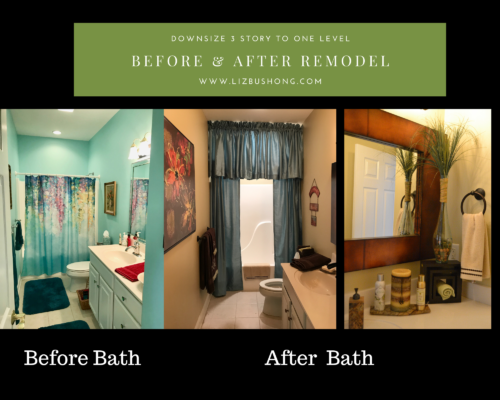 Everything Turned Out…

Hope you enjoyed this home remodel. In conclusion, the home owner loved her new home and I was thrilled to be finished. It was beautiful!
Other Ideas you might like to try:
Black, White and Hot Pink Office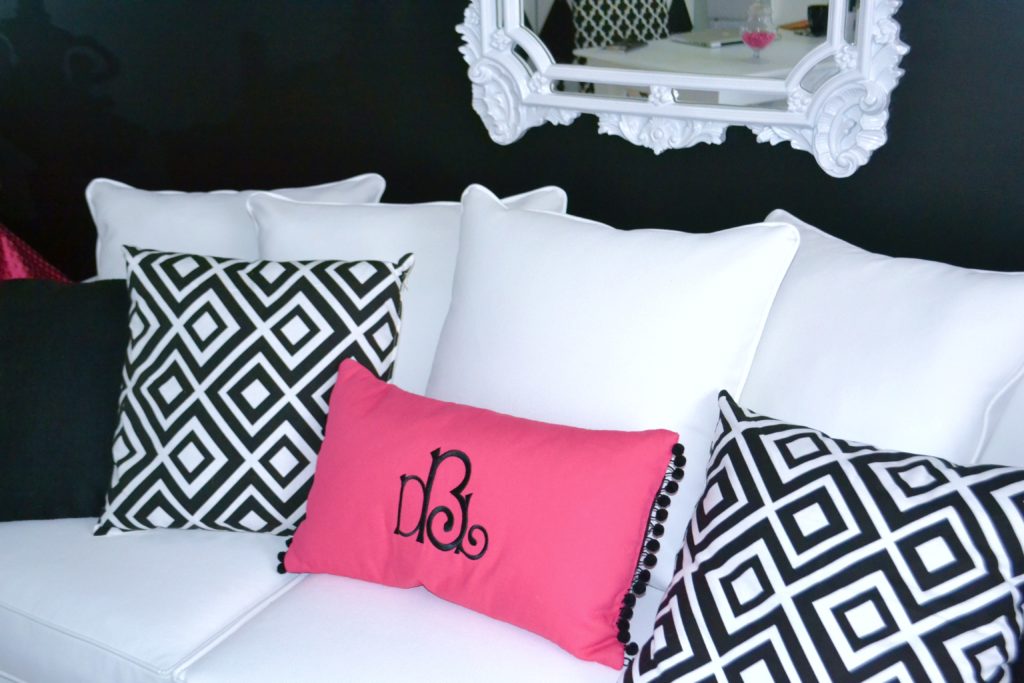 Allendale Mansion with Former White House chief Florist, Laura Dowling