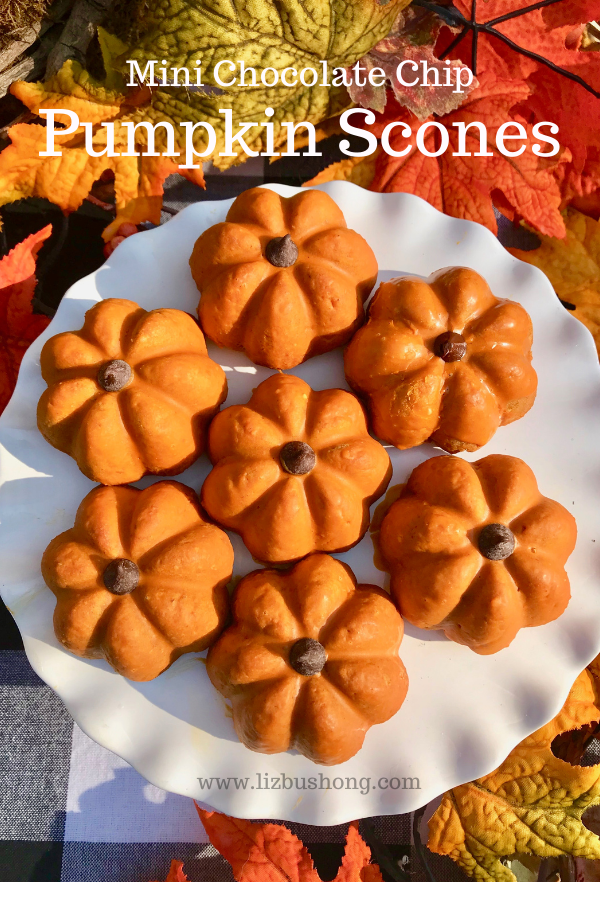 Create Mini Chocolate Chip Pumpkin Scones for breakfast. Smothered with maple flavored cinnamon glaze, these mini pumpkin shaped scones will satisfy every fall palate.
Scones are tasty sweet little biscuits. These bakery style scones made with flour, brown sugar, granulated sugar, baking powder, egg, pumpkin pie spice,, butter, whipping cream and pumpkin puree. As an add-in Mini Chocolate chips stirred in to create a bite of pumpkin and chocolate. So delicious and easy to make.

American Scones are Sweet Biscuits
Most American scones often topped with butter, jam, or clotted cream. However, brushing with butter and sprinkled with sugar really makes the biscuit/scone really rich.  A dusting of confectioners' sugar on top or simple glaze makes scones gently sweet. Although, scones can be cut into triangles or cut out like biscuits, my scones in this recipe sport both shapes, pumpkin and triangle. Triangle scones make 8 wedges.  Using a silicone mold that looks like a pumpkin  make 12-14  2″ scones.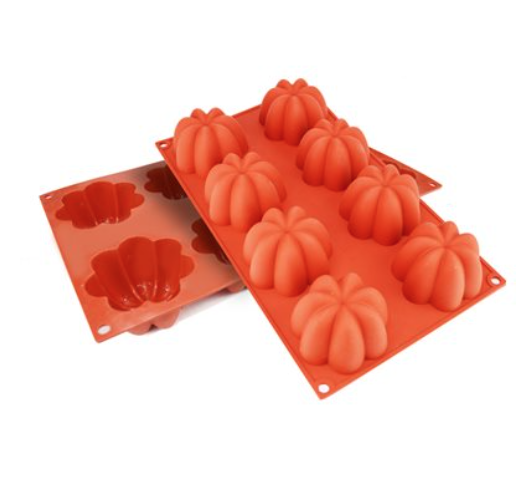 6 Steps to Making Scones 
Cut in chilled shredded butter with dry ingredients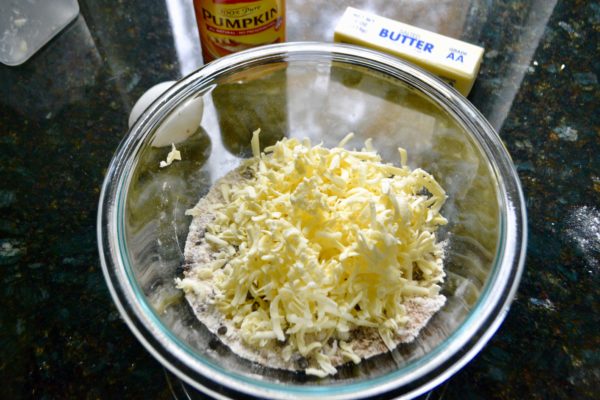 Mix together wet ingredients including pumpkin puree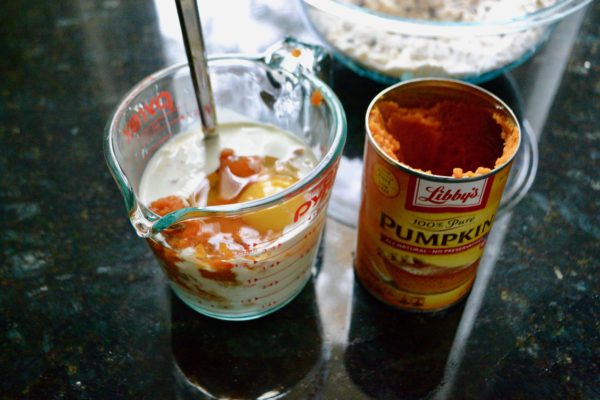 Gently mix together to form dough. Add mini chocolate chips.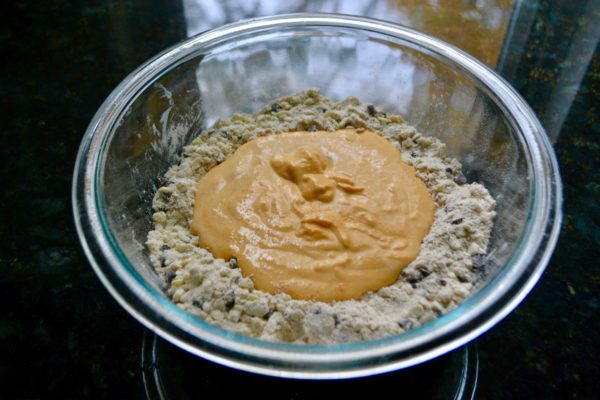 On floured surface, shape dough into 8 x 8 square.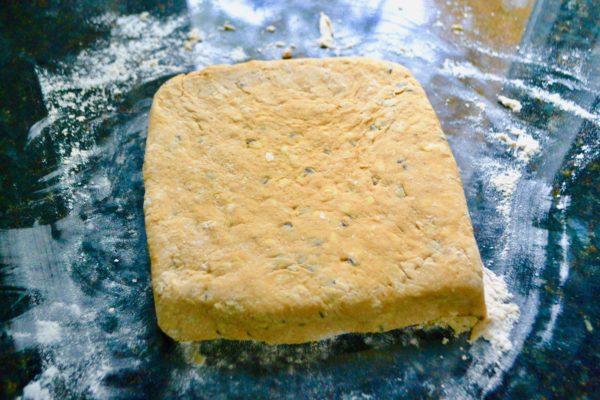 Cut square into 8 triangles. (Cut in half, half again, cut each half in two.)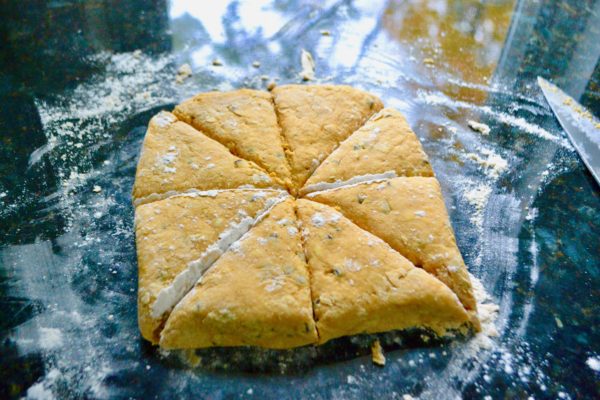 Bake at 375 for 14-18 minutes.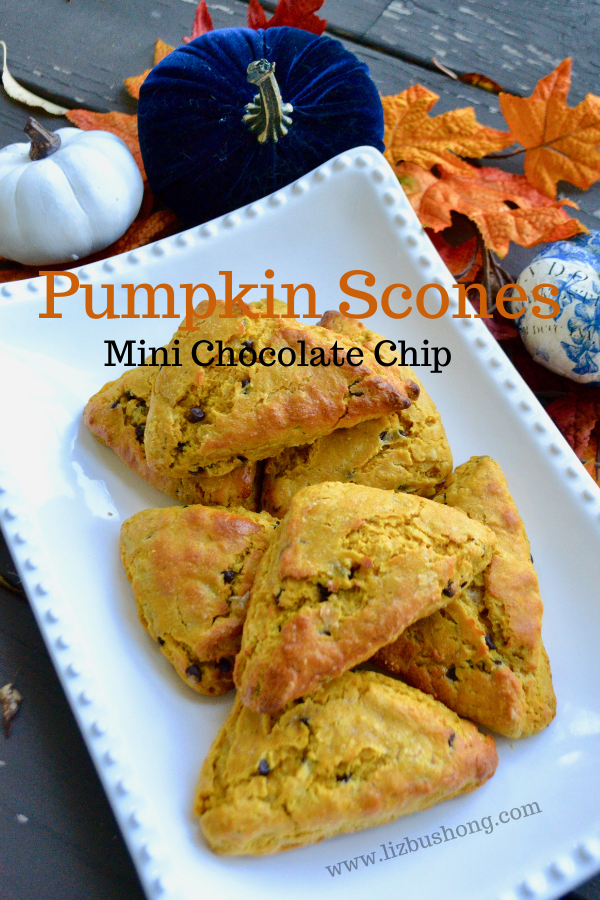 OR… Create these Pumpkin Shaped Scones
Follow steps but bake in pumpkin shaped silicone mold.  These are so much fun to bake and eat. 

Roll dough into 1-1/2 " round balls and pat into lightly sprayed silicone mold.

Place dough into mold.  Pressing to make contact with edges of mold. Bake at 400, not 375… for 12-14 minutes. Filling mold half full.  They will rise.

Turn out scones and cool completely before glazing. Glaze with Maple Cinnamon Glaze, add chocolate chip for the stem.
Recipe for Maple Cinnamon Glaze
This recipe has maple cinnamon glaze that coats these little bite size pumpkin shaped scones.  Confectioners sugar, orange food gel, maple extract and half n half creamed together makes a delicious glaze.
Scones are leavened with baking powder, so making them is generally quick. Adding berries, nuts, chips, and seasonings can make the scone either sweet or savory depending on your combinations.
One of my favorite scones is Blueberry Lemon, then my second favorite is Pumpkin with Mini Chocolate Chips.  although Cranberry Orange Scones are great too.
Actually I love all scones, Current, you name it, it has my name on it. Hope you will enjoy this recipe whether you bake in triangles or pumpkin mold.
Print
Mini Chocolate Chip Pumpkin Scones with Maple Cinnamon Glaze
Pumpkin shaped silicone mold makes pumpkin scones so cute and fun to eat. Scones are covered with maple cinnamon confectionery glaze. A regular sized chocolate chip serves as a pumpkin stem.
Author: Liz Bushong
Prep Time:

20 minutes

Cook Time:

12-14 minutes

Total Time:

12 minute

Yield:

8

triangle scones or

12

-

14

pumpkin shaped scones

1

x
Category:

Bread- Scones

Method:

Baking

Cuisine:

American
2 cups all purpose flour
1/2 cup granulated sugar
2 teaspoons baking powder
1/2 teaspoon salt
1 tablespoon pumpkin pie spice
1 teaspoon ground cinnamon
1/2 teaspoon ground cardamon
10 tablespoons butter, chilled and shredded or cubed
1/4 cup whipping cream
1 egg
1/2 cup pumpkin puree- Tested Libby's- not pie mix but puree
2 teaspoons vanilla extract
Egg Wash- for Scone Triangles only
1 egg + 1/2 teaspoon water
Maple Cinnamon Glaze 
3/4 cup confectioners sugar
1 teaspoon dark maple extract
1/2 teaspoon ground cinnamon
1/4 teaspoon salt
2 teaspoons whipping cream
2 drops orange food gel- or as desired intensity
Instructions
Preheat oven to 400 for pumpkin shaped scones, 375 for triangles.
Prepare baking sheet with parchment paper for triangle scones, lightly spray with cooking spray for pumpkin shaped silicone mold.  Set aside.
In medium mixing bowl, mix all dry ingredients, flour, sugar, baking powder, salt, spices.
Add chilled shredded butter, cut into dry ingredients until crumbly or mealy.
Add mini chocolate chips.
In small bowl, add whipping cream, egg, vanilla, pumpkin puree.
Mix ingredients to form a dough ball.  On floured surface gently shape dough into 8 x 8″ square.. or roll into 1-1/2 " balls if using silicone pumpkin mold.
For triangles:  cut 8 x 8″ square in half and half again making 4 squares.  Next cut each square into two triangles making 8 pieces. Bake on parchment lined baking sheet, coat with egg wash.  Bake at 400 12-14 minutes.
For pumpkin silicone mold:  Place rolled dough into each opening of the mold, pressing all sides of dough to fill mold.  Dough should only fill half of the mold. It will rise.  Bake these scones at 400 for 10-12 minutes.
Allow all scones to cool before glazing.
Glaze:  Mix all ingredients in small bowl to desired consistency.  I suggest thin glaze for even coating. Pour glaze over cakes or dip frozen scones into glaze for top coat.
Top with regular sized chocolate chip.
Other Ideas you might like to try: