Super Hero Sub-Sandwich Recipe is perfect for Dad for Father's Day, or anyone who loves a hearty sandwich.  When it comes to super hero's we often think of mighty men of valor fighting evil vigilantes combating threats against humanity but in this case, we are celebrating a super hero sandwich!  To honor your super hero make them a supersonic hearty meat and cheese filled hero sandwich, guaranteed to make them think they can "leap tall buildings in a single bound!" 

Select Bread and Fix'ns

Tips for Building a Great Sandwich
Select a crusty bread that is not chewy like Sub Rolls, Italian Loaves, Hoagie Rolls.
Toast both sides of the sliced bread loaf to keep sandwich from being soggy.
Select thin sliced meats and cheese for easy stacking.
Shred iceberg or romaine lettuce and coat lettuce with dressing before adding to sandwich.
Thinly slice tomatoes and other vegetables for easy layering.
Secure sandwich with sweet pickle chips and cherry tomato on a skewer or frilly pick as a garnish and to let people know a pick is there as well as keeping the sandwich together.
Wrap the sandwich in parchment paper to allow flavors to mellow and refrigerate for 20 minutes before serving.

How to Layered Ingredients
However you slice it, layering the meats on this sandwich is pretty simple.  Spread your bread with mayo or spicy mustard, follow with rolled meats, cheese, onions, tomatoes and last the shredded iceberg or romaine lettuce, Sprinkle with  salt and pepper, olive oil is desired.  Oregano can be added to the olive oil if desired.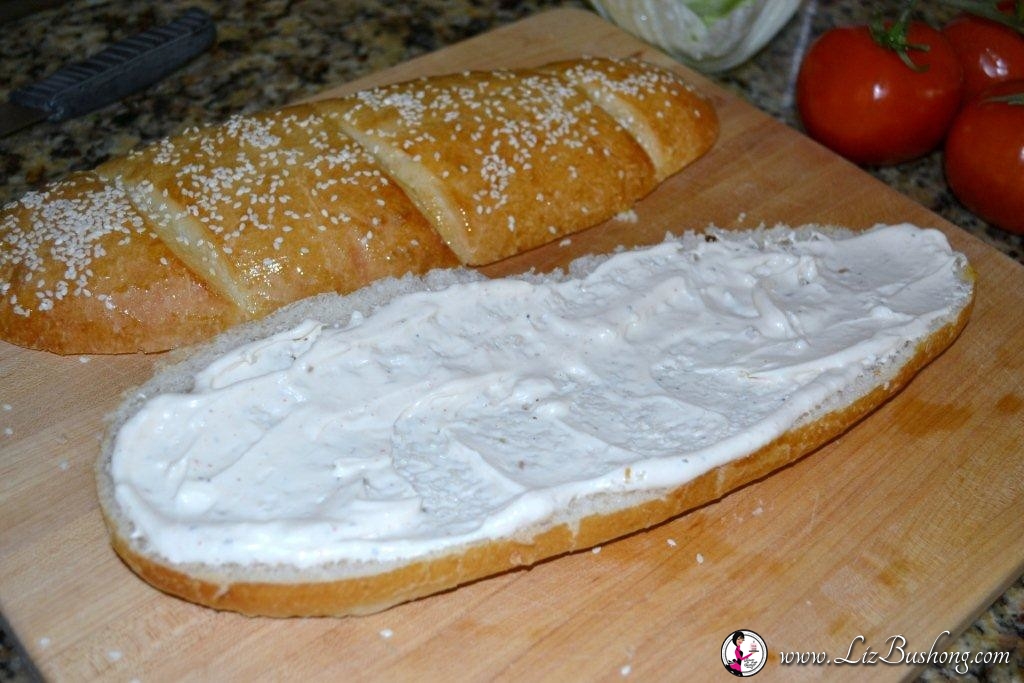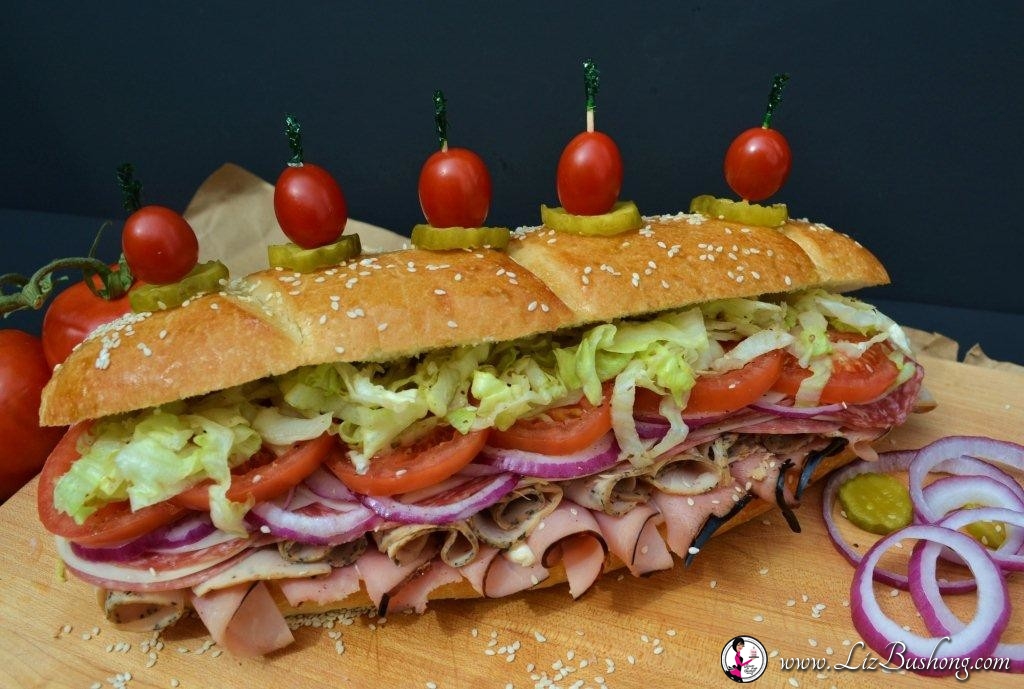 A Note about the Meat:
Sopressata and Mortadella; both are Italian cured sausage to make a pepperoni style meat that is found in genuine Italian hero sandwiches.  These meats are usually made from pork fat and other miscellaneous sources of pork pieces. The sopressata is becoming the new pepperoni on pizzas in large city pizzerias.  If your local deli does not have sopressata or mortadella, select the hard salami and pepperoni for a wonderful Italian hero sandwich.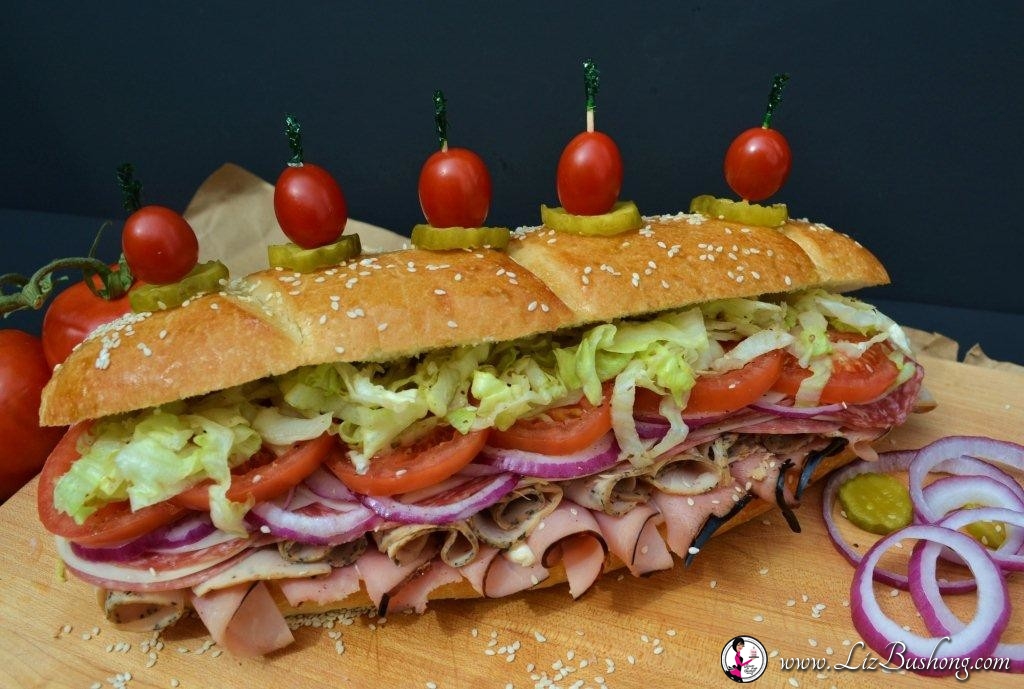 Sides to Consider with Sandwich
In warm oven at 275 degrees  for 15 minutes, place chips of choice on baking sheet.  Meanwhile prepare seasoning, salt, pepper, oregano, cayenne, dill, garlic powder in a small bowl or place in shaker.  Remove warm chips from oven and sprinkle with seasoning.  Other seasoning ideas include: Everything bagel,  or chili lime seasoning.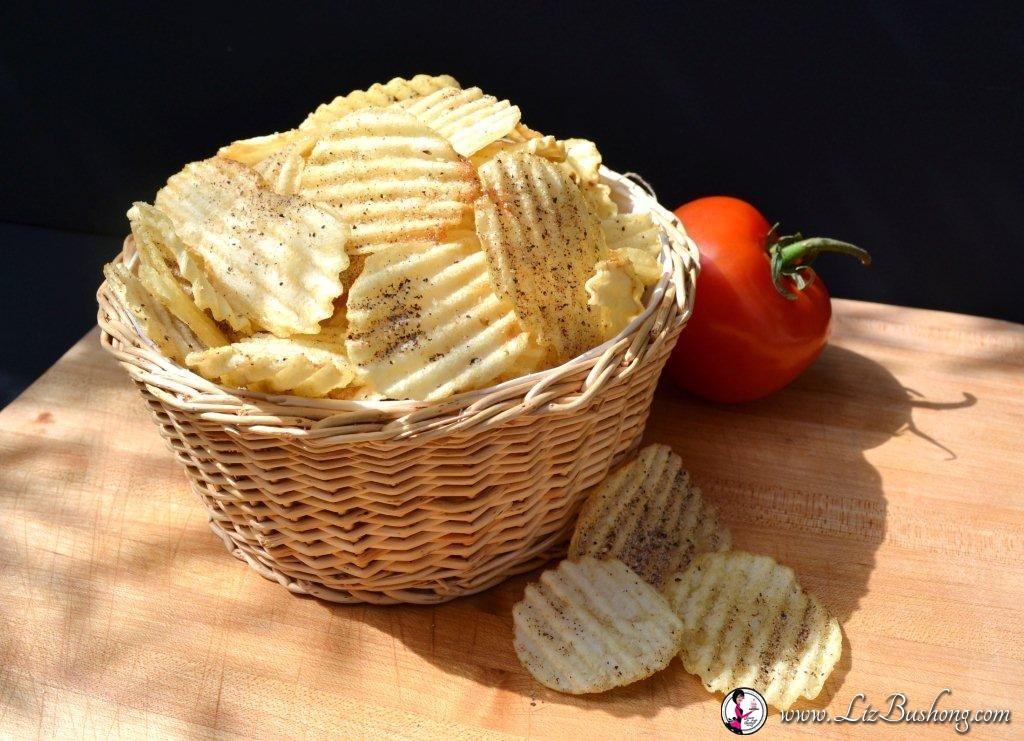 Whether game day or father's day, this super sub sandwich is delicious. Hope you will make it soon for your dad or yourself. Indulge serve cold or wrap in foil and slightly warm til the cheese melts. Either way your super hero will love it. xo Liz
This was featured in VIP Magazine as a Father's Day Menu Idea.
Print
Super Hero Sandwich Recipe
1 tsp. dried oregano
Salt and freshly ground pepper, to taste
2 teaspoons Newman's oil and vinegar dressing
1–14 " loaf Italian bread with sesame seeds
2 teaspoons Hellmann's mayonnaise
2 teaspoons Lite house Jalapeno Ranch dressing
2 cups finely shredded iceberg lettuce
2 tomatoes, thinly sliced
1 small red onion rings, separated
5 oz. thinly sliced hard salami
5 oz. thinly sliced peppered turkey
5 oz. thinly sliced black forest ham
5 oz. thinly sliced sopressata
5 oz. thinly sliced mortadella
5 oz. thinly sliced provolone cheese
Instructions
In a small bowl, whisk together Newman's oil and vinegar, oregano, salt and pepper.
 Add shredded iceberg lettuce, toss to coat. Set aside.
On a work surface, place a long piece of plastic wrap or parchment paper and position the bottom half of the cut loaf over the wrap.
In small custard cup, mix together mayonnaise and ranch dressing. Stir to combine and spread over the bread.
Layer ham, turkey, sopressata, mortadella, and salami, provolone cheese, tomato slices, onion rings and shredded lettuce.
Top with sesame seed top bread loaf crust. Wrap sandwich in plastic wrap or parchment paper and refrigerate for at least one hour or up to 4 hours to develop the flavors.
To serve, unwrap sandwich and garnish with cherry tomato with pickle slice skewered with a frilly toothpick.  The picks will keep the sandwich together while cutting. Cut sandwich into desired portions.
Serve with seasoned potato chips and caramel brownies for a great man- pleasing meal.
Notes
Serve with Seasoned Chips and Caramel Pecan Brownies. Recipes @ lizbushong.com
Helping you Make a Statement, Make it Sassy and Make it Yours! ®
Other Ideas you might like to try:
Caramel Pecan Chip Brownies