Love tiramisu but can't find ladyfingers?  How to Make Ladyfinger cookies for your next rich dessert whether it be Tiramisu or Charlotte Russe this recipe is simple to whip up and bake.
Whipped egg whites, cream of tarter with sugar beaten to medium peaks mixed with sifted flour and cornstarch makes these delicious cookies. Cornstarch added to the flour makes the cookies soft and tender inside while the outside is crunchy.  A perfect cookie for dipping in espresso, lining springform pans for cheesecakes and of course tiramisu.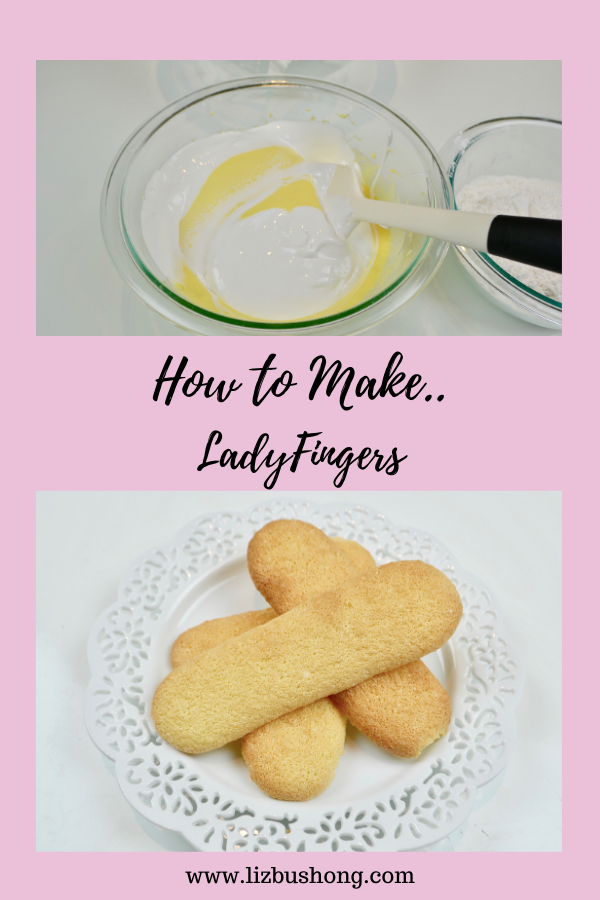 Inspiration for Ladyfingers
Inspired by Professional Chef, Anna Olson this recipe is simply great.  Once the batter is mixed, a round tip piping bag pipes 3-4″ long fingers on a parchment lined baking sheet.  Baked for 8 minutes in a hot oven, 375 makes these cookies lightly browned.
Once you make one batch you will want to make another. These cookies can be flavored with vanilla, creme bouquet however, depending on your recipe you may not want to flavor them as not to compete with dipping in espresso or your dessert.
How to Make Ladyfingers
To make these cookies, preheat your oven to 375.  Line two large baking sheets with parchment paper. If you need to make the fingers rounds, trace a pattern the size you need on the parchment paper to use as a guide for piping.
Second, sift together flour and cornstarch together, set aside.  Separate 3 egg whites from yolks, set aside.
Next, In a large stand mixing bowl fitted with whisk attachment, whip room temperature egg whites with 6 tablespoons sugar and cream of tarter.
Photo shows frothy egg whites before adding sugar one tablespoon at a time. Whip until you have medium soft peaks. 
Remove whipped whites from stand mixing bowl to a large mixing bowl. Photo below is whipped egg yolks until thick and creamy.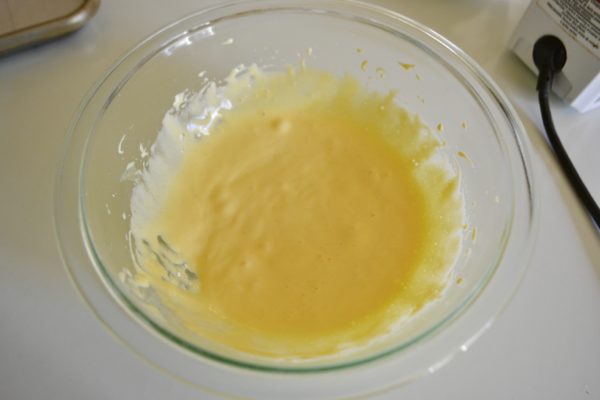 To beaten egg yolks add remaining 3 tablespoons of sugar in stand mixing bowl, beat until the you can form figure 8's with the batter.  Once the batter is mixed, fold the whipped egg whites with the whipped egg yolks with a spatula.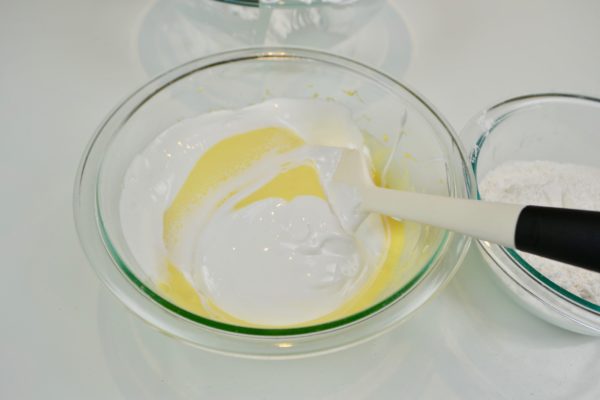 Add flour and cornstarch mixture.  Cornstarch will make the ladyfingers soft and tender inside.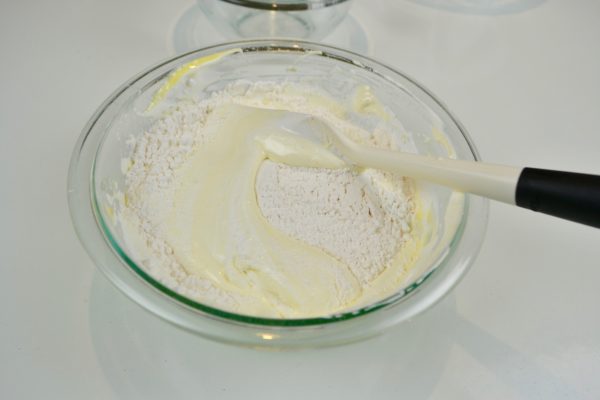 Place batter in piping bag fitted with 1/2″ wide round tip, #808.  Pipe 4″ long fingers onto parchment lined baking sheet. Photo below batter is piped into rounds to fit inside Tiramisu cupcakes.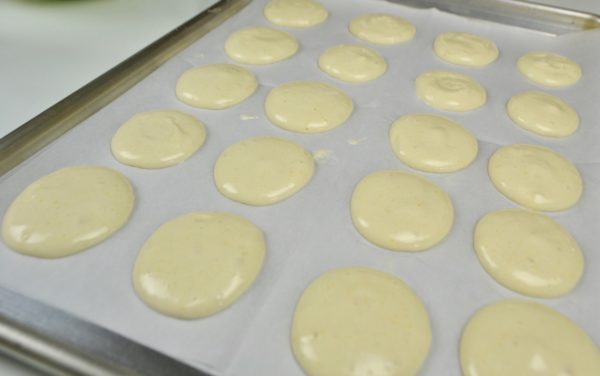 Bake fingers 8 minutes at 375 until lightly browned.  Leave a baking sheet until completely cool before removing from baking sheet.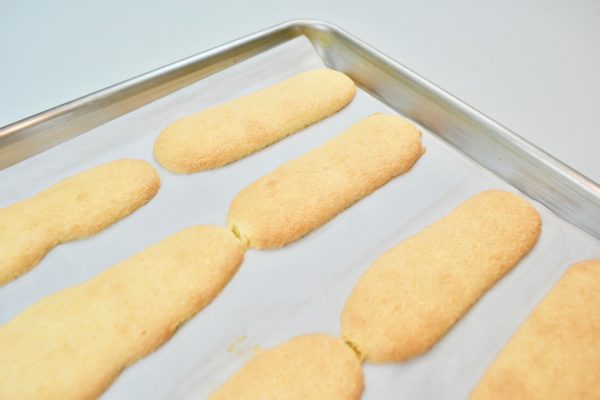 Use ladyfingers in your favorite dessert recipes.  Store in ziplock baggie and freeze up to 3 months or use immediately in recipe.  The ladyfinger is not a sweet cookie for munching, it is best used in desserts or dipped in chocolate.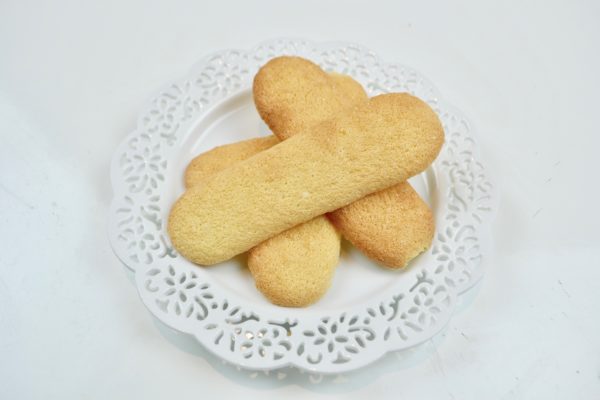 Print
Ladyfinger Biscuit/Cookies
Soft sponge lady finger cookies used for soaking espresso in Tiramisu, Charlottes and more.
Author: Liz Bushong
Prep Time:

25 minutes

Cook Time:

8 minutes

Total Time:

30 minutes

Yield:

20

-

4

" lady fingers

1

x
Category:

Dessert

Method:

Baking

Cuisine:

British-Italian
½ cup all-purpose flour or 1/2 cup + 1 tablespoon cake flour*
5 Tbsp cornstarch
3 eggs, separated and at room temperature
¼ tsp cream of tartar
1 teaspoon creme bouquet* optional
9 Tbsp sugar
Instructions
Preheat the oven to 400 F and line 2 baking trays with parchment paper.
Sift the flour and cornstarch together and set aside.
Whip the egg yolks with 3 Tbsp of the sugar until thick and pale.
In a separate bowl, whip the egg whites with the cream of tartar until foamy, then slowly add the remaining 6 Tbsp of sugar and continue whipping until the whites hold a medium peak when the beaters are lifted.
Fold the whites into the yolk mixture using a spatula, fold in flour until just incorporated.
Fill piping bag fitted with a large plain tip # 80. Pipe 4″  lady fingers onto the prepared trays  an inch apart.  Fingers will spread a bit after piping and during baking.
Bake 8 minutes, until the fingers look golden brown.  Allow the fingers to cool completely before removing them from the trays.
Use in favorite dessert.  Store in air tight containers or freeze in freezer safe plastic bag.
Garnish if desired by dipping bottoms or ends with melted chocolate.
Notes
Recipe adapted by Professional Chef Anna Olson
cake flour will make lady fingers lighter in texture.
Make sure eggs are room temperature before beating for best rise.
If making Tiramisu pipe lady fingers 3″ for 9 x 13 baking dish, If making lady finger rounds for cupcakes pipe circles 2-1/2″.  For Charlottes, or spring form pan cheesecakes, pipe 4″ lengths for one end will be cut flat for standing purposes. 
Keywords: ladyfingers, recipes, tiramisu, desserts
Other Ideas you might like to try: