If you like coffee then you will love this Tiramisu Cupcake Recipe with home-made ladyfingers.  Baked ladyfingers are dipped in strong espresso placed in bottom and mid-way between cake batter layers inside cupcake liners. Once the baked cupcakes are pricked with a fork, they get another coat of coffee syrup before frosting. Whipped mascarpone frosting is piped in large swirls then garnished with cocoa and chocolate chards. 

How to Make Ladyfingers 
Typically ladyfingers are 3-4 " long however, I decided to create ladyfingers in 2″ rounds that would fit in the base of a jumbo muffin liner.  You can make some rounds 1/2″ larger for second layer within the cupcake if you want a double layer.  Theses rounds are dipped in espresso syrup before adding batter to the cupcake liner.
Ladyfinger recipe can be found here and they are not difficult to make. Sifted flour with cornstarch is blended together with whipped egg whites and whipped yolks.  Sugar is added to both egg white and yolks to make the fingers light and airy.  Cornstarch makes the cookie/fingers moist and tender inside while the outside is crusty.
If you don't want to make your own ladyfingers, skip this part and just coat the tops of cupcakes with espresso syrup or find pre-made ladyfingers in the bakery section of grocery store.
Making the Cupcakes
In large stand mixer, cream sugar and butter together until creamy, add eggs, sour cream, and orange extract.  You can use Grand Mariner which is an orange liquor if you would like although I used extract instead.
Flour baking powder and salt are blended into the cake batter alternating with whole milk.
However if you want to skip making cupcakes from scratch, use a yellow cake mix and follow instructions on the back of the box. 

Step 2: Cut your ladyfinger rounds with a 2″ round cookie cutter if desired to make them all the same size, this round fits in bottom of cupcake liner.  Save some rounds that are larger for the second layer inside cupcake if desired.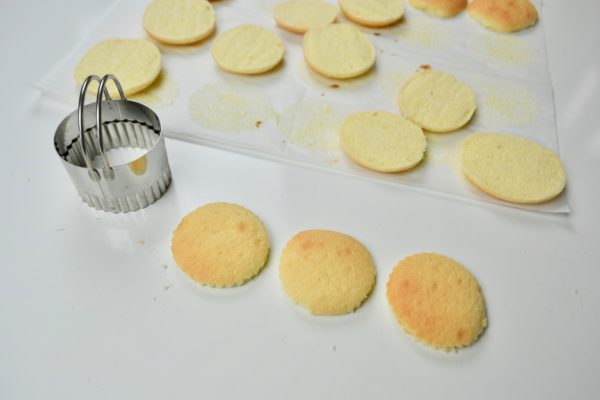 Step 3: Dip ladyfinger in espresso syrup and place in cupcake liner.  I used a jumbo muffin tin but you can use standard cupcake size.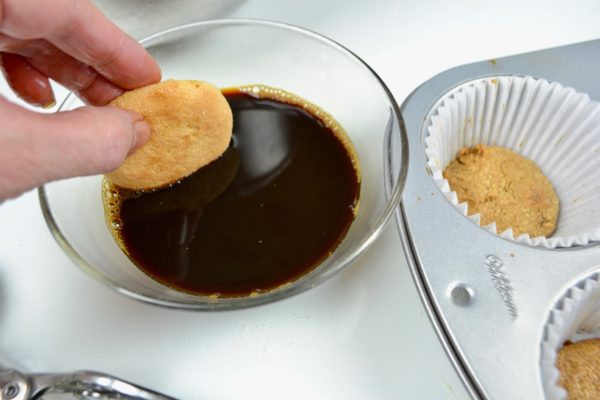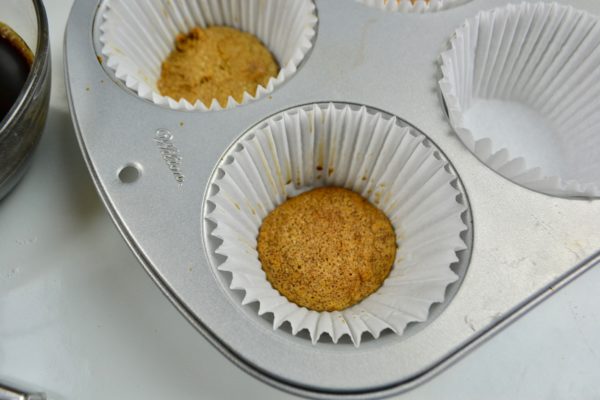 Step 4:  Scoop raw batter over the top of ladyfinger, add another ladyfinger and end with cupcake batter.  Bake at 350 for 20 minutes or until cake springs back when touched.  Remove from oven and brush with espresso syrup.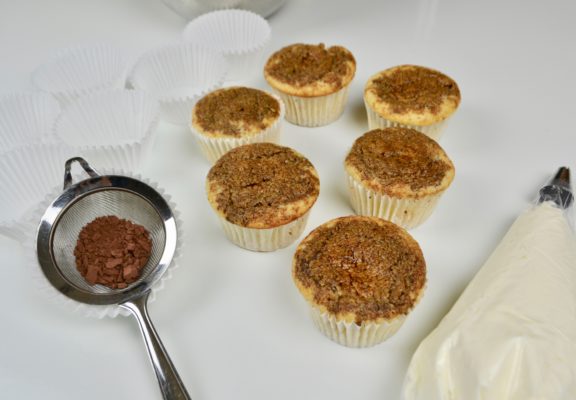 Step 5: Make frosting. Mix softened cream cheese and mascarpone cheese together in large mixing bowl until smooth.  Remove to separate bowl.  Whip chilled heavy whipping cream in large mixing bowl fitted with wire whisk to soft peaks, gradually add cornstarch and confectioners sugar, whip until firm peaks.  Add whipped cheeses and extract to whipped cream.
Step 6:  Fill piping bag fitted with tip #1 M or other large star tip and pipe the top of cooled cupcakes.  Cover the cupcake piping around outer edge and moving toward the center.  Pipe another ring around cupcake on top of the first piped layer.  Pipe as high as you want.
Step 7:  Sift cocoa powder over the tops of cupcake and garnish with chocolate chard.  See how to make the chards here.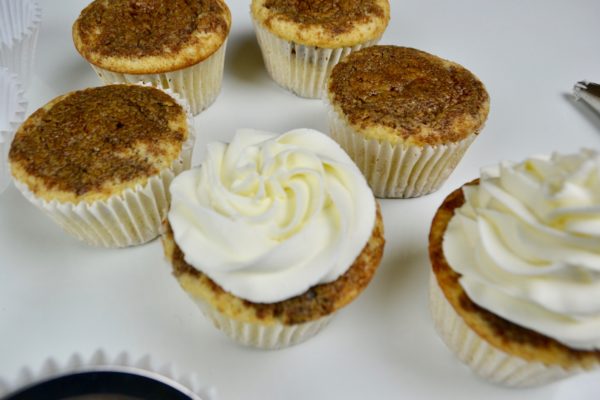 Check out the inside of the cupcakes you can see the double layer of ladyfingers.  You will love this recipe.  Let me know if you make em.  Store the cupcakes in refrigerator due to the whipped cream/cheese frosting.  If you want to freeze the cupcakes, do not frost.  Wrap in ziplock baggie and freeze up to one month.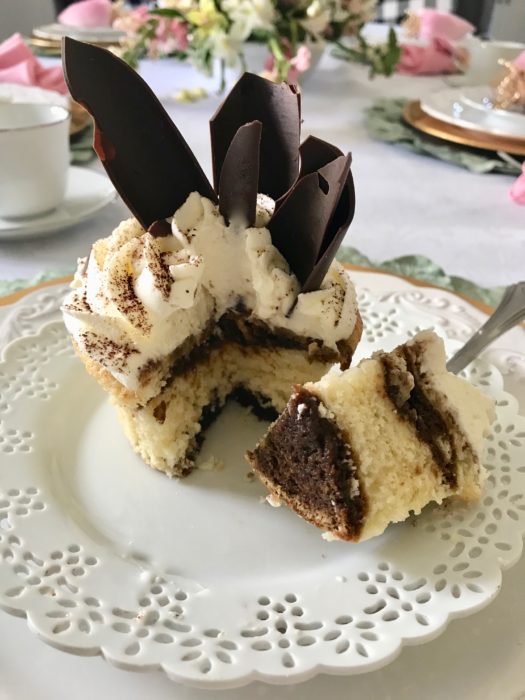 Here ya go!
Print
Tiramisu Cupcake Recipe with Lady Fingers
Sponge type cupcakes layered with espresso syrup coated lady finger rounds placed inside the cupcake before baking.  Cupcakes are frosted with mascarpone cheese frosting and dusted with cocoa/chocolate.
Prep Time:

20 minutes

Cook Time:

20 minutes

Total Time:

60 minutes

Yield:

14

jumbo cupcakes or

24

standard

1

x
Category:

Dessert

Method:

Baking

Cuisine:

Italian
Cupcakes: 
3/4 cup butter, softened
1–3/4 cup sugar
2 tablespoons sour cream
1 tablespoon orange extract
3 eggs, room temperature
1 cup whole milk
2–3/4 cup all purpose flour
2–1/2 teaspoons baking powder
1 teaspoon salt
Espresso Syrup
14– 2" ladyfinger rounds, recipe here
3 tablespoons instant espresso powder
3/4 cup hot water
3 tablespoons sugar
Mascarpone Frosting
2 cups heavy whipping cream
1 tablespoon cornstarch or arrowroot
2/3 cup confectioner's sugar, sifted
1 cup or 8 ounces mascarpone cheese- or cream cheese
2 teaspoons rum extract or vanilla
Garnish:
cocoa powder, tested Special Dark
Chocolate shards, shavings or designs
Instructions
Make the Lady Finger Rounds, set aside, make these one day ahead.
Make Coffee Syrup; Combine all ingredients, place in bowl for dipping.
Make the Cupcakes:
Preheat oven to 350 degrees.  Line two cupcake pans with liners.  If making jumbo cupcakes use jumbo muffin pan and liners. Recipe will make 14.  If making standard cupcakes use standard cupcake liners and pans.
In large bowl, sift together flour, baking powder and salt.  Set aside.
In large mixing bowl of stand mixer fitted with paddle attachment, cream together butter and sugar until light and fluffy.  Add sour cream. Add eggs one at a time, then add extracts. Beat to blend.
Alternate flour mix with milk to the butter batter, begin and end with flour.
Dip one lady finger round in coffee syrup, place round in bottom of cupcake liner.
With ice cream scoop add cake batter on top of lady finger round.  Repeat rounds and batter when making jumbo cupcakes.  Just finish with cake batter on both sizes.
Bake 20 minutes for standard, 22 minutes for jumbo or until cakes spring back with touch in the center. Cool completely before frosting.
If desired and you have coffee syrup left over, brush warm cupcake tops with syrup.
Make Frosting:
In stand of large mixer with whisk attachment, whip heavy chilled whipped cream to soft peaks, add cornstarch, and confectioner's sugar.  Beat until stiff peaks form.
In separate mixing bowl and beater attachment, cream together cream cheese and mascarpone cheese together, add extracts, beat until smooth and creamy.  Add to whipped cream mixture.  Beat with whisk attachment the whipped cream and cheese until smooth and creamy.
Fill piping bag fitted with tip # 1 M with frosting.  Pipe swirls over cupcakes.  Drizzle with sifted cocoa and garnish with chocolate chards.
Make Chocolate Chards- Melt Chocolate chips or Ghirardelli melting wafers in microwave safe mixing cup for 30 seconds, stir, repeat if necessary until chocolate is melted.  Spread chocolate on piece of wax paper or parchment paper, use off set spatula to smooth to thin layer.  While chocolate is wet, roll parchment with chocolate into a roll.  Place roll in freezer to freeze.  When chocolate is set remove parchment from freezer and unroll paper, chards will be formed.
Notes
Recipe adapted from King Arthur Flour & Sprinkle Bakes
Yellow Cake mix can be substituted if you don't want to make cake from scratch.  Just add 1- 6 ounce package instant french vanilla pudding mix, 4 eggs, 1 cup water + 1/2 cup whipping cream, 1/2 cup vegetable oil and 1 tablespoon orange extract.
Making the lady finger rounds are optional, you can just brush the coffee syrup over the baked cakes.  You can also fill the baked cupcake with frosting for an inside surprise with every bite.
Store cupcakes in refrigerator and do not leave on the counter.
If you have excess frosting you can freeze it, along with extra cupcakes.  Do not frost the cupcakes before freezing. Thaw frosting in refrigerator, rewhip to bring to creaminess and life.  Pipe as normal.
Keywords: Ladyfinger, cupcakes, tiramisu, dessert, cake
Other ideas you might like to try: