Do you love Hot Chocolate on a cold day?  Then you will love this recipe on How to Make Spiced Cocoa Mix. Rich dark chocolate cocoa powder, sugar, confectioners sugar, and spices like ground cinnamon and all spice when combined with warm milk will make you smile!  So rich and satisfying and get this.. perfect for gift giving.
Be sure to make mini chocolate cups to with your gift. These mini cups of chocolate are filled with tiny marshmallows.  Watch the chocolate cup melt as you sip away with this rich flavorful hot cocoa mix.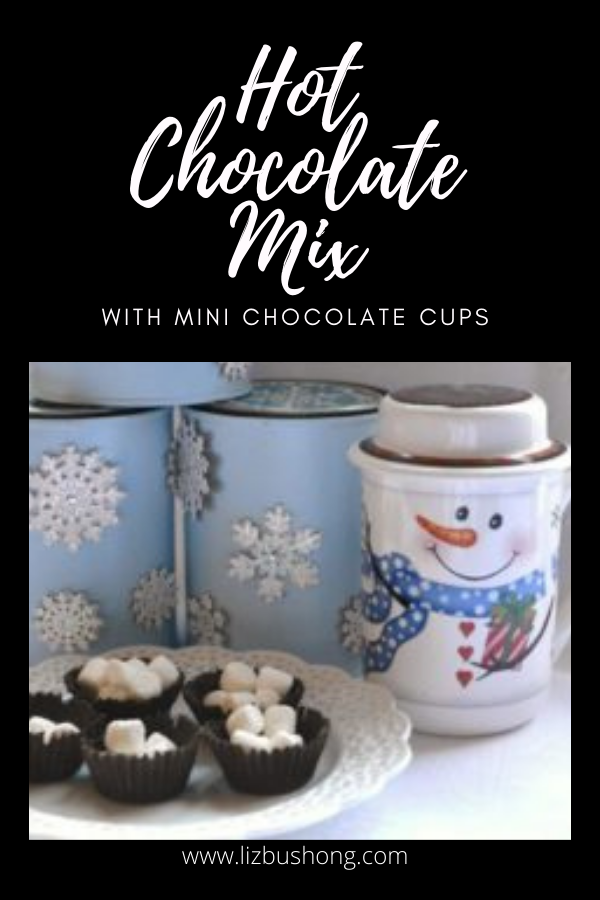 How to Make the Spiced Cocoa Mix
Mix Special dark chocolate by Hershey®, to make a rich chocolate flavor, add sugar, confectioners sugar, cinnamon and all spice with instant non fat milk and non dairy creamer.   Stir together and place in plastic zip lock baggie.
Create a cute package with mini chocolate cups filled with tiny marshmallows.  Mini cupcake liners are coated with dark chocolate and filled with mallows after cups are removed from paper liners.  They float perfectly on top of hot chocolate. Watch them melt right before your eyes while the mallows float on top.
The container can be glass or anything that will seal well.  I used a quart paint can purchased from Lowe's. The clean can was covered with scrapbook paper and snowflake stickers  Pretty simple and cute. Package the cups in a cellophane baggie or other small box.
Print
Spiced Cocoa Mix Recipe|Beverage
¼ cup unsweetened special dark cocoa
1 cup sugar
½ cup confectioner's sugar
1 teaspoon ground cinnamon
¼ teaspoon ground all spice
2 cups instant non-fat dry milk
1 cup non dairy creamer
10 small baggies
Mini Chocolate Cups
miniature cupcake paper liners
1 cup melted chocolate chips
1 cup mini marshmallows
Instructions
Mix all ingredients together in large bowl, stir to combine. Fill small baggies with dry mix.
Package for gift:  Fill a decorative tin with one cocoa mix baggie. Attach gift tag instructions with a small box of chocolate mini cups.
 Gift Tag Instructions: Place 2-3 tablespoons of mix into a 6 ounce mug,
add boiling water and stir. For richer chocolate, add warm milk.
Top with mini chocolate cups filled with mini marshmallows or dollop of whipped cream.
Making mini chocolate cups:  Melt chocolate chips in microwave safe bowl for 25 seconds, stir, then microwave at 10 second intervals until melted.  Brush inside of mini cupcake liners with melted chocolate with clean small paint brush.  Might need to do two coats of chocolate to make sure it is thick enough to peel from paper liner. Allow to harden before removing paper liner.  Fill with mini or tiny marshmallows.
Notes
Package the cocoa mix in a cute tin or glass jar.
Other Ideas you might like to try: