Ladies Night Out Party Ideas is the perfect inspiration for an all girl, in-home Ladies Night Out gathering. Sometimes you just need a little girl time! Gather a group of fun-loving friends for a special night of laughs, giggles and girl talk. Catch up on the latest buzz while enjoying the company of your closest friends.
Get the party started with festive foods designed around the infamous lady bug. Our menu includes, zucchini or cucumber appetizers dressed in red like a lady bug, a hearty mashed potatoes with all the toppings called a Mashtini Bar and for dessert, mini dark chocolate sunflower cupcakes with tiny candied lady bug. It's all in fun and festive.
"The ladybug wears no disguises; she is just what she advertises, a speckled spectacle of spring; a fashion statement on the wing , …" by J. Patrick Lewis, is the perfect inspiration for this all-girl, Ladies Night Out, in-home party. Whether hosting a ladies night out party or other fun celebration, let your imagination fly high with these lady bug inspired recipes and table setting decor.
Ladies Night Out! Themed Party Ideas| A Step in the Right Direction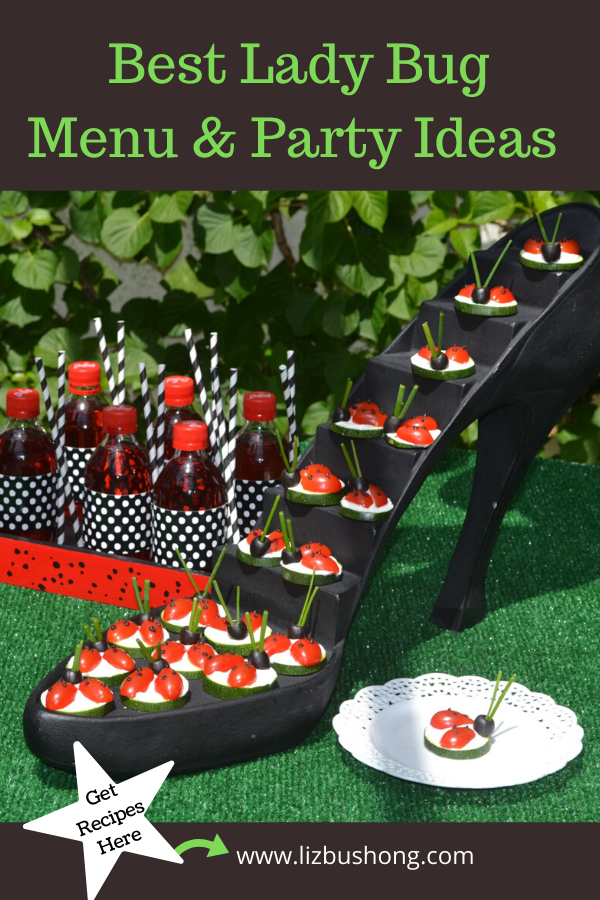 Red and black color scheme inspired by nature and the lady bug is a great place to begin the party plan. Collect serving platters, spreaders, scrapbook papers, and recipes that can be made with the red and black lady bug color scheme. Green is a neutral in nature so be sure to include this color for contrast.
Ladybug Appetizers and Wrapped Beverage
Zucchini rounds with ranch dressing, halved grape cherry tomatoes dressed like ladybugs. Cream Cheese is tinted black and piped on back of tomato for the lady bug. The antenna is chive stems sitting in a small black olive.
The beverage is red and the bottled was wrapped with black and white polka dot scrap booking paper. Attached to the sides of each bottle a striped black and white straw lends to the decor and functionality. A hand painted red tray with black polka dots is the prefect container for the beverages. ( special thanks to the late beloved and admired Sharon Neuhaus for lending me the tray and her rendering of Ladies Night Out- which was the inspiration for this event)
Create A Mash-tini Bar
Tap on photos for recipes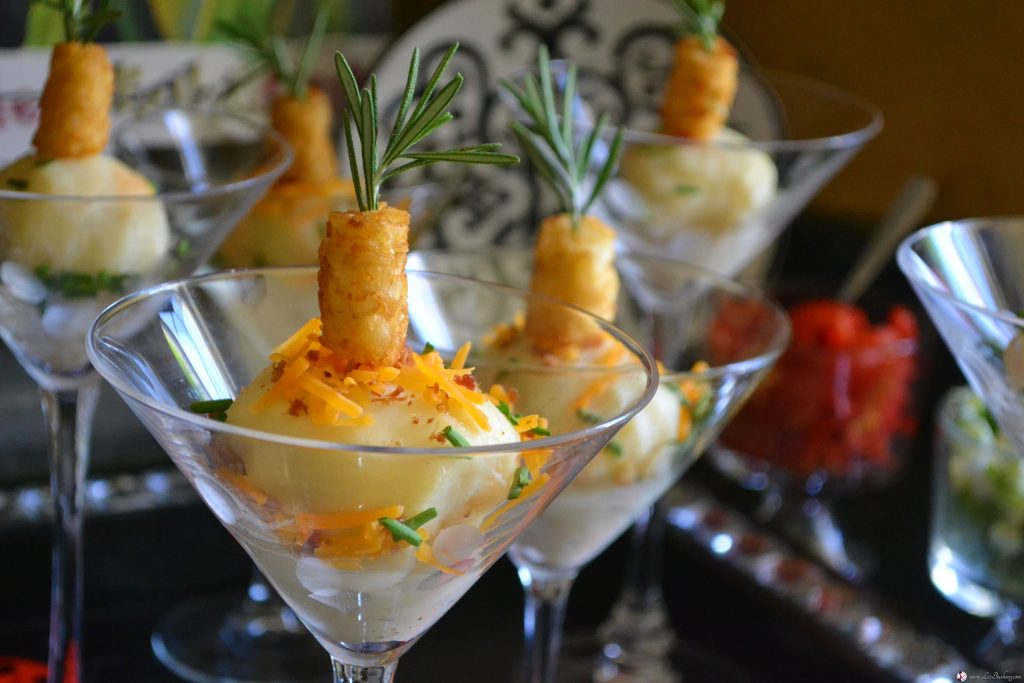 No alcohol here just whipped mashed potatoes served in martini glasses and garnished with a baked tater tot and fresh rosemary sprig for serving this dish up sassy!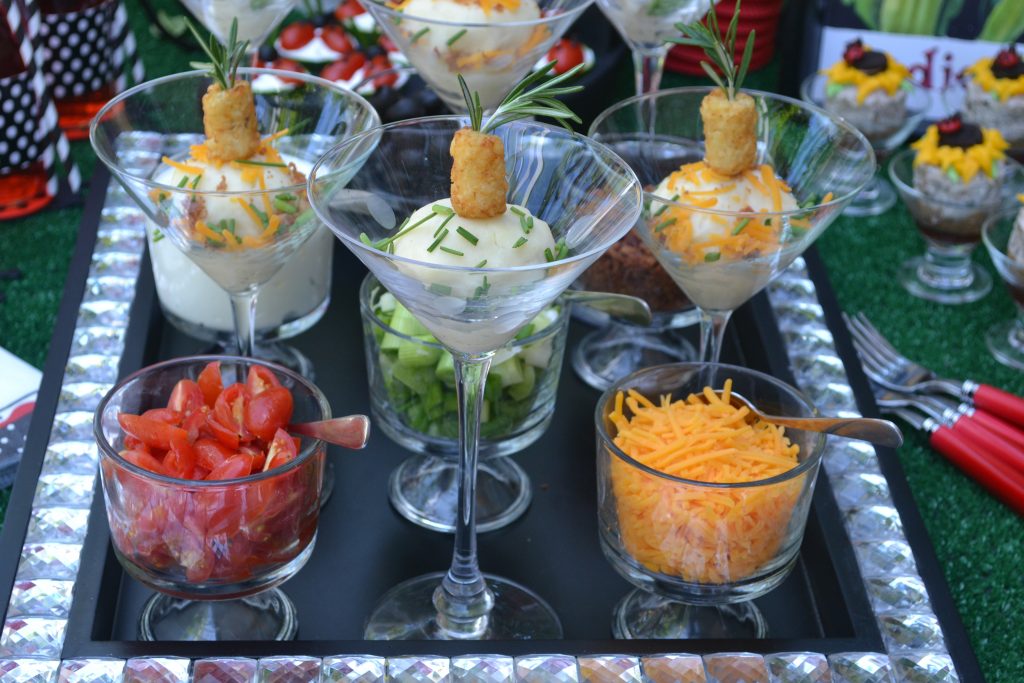 Mash-tini Bar with assorted toppings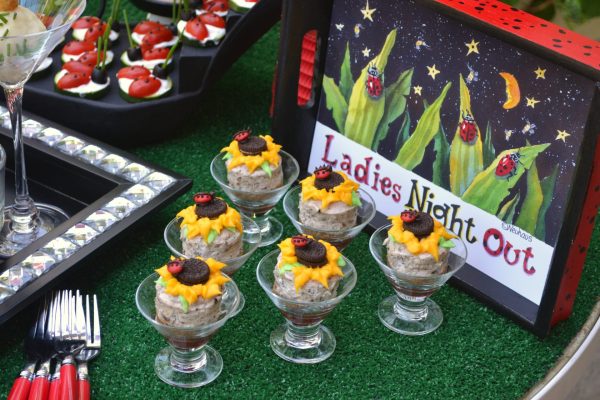 Cute Cheesecake Lady Bug Dessert
Mini Cheesecakes with Sunflowers and Ladybugs are mini 2- inch Oreo cookie cheesecakes with piped golden yellow frosting into sunflowers. The center of the flower is a mini Oreo® and red M & M® candy as the ladybug. Piped black frosting decorate the candy lady bug.
Allow your imagination to fly- high while planning this whimsical party buffet. An unknown author has said, "I am sending luck and wishes, all wrapped up in a hug, good things should come your way with this tiny ladybug".
The next time you want to have a Ladies Night Out with your favorite girl friends, consider hosting a garden party featuring a ladybug theme, it might just become the new southern tradition of outdoor entertaining.
Helping you Make a Statement, Make it Sassy and Make it Yours! ®
Other Ideas you might like to try: