Oh my Stars, these 4th of July table ideas will help you create your very own star -studded celebration. Red, white and blue set the stage with star rimmed round placemats and colorful dinner plates at each place setting. White felt star stickers adorn three glass vases with floating candles for the centerpiece.  A Cran- Raspberry Mirror Glazed Cake is served on a star plate to help support the overall star theme.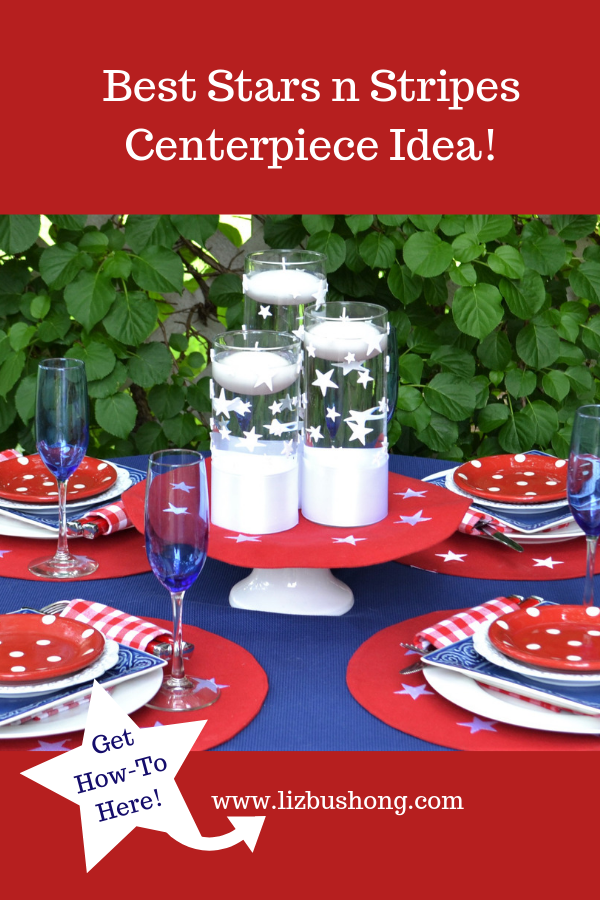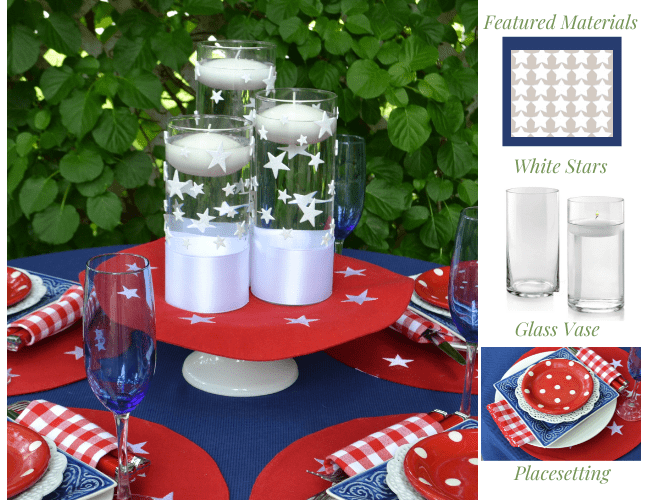 How to Make this Patriotic Centerpiece
Gather your materials for this centerpiece, three graduated sized tall glass candle vases, three floating candles, 4″ wide white wired edge satin ribbon, and white stick on stars.
The glass candle vases are 7″ 9″ and 10 " tall with a 3″ round top.  Using double face tape or a glue gun wrap wide satin ribbon around each vase base, glue or tape to secure.  Stick on the peel and stick white stars above the ribbon in random but equal fashion.  Fill with water and add white floating candles.  Thats it.  Place the centerpiece on top of a star studded placemat and cake stand for elevation.  The placemats in the photo I purchased a few years ago at Pier 1 but the link above would make a pretty table top for all Patriotic events.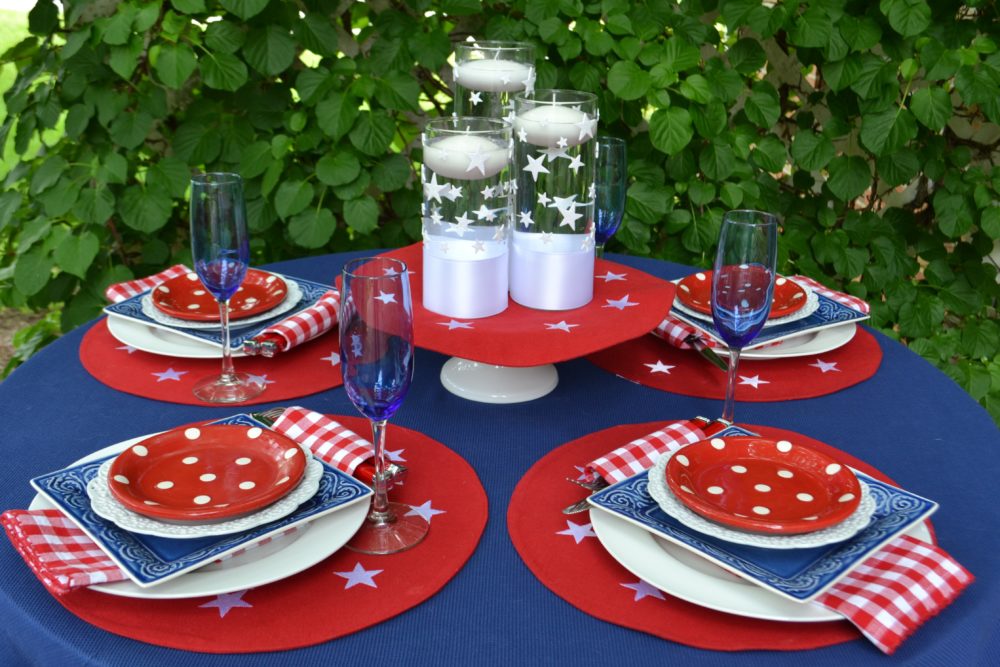 Let's Talk About the Table
Star rimmed round placemats provide a solid base for each place setting.  The cobalt blue tablecloth is actually a linen shower 72″ x 72″ curtain.  Sometimes it is hard to find what you need so you can improvise with other items to make your table what you want it to be. The shower curtain turned table cloth fit my round table perfectly with a little bit of adjusting, and it is washable. Practical and pretty for summer entertaining.
The classic white dinner plate, my favorite… holds the red and white checked napkin, notice the fold at the top of the napkin… it holds the flatware. Since the placemat is round there is no place to put the silverware utensils.. so improvise again and create a fold then slip the silverware through the fold.
Cobalt blue plays an equal role in this setting from table cloth, to plates to water glasses.
Tip:  Repeat each color at least three times on the table to create a cohesive look. As these examples.
1 .Cobalt blue:  table cloth, plates to water glasses.
2. Red: napkins, placemats and salad polka dot plates.
3.White: Dinner plates, dessert plate and centerpiece, cake stand, white candle-stars.
How to Set your Table
Tip:  Find your Inspiration|Overall Theme
Red round star edged placemats were the inspiration for this table scape for this 4th of July theme.  I found these at Michaels a few years ago, but solid red place mats would be just as impressive and could be used year round.
Find something that inspires you to imagine and select other items for your table.
Tip 2: Determine your Color Scheme from the Inspiration Piece.
Maybe your inspiration comes from a vase you want to use as a centerpiece, or maybe it is set of salad or dessert plates. Wherever you find your inspiration this will be a grand start for your color scheme. For this setting:  it was red, white & blue.
Tip 3: Select Dinnerware, Napkins, and Stemware in Coordinating Color Scheme.
Cobalt : Each place setting has the background of the cobalt tablecloth, cobalt square plates and cobalt stemware.
Red & White:   Red placemats, red & white checked napkins, red & white polka dot appetizer plates.
Tip 4:  Create the centerpiece from elements of the color scheme or theme of event.
Using what you already have on hand, like cake stands, glass vases, floating candles, ribbon and stickers make a simple and elegant centerpiece.
No flowers in this setting, although  these flowers would be beautiful too.   Notice stars on container and the red, white and blue flowers.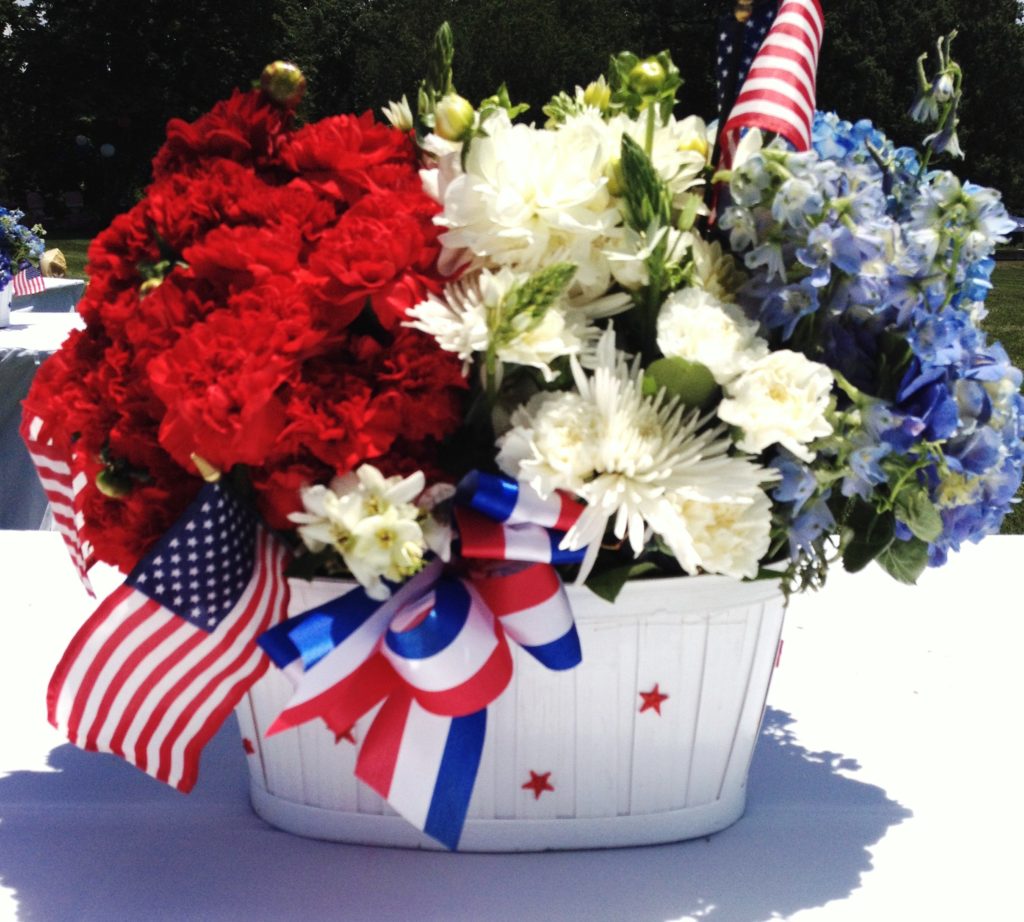 OR….Use Dessert as your Centerpiece.   Click on photo  or link for recipe Cran-Raspberry Mirror Pound Cake.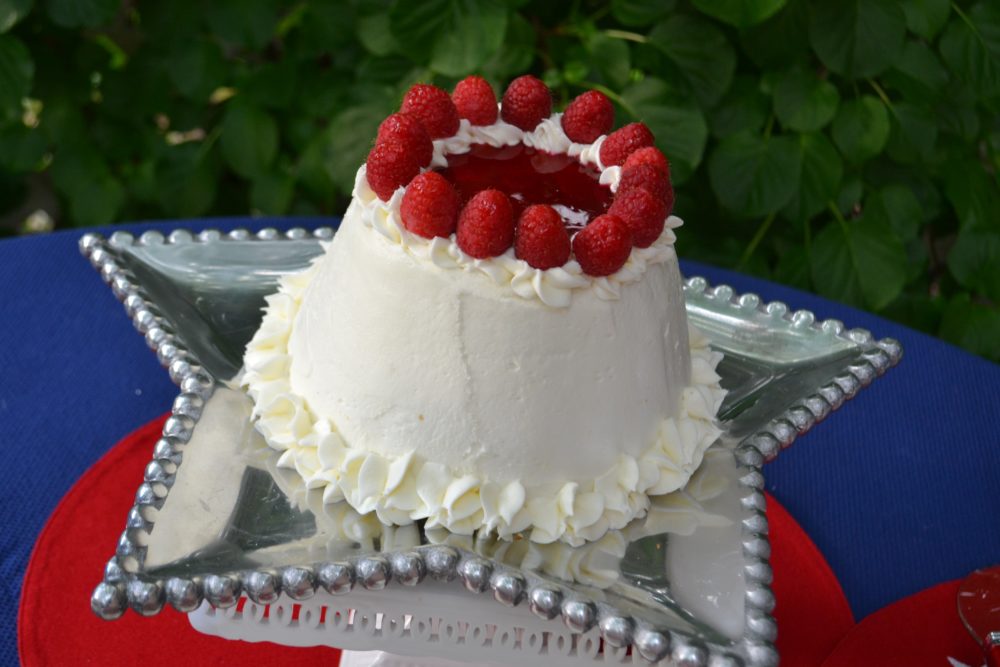 Hope you have a wonderful 4th of July!  Let me know if you create a Star filled table scape.  Enjoy your time with family and friends! Celebrate!
Other Ideas You Might Like to Try: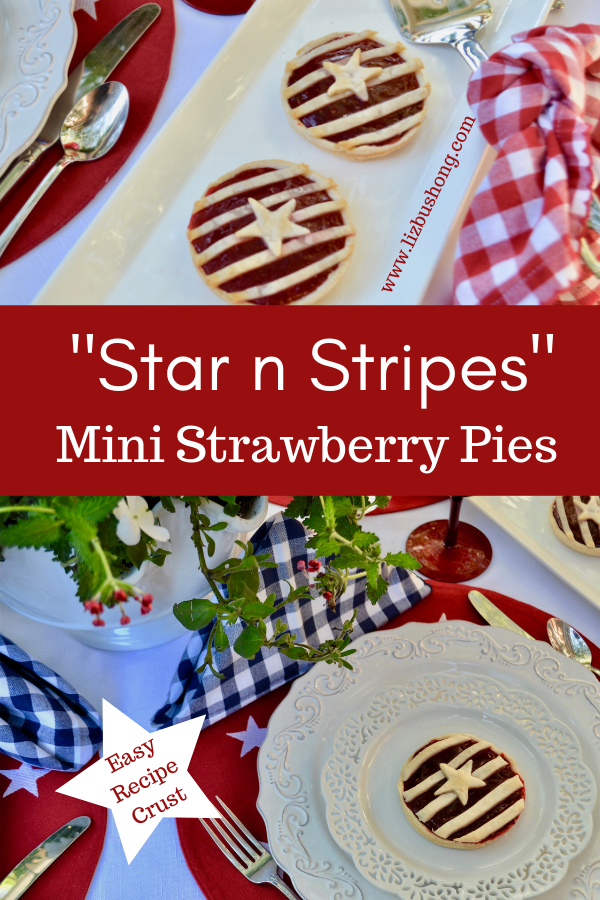 All things Lemon, pound cake, lemonade and lemon cooler cookies.