If you love lemon, you will love this delicious lemon cream cake roll. Lemon sponge cake is spread with lemon curd and filled with creamy whipped cream, cream cheese and lemon flavoring. The cake is light and full of lemon flavor. Everyone who takes a bite of this cake will feel like they are sitting on the beach with a warm summer breeze.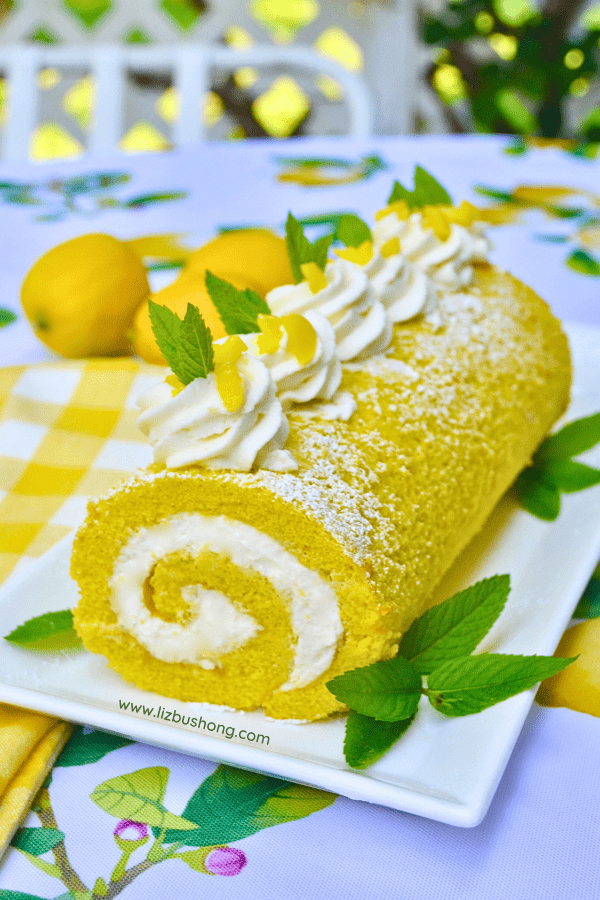 Making a lemon dessert for summer entertaining has never been easier. This dessert sponge cake roll is not hard to make. Some people get freaked out about flipping the cake out of the sheet pan when it's warm but it isn't as bad as what some might think. Not to worry I have instructions that will walk you through each step. There are a few tips that you will want to follow to ensure your cake will be light and fluffy.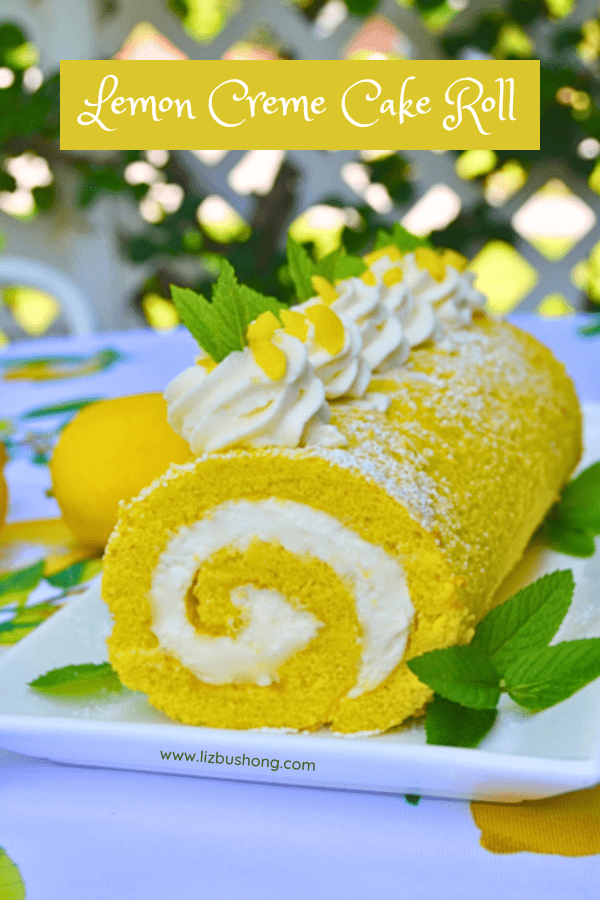 Important Tips for Making a Great Cake Roll
When making a sponge cake, getting enough air whipped into the cake causes the spongy light cake texture. This recipe has 4 large eggs instead of normal 3 eggs. Also, you are not separating the eggs from the whites. Instead the eggs are whipped for a steady 5 minutes. To make sure you whip them that long, use a timer. Also the eggs should be at room temperature before whipping in stand mixer with whisk attachment.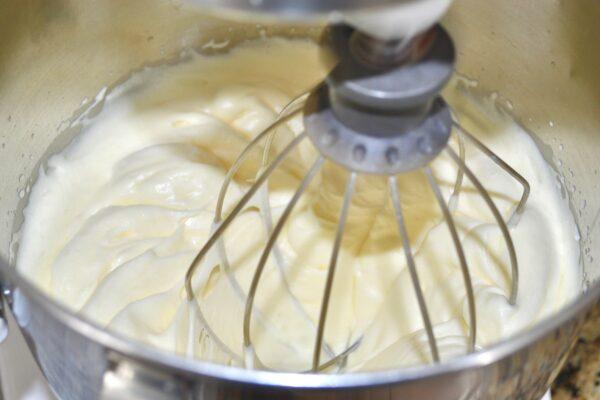 The result will be a thick lemon colored batter that has risen with in the mixing bowl. This is exactly what you want your sponge cake batter to look like. Another tip is using super fine granulated sugar, I put my sugar in a food processor to turn my sugar into the very fine granules this sponge cake likes. Adding the sugar gradually instead of a large drop in the batter will keep your eggs full of whipped air. You will need this for creating a light and airy cake roll. Sifting the flour with baking powder and salt together before adding to the batter will produce an even bake as well as thicken the batter. Use the spoon and knife method for measuring the dry ingredients.
Last, greasing the sheet pan with cooking spray and lining the sheet pan with parchment paper will ensure your cake will be easy to release from pan after flipping. After baking the sponge, right out of the oven I run a sharp knife around the edges of the sheet pan to release the cake edges. Then immediately flip the cake on its' side and then down over a confectioners sugar dusted tea towel. The cake will release and you can peel the parchment paper off the cake. It's not hard and actually really fun to do.
How to Make Lemon Cream Cake Roll
Making this cake is super fast if you will measure out all of your ingredients before mixing together. Have the un cracked eggs warming in a bowl of warm water to help bring them to room temperature while you are assembling the remaining ingredients. Also preheat your oven to 375 degrees. Line at 15″ x 10″ x 2″ sheet pan with parchment paper and grease both the pan and the paper. I use cooking spray and make sure the sides of the pan are greased too. If you prefer you can use shortening or butter to grease the pan and paper.
Measure out the dry ingredients, pulse the sugar in food processor to grind it super fine, measure out the buttermilk, flavoring, and vegetable oil. I use custard cups for holding the wet ingredients and wax paper for the dry ingredients and sugar. You will also need 3-4 drops of yellow food gel to create a lemon colored cake.
In a large mixing bowl fitted with a whisk attachment, add 4 eggs and whip for 5 minutes. Be sure to set a timer for exactly 5 minutes. You will see your batter rise in the bowl and look thick like a cake mix batter. After the 5 minutes, gradually add super fine sugar and continue beating batter. Add vegetable oil, buttermilk, lemon extract and food gel drops. Continue whipping batter, gradually add dry ingredients, whisk until combined but do not over beat the batter.
Pour the batter evenly in the prepared sheet pan, push the batter into the corners of the pan and smooth/level the cake in the pan by slightly giggling the pan back and forth on your counter. Gently lift the pan and drop on counter to break any air bubbles in the batter. The lift is about an 1″ from the counter top.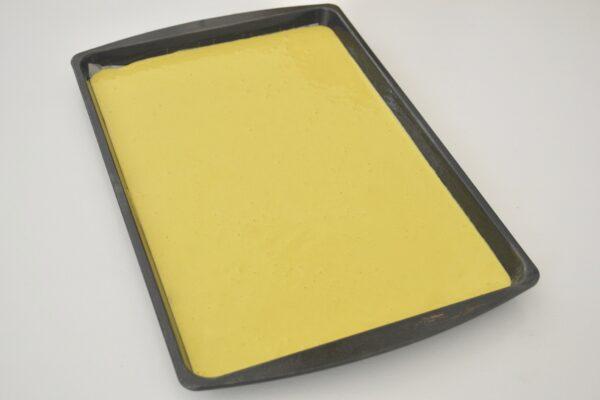 Place cake in preheated oven and bake 12-15 minutes. If your oven is hot it will bake in 12 minutes. Meanwhile, dust a tea towel with confectioners sugar. After 12 minutes check the sponge cake is fully baked. Run a knife around the cake.
Rolling Cake Into A Roll
When cake is baked turn it out onto the tea towel. Peel parchment and immediately roll cake into the tea towel, beginning at the narrow end. Roll tightly and as evenly as possible. Place rolled cake on a wire rack seam-side down and let cool completely.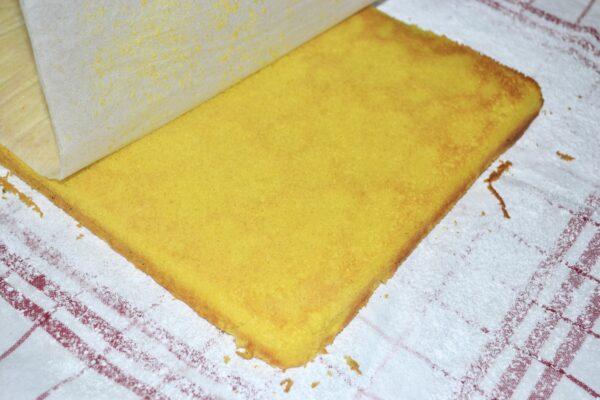 Roll cake roll with tea towel inside beginning at narrow end of cake.  Cool cake before filling.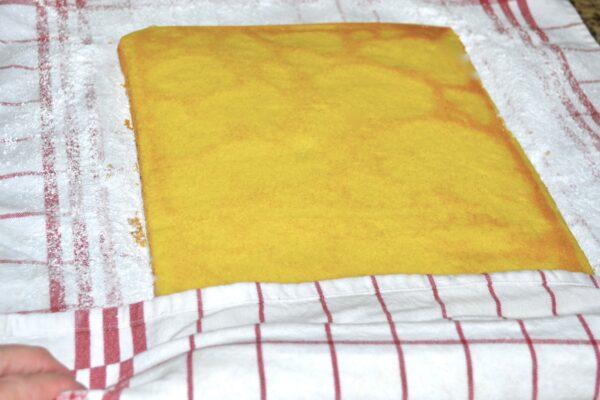 Next make the filling. In mixing bowl and mixer fitted with paddle attachment, cream room temperature cream cheese until soft and creamy. Change paddle attachment to whisk, add chilled heavy whipping cream with the cream cheese, add confectioners sugar and lemon extract, scrap bottom of bowl then whip until cream is stiff peaked.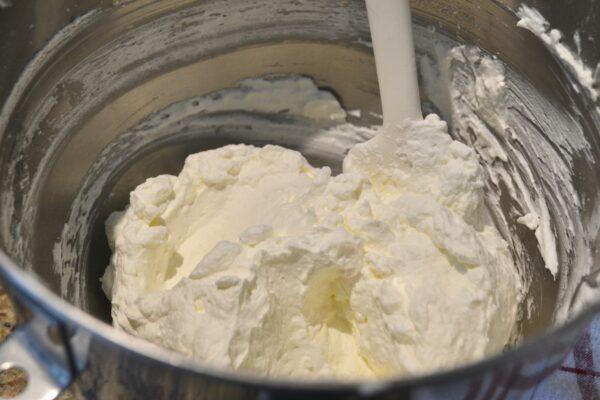 Unroll cooled cake and spread 1/2 cup of microwave lemon curd over the top of the rolled cake. The cake will want to curl, it s ok for this is normal. Spread whipped cream over lemon curd with off set spatula spreading to 1/2″ of cake edges all around the cake edges.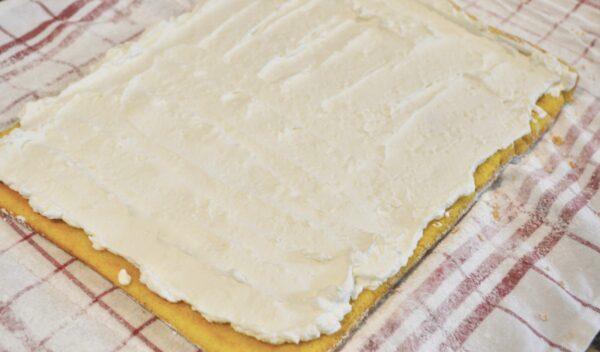 Tightly roll cake as before the whipped cream might ooze out but keep rolling. Place cake seam side down on plastic wrap and wrap cake then foil to refrigerate until well chilled. Chill cake about 2 hours before serving slices. With leftover whipped cream fill piping bag with tip # 1 M and pipe dollops over the top of the cake roll when ready to serve. Garnish with fresh blueberries or raspberries. Even crushed lemon drop candies would be a great garnish or grated lemon zest.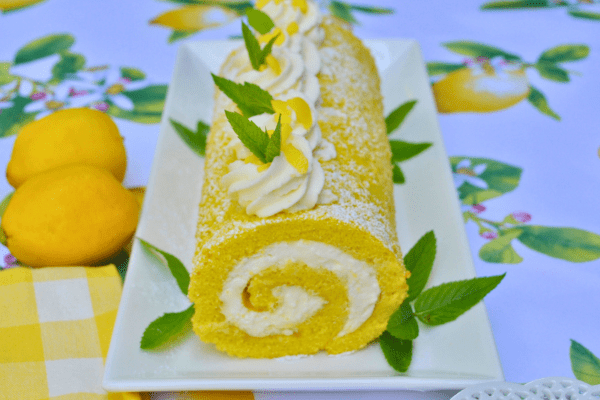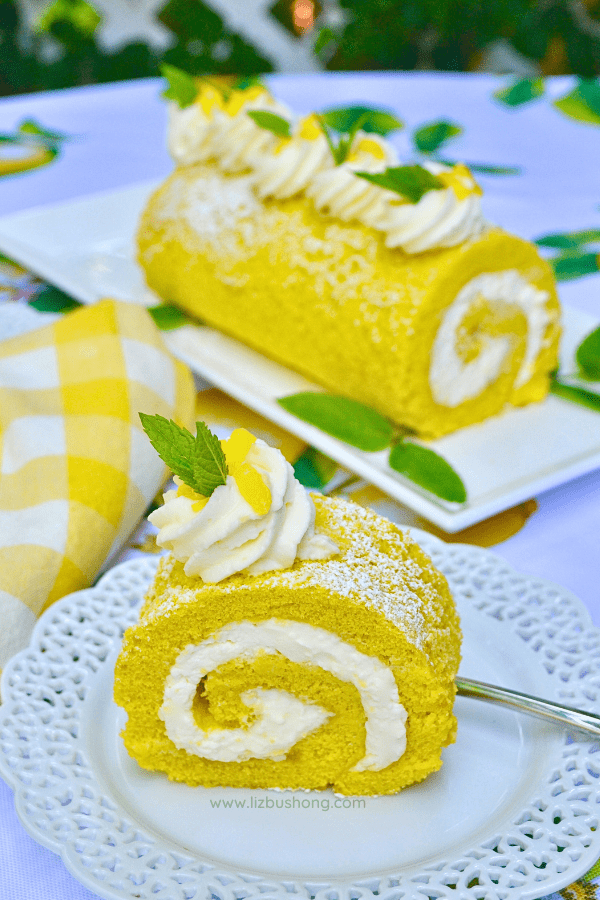 Print
Lemon Cream Cake Roll
Tangy lemon flavored sponge cake filled with lemon curd, whipping cream and cream cheese filling rolled into a jelly roll. Easy recipe and full flavored sponge cake roll.
Author: Liz Bushong
Prep Time:

20 minutes

Cook Time:

12-15 minutes

Total Time:

45 minutes + chill

Yield:

8

–

1

" servings

1

x
Category:

Dessert

Method:

Baking

Cuisine:

American
What you Need:
large tea towel for rolling cake roll, stand mixer with whisk attachment, 1 -10″ x 15″ x 2″ baking sheet, parchment paper, microwave or purchased lemon curd, extra confectioners sugar for dusting tea towel and finished cake. Piping tip 1 M, disposable piping bag.
Garnish: lemon drop candies, fresh mint leaves or fresh blueberries/raspberries.
Cake Sponge:
4 eggs, room temperature
3/4 cup super fine sugar
1 tablespoon vegetable oil
2 tablespoons buttermilk
2 teaspoons lemon extract
3–4 drops lemon yellow food gel
1 cup all purpose flour
1 teaspoon baking powder
1/2 teaspoon salt
Filling:
1/2 cup Lemon Curd
Whipped Cream Cheese Filling
4 ounces cream cheese, softened
1–1/4 cups heavy whipping cream, well chilled
1/4 cup confectioners sugar + some for sifting on tea towel and finished cake
2 teaspoons lemon extract
Garnish: Fresh blueberries, raspberries, crushed lemon drop candies or grated lemon zest and fresh mint leaves.
Instructions
Preheat oven to 375 F. Grease a  10″x 15″ x 2″ baking sheet with cooking spray and line with parchment paper. Grease the parchment paper. Set aside. 
Measure out all ingredients for quick mixing. Sift together dry ingredients, set aside. If eggs are not room temperature place whole eggs in bowl of warm water to bring to room temperature. 
In large mixing bowl of stand mixer fitted with whisk attachment, beat eggs on high speed for 5 minutes. Set a timer if necessary. This will ensure you have enough lift in your sponge cake. Very important don't skip this step. Batter will rise in mixing bowl and look like cake batter.
Turn mixer on medium speed, add sugar gradually then add oil, to the whipped egg mixture. 
Add buttermilk, lemon extract and food gel coloring. Continue to whip on medium high speed to combine.
Gradually add flour mixture, whip to blend. 
Pour batter into lined baking sheet, level in pan by shifting pan back and forth, lightly lift cake pan off counter about 1″ and drop back down to release air bubbles in cake. 
Place in preheated oven and bake 12-15 minutes. Meanwhile, line a tea towel with sifted confectioners sugar, your cake after baking will be flipped onto this tea towel for rolling into a jelly roll shape.
Remove sponge cake from oven, loosen cake edges with sharp knife around perimeter of cake pan. Flip cake onto the prepared tea towel. Remove parchment paper and tightly roll cake with tea towel beginning at narrow end of cake.  Roll the entire cake and set aside for cake to cool.
Meanwhile, cream softened cream cheese in mixing bowl with paddle attachment, then add chilled heavy cream, confectioners sugar and lemon extract to the cream cheese. Whip until stiff peaks form. Chill until cake is completely cool. 
Assembling the Cake Roll
Unroll cooled cake from tea towel. Cake will want to roll and that is normal. Spread 1/2 cup lemon curd over cooled cake.  Spread 1/2 of the whipped cream filling over the lemon curd, beginning at the curled end of cake. Spread filling to the edges of cake but leaving 1/2″ space on opposite end of the cake. Use an off set spatula for spreading if you have one. The reserved 1/2 cup whipped cream will be used for dollops or swirls for garnishing cake right before serving.
Beginning at the curled end tightly roll cake into a jelly roll shape. The filling will probably ooze out the sides but thats ok. Cut a small slice off both ends of the cake to get the pretty pinwheel look inside. At this point, wrap cake in foil and chill in refrigerator at least 2 hours. This will set the filling for serving.
Right before serving: 
Sift confectioners sugar over the top of the rolled cake, place on serving platter, then garnish with dollops of whipped cream.
With the remaining 1/2 cup of whipped cream, fill a disposable piping bag fitted with tip #1M to pipe dollops on top of cake roll. You should aim for 8 dollops for 8-1″ serving pieces. Garnish with mint leaves and crushed lemon drop candies or grated lemon zest if desired. Or you can use fresh berries like raspberries or blueberries.
Notes
This is a light and lemony flavored cake roll.  Using 4 eggs instead of 3 makes a fuller sponge cake. You can decorate the entire cake and chill for 60-120 minutes before serving. However the mint and lemon drops might wilt and candies might bleed on the whipped cream.
Keywords: Lemon Creme Cake Roll, Roulade, Lemon, Dessert, Whipped Cream, Microwave Lemon Curd
Other Ideas You Might Like to Try: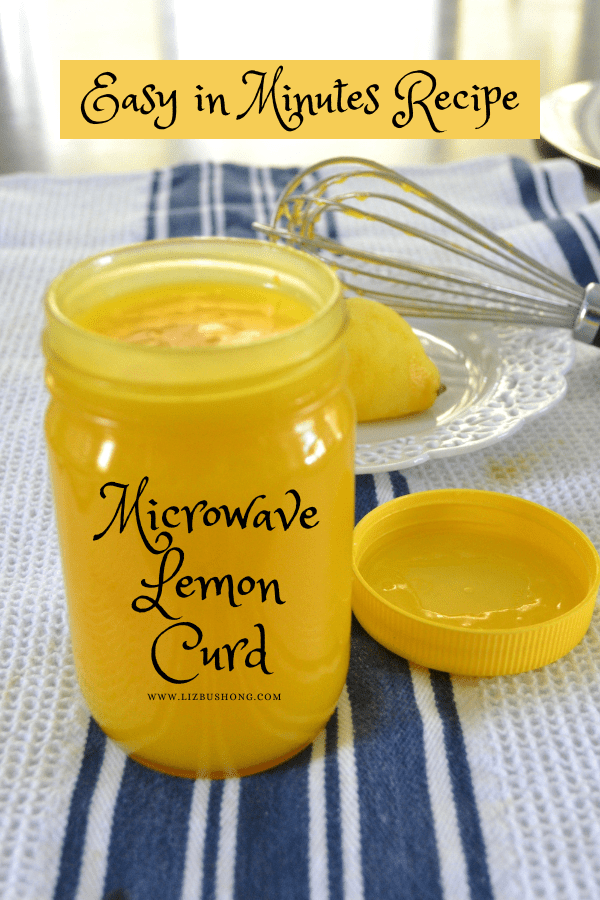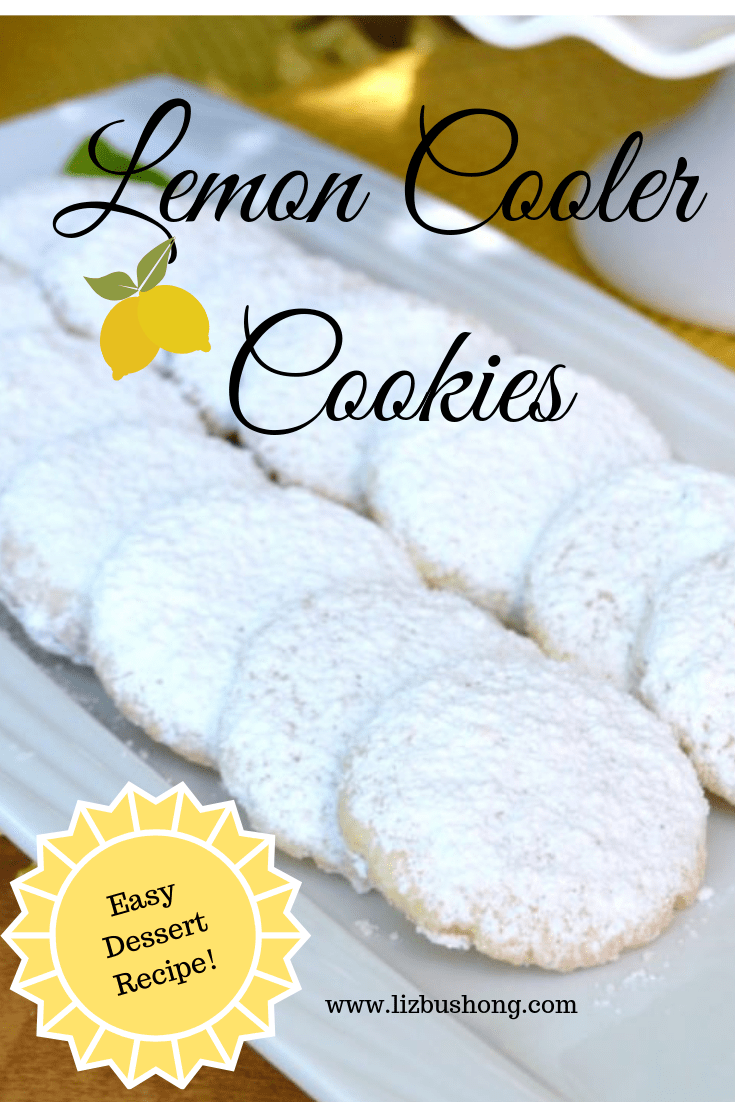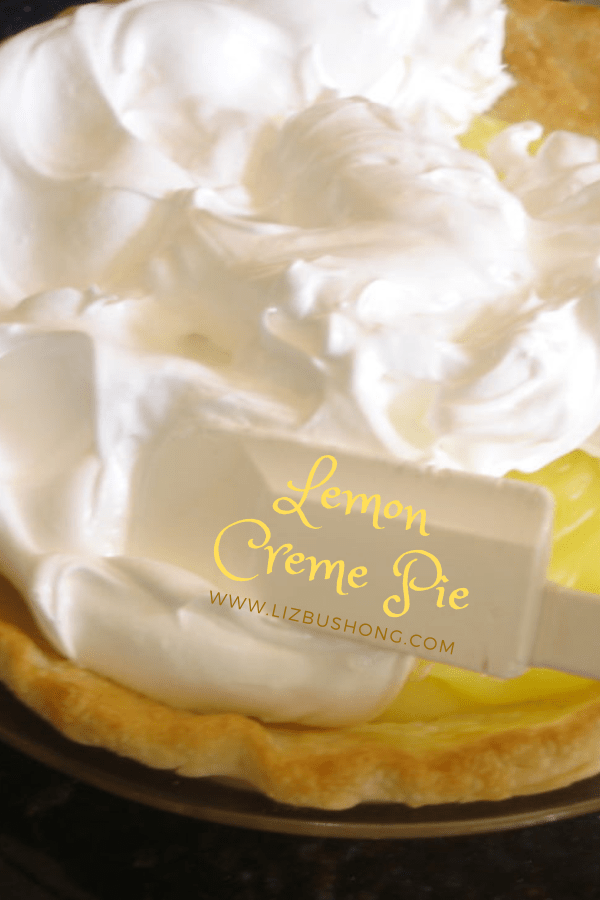 How to make spring daffodil centerpiece