Do you love fresh strawberries? You will enjoy this delicious strawberry shortcake recipe. The shortcake is more like a sweetened biscuit filled with fresh whipped cream and strawberries. Easy dessert recipe and perfect for summer entertaining at home. You're family will love it.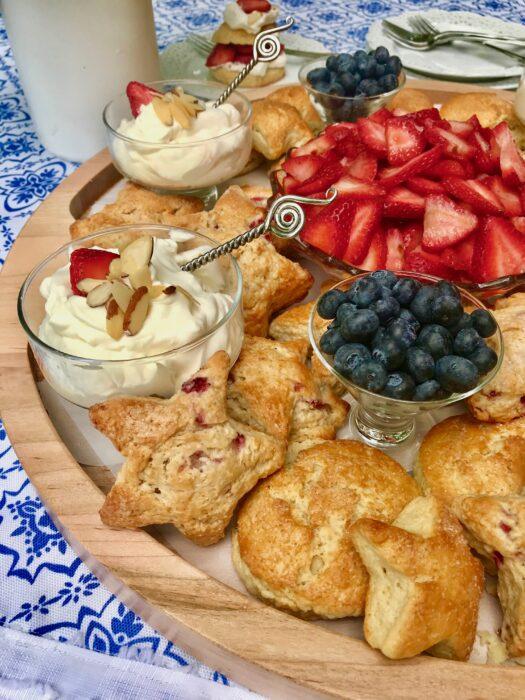 Ingredients for Strawberry Shortcakes
Fresh Strawberries– the fresher the better, bright red unblemished with pretty green stems hopefully will give you the best tasting berries. Rinse and hull the berries cut into desired slices, sprinkle with sugar and set aside at room temperature.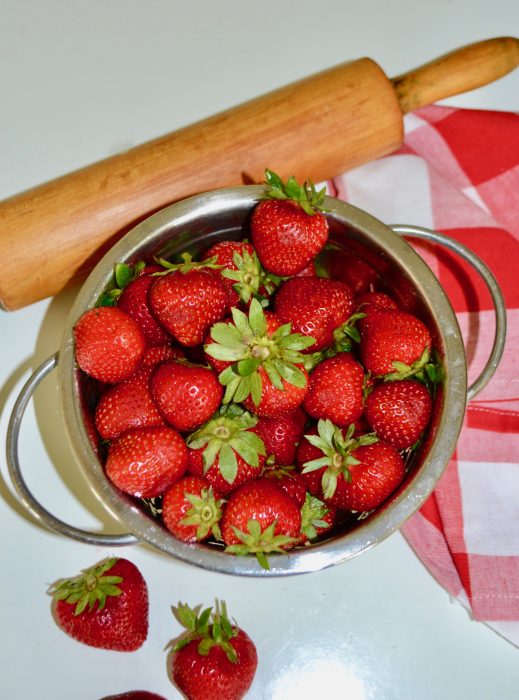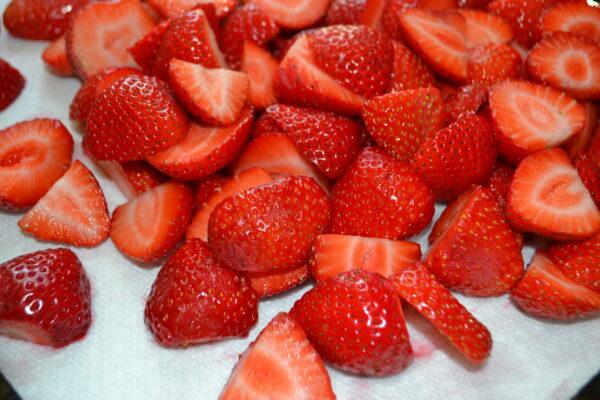 Butter and Buttermilk– using real butter instead of margarine makes better biscuits. The butter will make the flavor so much richer and consistency flakey and light as well as using buttermilk. Make sure your butter is semi frozen when mixing the butter with dry ingredients this helps with flakey layers in the biscuit. Buttermilk adds tenderness to the biscuit as well as tangy flavor. If you don't have buttermilk on hand, make your own by adding 1 tablespoon apple cider vinegar to one cup of milk. If you don't have cider vinegar use lemon or cream of tarter, same amount. Let the milk sit about 5 minutes before using.
Sugar-Granulated sugar is added to the dry ingredients in making the shortcakes this separates the shortcake from the biscuit. I would not recommend artificial sugars for this recipe, it will not taste good in your baked shortcakes.
Sour Cream and Egg-Yes, 2 tablespoons of sour cream and one egg to the dry ingredients will add softness, structure and flavor to your shortcakes.
Confectioners Sugar & Whipped Cream– Making fresh whipped cream will make these shortcakes taste so good. I use very chilled heavy whipping cream with a little bit of confectioners sugar. Confectioners sugar has cornstarch with helps stabilize the fresh whipped cream. Also you will want to flavor the whipped cream with vanilla, orange, strawberry, or lemon extracts. Adding mashed strawberries to the whipped cream after whipping will enhance more strawberry flavor to your shortcakes.
Making Strawberry Shortcakes
Prepare the strawberries, remove stems and hull, cut in slices or in half, place in a medium bowl. Sprinkle with granulated sugar, toss to coat and set aside. The longer you let it sit the juicier and sweeter the berries will be. If your berries are sweet enough cut back on the sugar in recipe.
In a large mixing bowl, add dry ingredients, flour, baking powder, baking soda, sugar, and salt, toss to combine.
Cube or grate butter and place on wax or parchment paper, chill in freezer until semi firm. Add this semi frozen butter to the dry ingredients, along with sour cream. Use two knifes or your fingers to blend the dry ingredients to create a crumble.
Add buttermilk and egg together in mixing cup, add to dry ingredients.
Turn out shortbread dough onto flour surface, or pat into a 1″ thickness. Cut shortcakes with 2-1/2 " cookie or biscuit cutter. Be sure to flour your biscuit cutter for easy release of shortcakes.
Tip: Do not twist cookie or biscuit cutter when cutting out shortcakes. Twisting the cutters will make your biscuits bake crooked, not vertical.
Place cut shortcakes on parchment lined baking sheet. Brush with egg wash or cream, sprinkled with sugar and bake in hot oven at 425 for 15 minutes. Remove from oven and cool.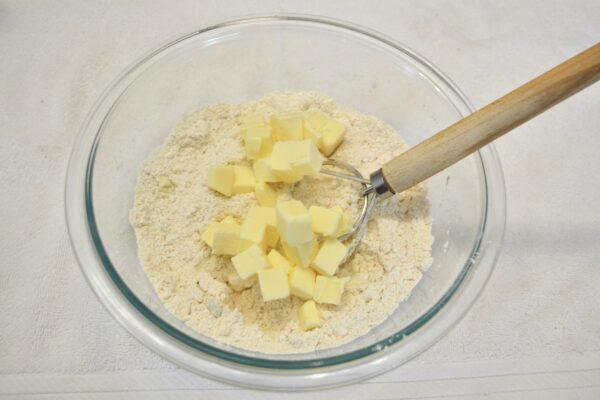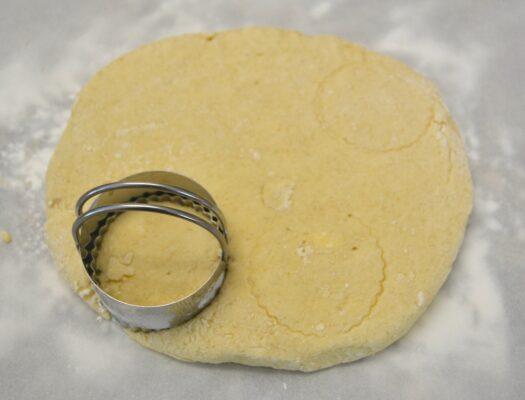 You can cut stars for a Patriotic Theme.  Also you can add diced fresh berries to the raw dough to make it even more strawberry.  Brush with egg wash or cream, sprinkle with sugar if desired.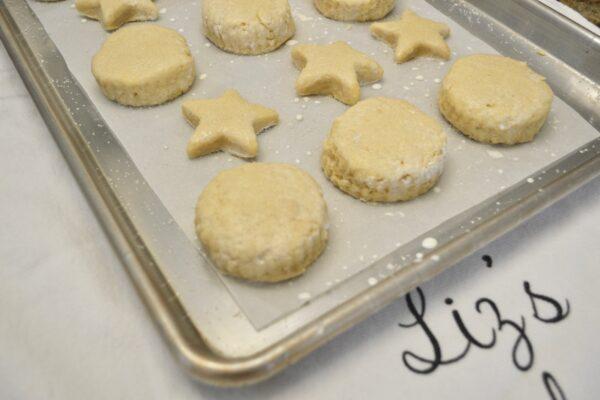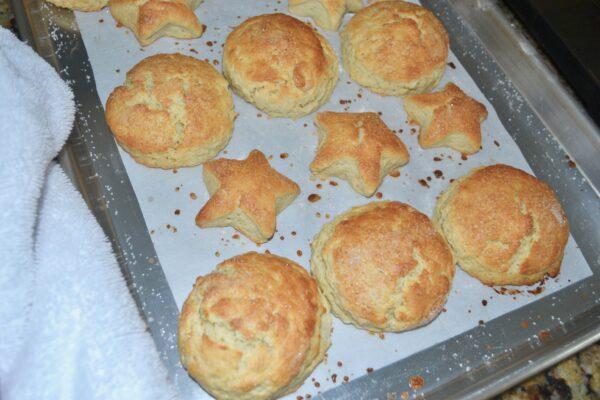 Assembling the Strawberry Shortcakes
Cut shortcake in half, place on serving plate, add dollop of whipped cream, sugared strawberries, more whipped cream and top of shortcake. Serve immediately. Store whipped cream in refrigerator. Enjoy!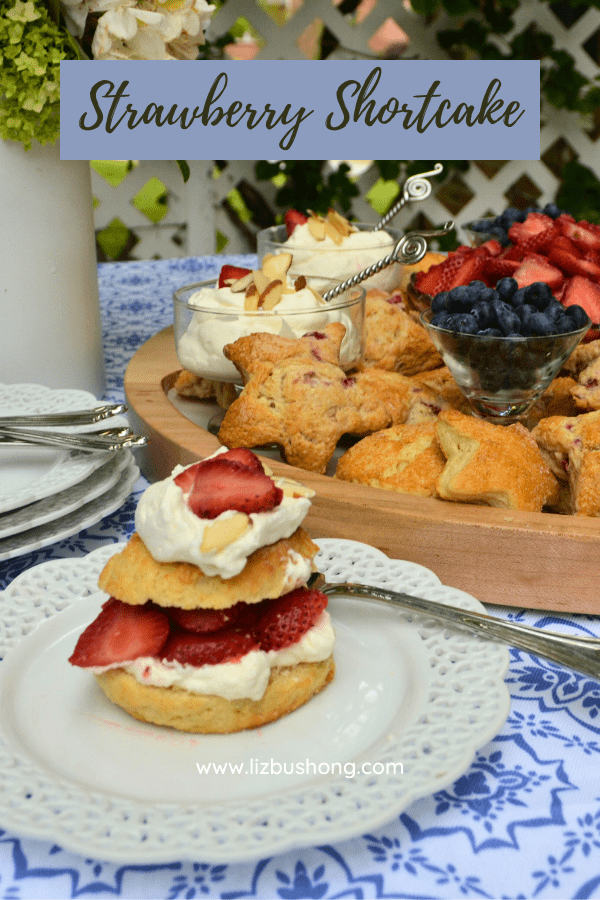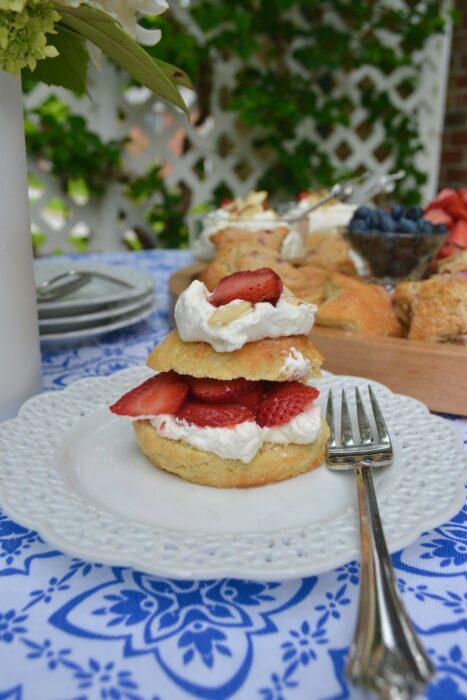 Tips for Strawberry Shortcakes
You can bake the shortcakes a day ahead. Wrap the cooled shortcakes in plastic wrap or baggie and freeze until ready to use. Thaw the morning of the day you plan to serve.
Do not freeze the strawberries or the fresh whipped cream, they will not perform well when thawing.
Only assemble about an hour before you plan to serve. You can create a self serving platter like a dessert board, by placing baked shortcakes cut in half but together on the board, bowl of strawberries and whipped cream. You can also add fresh blueberries to help with a patriotic theme if you would like.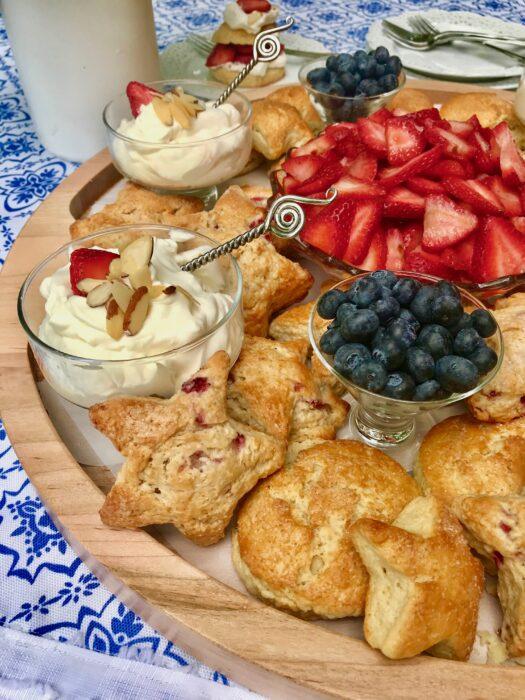 Print
Strawberry Shortcake
Easy recipe for home made shortcakes. Buttery and sugar filled biscuit dough is cut into 2-1/2 " biscuits, baked and split in half with fresh whipped cream and strawberries.
Author: Liz Bushong
Prep Time:

45 minutes

Cook Time:

12-15 minutes

Total Time:

60 minutes

Yield:

10

shortcakes

1

x
Category:

Dessert

Method:

Baking

Cuisine:

American
4 cups all purpose flour
2/3 cup sugar + 1/4 cup for sprinkling over shortbread before baking
1 teaspoon baking powder
1 teaspoon baking soda
3/4 teaspoon sea salt
2 tablespoons sour cream
1 cup cubed frozen butter
1 cup buttermilk
1 egg, room temperature
1 teaspoon vanilla or orange extract
Glaze: Egg wash- 1 egg, 1 tablespoon water, sprinkle with sugar, OR just use cream and sprinkle with sugar.
Strawberries
2 quarts, rinsed, drained, hulled and sliced as desired
1 /2 cup sugar
Fresh Whipped Cream
2 cups heavy whipping cream, chilled
1/4 cup confectioners sugar
1 teaspoon vanilla extract
1 teaspoon orange extract
Instructions
Preheat oven to 425 degrees F. Line a baking sheet with parchment paper, set aside.
In large mixing bowl, add flour, baking powder, baking soda, sugar and salt. Toss to combine.
Add grated butter and sour cream crumble with fingers to create crumble like consistency.
Add egg to buttermilk with extracts. Whisk egg to blend, add to dry ingredients. Toss with fork or use hands to form a dough ball on flour surface. Try not to add to much additional flour it will make your shortcakes dry. 
Pat dough into 1″ thickness, dip 2-1/2″round cookie cutter into flour and cut out shortcakes. Do not twist cookie cutter when cutting biscuits, use straight up and down method of cutting. Twisting cutter will make the shortcakes bake crooked and prevents even rise in biscuits/shortcakes.
Place on baking sheet about 2″ apart.
Mix egg wash together and brush on biscuit tops. Sprinkle with granulated sugar if desired.
Bake in hot oven for 15 minutes. Remove from oven and allow to cool before assembling shortcakes.
Making Fresh Whipped Cream
In medium mixing bowl and whisk attachment on hand mixer, add chilled heavy cream, whip on low speed for about 3-5 minutes until soft peaks form, add 1/4 cup confectioners sugar and extract, whip on high speed until stiff peaks form about 10-12 minutes total.
To Assemble:
Best assembled right before serving. Cut shortcakes in half, add dollop of fresh whipped cream and strawberries, add the top of shortcake and more whipped cream. Serve immediately.
Notes
You can use grated frozen butter instead of cubed if desired when mixing dough. Key is well chilled butter.
Shortcakes can be baked a day or week ahead. Cool shortcakes before freezing in freezer zip lock bags. Day of serving, remove from freezer and thaw to room temperature.
Do not freeze whipped cream or fresh strawberries, the berries will be mushy and whipped cream could lose it's consistency.
Storing leftover whipped cream in small sealed container until keep refrigerated up to 2 days. You may have to rewhip the cream if it loses consistency.
Keywords: Strawberries, Shortcakes, Whipped Cream, Strawberry shortcake, Dessert
Hope you will try this recipe.  Its very good and easy to make, if you like cake like shortcakes try this recipe. Lemon Creme Cake Recipe,  Recipe for cake. 
Other Ideas You Might Like to Try:
Fresh Strawberry Pie