Whats for dinner?  Try Lemon Infused Fresh Salmon Patties. Thawed or Fresh wild caught sockeye salmon with skin removed,  is processed in food processor until coarsely chopped.  A mayo paste with Lemon juice, bread crumbs, mustard, dill, diced onions helps form the patties.
Because salmon patties are shaped into rounds, they are tossed in bread crumbs to help keep together as well as browning during quick fry.  The lemon in the salmon really perks up the flavor along with the dill seasoning.  After frying in vegetable oil and little bit of butter, these patties are crisp and delicious.
Serve salmon patties with a horseradish mayo combination along with a tossed salad.  Quick and easy dinner in minutes.  Whether serving mini salmon bites as an appetizer or regular sized patties, these will please every palate even those who don't like fish.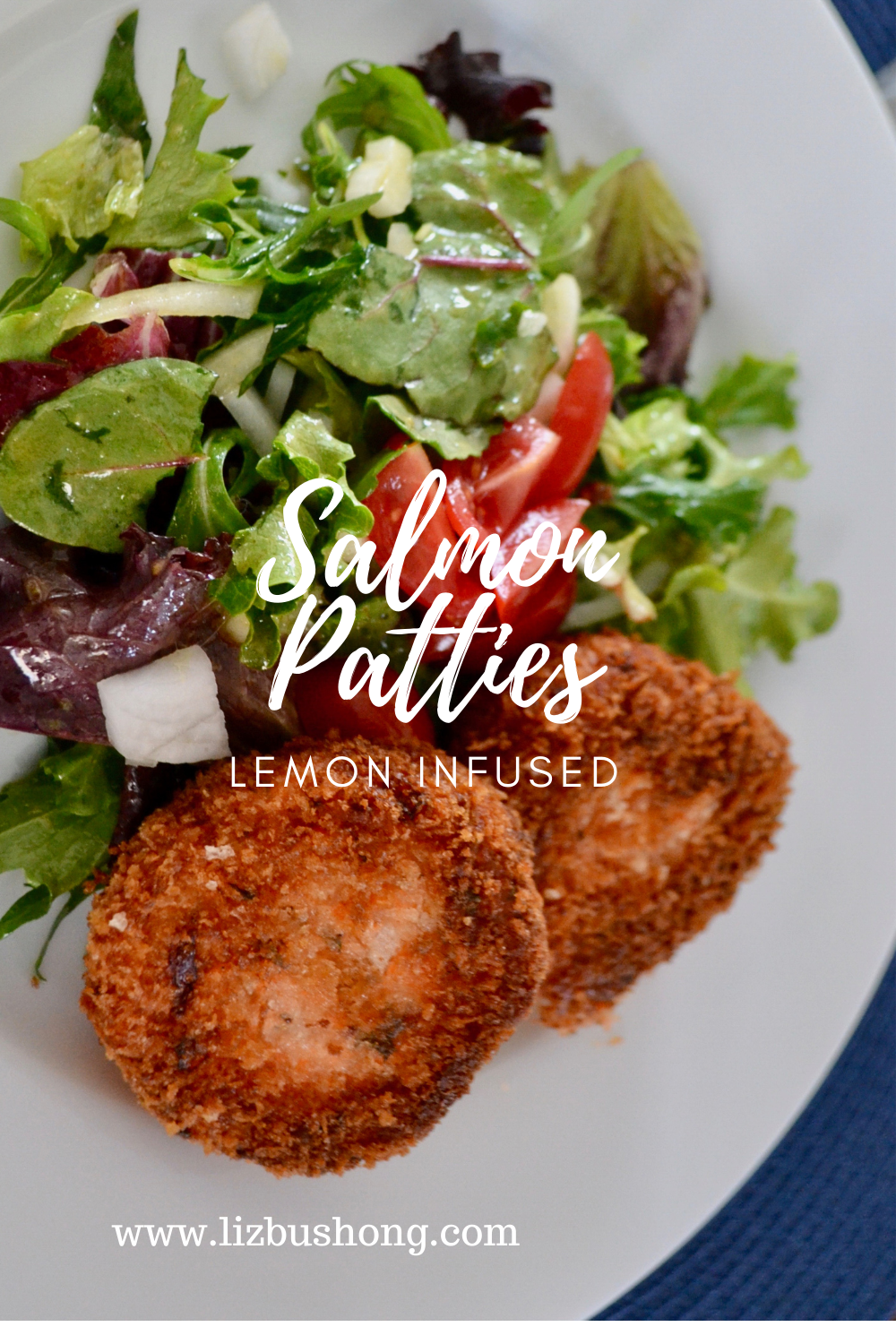 Benefits of Fresh Salmon
Fresh Salmon has many benefits with the omegas and being wild caught. Always opt for Wild Caught instead of farm raised salmon and in my opinion Pacific instead of Atlantic oceans.  Fresh Sock eye salmon has a rich robust flavor while the farm raised salmon is more bland.  There is also more fat in farm raised salmon and some up to three times more saturated fats.  Farm raised is less expensive and easier to find than fresh sock eye but if you want a good salmon patty go with sock eye.  To learn more about Pacific or Atlantic salmon read this article.
Let's Make the Patties
Print
Lemon Infused Fresh Salmon Patties
Author: Liz Bushong
Prep Time:

20 minutes

Cook Time:

10 minutes

Total Time:

30-35 minutes

Yield:

2

-

4

servings

1

x
Category:

Main Dish- Fish

Method:

Food processor-frying

Cuisine:

American
2 frozen wild sockeye salmon fillets, skin removed, chopped in medium pieces
1 lemon, cut and squeezed
1 small shallot, chopped
1/2 teaspoon dill
1/2 teaspoon salt & pepper
2 tablespoons mayonnaise, tested Hellmans's
2 tablespoons vegetable oil
1 teaspoon butter
3 tablespoons  + 1/2 cup Panko bread crumbs
1/4 teaspoon dijon mustard or mustard of choice
Horseradish/Mayo Sauce
2 tablespoons Hellman's mayonnaise
1 tablespoon horseradish sauce
1/4 teaspoon fresh or dried dill
Instructions
In food processor fitted with steel blade, process for few seconds chopped salmon until coarsely chopped. Remove salmon to mixing bowl.
Add lemon juice, spices, onion, mustard, 3 tablespoons bread crumbs and mayo.  Toss together to form ball in bowl.
Divide the ball into 4 sections, roll each section into a ball and flatten to form a patty.  Make 4 patties.
In pie plate place additional 1/2 cup bread crumbs, coat both sides of patties with bread crumbs.
In medium skillet, spray with cooking spray and 2 tablespoons vegetable oil plus 1 teaspoon butter.  Place patties in oil and do not turn over until you see the bottom edge brown. Flip over and continue frying until golden.
Remove from skillet and place in clean pie plate in preheated 300 degree oven.
Keep patties warm until ready to serve for dinner. Do not cover while in oven.
Prepare horseradish mayo sauce.  Mix all ingredients in small bowl.
Serve horseradish mayo combination with patties as a side sauce.
Notes
Recipe was adapted from America's Test Kitchen.
Keywords: #salmon #patties #fish
Other Ideas you might like to try: