Dark Purple and Green set the color scheme for a striking simple DIY Tulip Centerpiece Set your table with dark purple plates, bowls and stemware and lemon leaf placemats.  Accent with bright lemons and a beautiful  Simple DIY Tulip Centerpiece  that unites the purple and green place settings.  Using a  fresh lemon  place card at each setting draws guests to the table.  Whether hosting a garden party or setting your kitchen table this purple and green color scheme will bring big smiles each time you see it.
 

How to Make the Centerpiece
Gather your supplies including the following; a large white bowl for the container. I used a ruffled bowl that was purchased from Pier 1.  Scissors or pruning shears, packing tape or floral tape for a grid. ( no need to use floral preservative if you refresh your water each day). I will change my water every 24 hours to keep my flowers happy).
Purple & Yellow Tulips, Purple Alstroemeria
You will also need 3-4 dozen yellow tulips, 1-2 dozen purple tulips and 3 bunches of purple alstroemeria.   (Depends on size of bowl, the more tulips the fuller the arrangement.)  Assorted greenery from your yard or faux greenery wispy sprigs. Ivy will also work as a spiller to add casual ease and softness to your arrangement.
Ready to Arrange Centerpiece
Prepare your tulips for arranging. Under running cool water, cut each end of the tulips at an angle and place in a bucket of cool water,(this will keep the tulips refreshed and prepped for arranging.)  This can be done 8 hours ahead but keep flowers chilled.
Note: Remove any leaves from the stems that will be below the water line. Otherwise the leaves will rot and cause bacteria to grow making your arrangement wilt way too early. 
1. Fill the white bowl with fresh water 3/4 full.  Make a grid using the floral tape or packing tape. (sometimes I don't use a grid, but pack the bowl with lemon leaf or other greenery to help hold the blooms in place). Make sure the tape extends beyond the bowls edge but not by much. Fill grids with greenery, pack it full.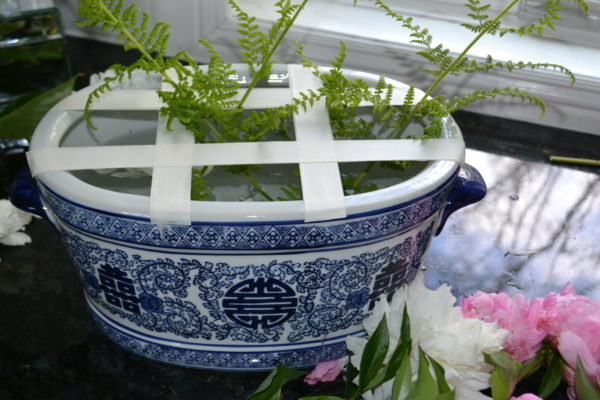 2.Next, add purple alstroemeria stems around the perimeter of the outer edge of bowl. Followed by purple tulips following the pattern around the perimeter of the alstroemeria. ( I cut the tulips about 8-9″ in length). I cut all the stems the same length.
3.Add yellow tulips to the grids following around the perimeter of the purple tulips. Allow the tulips to fall at random, but if they are drooping too much, you may need to trim the ends just a bit to allow the stems to straighten up a bit. Check out this website if you want to keep your tulips from drooping.
Print
Simple DIY Tulip Centerpiece
French yellow tulips and deep purple alstroemeria fills a large white ruffled bowl.  No oasis or preservative… just fresh water with tape grid to keep florals in place.  Add extra greenery leaves and faux wispy greenery to help hold the tulips and add texture to centerpiece.
Decide on container for arrangement. I used Pier 1's white ruffled bowl
Purchase

3

–

4

dozen tulips and 3 bunches of purple alstroemeria. ( check grocery store floral depts.)
floral tape or scotch tape for grid
Floral snips or scissors
Fresh wispy greenery for added texture
Additional yard greenery to fill the grid of container. Can use lemon leaf.
Instructions
Determine size and shape of container.  I used Pier 1 White Ruffled Bowl.
Purchase 3-4 dozen tulips and 3-4 bunches of alstroemeria.
Make a grid across the top of the container using floral tape or scotch tape.
Tape long strips across the entire bowl overlapping tape about 1/2″ down sides of bowl.  Make sure edges of bowl is dry for tape to stick.
Cut stems of Alstroemeria to fit the sides of the container.
Fill grids along the outside edge of bowl first with purple alstroemeria.
Trim ends of purple and yellow tulips (about 8-9 " long) at a small angle and place purple tulips in center of each grid around the perimeter of bowl next to alstroemeria. Followed by the yellow tulips, filling in the center of the arrangement.
Pack tulips in tight.. the tulip leaves and additional greenery will help provide structure for the centerpiece.
For added flow and texture add wispy faux greenery sprigs or fresh fern type.. something soft to center of arrangement, then one sprig to the right, center and left of centerpiece. If you have ivy, insert on bottom sides of the centerpiece.
The flowers will relax and begin to droop over time, but that is the beauty of tulips.
Notes
Alstroemeria will last 10 days.
When you bring flowers home.. immediately remove bad leaves and trim ends at an angle then insert into fresh cool water.  Opening up the tulip and floral stems will keep them from drooping before time.
Clipping the ends of tulips every other day and filling container with fresh water will ensure your arrangement will last longer than 3 days. ( small trim)
To prolong life of arrangement, store your fresh cut arrangement in the refrigerator or in a cool garage.  They like being cold and love fresh water.
No preservatives in water seem to help prolong the florals. That has been my experience.
Keywords: Purple Tulips, Yellow Tulips, Centerpiece, Purple Alstroemeria
Other Ideas You Might Like to Try: