Nothing says Spring better than tulips. Create this beautiful spring DIY wreath featuring green and white color scheme. Combinations of white flowers; such as hydrangeas, tulips, & dogwood blossom mixed with assorted green leaves makes a full 24″ wreath bloom with texture and loveliness.  Making a pretty tulip wreath for your front door will bring a breath of fresh air for all who drive or stop by.

Thoughts on making the wreath
My thought in making this wreath was that the cost would be more than I wanted to spend.  Much to my surprise after researching online orders of finished wreaths, I could surely make mine for less. Sure enough, the florals and greenery was 40% off!  Even my grapevine wreath was 20% off. Compared to purchasing a pre-made wreath and 2 tulip fillers costing $495.00, my wreath plus 2 side potted tulips cost me $ 132.00.  Plus I could reuse the tulips/florals in future arrangements if needed.
What do I need to make my own wreath?
Everything you need to make your own wreath can be found at a craft store.  I went to Michaels.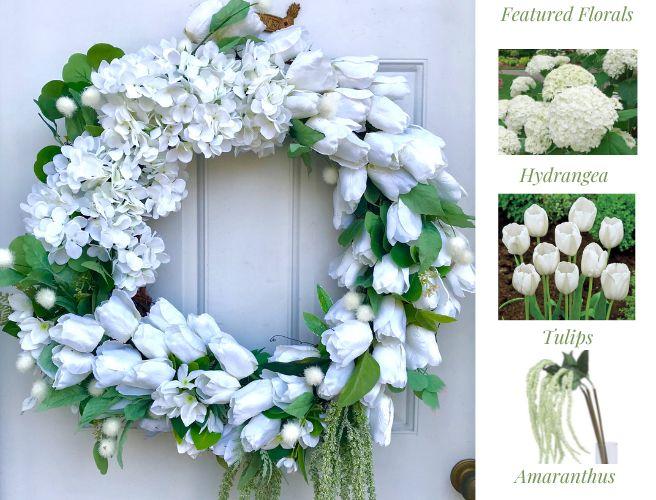 You will need 4 bundles of medium size tulips, and 2 bundles of  hydrangeas,  2 stems dogwood blossoms, 2 bundles pom pom bushes , 4 bundles of dark green, mixed leafy, and 2 hanging stems as well as a 24″ grapevine wreath . The tulips had 14 blooms per bundle while the hydrangeas had 6 blooms per bundle. You will also need wire clippers, scissors, floral wire, glue gun and glue sticks optional. Pipe cleaner or wire for wreath hanger.
Tip: Using a grapevine wreath will allow you to insert the stems with out using picks or floral tape/glue. The wreath is tightly woven so individual stems stay in place.  However, if you want to hot glue the stems into the wreath you can.
Making your wreath full is key so don't skip on the floral amount you think you might need you can also return what you don't use. With faux flowers, try to find the ones that look as real as possible. Not all faux flowers are the same.  Go for  wired stems instead of hard plastic.
Putting the wreath together
1.Gather all the tools, wreath and floral bushes. Form a wire loop for hanger on grapevine wreath.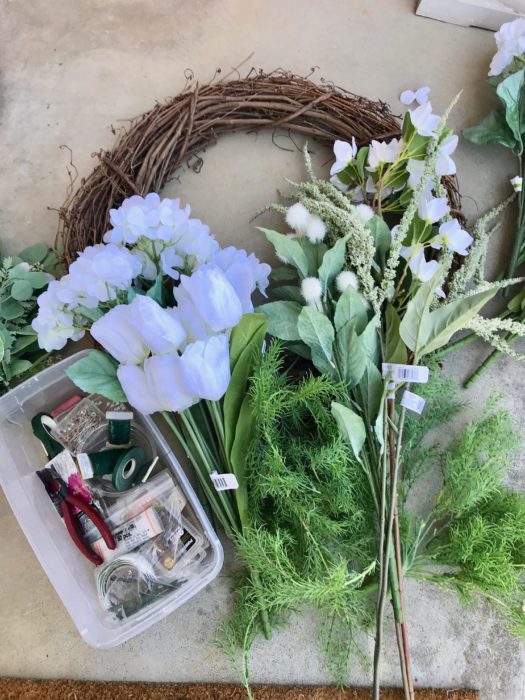 2.Determine the top and bottom of your wreath. try to keep this position as you are working around the wreath.
3.With wire cutters cut greenery into sections. Cut the stems with the leaves about 7″ long. Mix two to three green stems together and wire the stems together creating a small bundle of leaves. Repeat with all greenery. Set aside.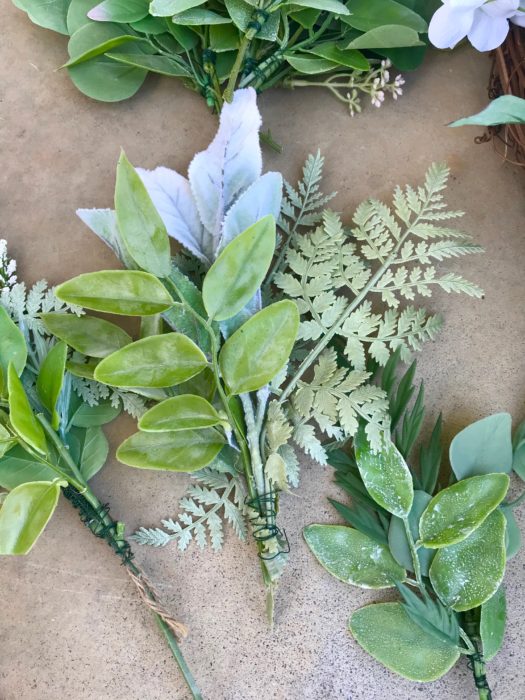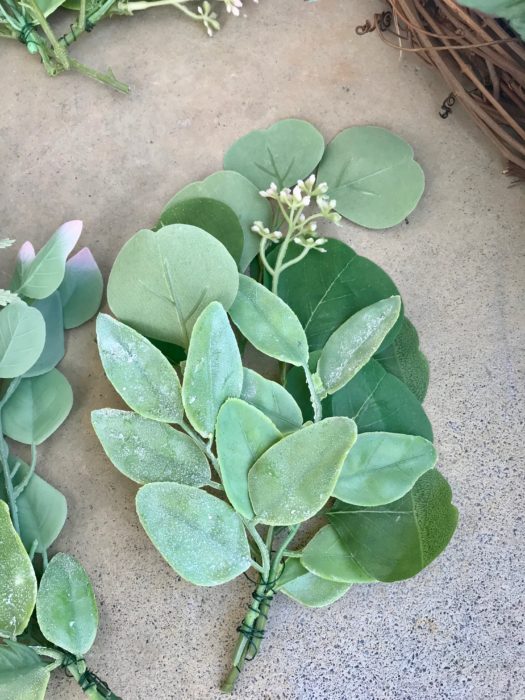 4.Insert all greenery around the inner and outside rim of wreath or as desired. Keep in mind, the hydrangeas will have leaves which will help fill in the wreath. Technically, the vine wreath will be fully covered with leaves as the wreath is for support of florals.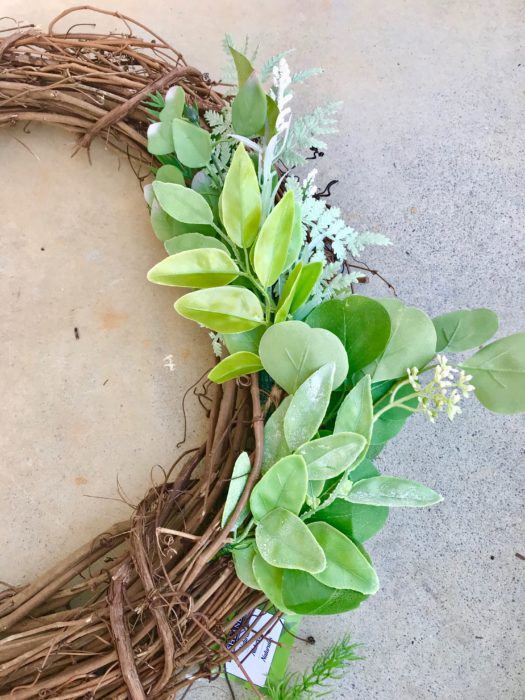 5. Next, cut hydrangea stems into sections and insert the flowers to the left side of the wreath. Cluster all the hydrangeas together on the wreath for desired impact.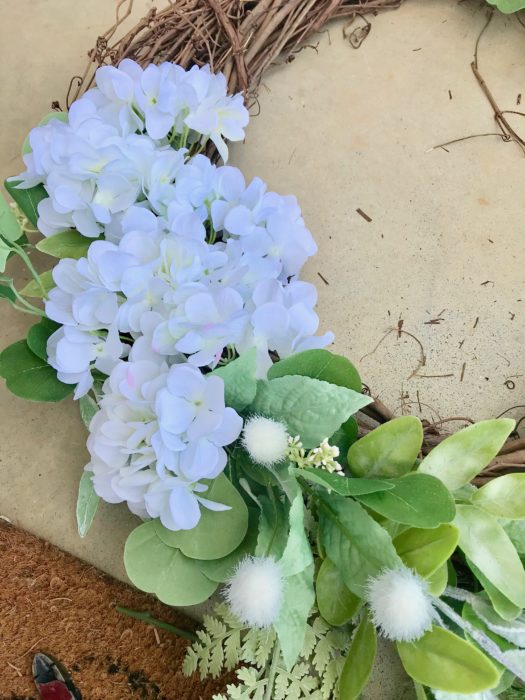 6.Cut stems of tulips 6-7″ long, and insert in one direction on the wreath, filling in and tucking the tulips closely together, some stems you will cut 5″ to help insert and fill. Continue with tulips until the tulips have filled the remaining space on the entire wreath in one continual direction.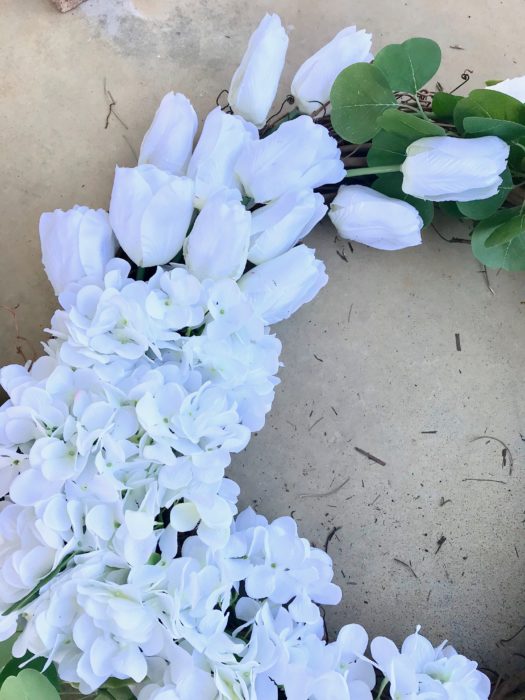 7.Fill in open spaces with cut dogwood leaves, and pom pom stems. (On finished wreath I had all the tulips in one direction).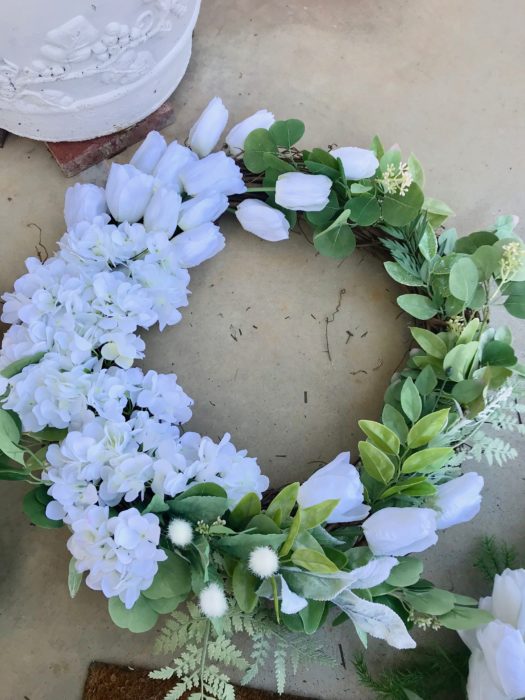 8.Finally, insert two hanging stems on the right bottom of the wreath as if it is dripping off the wreath.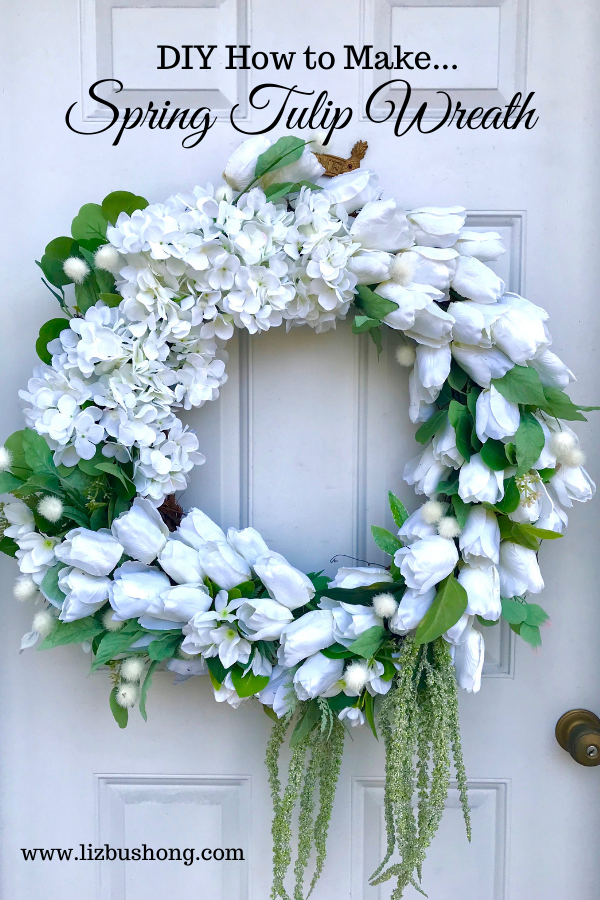 9. At Last, hang your beautiful wreath on your front door and wait for the oohs and awes.  You will love making this wreath!  Its fun and rewarding. To go along with the wreath, two 9″ round pots filled with 40 white tulips were inserted in the naked planters. To finish the front entrance I added my Easter Egg Topiaries and White Tulip Porch Pots.  See how to make the Spring Egg topiaries here. 
Enjoy and have some fun.  Spring is about to bloom beautifully!
You can do it!  xo Liz


Other ideas you might like to try: