Chicken & Sausage Galette Recipe has all the savory flavors you love in a chicken pot pie; tender flaky crust filled with a creamy white sauce full of tender chicken pieces, sausage balls and mixed vegetables.  Rustic and easy main course or made as mini appetizers. Perfect for those who love chicken pot pie.  Your family will love this dish.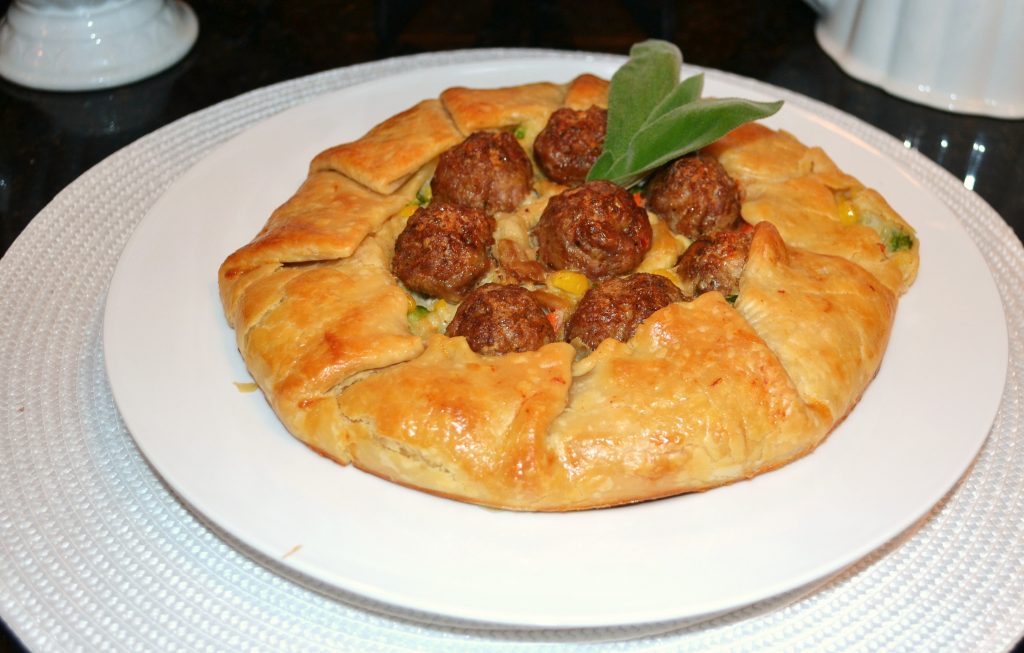 What is Rustic Chicken & Sausage Galette?
First what is a galette? It is a French term for crust or tart , in this case a rustic galette meaning the pastry is rolled out into a circle, filled with thickened chicken and precooked sausage balls.  The filling is placed in the center of the crust, while the sausage balls are placed over the top of the filling.  Because the filling is thick it will not seep out of the crust.  As you can see in the photo, the outer edges of the crust is overlapped onto the outer edges of the filling and baked into a rustic looking bake.
Some Galettes are sweet while some are savory.  Either way they are not difficult to make even when making your own crust. I use a butter crust recipe which is delicious and flakey.  However, if you don't want to make your own crust a refrigerated crust is quick and delicious too.
What I also love about this galette, you don't need a special baking pan. A cookie sheet or baking sheet with no edges bakes the galette beautifully.
Tips for Making this Galette Recipe
If you are making your own crust, make sure your dough is throughly chilled before rolling out.  Chilling the dough will ensure the butter is firm which makes a flakey crust.  Roll dough on a floured surface to prevent sticking.  For a decorative edge, you can use a pastry wheel or cookie cutter to cut curved shapes on the outer edges of crust before folding over filling. I did not use a decorative cutter on this recipe so it is not shown in the photo but the photo at end of post, caprese galette shows shaped edge.
Creating the Pot Pie Filling
You will need to make sure your filling is thick and not saucy.  Thicker sauce will keep galette from running over the pretty crust.   In this recipe, you begin by heating butter in a large skillet and cooking onions  to soften.  Sprinkle flour over the onions to coat as well as create the sauce.  Whisk mixture together and add cream and chicken broth. Continue whisking to create a thick sauce.  I have the best gravy flat whisk that you might like to try.  I found it at Williams & Sonoma. Because it is flat, it gets all around the edges of the skillet as well as covers more area on the bottom of the skillet. The whisk helps prevent burning too.
Once the sauce is made, to the skillet add thawed & drained frozen mixed vegetables, stir to combine, add seasonings and continue to stir.  Filling is done, roll out the crust, place Panko bread crumbs mixed with parmesan cheese on the bottom center of the crust.  Bread crumbs will help keep the crust from becoming soggy.   Place precooked sausage balls on top of filling, fold crust edge over filling and bake for 35 minutes.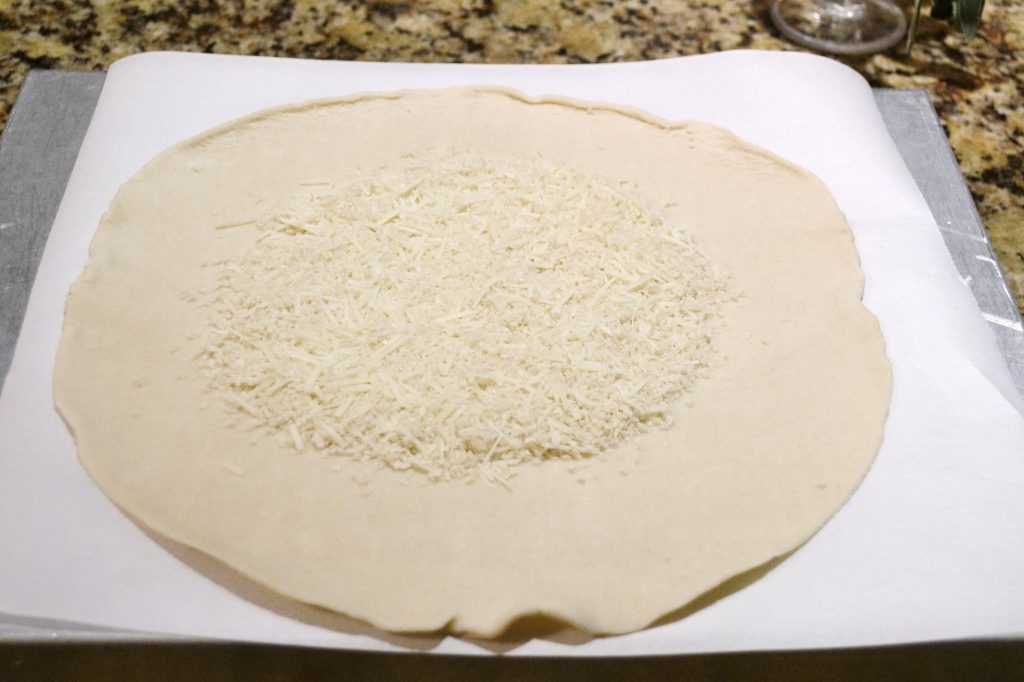 Tip:  The pre-baked sausage balls adds to the garnish of the tart. To pre-bake the sausage, roll meat into 1″ balls or size you prefer, bake in a lightly sprayed (cooking spray) pie plate until sausage is fully baked and browned about 25 minutes at 375. Drain grease off meat before adding to the galette filling.
Hope you enjoy this recipe.  Check out the other Galette Recipes below. Notice the curved crust edge on the Caprese galette.
Rustic Chicken & Sausage Galette
Print
Chicken and Sausage Galette
½ cup butter
½  medium onion, diced
½ cup all-purpose flour
1 ½ cups chicken broth
½ cup heavy whipping cream or half and half
2 cups chopped cooked chicken
1 –12 oz package frozen mixed vegetables-thawed
10–12 baked & drained sausage balls*
1/2 tsp. salt, ground white pepper, & garlic powder
1 teaspoon poultry seasoning,
1 (14.1-oz.) package refrigerated piecrusts
Vegetable cooking spray
Egg wash- 1 egg + ½ teaspoon water
½ cup Panko bread crumbs + ½ cup parmesan cheese
Instructions
Preheat oven to 375˚. Melt butter in a large skillet over medium heat; add onions and sauté  3 minutes.
Sprinkle flour over onions, and cook, whisking constantly, 3 minutes. Whisk in chicken broth and cream, stirring constantly.  Remove from heat; stir in chicken and next 4 ingredients. This is the chicken filling.
 Place parchment paper on a large baking sheet.  Unroll one single pie crust and place on parchment lined baking sheet.  In the center of the pie crust, place bread crumbs and parmesan cheese.  Spoon chicken-filling on top of bread crumb and cheese mixture leaving 2 inches from the outer edge of crust open.  Fold edges of pie crust over on top of filling forming a 2" pleat all around the edges of the pie.
 In the center of the pie, place sausage balls. Coat crust with egg wash.
For excess filling grease ramekins or custard cups/pie plate of choice with cooking spray.  Ladle chicken filling into baking dish.  Add single pie crust to top of ramekins. Crimp edges or cut pie crust into rounds or design of choice, for individual servings. Vent crust if you cover completely. With remaining pie crust, cut out small snowflakes or design of choice. Place on baking sheet and bake for 15 minutes or until brown.
Place pie on large baking sheet to catch any spill over. Bake at 375 for 35 minutes until crust is browned. Remove from oven and allow pie stand 10 minutes to cool before slicing into wedges.
Serve it up Sassy by placing small baked pie crust cut-outs on a toothpick and insert into center of individual pie ramekins/custard cups.  Garnish large pie with fresh rosemary or sage leaves and small serving of Cranberry Orange Relish.
*Sausage Balls– Cut open sausage roll- tested Jimmy Dean Sage- roll into 1 inch individual balls, bake balls in oven at 375 until done, about 25 minutes. Drain and blot with paper towel.  Add to cooked filling or place balls inside baking dish or pie then add the filling.
Other Ideas You Might Like To Try:
Apple-Pear and Semi Sweet Chocolate Galette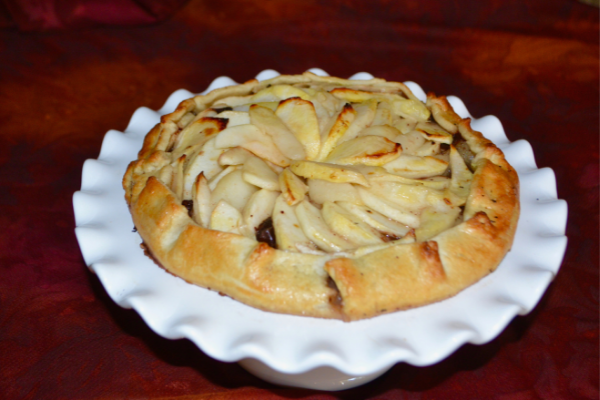 Rustic Caprese Galette