GOT PEACHES?.. Make this lovely Peaches & Cream Pie Recipe for supper tonight! The pie is baked in a 9″ deep dish Butter Pecan Nutty crumb crust with peach preserve type custard filling, chilled and garnished with fresh peach slices, whipped cream and mint leaves. Destined to become one of your summer favorite desserts.  Here's the 4 ingredient recipe… so grab some fresh peaches and in 25 minutes you have a lovely pie.
Peaches & Cream Pie Recipe
Note:  Garnish the pie after chilling filling and right before serving with fresh sliced peaches, whipped cream and mint leaves.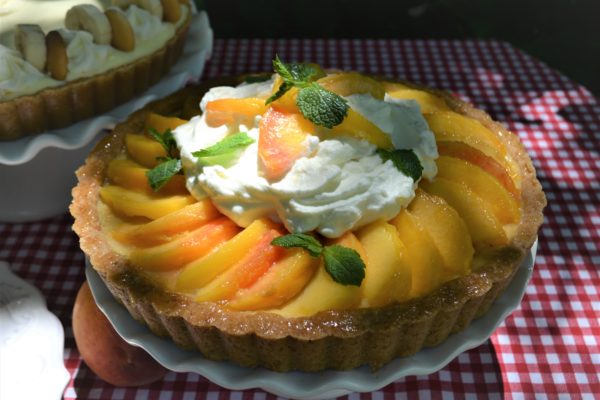 Print
Peaches & Cream Pie Recipe
Peaches & Cream Pie's filling is made with peach preserves, sweetened condensed milk, egg yolks and lemon zest like the consistency of the infamous Key Lime  Pie custard.  Butter Pecan Cookies instead of grahams made the buttery and nut flavored crust.  (See note below)
For Crust Recipe and Sweetened Whipped Cream recipe click on links.
Author: Liz Bushong
Yield:

1

-

9

" tart or pie

1

x
Category:

Dessert- Pie

Method:

Baking

Cuisine:

American
1 (14 oz.) can sweetened condensed milk
2/3 cup peach preserves
2 teaspoon grated lemon zest
3 large egg yolks
1 unbaked 9" Butter Pecan Shortbread Cookie crumb crust*
Garnish:
Sweetened Whipped Cream *
4 medium peaches, peeled and thinly sliced wedges
5–7 fresh mint leaves
Instructions
Click here for Versatile Crumb Crust Recipe
Prepare crumb crust but use 2 tablespoons sugar instead of ¼ cup and 4 tablespoons butter.* (Shortbread cookies are made with butter and sugar, so you will need to use less butter and sugar in the crumb crust recipe to prevent the crust from being to soggy.) Chill crust while preparing filling.
Preheat oven to 350. In small bowl, cream together sweetened condensed milk and peach preserves until smooth and creamy.
In separate bowl, beat egg yolk's about 3 minutes add lemon zest. Combine the egg yolk mixture to the condensed milk and peach preserve filling beat additional 2 minutes. Pour filling into prepared crumb crust.
Bake at 350 for 12-15 minutes until center is set.
Remove from oven and cool. Cover with plastic wrap and chill. Garnish before serving with fresh peach slices, sweetened whipped cream and mint sprigs.
Notes
Graham Crackers can be used for crust, or cookie of choice.
Garnish with fresh peach slices, whipped cream and mint leaves before serving.
Store pie covered in refrigerator.
Sweetened Whipped Cream Recipe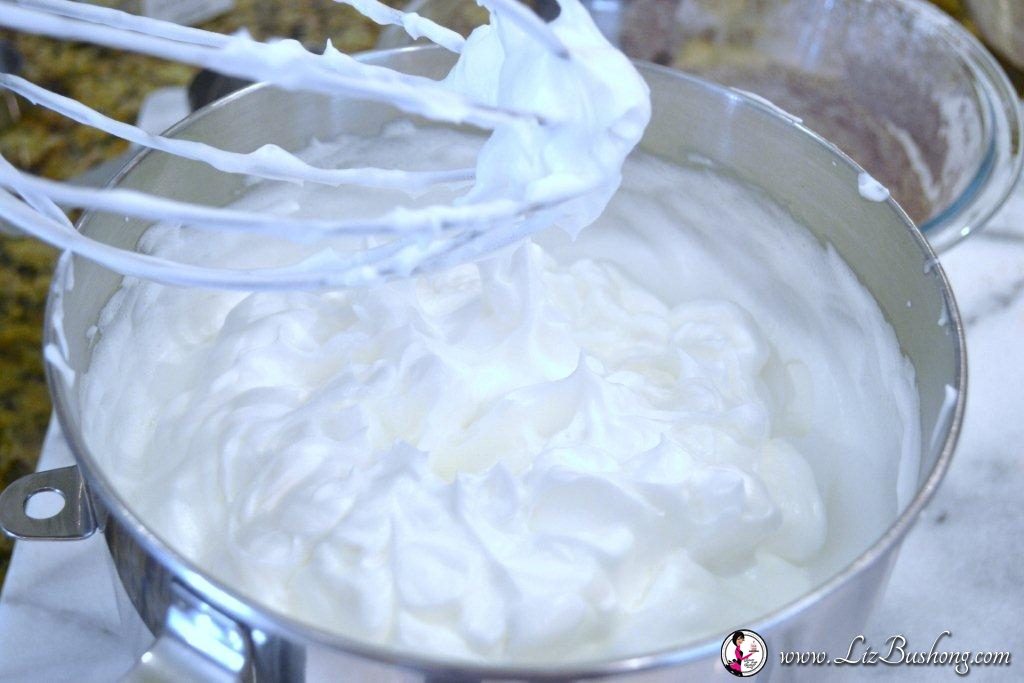 Print
Peaches & Cream Pie Recipe| Sweetened Whipped Cream Recipe
Chilled Heavy Whipping Cream, confectioner's sugar and flavoring is beaten on medium speed until soft peaks form.  This whipped cream can be piped using decorative tips or dolloped on pies, tarts, cakes, and mousses.
Author: Liz Bushong
Prep Time:

5 -7 minutes

Total Time:

46 minute

Yield:

2 cups

1

x
Category:

Dessert

Method:

Whipping

Cuisine:

American
2 cups heavy whipping cream, chilled
¼ cup confectioner's sugar
1-teaspoon vanilla or crème bouquet extract
Instructions
In large mixing bowl with whisk attachment, beat whipping cream until soft peaks, gradually add confectioner's sugar and extract. Pipe or spoon whipped cream on top of chilled pie fillings.
Notes
Chilling mixing bowl and wire whisk a few minutes before beating cream will help with firming the whipped cream.
Make sure mixing bowl  and whisk is throughly cleaned without any grease buildup inside the bowl or on the whisk. ( greasy bowl/whisk cause wet and less volumn whipped cream).
Store whipped cream in covered container refrigerated up to one day.
Select a high butter fat heavy whipping cream for this recipe.
Select high quality confectioner's sugar for best flavor. ( sometimes off brands will have additional corn starch which can make the icing or whipped cream have a chalky or off flavor)
Creme Bouquet is a concentrated flavoring that is a mix between lemon, orange, and vanilla flavoring.  Can be purchased online or at cake decorating shoppes.