Need a dose of chocolate?  Make this easy No Bake Strawberry Semi-Sweet Chocolate Ganache Tart in minutes with a 6 hour chill for perfect slices.  Crushed chocolate cookies with melted butter, lines a 9″ round tart pan.  Rich semi sweet dark chocolate melted with warmed heavy cream makes a lovely ganache for the filling. Chilling the tart at least 6 hours or overnight the tart is ready to garnish with fresh strawberries or berries of choice.

How to make the tart crust
Because I had leftover Oreos from another recipe, using these cookies meant no trip to the grocery store. But any dark chocolate cookie will work in this deep double chocolate tart.
In the base of a food processor with steel blade, pulverized cookies into a fine crumb.  While the processor is running, add 3 tablespoons of melted butter and pulse to blend.  Super fast and easy to mix.  Press crumbs in bottom and up the sides of buttered tart pan. I used a 9″ tart pan with removable bottom.

Do I need a food processor?
However if you don't own a food processor, just place the cookies in a ziplock baggie then crush with rolling pin into a fine crumb.  Place in a small mixing bowl and add melted butter, combine with a fork until crumbs are fully coated.  Press into butter lined tart pan up the sides of pan as well as bottom.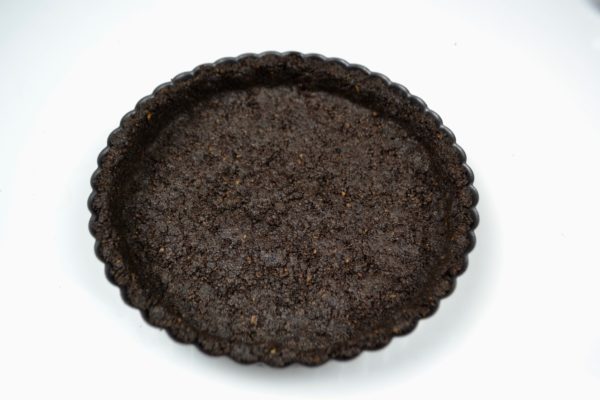 In addition, you can also bake the tart shell if you want to speed up the process for filling. To bake the shell, place tart pan on a baking sheet ( to avoid spills). Bake at 350 for 5-7 minutes. Chill completely before adding filling.
Making ganache filling
Ganache is simply heavy whipping cream and chopped chocolate mixed together to form a rich creamy shiny mixture. It is used to pour over cakes, dripping a cake, fillings, and truffles.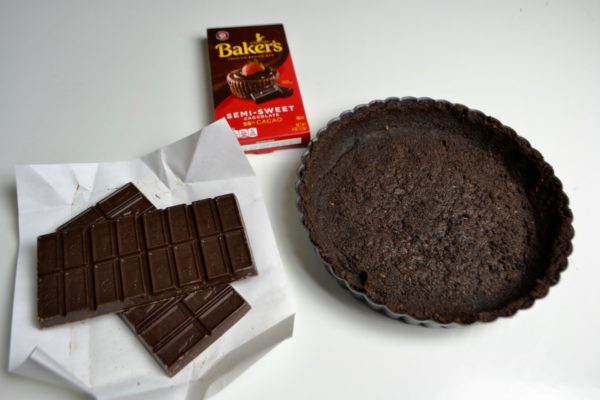 Tip:  Use quality high fat chocolate, semi sweet and or bittersweet with at least 56% cocoa.  This number will be featured on the package of chocolate and will give your ganache rich and stable firmness.
What kind of chocolate should I use?
I used Baker's Baking chocolate but Ghirardelli chocolates will also work.  I am sure there are other delicious chocolate brands that will make a delicious ganache.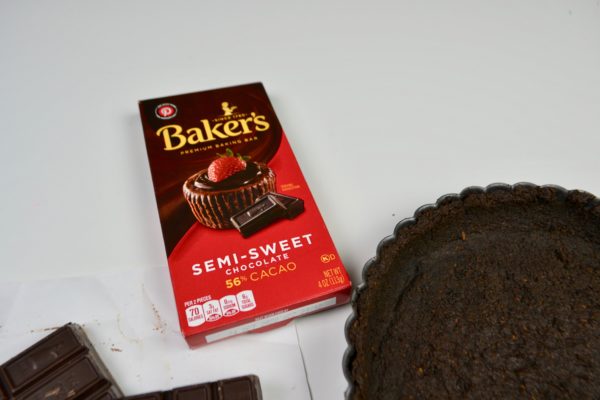 Chop the chocolate bars coarsely and place in heat proof mixing bowl.  Next, in microwave or saucepan, heat heavy cream to almost a boil.  Microwave safe bowl or cup at 35 second intervals until very warm, or saucepan over medium high heat until almost boiling.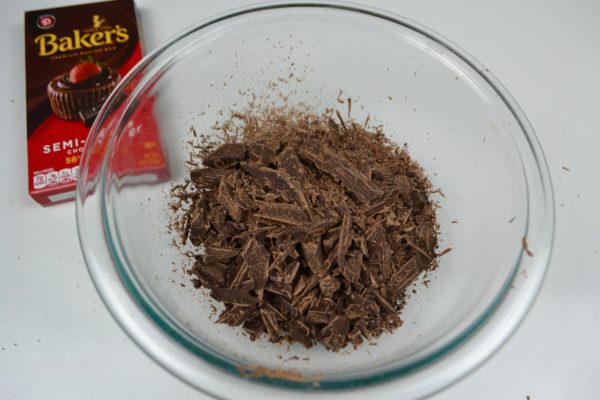 Pour the warm cream over the chopped chocolate.  Do not stir for 4-5 minutes. Why the wait?  Waiting makes the chocolate temper with the result of smooth shiny satiny ganache.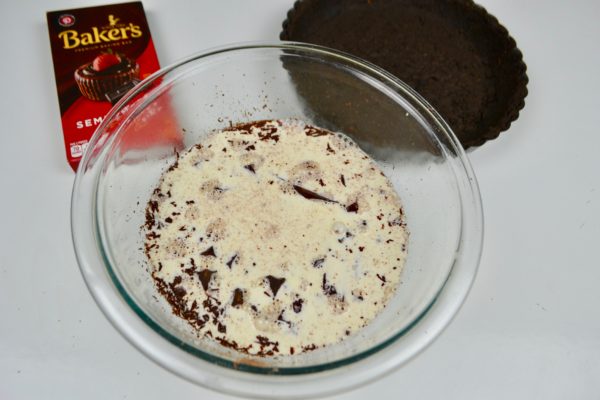 Don't panic when you see the cream and chocolate runny.  Do not stir for 3-5 minutes to allow chocolate to temper.  Chocolate will thicken and mix as you stir.
You can use a whisk or spatula to blend the cream and chocolate together.  If you want truffles, put ganache in refrigerator for several hours until it is completely set, then scoop into small balls and roll in cocoa powder.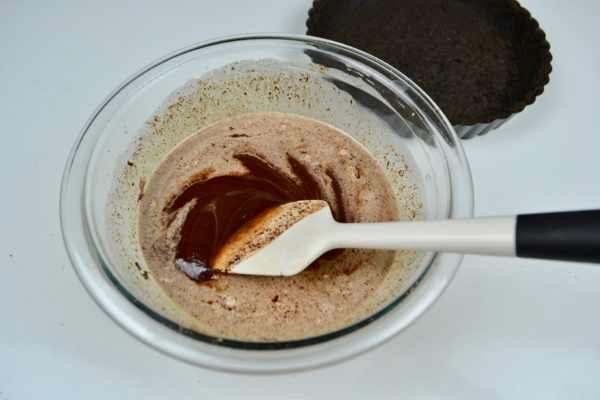 Ganache fully melted and ready to pour in cookie crust.  Pour into crust and chill 4-6 hours or overnight to completely set.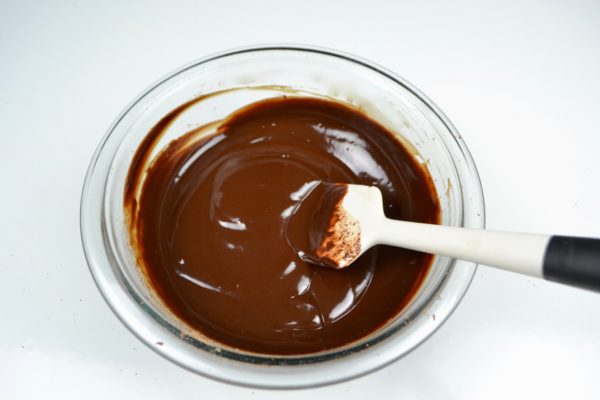 Garnishing the Tart
Slice fresh strawberries in half and position on top of one side of the tart along with whole berries if desired.  Add blueberries to contrast the red berries.  Sprinkle confectioner's sugar over the berries.  To make the berries shine, brush with melted strawberry jam.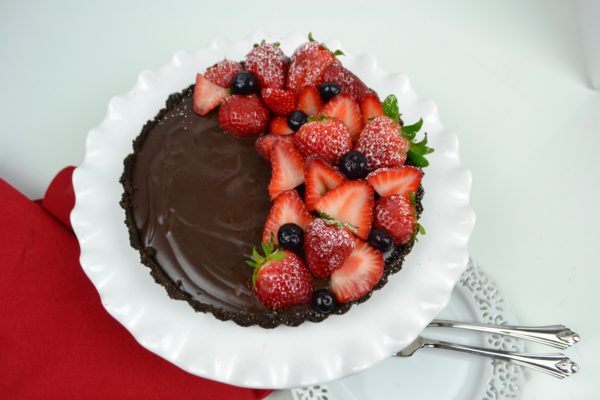 Add berries right before serving to prevent the berries from weeping on the ganache.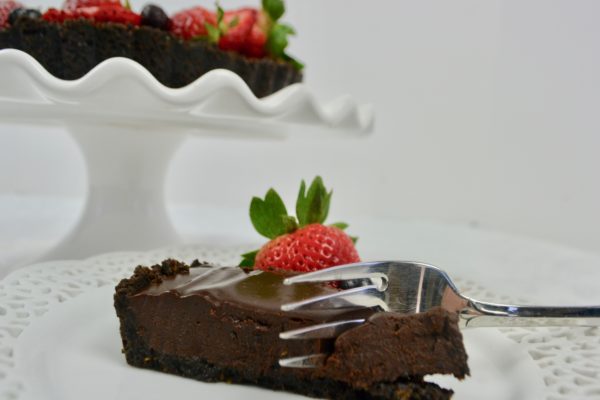 Remove the tart from the tart pan before serving.  Hope you will make this rich deep chocolate tart.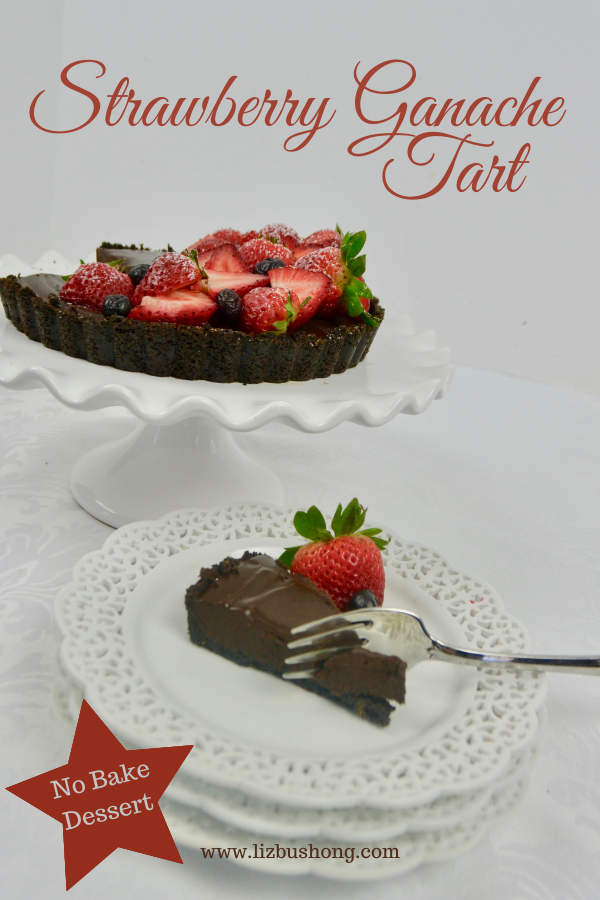 Print
No Bake Strawberry Semi-Sweet Chocolate Ganache Tart
Simple 9″ no bake semi sweet chocolate ganache tart with chocolate cookie crust. Chill time is 7 hour.  One hour for crust and 6 for filled tart. Garnished with fresh strawberries and powdered sugar.
Author: Liz Bushong
Prep Time:

30 minutes

Cook Time:

Chill: 6 hours

Total Time:

30 minute

Yield:

6

-

8

servings

1

x
Category:

Dessert

Method:

No Bake + Chill

Cuisine:

American
Crust:
15 chocolate sandwich cookies
3 tablespoons melted butter
Tart Filling:
2– 4 ounce packages Bakers Semi- Sweet Baking Bar- 56% or higher Cacao
1 cup full fat heavy whipping cream
Fresh strawberries or berries of choice-garnish
1/4 cup confectioner's sugar-garnish
Instructions
In base of food processor with steel blade, pulse cookies to fine crumbs.
Transfer crumbs to mixing bowl, add melted butter, toss with fork to combine.
Lightly butter bottom and sides of 9″ round tart pan. Or use cooking spray.
Press crumbs up sides and bottom of tart pan. Chill in refrigerator one hour.
Make Filling:
Coarsely chop baking bars, place in heat proof mixing bowl.
Heat heavy whipping cream in microwave for 35 seconds or until throughly warmed but not boiling.
Pour hot cream over the chocolate.  Allow to rest 4 minutes with out stirring. Slowly mix cream and chocolate together until it is smooth and satiny some what thickened.
Pour ganache filling into chilled cookie crust.  Smooth top of tart with off set spatula.  Return to fridge until set about 4-6 hours or overnight.
Garnish:
Remove tart from fridge.  Decorate top of the tart with fresh clean strawberries, with or with out stems, or other assorted berries like blueberries, raspberries, blackberries.  Sift lightly with confectioner's sugar over berries.
Notes
Decorate the tart right before serving to avoid berry juice from weeping onto the filling.
Store tart in refrigerator covered with plastic wrap.
Using full fat heavy cream will add stability to your ganache filling due to high fat content.
Glaze fresh berries with melted strawberry jam for shiny sweet finish if desired.
Keywords: chocolate, cookie crust, decadent, dessert, no bake, make ahead, Oreos, Berries, Strawberries, Easy, Recipes
Other Ideas You Might Like to Try: