Be still my heart!… What is better than chocolate; caramel and coconut… Brownies! Oh and Oreo Cookies! The cookies caught my attention when I saw the Oreo filling was caramel coconut flavored. YUM!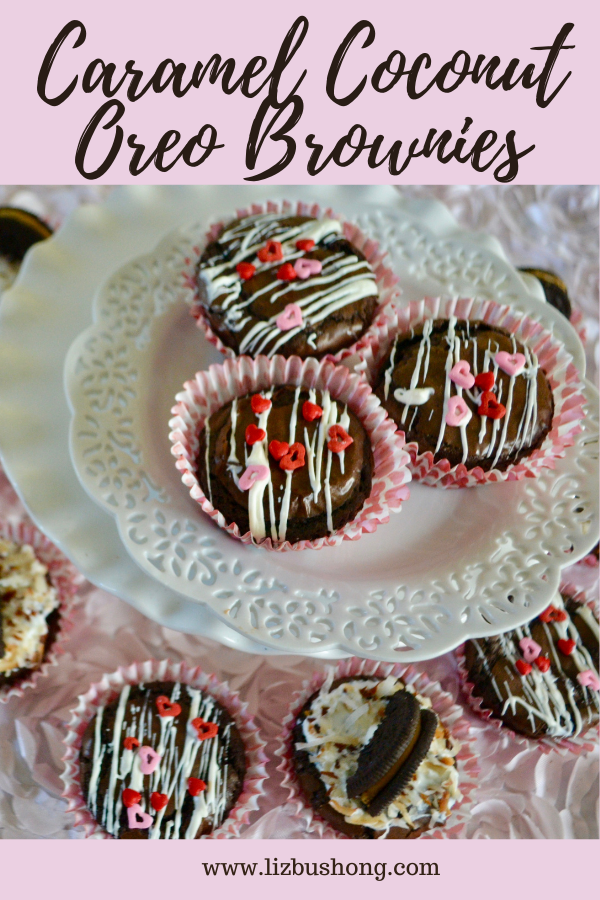 With that in mind, I thought it would be fun to sandwich these cookies inside a baked brownie. In addition, decorating the brownie Valentines was just another way to serve it up sassy with three different toppings.
How to Make the Brownies
Whether you use a box mix, or home made brownies, the technique for decorating will be the same. My go-to brownie mix is Duncan Hines Dark Chocolate Fudge. Mixing the dry mix with eggs, vegetable oil and water is pretty fast and simple, although I added 1 tablespoon Hershey's chocolate sauce to the mix. Sometimes a tablespoon of espresso instead of the chocolate sauce will add a mocha flavor to the boxed mix.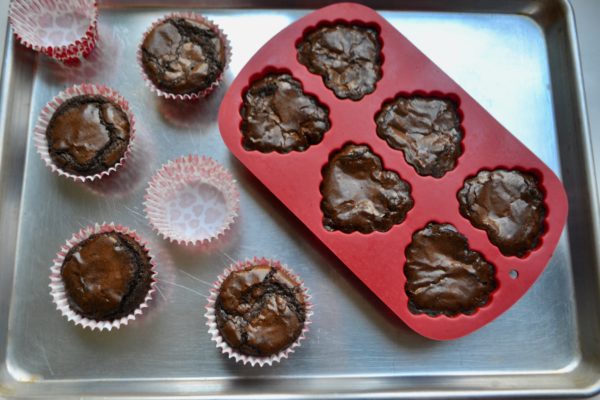 Why Oreos… Baked Inside?
Nabisco makes several different flavored Oreos. Caramel coconut filled Oreos was the perfect choice for these brownie bites. As an added bonus, I could see decorating with caramel sauce and toasted coconut.Each bite in this recipe features one whole cookie.

No, you can bake these brownies in decorative cupcake liners. I used two different kinds paper liners. Regular cupcake liners for baking and a Valentine liner for serving.
Where to get the mold? Hobby Lobby and Target. I found mine at Hobby Lobby.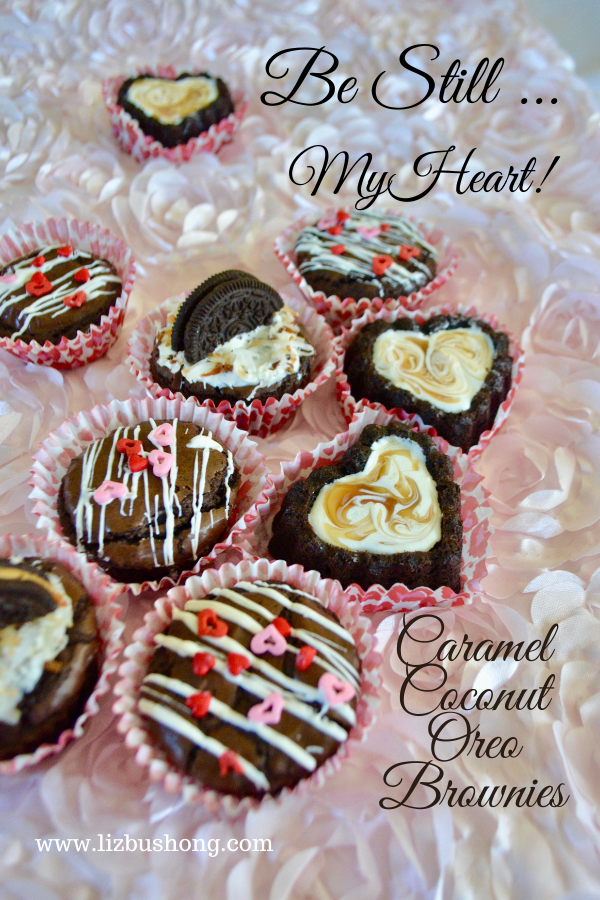 Baking and Decorating Ideas
Brownies baked in silicone mold took 25 minutes instead of 18-20 minutes as in the cupcake liners. After baking and cooled to room temperature; the heart shaped brownies were chilled 15 minutes to firm before removing from mold.
This is important to chill the silicone mold brownie to ensure they are firm enough to remove from the mold.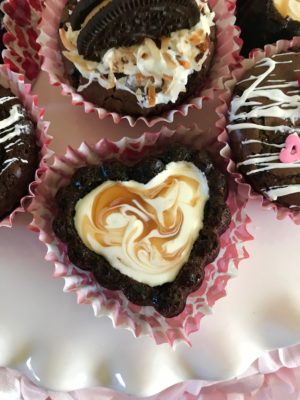 Heart shaped brownies are decorated with melted bright white candy melts with swirled caramel ice cream topping. After decorating, place brownie in a Valentine cupcake liner and shape around the edge of heart.
To make the swirl, add three small dots of caramel topping to the wet candy melt base, swirl the caramel into the white melts with a toothpick for a fun design.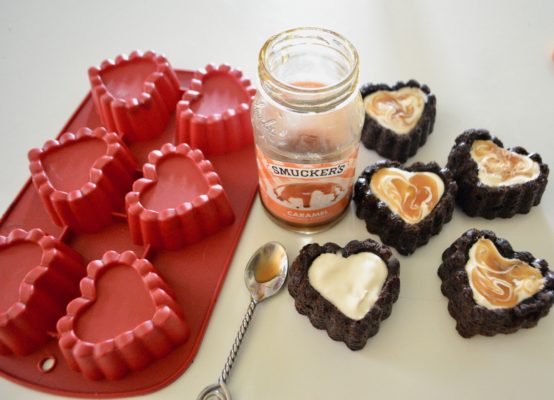 Coconut Oreo Decor
Frost or dip the top of the brownie into melted candy and sprinkle with toasted coconut. Break one Oreo cookie in half, dip cut edge with melted candy and attach on top of brownie. Serve decorated brownie in Valentine cupcake liner.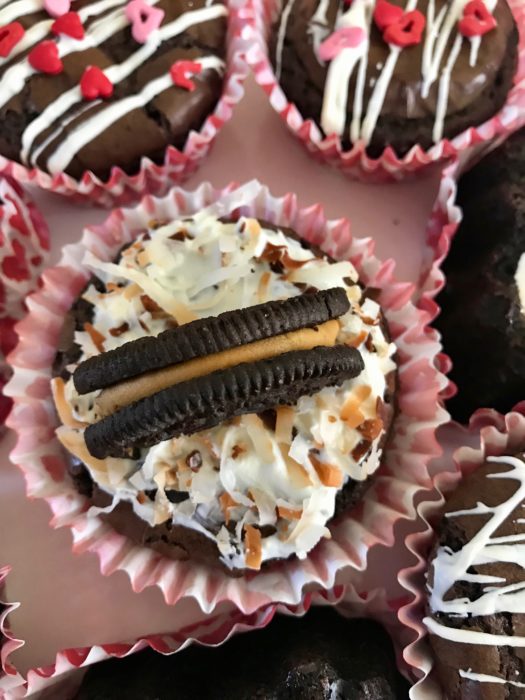 Striped Valentine & Sprinkles
Drizzle melted white candy melts over the tops of brownies and sprinkle with Valentine Confetti or sparkles. Place in Valentine Cupcake liners to serve.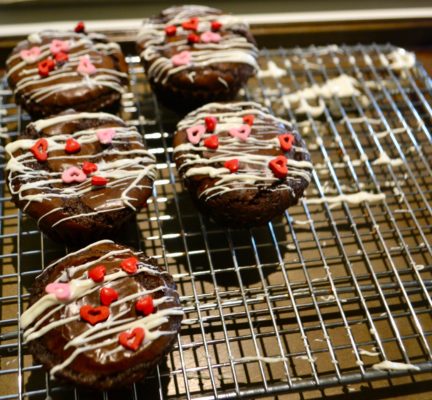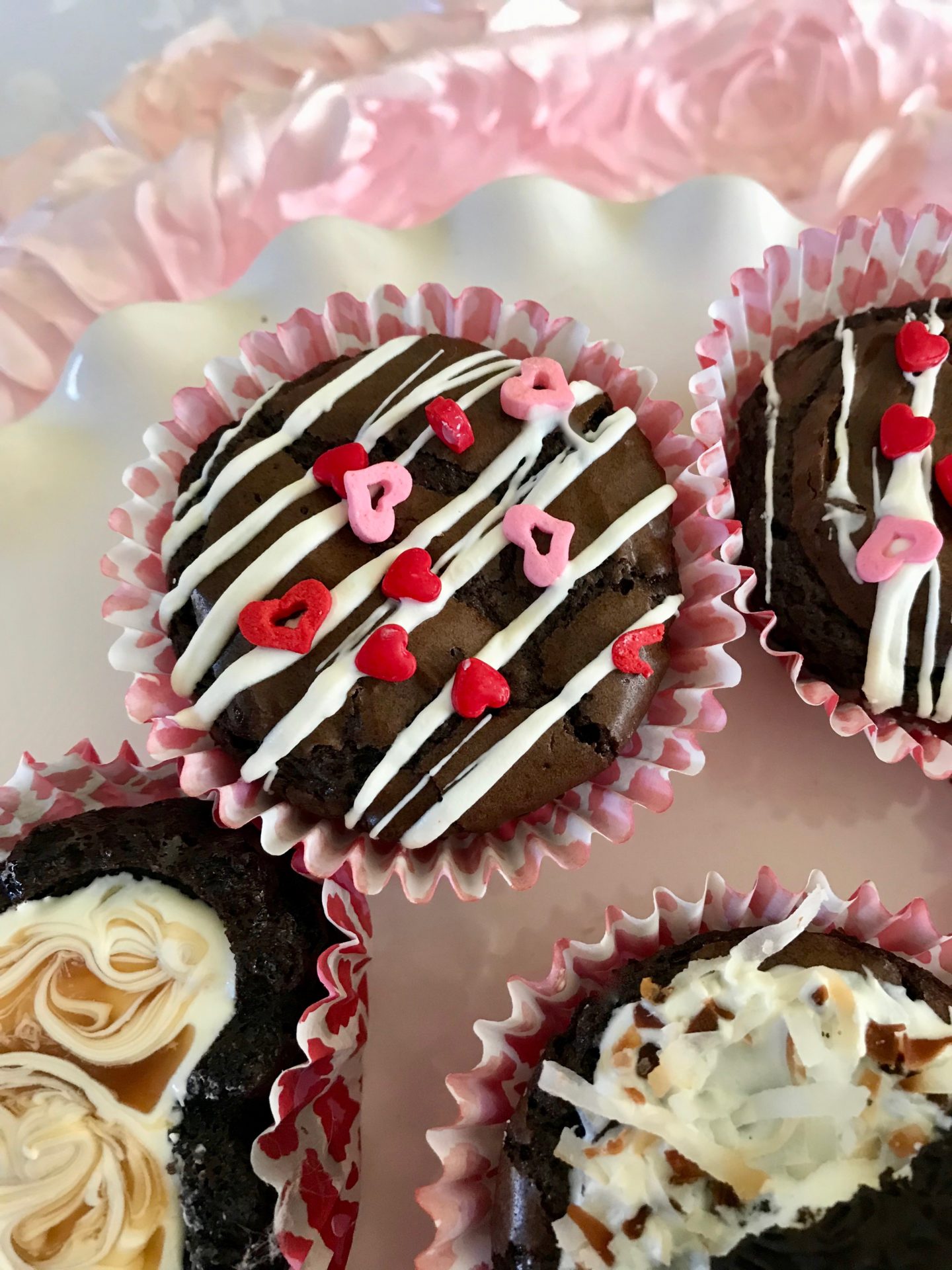 Amazing what a Valentine cupcake liner will do for a brownie. Tip: Select your sprinkles to coordinate with your cupcake liner for pretty presentation.
Take a Look Inside the Brownie
Here's a photo of the baked-in cookie inside the brownie. When you bite into brownie, you taste the coconut caramel flavor. In addition, each brownie bite is crisp on the outside but tender on the inside. These are really good!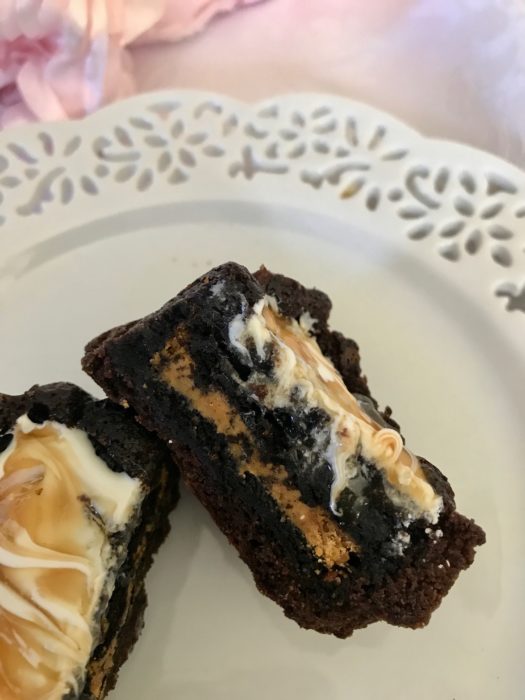 Hope you will make these Valentine Treats! Best eaten day you make em.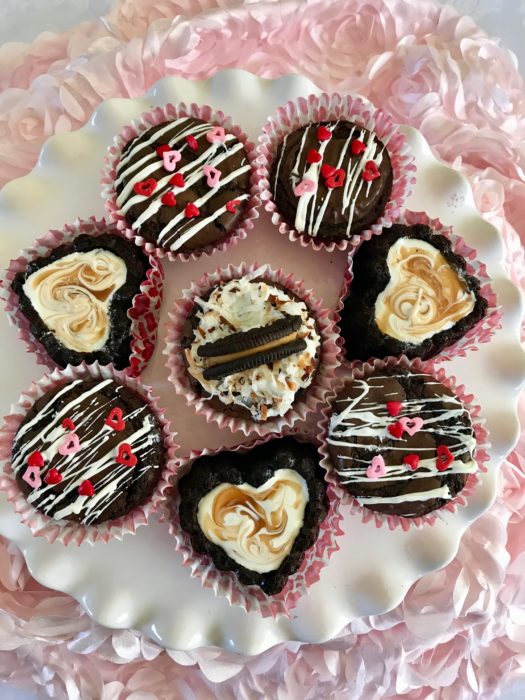 Here's the recipe!
Print
Valentine Caramel Coconut Oreo Brownies
Heart shaped and cupcake lined brownies are baked with a single Caramel Coconut Oreo Cookie inside, decorated with bright white candy melts, sprinkles, toasted coconut or caramel sauce.
Author: Liz Bushong
Prep Time:

15 minutes

Cook Time:

25 minutes

Total Time:

30 minutes +decorating

Yield:

24

brownies

1

x
Category:

Dessert- Valentine

Method:

Baking+ Decorating

Cuisine:

American
1–18.2 ounce package Dark Chocolate Fudge Brownie Mix-tested Duncan Hines
2 eggs
1/3 cup water
1/3 cup vegetable oil
1 tablespoon Hershey's syrup- optional
1–17 ounce package Caramel Coconut Oreo Cookies
1– package bright white candy melts
1/2 cup toasted coconut
Valentine Sprinkles
2 teaspoons Caramel Ice Cream topping
Valentine Cupcake Liners + Heart Shaped Silicone Mold
Instructions
Preheat oven to 350. Line cupcake pan with cupcake liners, set aside. Lightly coat liners and mold with cooking spray. Place mold on baking sheet for stability.
In medium mixing bowl, add first 4 ingredients as package requires plus syrup if desired. Stir to mix until well blended about 50 strokes.
With scoop fill cupcake liners and mold with batter half full. Add one cookie to each center of batter.  Cover cookie with batter filling liners 3/4 full.
Bake brownies in cupcake liners 20 minutes, silicone mold 25 minutes.
Remove from oven. Toast coconut at 325 on baking sheet 5 minutes or until toasted.
Cool brownies and coconut until room temperature. Chill silicone mold brownies for 15 minutes before releasing from mold.
Decorate the Brownies
Melt 1/2 cup candy melts in microwave safe bowl at 25 second intervals until smooth.
Remove all liners from brownies, release brownies from mold. Place brownies on cooling rack over a baking sheet.
Drizzle desired amount of brownies with melted candy, sprinkle with Valentine candies/sprinkles, fill heart shaped brownie top with candy melt, caramel dots to swirl, or top brownies with melted candy, sprinkle with toasted coconut and half an Oreo Cookie.
Place decorated brownies in Valentine cupcake liners.  Serve
Notes
Best served the day you make them.
Can be stored in air tight container 24 hours.
Other ideas you might like to try: