Nothing is better than apples, walnuts and honey for challah bread making. Make this bread for your next holiday breakfast. This bread is fluffy, moist, semi sweet yeasty bread filled with tender diced apple pieces, chopped walnuts, and spices.  Braided into a round loaf using 4 long rolled shaped dough creating a round loaf.  It is beautiful to look at, semi easy to make and delicious to eat. Once the bread is baked, you can slice into slices, toasted or dipped in egg for French toast.

Because I love doing unique things, braiding this bread was fun to do. I hope you will not be afraid to try this recipe.  It is very good and with the apple pieces hidden inside this bread is such a great treat.

Secrets to Baking with Yeast
Water and yeast with little bit of sugar are the key to making yeast bread.  For more information check out this website for yeast basics.  For this recipe, the secret is lukewarm water 110 degrees  little bit of sugar and active dry yeast.  I typically use Fleischmann's but red star is also very good. Buying in bulk is the best way to go if you bake a lot of bread or pick up a packet or two for once in a while baking.
Mixing the Dough
Proof the yeast, then add to large mixing bowl with dough hook attachment.  Add eggs, honey, oil, and vanilla, mix gently, then add flour, 1 cup at a time until dough forms and leaves the sides of the mixing bowl.  I use a stand mixer for mixing the dough, although you can mix by hand in large mixing bowl.

Remove the dough from bowl onto a lightly floured counter top surface, knead the dough for about a minutes until smooth.  Cut the dough into 4 equal pieces.  Roll each piece into a 12″ x 4″ strip.  If dough resists rolling, let it rest for a few more minutes, then roll. Photo shows 4 equal pieces and not the finished 12″ x 4″ strips.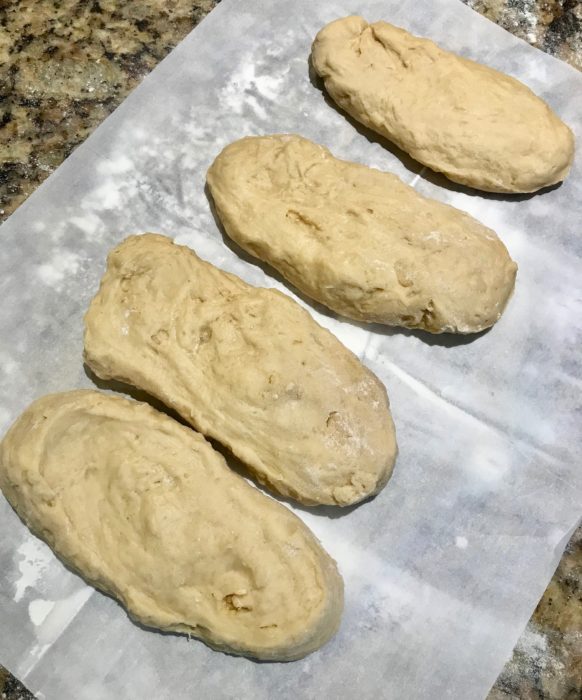 While the dough rests, peel, core and dice apples into small pieces, place in bowl of ice water with teaspoon of salt.  Measure sugar, ground spices, flour and salt in small bowl.  Drain the apples from the water and pat dry.  Make sure apples are completely dry, then add to the sugar spice mix. Toss to coat.  Toast walnuts in skillet over medium heat.  When lightly toasted, remove from burner and chop into small pieces.  Add walnuts to the diced apples.
Apple Walnut Filling Inside Dough
Place apple mixture down center of each 12″ strip of dough.  Fold over top side of dough to the center, covering the filling, then repeat with bottom dough so you will be forming a long rope/log.  Gently roll to make the log smooth.  If you happen to get peek through with apples or nuts, push it back inside and repair the dough.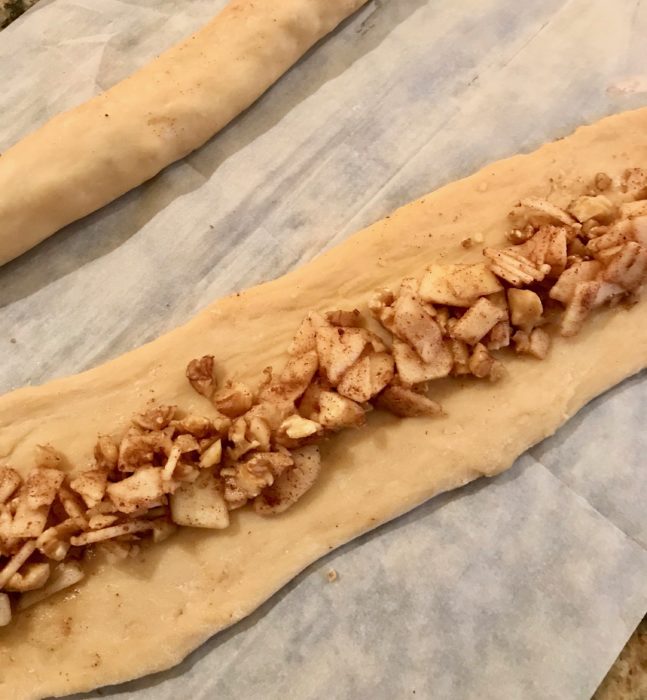 Now for the fun part!… Braiding the dough.  Be sure to download the diagram on how to fold, it is very easy to follow, and you can do it.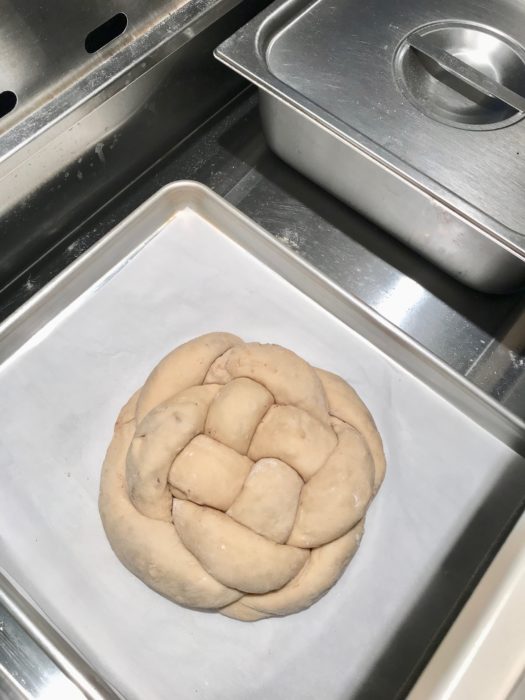 Once you braid the bread, allow braided round to rise about 40 minutes, brush with egg wash and bake in preheated oven at 350 for 20 minutes.  After 20, brush with egg wash again and bake another 20 minutes.  If you would like you can sprinkle with sparkling sugar for the second bake.  Allow to cool, right before serving drizzle with glaze if you would like.
Easy Directions for Braided Bread
To see how to braid this bread, go here.   Teri Avey did an awesome job with this recipe and braid. I adapted her recipe buy cutting ingredients in half and adding a few to the apple filling.  Here is what I added; toasted walnuts, ground cinnamon, nutmeg and rum extract to the apple filling along with a glaze.
Hint:  Braided bread looks more difficult than it is…Get PDF here.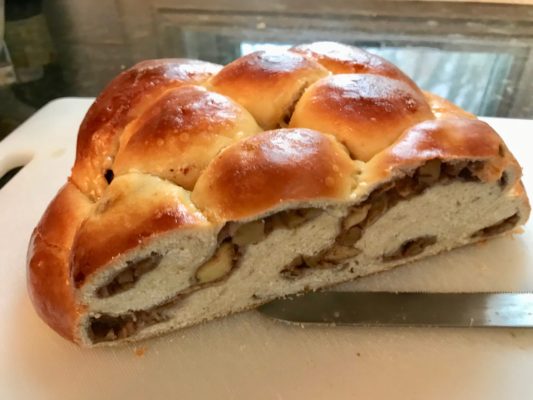 You will have a great time braiding this bread.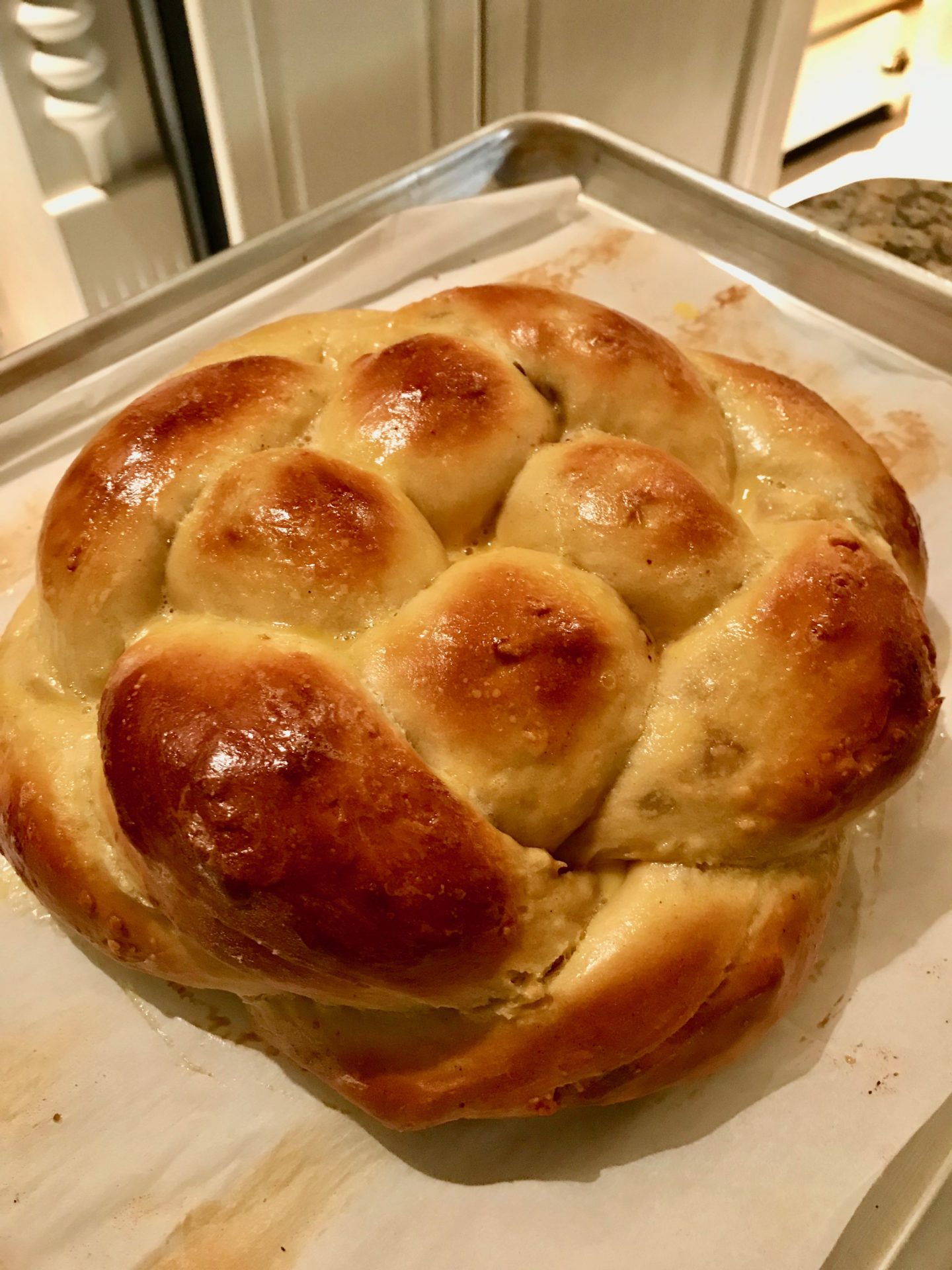 Here't the recipe. While it it long, read through it first to get a feel for it and your time line for rising and baking. Then take the plunge and bake!  You're family and friends will love it.  Mine did! xoxo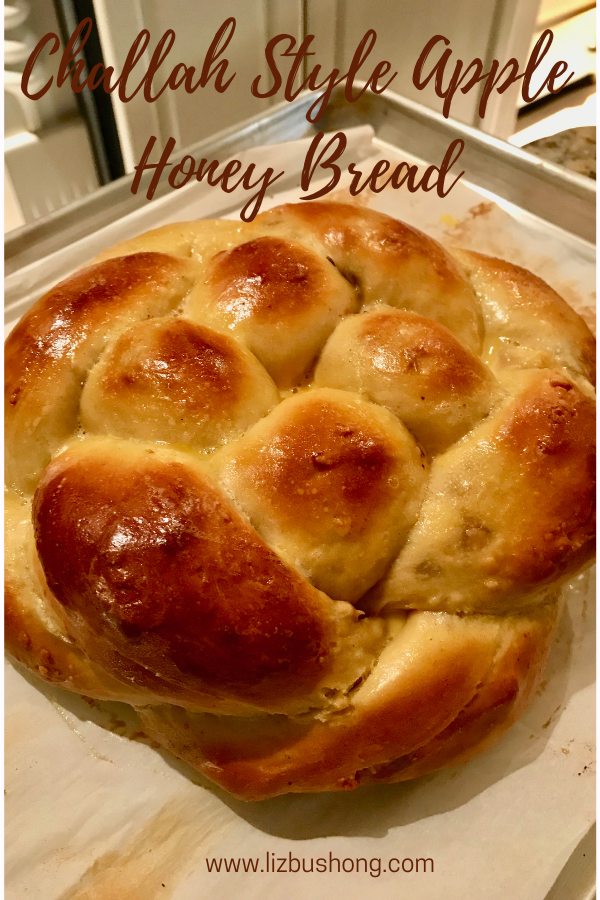 Print
Challah Style Apple Honey Bread
Sweet challah bread filled with diced apples, ground cinnamon and rum extract, rolled into 4 logs and braided into a round beautiful loaf.  This is a Jewish bread used to celebrate Rosh Hashanah symbolizing hope for a sweet New Year.
Author: Liz Bushong
Prep Time:

25 minutes+2 hour rise

Cook Time:

45-50 minutes

Total Time:

3 hours and 20 minutes

Yield:

1

-

2

lb round loaf-6-8 servings

1

x
Category:

Bread

Method:

Baking

Cuisine:

American/Israeli
3/4 cup lukewarm water, 110 degrees
1–1/2 teaspoons granulated sugar
1–1/8 teaspoon active dry yeast
2 eggs, room temperature
1/4 + 2 tablespoons cup honey
1 tablespoon avocado or canola oil
1 teaspoon vanilla
1 teaspoon fine salt + 1 teaspoon for apple bath
3–4 cups of all purpose flour
Apple Filling
1–1/2 medium gala apples, to be peeled and diced
4 tablespoons granulated sugar
1/2  tablespoon flour
1 teaspoon ground cinnamon
1/2 teaspoon ground nutmeg
1/2 teaspoon salt
1/2 cup diced toasted walnuts -optional
1 tablespoon rum or vanilla extract- optional
Egg Wash
1 egg
1 teaspoon cold water
1/4 teaspoon salt
Glaze- Optional
2–3 tablespoons apple juice or apple cider
1 cup confectioner's sugar
Instructions
In glass measuring cup microwave water for 20 seconds or until water temperature is 110 degrees.  Add sugar, stir, then add dry yeast.  Let the yeast proof for 8 minutes or until the yeast mixture expands and foamy.* See notes Yeast is activated and ready to mix when it foams and expands.
In bowl of stand mixer with whisk attachment, add proofed or activated yeast, room temperature eggs, honey oil, vanilla . Whisk to blend ingredients.
Change attachment to dough hook and add 1 cup of flour to liquid mixture.  Mix on low speed so flour doesn't fly, continue to add flour until dough is smooth, elastic and not sticky.  Once the dough starts to gather around the dough hook and cleans the sides of the mixing bowl, turn off mixer and add salt. Mix on low speed to mix the salt into the dough for another 2 minutes.
On lightly floured counter surface, sprinkle with flour and dough from mixing bowl.  Knead dough a few more times about 2 minutes. Dough will be satiny smooth. Shape into a ball.
You can rinse the mixing bowl or use a large glass bowl that is lightly greased with cooking spray and add dough round you just kneaded.  Cover with a towel or place in a warming drawer to allow dough to rise for 1 hour.
After one hour punch down dough several times to remove air bubbles. Cover the dough with tea towel and place in warm area to allow dough to rise a second hour. 
Prepare apple filling/bath
Fill a mixing bowl with ice water and dissolve 1/2 teaspoon salt. Peel and dice apples into 1/4″ thick pieces. Place the diced apples in the ice water.  Reserve until you are ready to braid the dough.
After the doughs second rise, drain the water from the apples and pat dry.  Then add sugar, cinnamon, nutmeg, rum extract to the diced apples.  Toss and set aside.
Rolling the dough:
On lightly floured surface, place risen dough and knead the dough adding tiny bit of flour if dough is sticky.  Knead until smooth. Let dough rest while you prepare your baking sheet.
Line a baking sheet with parchment paper. Set aside.
With sharp knife, cut dough into 4 equal pieces.
With rolling pin, roll each of the 4 pieces into separate 12″ x 4″ wide strips.
Divide the apple filling into 4 sections, place equal amounts of filling onto center and length of each strip.
Fold top of lengthwise dough rectangle down over the center of filling, repeat with bottom dough over the top dough. covering filling completely.  Gently roll the dough into a smooth log.  If the apple pieces fall out, just tuck them back inside and patch the dough.  You should have 4 logs about 16-18″ long.
Download this pdf to see folding technique. If you decide you don't want to fold the log- ropes into a round, twist two logs together and place in a round on baking sheet.  If you do this twist, you will need two baking sheets lined with parchment. Or place in a loaf pan stacking the rope logs on top of each other.
After braid is in a round shape, place on baking sheet with parchment paper.  Preheat oven to 350 degrees.  Cover braid with tea towel and place in warm place to allow dough to rise 30-45 minutes. *
Mix egg wash, water and salt, brush wash over risen loaf, bake in warm oven for 20 minutes. Open oven door and brush exposed expanded areas of dough with second coat of egg wash, turn baking sheet around and continue to bake additional 20 minutes.  Total baking time is 45-50 minutes.  Be sure to watch last 10 minutes of baking to make sure your braid does not burn.  Cover with foil if needed to prevent over browning.  Bread is baked when bottom of loaf is browned and hollow sound is made when tapping on the crust.  If you have a temperature probe the correct temperature will be 190 degrees.
Glazing Braid
Mix in small bowl 2-3 tablespoons apple juice or cider.  Add 1 cup of confectioners sugar. whisk until smooth and creamy.  Drizzle over cooled braided round.  Allow to sit before storing.
Notes
If your yeast is not foaming, your water was too hot and the yeast was killed. Try again making sure your water is 110 degrees and foamy.  🙂
Dough is ready to bake when you press your finger into the dough and the indentation stays rather than bouncing back.
Bread can be made ahead and frozen with out the glaze. Be sure to wrap tightly in plastic wrap/ziplock bag and foil to protect.
To serve thaw at room temperature, glaze before serving if desired.
This makes great French Toast. Glazing is optional if you make french toast.
Keywords: Challah, Apple Bread, French Toast
Other Ideas you might like to try:
Pumpkin Bread- tap on photos to go to recipes.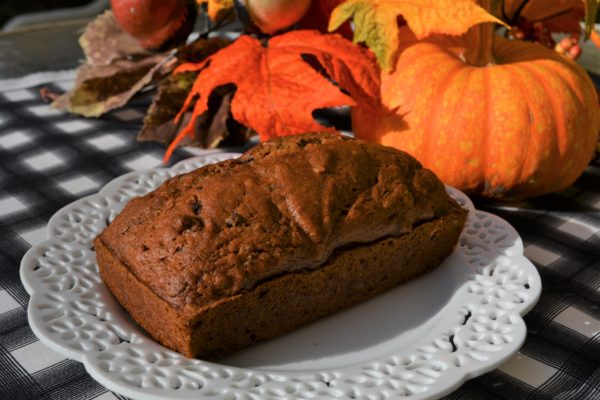 Pecan Cinnamon Twists-Sweet Rolls