Serve these cute little Pumpkin Stuffed Dinner Rolls for your next dinner party.  Your guests will want to know how you made the rolls look like pumpkins straight from the patch.  The recipe begins with yeast, pumpkin puree, bread flour and pumpkin pie spice mixed together and stuffed with cream cheese.  Delicious and fun to make.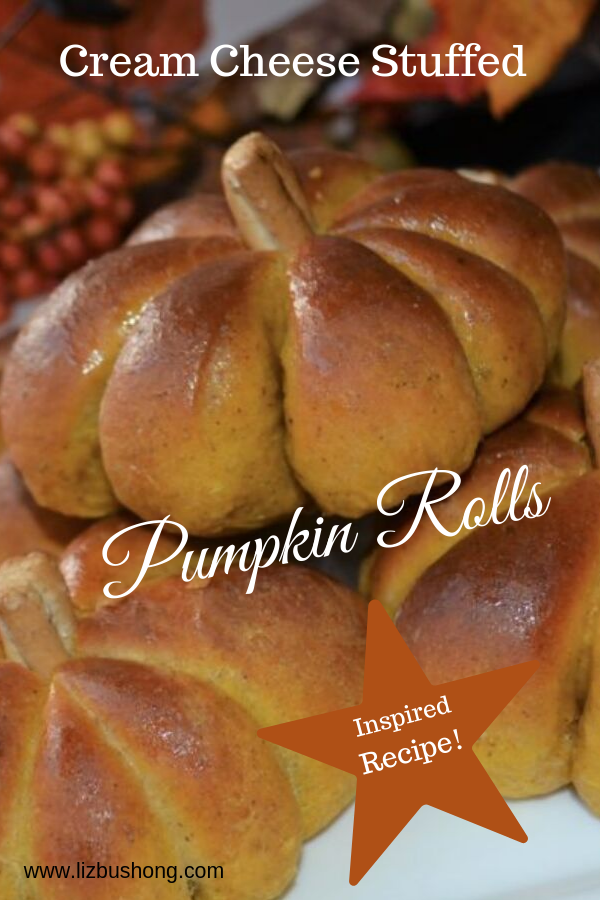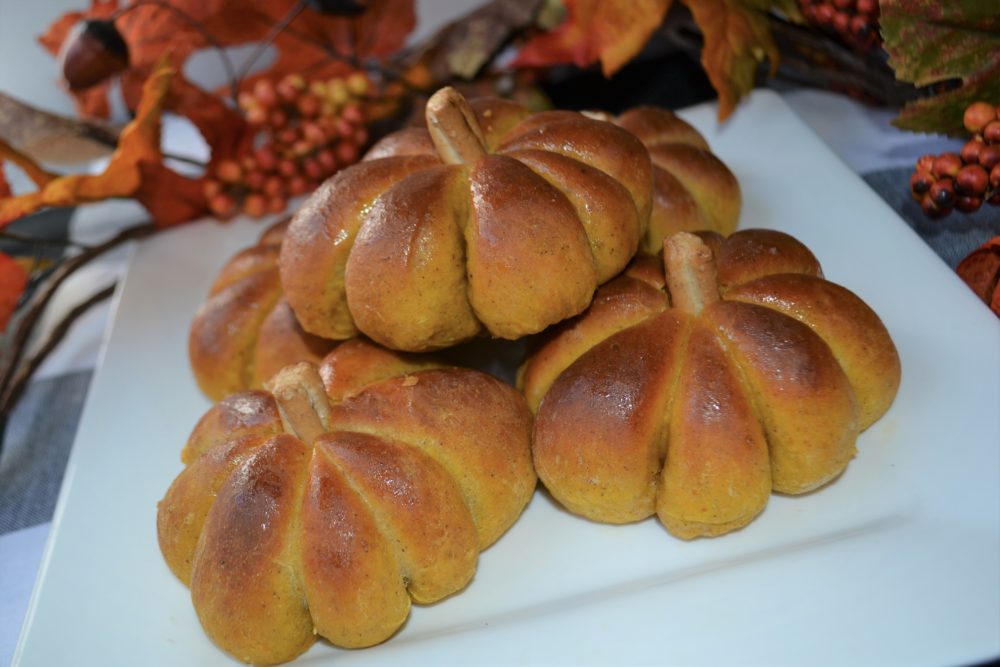 Rold Gold Honey Twisted Pretzels are the pumpkin stems and inserted after baking.  Honey Butter coated the warm rolls which added a pretty glow to the rolls.  Wish I could take credit for this cute idea.  Just had to make some for fall.  Here's my inspired recipe and hope you will enjoy making them. I used half and half and rapid rise yeast, honey butter spread  along with twisted pretzels for stems.
Print
Pumpkin Stuffed Dinner Rolls
Pumpkin Stuffed Dinner Rolls are a yeast bread made with pumpkin puree that is stuffed with sugar coated cream cheese 1 ounce blocks. The rolls are wrapped in cooking twine to resemble pumpkin grooves.  When rising and baked the dinner roll expands and looks just like a pumpkin.  Recipe inspired by Tastemade and Drizzle & Dip 
Author: Liz Bushong
Prep Time:

60

Cook Time:

20

Total Time:

1 hour 20 minutes

Yield:

14

-

16

dinner rolls

1

x
Category:

Bread

Method:

Baking

Cuisine:

American
1 envelope rapid dry yeast
1/2 cup half and half 115-120 degrees
1 teaspoon granulated sugar
1/3 cup brown sugar
4 tablespoons butter, softened
1– 1/2 teaspoons kosher salt
2– 1/2 teaspoons pumpkin pie spice
2 eggs
1 cup pumpkin puree-tested Libby's Solid Pumpkin
3–1/2 to 4 cups Bread flour-tested King Arthur
2 –8 ounce packages cream cheese, cut into 1-ounce blocks and chilled
 Honey Butter Spread- Pretzel stem garnish
Rold Gold Honey Twisted Mini Pretzels
Mix together softened 4 tablespoons butter and 4 tablespoons honey in small mixing bowl. Set aside until rolls are baked.
Instructions
In a small glass measuring cup, microwave half and half to 115-120 degrees.
In the bowl of a stand mixer fitted with paddle, add half and half, 1 cup bread flour, yeast, brown sugar, butter. Beat on low speed to mix.  Let sit 10 minutes.
Add pumpkin puree, spices, salt, and eggs. Mix with the paddle attachment until well combined. Add additional 2- 1/2 cups to 3 cups flour. Be careful not to add too much flour, your dough should be medium soft pliable. Switch to the dough hook and knead dough for about 8 to 10 minutes, until it is smooth and soft.
Place the dough in a greased bowl, cover it with tea towel or warming drawer, allow it to rise until doubled in size, about 60 minutes.
On a floured surface/bench, punch down dough and knead for 3 minutes.  Divide the dough into 16 pieces.
Roll each piece into a ball then flatten slightly to fill with a cube of chilled cream cheese.  Pinch dough together but do not roll the ball.  Place dough pinched side down on parchment lined baking sheet.
Wrap each dough ball in cooking/kitchen twine, wrapping the twine around the dough ball to create a pumpkin shape. (Take care not to wrap the dough too tightly because it will become larger when it proofs and bakes.)
Cover the pumpkin‐shaped dough balls loosely and set them aside to rise for one hour or risen until double in size.
Bake rolls in preheated 350 degree oven for 15-20 minutes.
Remove from oven and brush with honey butter mixture. Make an indention for the pretzel stem, but do not insert until you remove the twine.  You will use 1/2″ piece of twisted pretzel for the stem.
Remove the twine with cooking scissors and insert pretzel stem on top of each. Serve warm.
Pumpkin rolls will freeze well with out the stem.
Notes
Whole milk can be used instead of half and half
Active dry yeast can be used instead of Rapid Rise if desired, just proof your yeast with sugar first to make sure it is active.
Twine needs to be food grade, can find in baking aisle at grocery store.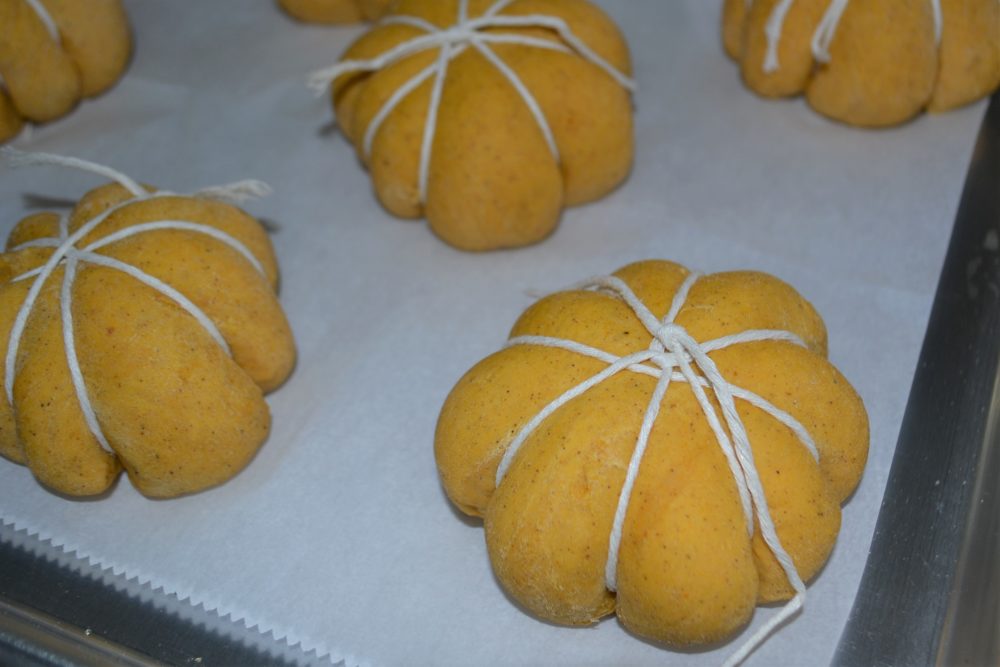 Rolls have been wrapped and allowed to rise.  Time to bake in preheated 350 degree oven.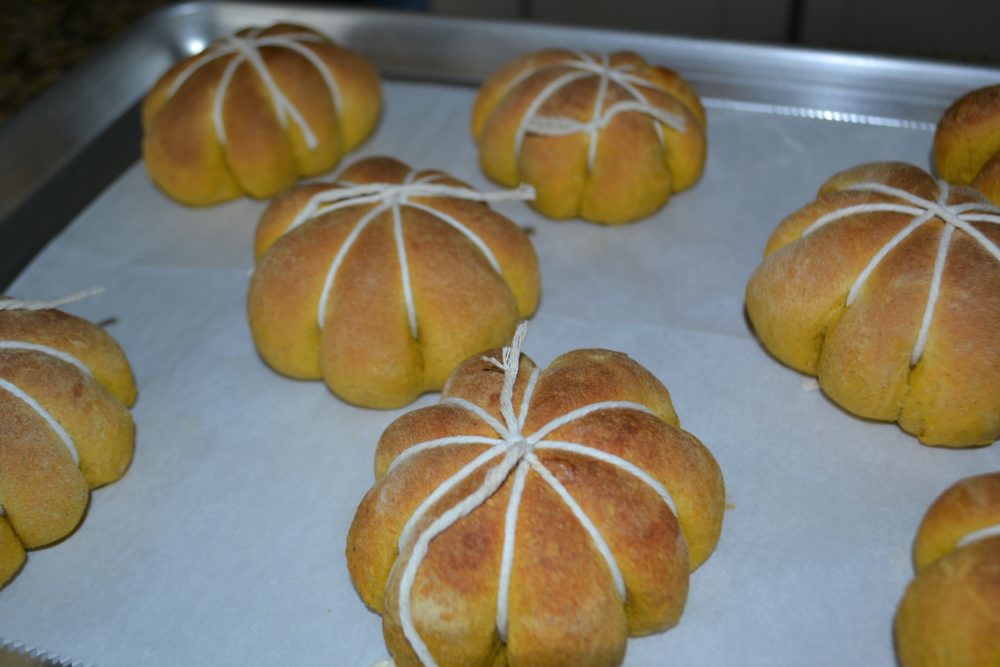 Baked Rolls, time to brush with honey butter and remove twine.  Cut twine from center of roll, being careful not to puncture the rolls sides.  Insert pretzel in center for stem.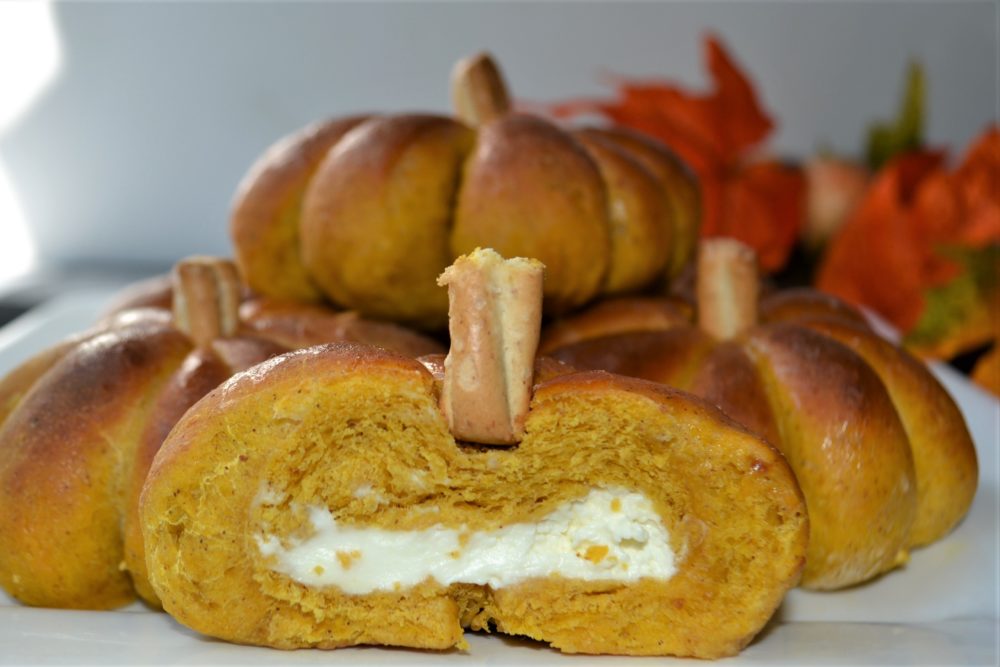 Enjoy these cute pumpkin dinner rolls, perfect for Thanksgiving dinner or any fall dining event.  Let me know if you make some too.
Other Ideas You Might Like to Try: