Brown sugar cupcakes decked out with Dulce de Leche (milk caramel spread) buttercream frosting, pieces of caramel popcorn and honey roasted peanuts take this normal cupcake to new heights.  Inspired by Sprinkle Bakes, Heather Baird, Salted Caramel Popcorn Cake; looked so divine I had to try it as cupcakes to share with you.  P.S. Don't let the length of this recipe keep you from making. It will be worth it.

What Makes These Cupcakes So Delicious?
It has to be the salted dulce de leche buttercream frosting. Seriously, creaming butter, confectioners sugar and dulce de leche makes a creamy dreamy light but firm piping buttercream.  The amount of buttercream in Heathers recipe was one adjustment I made; meaning I cut the recipe in half + added extra confectioners sugar.  She was making an 8″ round three layer cake, and I was making 24 cupcakes. However, I had enough cake batter and frosting to make and cover a small 6″ round two layer cake. Frosting makes about 4 cups of frosting.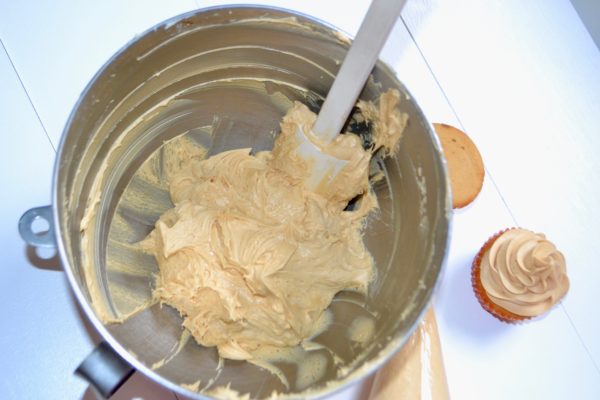 In addition to the dulce de leche, caramel popcorn Crunch n Munch or Fiddle Faddle, sea salt plus peanuts added just the right amount of of crunch, and fabulousness to these cupcakes. You will agree if you decide to make some.

Make Cupcakes From Scratch… All Purpose Flour or Cake Flour?
Because cupcakes make quick desserts, the cake batter uses ingredients you have in your pantry, except for maybe cake flour and buttermilk.  Cake flour just makes "cakes" lighter in texture due to the 27 times of being pre-sifted and is pure soft flour with no leavening agents or salt.  You can mix 2 cups cake flour and 1 cup all purpose in the recipe if you need the cake to be firmer for holding thicker frosting and decor on top of cupcakes.
Tip: To use all purpose flour instead of cake flour, substitute 1 cup + 2 tablespoons of cake flour for each cup of all purpose. 
Make the cupcake batter by mixing softened butter, brown sugar, vegetable oil and salt in large mixing bowl.  I like to use my stand mixer with a paddle beater. Scrape down the sides of the bowl beat butter sugar mix for about 5 minutes then add egg whites and one yolk one at a time, beating until blended.
Scrape down sides of bowl once a again, and alternate the dry ingredients with the buttermilk beginning with flour and ending with flour.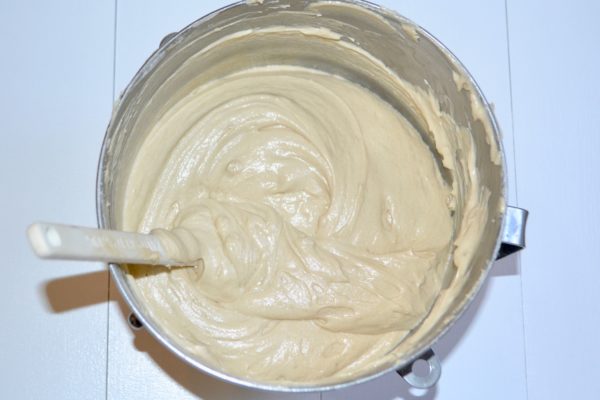 Scoop cupcake batter into cupcake liners using a 2″ spring loaded scoop. Bake cupcakes at 350 for 20 minutes or until toothpick tester comes out clean.  Let cupcakes cool before frosting.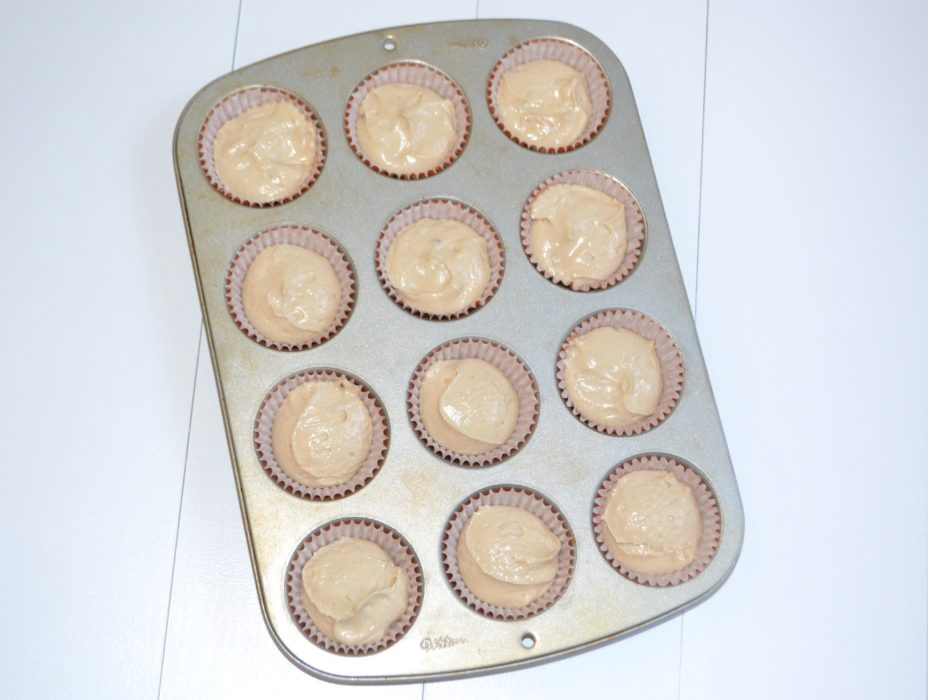 How to Make the Frosting
In clean mixing bowl, fitted with whisk attachment, whip softened butter with confectioners sugar, beat until light and fluffy.  Frosting will be very light when ready to add caramel dulce de leche.  Add 1/4 cup of caramel spread to frosting, beat until smooth and creamy, repeat until you have used 1/2 cup.  Add more if you love the flavor.  Just reserve some for the drizzle decor.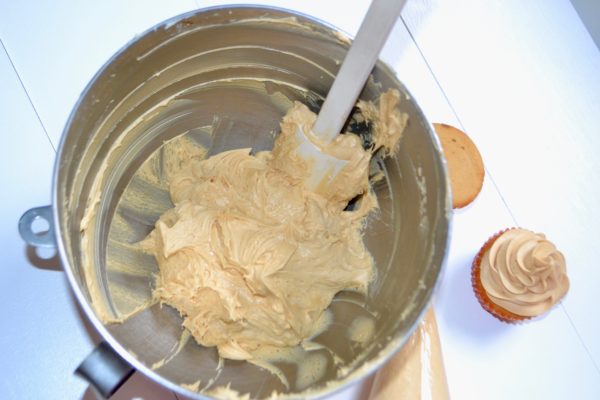 Fill large piping bag with tip 1 M and begin piping swirls on cupcakes.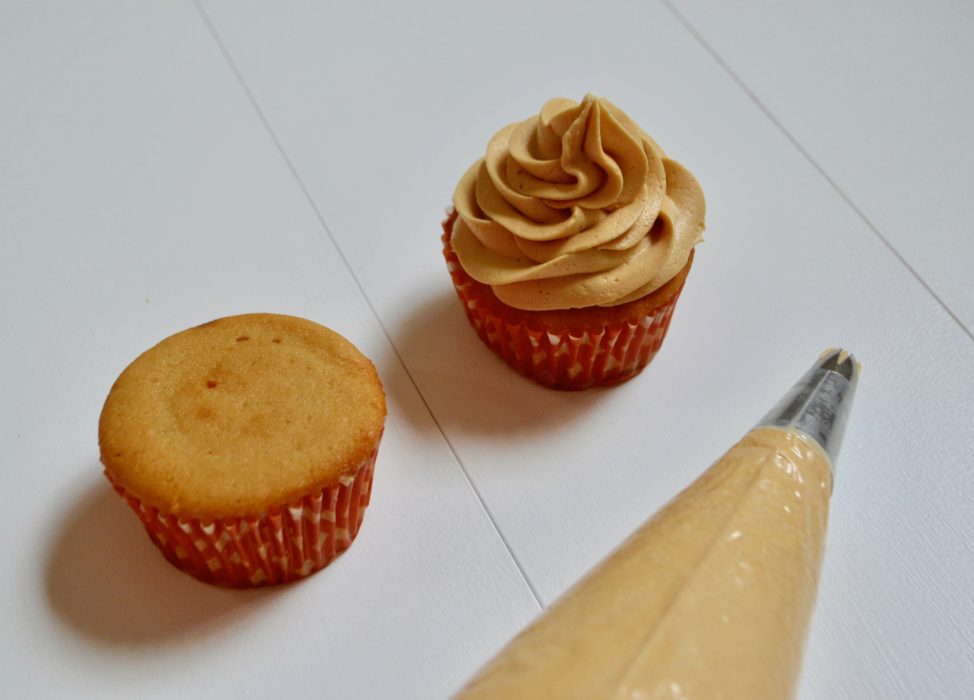 Now for the really fun part!  Add the caramel popcorn, peanuts and drizzle with thinned caramel spread- dulce de leche.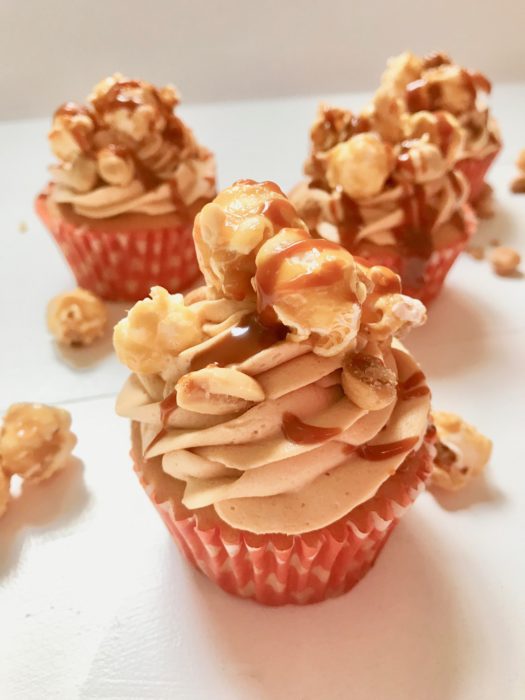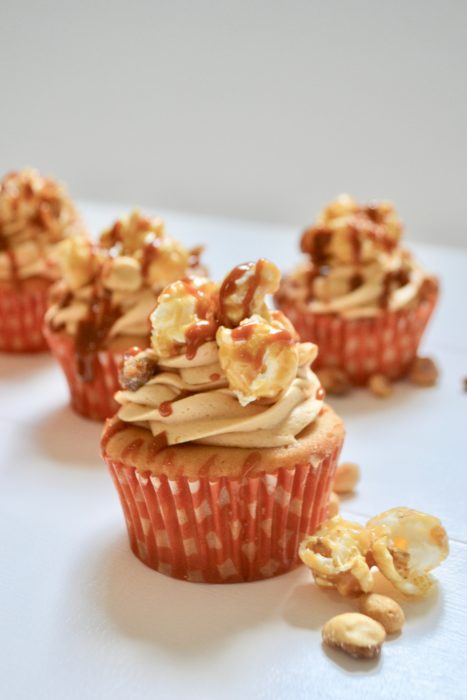 In addition to 24 cupcakes, I had enough batter to make a 6″ round two layer cake. If you don't want to make the 6″ cake, just make another 8-12 cupcakes.  Decorate the cake same as the cupcakes but add the caramel spread over the sides of the cake creating a drip.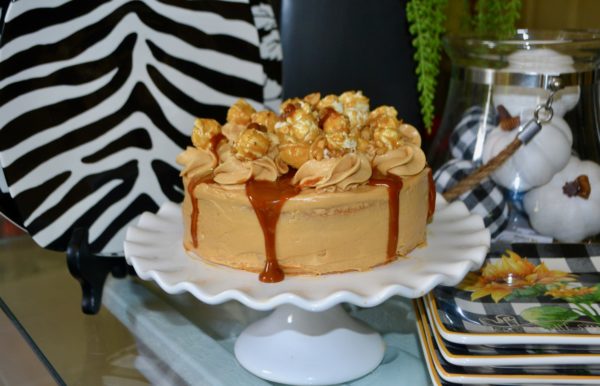 You will love this recipe!!!  Here ya go!
Print
Salted Caramel Popcorn Brown Sugar Cupcakes
Tender brown sugar cupcakes frosted with a dulce de leche buttercream frosting decorated with popped caramel corn, peanuts and sea salt.
Author: Liz Bushong
Prep Time:

25 minutes

Cook Time:

20 minutes

Total Time:

60 minutes

Yield:

24

cupcakes +

1

-

6

" cake

1

x
Category:

Dessert

Method:

Baking

Cuisine:

American
Cupcake Dry Ingredients
3 cups cake flour (or 1 cup all purpose flour and 2 cups cake)
2 teaspoons baking powder
1/2 teaspoon baking soda
1 teaspoon fine sea salt
Cupcake Wet Ingredients
1– 3/4 cup buttermilk
1 tablespoon vanilla
1– 3/4 cup light or dark brown sugar, packed
3/4 cup butter, room temperature
1/4 cup vegetable oil
3 egg whites + 1 yolk- room temperature
Dulce De Leche Buttercream Frosting
1 –1/4 cup unsalted butter, room temperature ( 2–1/2 sticks)
4 cups confectioner's sugar
15 ounce jar N'dulce, dulce de leche -milk caramel spread
1–2 teaspoons half n half or heavy cream
1 teaspoon finely ground sea salt
Garnish
2–3 cups caramel popcorn with peanuts- tested crunch n munch
3/4 cup dulce de leche for drizzle
1 teaspoon half n half or heavy cream
1/2 cup salted roasted peanuts or honey roasted
Instructions
First preheat your oven to 350 degrees and line your muffin tins with paper liners. 
In large mixing bowl, add cake flour, baking powder, and baking soda. Whisk to blend. Set aside.
In stand mixing bowl and paddle attachment, add softened butter, brown sugar, oil and salt.  Whip on medium -high speed until light and fluffy about 5 minutes. Make sure your butter is at room temperature.
Scape down sides and bottom of bowl, add one egg white at a time then one yolk mixing well between each addition.
Decrease speed to low and add dry ingredients, alternating with buttermilk, beginning and ending with flour.  Stop mixing when just a few streaks of flour show through, then fold by hand the remaining streaks with large rubber spatula. This helps with texture of your cake batter, no tunnels after baking.
Using 2″ scoop fill cupcake liners 2/3 full. Run a knife through the cupcake batter to remove any air bubbles. Bake cupcakes in middle of oven at 350 for 20 minutes.  The cakes are done when toothpick tester inserted in the center comes out clean.  Allow cupcakes to cool about 5 minutes in pan before removing from tin.
Making Buttercream
In large mixing bowl of stand mixer fitted with whisk attachment, combine butter and confectioner's sugar. Beat on low speed, then scrape down sides and bottom of mixing bowl.  On low speed add 4 tablespoons of dulce de leche, whip to combine, then add 4 additional tablespoons, beat in cream 1 tablespoon at a time until spreadable consistency. Beat on high speed until light and fluffy. Cover bowl with tea towel until ready to frost cupcakes.
Assembly
Fit large piping bag with tip 1 M. Fill bag with buttercream.  Pipe one large swirl on top of cupcakes.
Place caramel corn on top of frosting crown as desired and sprinkle with peanuts.
In small custard cup spoon 4 tablespoons of dulce de leche, add 1/2 teaspoon cream, microwave 12 seconds to melt slightly.  Stir until combined. Drizzle over tops of cupcakes. Sprinkle with coarse sea salt if desired.
To Decorate a 6″ Cake
Place cake on 6″ round cake board, Add a touch of frosting on the board to keep the cake from slipping.  Top with 1 cup frosting, spread evenly.  Add next cake layer. Then frost entire cake in thin coat (crumb coating) of frosting.
Smooth sides and top of cake with off set spatula until smooth.  A bench scraper or cake smooth will help smooth sides.
Place remaining frosting in piping bag, pipe swirls on top of cake-at 12, 3, 6 and 9 positions on top of cake.
Melt dulce de leche in microwave a few seconds to thin, drizzle sauce between swirls and on top of the cake allowing to drip slightly down the sides of cake.
Fill center of cake with caramel corn and peanuts, drizzle with more caramel sauce if desired.  Sprinkle with sea salt.
Notes
Best served the day made, caramel corn will become soft if refrigerated.
Cakes will bake evenly and will not crown during baking, which makes it perfect for frosting.
Recipe adapted from Sprinkle Bakes.com.
Keywords: brown sugar cupcakes, caramel popcorn, sea salt, dulce de leche, buttercream frosting, butter
Other ideas you might like to try: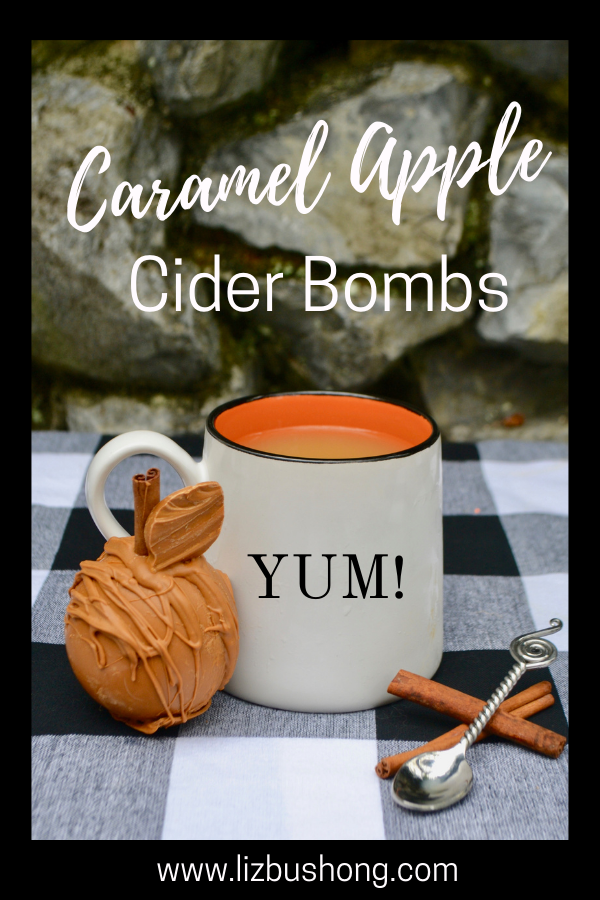 Grab your own Fall Mug for gift giving.  from my shop on Zazzle.com/harlequin diamond.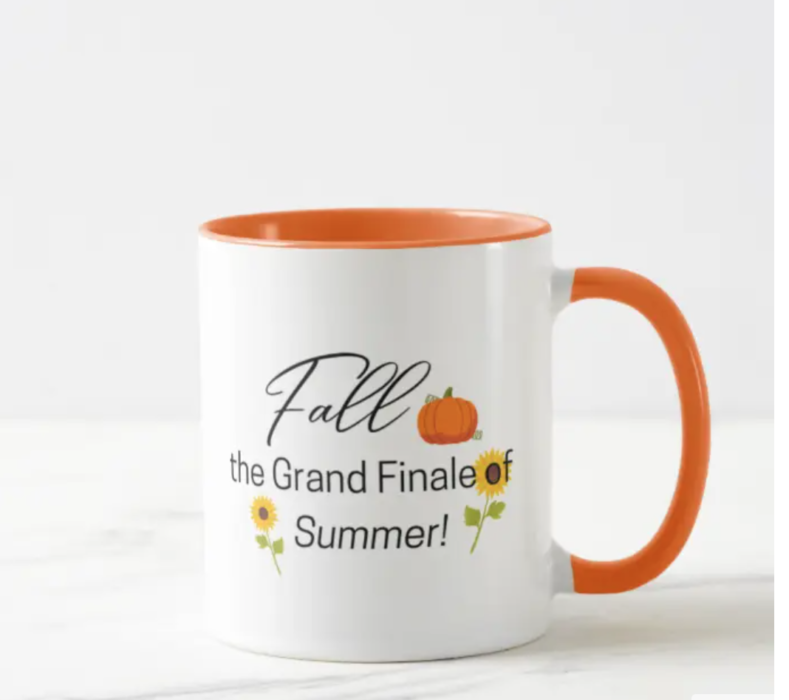 Or this mug.  Check out all the fall home products here: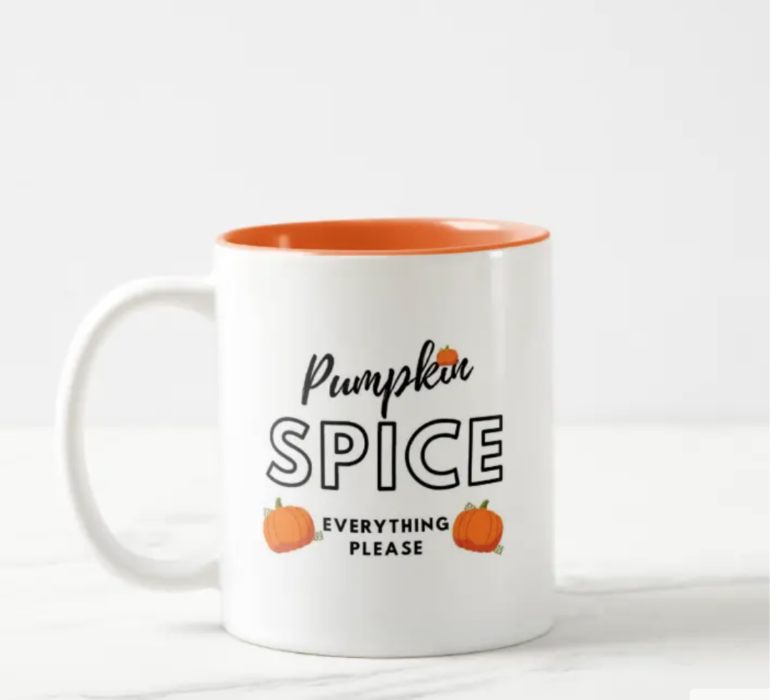 Hey There Pumpkin paper plates. Perfect for all your fall parties.