Need a simple and quick dessert for supper? This recipe will not disappoint. Rich semi sweet chocolate shavings mixed with mini chocolate chips line a buttery crust that melts perfectly during baking the apples and pear slices. While the crust looks rustic, for it wrapped over the edges of the filling it is also semi sweet and flakey. It's a perfect crust for this rustic tart.

What is a Galette?
A galette is a round pastry wrapped and fruit filled dessert that is baked on a baking sheet. Because the crust is rolled into a 14″ circle, it is baked free form, meaning you don't need a pie pan. Super simple to make, just ensure your filling is not runny so it does not spill over the folded crust edge.
Apple Pear Filling
For this Galette, I used 3 Bartlett pears and 1 gala apple. The fruit is peeled and cored, then sliced into thin slices. After slicing the fruit, squeeze a tablespoon of lemon juice to keep the fruit from browning. Also added to the fruit is a little bit of sugar. This is tossed together and set aside.

What about the Semi Sweet Chocolate?
So glad you asked about the chocolate. I used Bakers Semi Sweet chocolate that comes in a 4 ounce package. It has 56% cacao and is dark chocolate. It melts perfectly and tastes great. Chopped chocolate is small pieces then sprinkle with ground cinnamon and tiny bit of ground nutmeg. This chocolate is mixed with mini chocolate chips before spreading in the center of the rustic crust. So really it is a double chocolate layer that melts while the crust bakes. Pears and chocolate is a great flavor combination

How to Make the Crust
Ok you don't have to make your own crust, but can use refrigerated pie crust. I would recommend Pillsbury Refrigerated Pie Crust. But making your own crust is a delicious way to go.
You can make the crust in a food processor or stand mixer. I used a food processor with steel blade. Add flour, salt and chilled butter pieces to the bowl of processor, pulse a few seconds to blend, then add 3 tablespoons ice water. Process until ball forms about 20 pulses. After removing dough from bowl, shape into a round disc and wrap in plastic wrap. Chill for 30 minutes in refrigerator before rolling out.
After 30 minutes, on floured surface, remove plastic wrap, roll into a 14″ circle, then place on parchment lined baking sheet. Chill if you have an extra 15 minutes before filling.

Roll out the chilled dough, trace around a 11″ dinner plate for your galette size.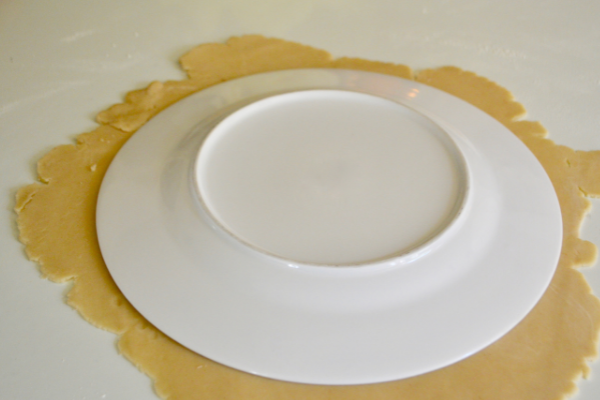 Finished cut dough, place in refrigerator to chill while you make the filling.

Filling the Crust
Once the crust has chilled, sprinkle chocolate combination in the center of crust leaving a 2″ border. Add the sliced apples and pears alternating in concentric circle. Once the fruit is layered over the chocolate, fold the 2″ crust border over the filling, pleating the crust edge as you go.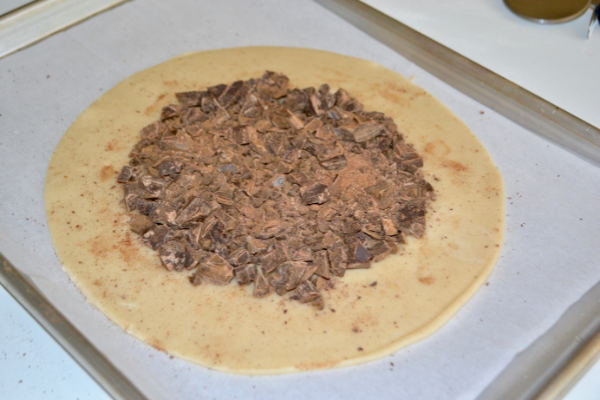 Slice pears and apples into 1/4″ slices, toss with lemon juice to keep from browning.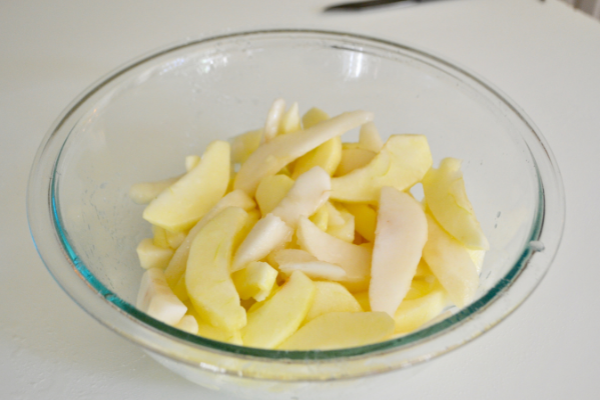 Arrange pears and apples in centrical design.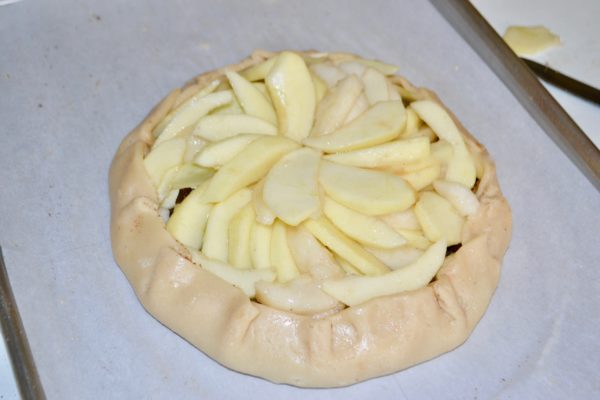 Brush the crust with egg wash and sprinkle with cinnamon sugar. Bake at 375 for 35-40 minutes or until crust is golden brown. Cover the outer edges of galette with foil if necessary during baking to prevent crust from over browning.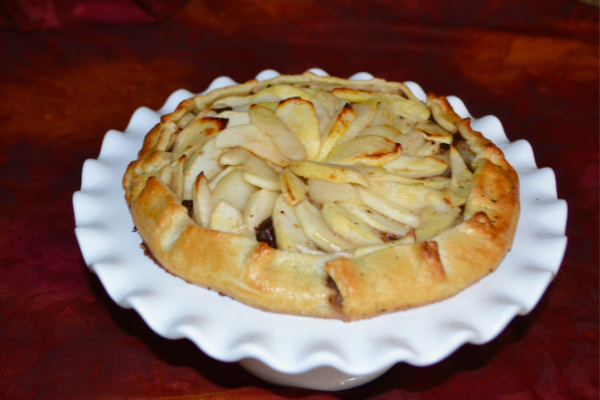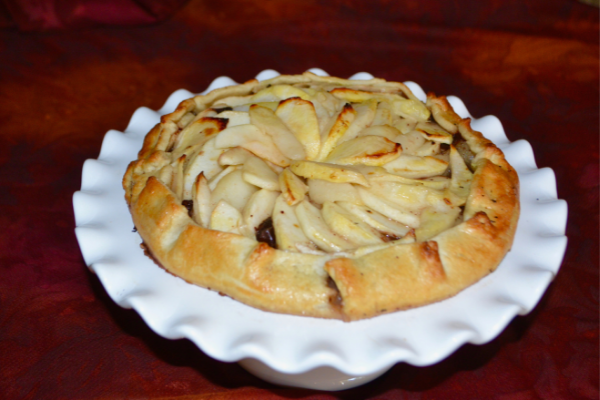 You can serve the warm tart with whipped cream or vanilla ice cream if desired.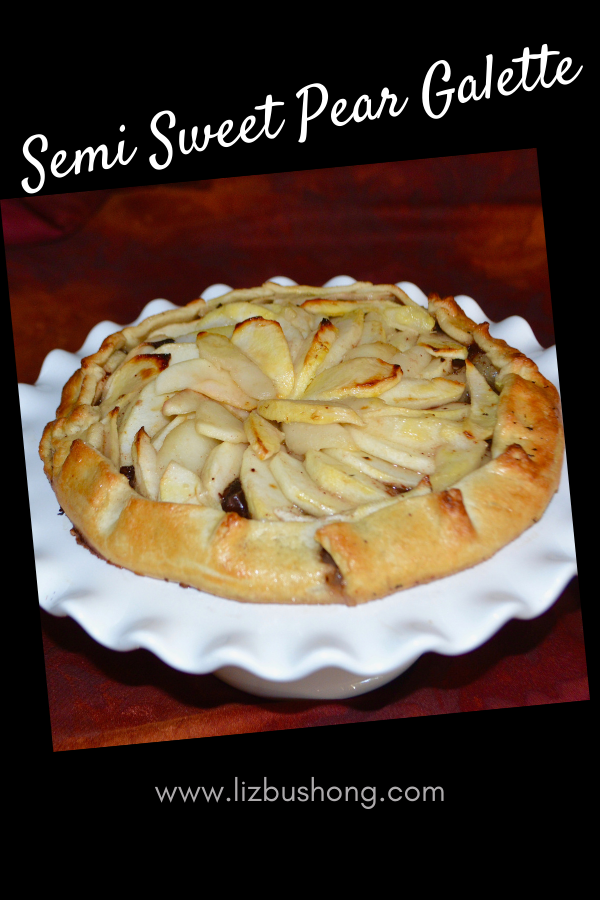 Ok Here's the recipe!
Print
Semi Sweet Chocolate Apple Pear Galette
Rustic butter crust is shaped into 14″ circle, filled with semi sweet chocolate and fruit, baked free form with crust folded over the filling.
Author: Liz Bushong
Prep Time:

30 minutes + 30 chill

Cook Time:

35-40 minutes

Total Time:

1 hour and 30 minutes

Yield:

8

servings

1

x
Category:

Dessert

Method:

Baking

Cuisine:

American
Butter Pie Crust
2 cups all purpose flour
1/2 stick butter, cubed 1/2″ pieces
1 teaspoon salt
1 Tablespoon sugar
3 Tablespoons ice water
Fruit & Chocolate Filling
3 ripe Bartlett pears, and 2 Gala apples, peeled cored and sliced lengthwise into thin wedges.
1/2 cup sugar
1 tablespoon lemon juice
1–4 ounce package of semi sweet chocolate- tested Bakers premium baking bar
1/2 cup mini chocolate chips
1/2 teaspoon ground cinnamon & ground nutmeg
1 egg , lightly beaten
Whipped Cream- optional
Ground cinnamon and sugar sprinkle
1 tablespoon sugar + 1 teaspoon ground cinnamon
Instructions
Make Butter Crust
In food processor with steel blade, add flour, salt, and chilled butter.  Pulse 2-4 times.
Add ice water, teaspoon at a time process until dough comes to together.
Remove from dough and shape into round flat disc, wrap in plastic wrap, chill 30 minutes.
Meanwhile, prepare apples and pears and place in mixing bowl, add sugar and lemon juice. Toss to coat.
Chop chocolate and mix with mini chocolate chips, toss with ground cinnamon and nutmeg. Set aside.
Roll out dough for crust
Preheat oven to 375 degrees.
Remove plastic wrap from chilled dough. Sprinkle counter with flour, roll dough into 14″ round 1/8″ thick crust.
Place crust on parchment lined baking sheet by wrapping the dough over the rolling pin.
Sprinkle the center of crust with chocolate mixture leaving a 2″ border.
Cover chocolate with fruit alternating pears and apples in a concentric circle.
Fold crust border over the fruit, pleating where necessary to cover filling.
Brush egg wash over crust and fruit, sprinkle with cinnamon sugar.
Bake at 375 for 35-40 minutes or until golden.  Cover with foil to prevent fruit from burning and bake the first 20 minutes then remove foil and continue to bake.
Serve warm with whipped cream.
Notes
Gala apple is sweet and bakes that retains shape during baking which is what you want for this free form tart/galette.
Hope you enjoy this great galette for dessert or bake it for a friend.
Other Ideas you might like to try: