Bake a cake with a surprise inside, with Spot on Cake recipe.  Colorful Pound cake balls are baked into cake batter creating the spot on look.  Perfect for Graduations and other Parties.
Print
Spot on Cake Recipe
2 packages Duncan Hines® white cake mix
6 egg whites
2 cups water
½ cup vegetable oil
1 teaspoon clear vanilla
2 packages Hersey's® white chocolate instant pudding mix-dry
 Spots- Cake balls
1 Sara Lee® pound cake- freezer section
Wilton® food coloring paste- orange & leaf green
AmeriColor ®liquid gel food coloring- electric pink & bright white
 Cake Garnish:  1 pound Fondarific® white fondant, 2 cups white buttercream frosting, artificial spring flower blossoms, 1- plastic straw
Instructions
Lightly spray 18-inch x 4-1/2 inch oblong loaf pan with cooking spray and line bottom with parchment paper.  Spray parchment paper.  Set aside.
Cut pound cake into 3- 2 inch slices.  Place one 2- inch slice in food processor and process until crumbs.  Place these crumbs in a small mixing bowl.  Add orange food coloring, mix to blend until smooth.  The mixture should be pliable like modeling clay.  Roll into desired sized balls, 1-inch to 1-½ inch.  Repeat with remaining pound cake, coloring, rolling into balls.  Chill cake balls in refrigerator for 20 minutes.
Meanwhile, prepare cake mix and mix until smooth.  Pour half of the cake batter into the loaf cake pan.  Place chilled cake balls in cake batter in a random pattern.  Pour remaining cake batter over the top of cake balls. Smooth batter.
Bake cake at 350 for 55-60 – minutes or until done.  Cool 15 minutes, remove from pan.
To decorate:  Crumb coat the cake with white butter cream frosting, allow to sit until frosting is firm to touch.  Roll fondant into a rectangular shape 1/8 inch thick-the size of the cake to cover all sides.  Apply fondant, smooth all edges and trim.  Roll leftover fondant into a long rope.  Slice rope into ½ inch pieces and roll into balls.  Place balls all around the base of the cake.  Attach faux flowers with butter cream frosting.
To clean faux flowers, place the flowers in soapy water, then rinse gently and allow to dry before applying to cake top.  Place a 1/2-inch straw into top of cake, then place flower stem inside of straw.
---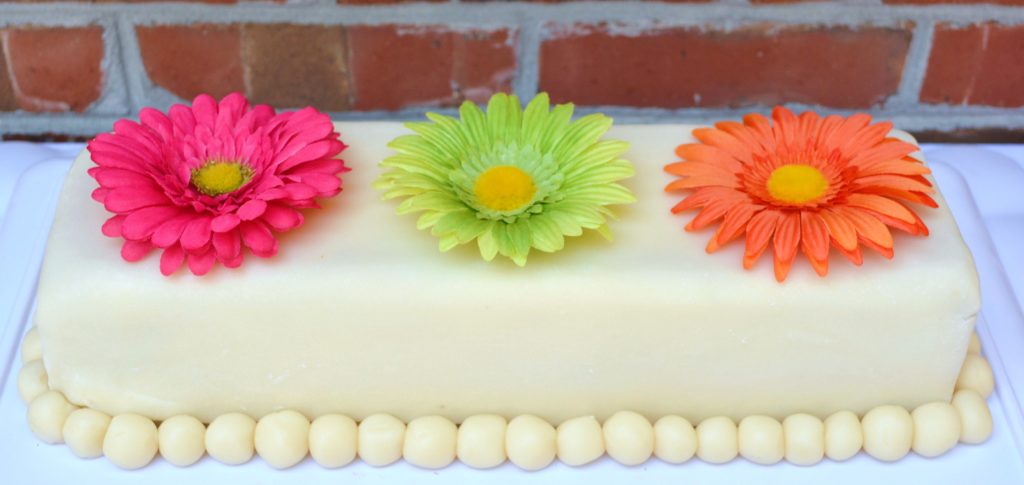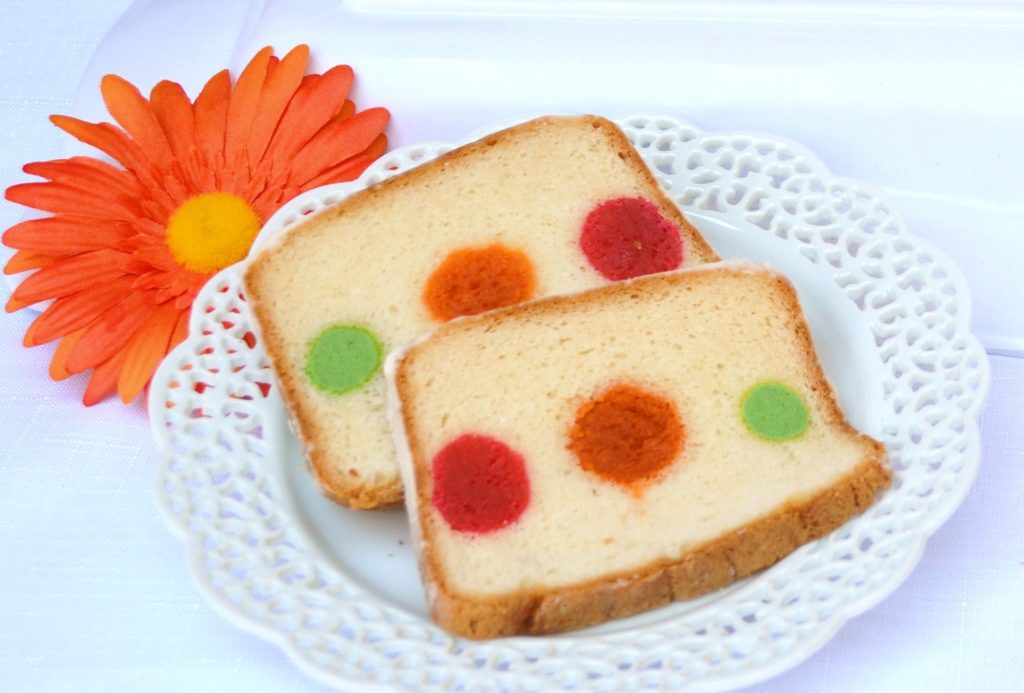 Other Ideas you might like to try: