Do you long for a good hearty beef sandwich with out heating up the kitchen? Then you will love this recipe for Beef Pockets Stuffed with Vegetable Spread Recipe.  Crusty bread loaves are cut into 2″ pieces, hollowed in the middle to make way for layers of deli beef and a delicious mayo cream cheese vegetable spread. Nothing hard about this recipe.  Its great for summer picnics but keep in mind they do have to be chilled. Serve these open face sandwiches with seasoned fries, fresh fruit and maybe even an ice cream sundae for dessert.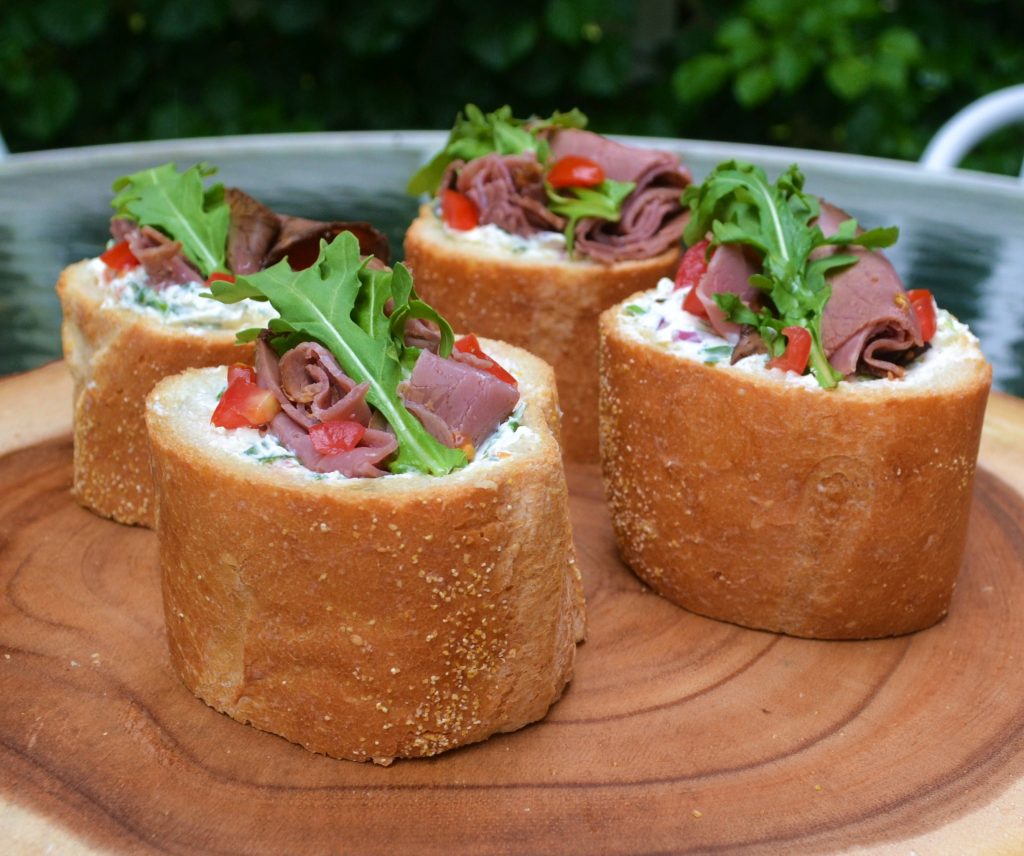 How to Make Stuffed Beef Pockets with Vegetable Spread
Purchase or make your own crusty bread.  Cut loaves into 2″ wide pieces and hollow the inside of roll, but not all the way through the bottom.  Spread vegetable spread inside the roll, stuff with deli roast beef.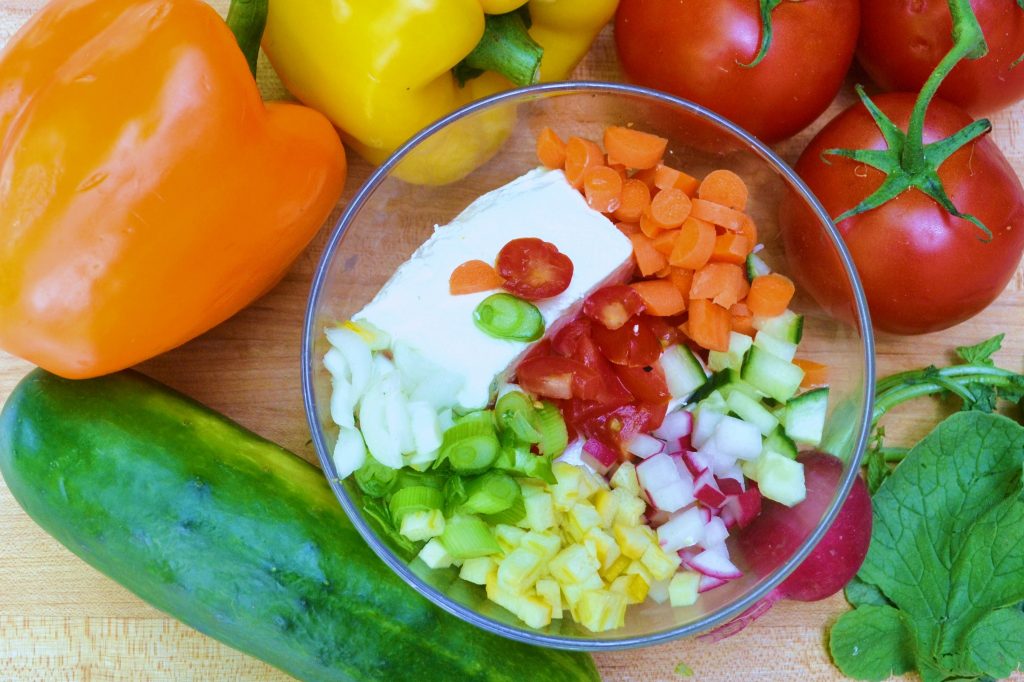 To Make the garden spread, in a mixing bowl, add chopped carrots, cucumber, green onions, cherry tomatoes, yellow squash, red, yellow and green peppers, any garden fresh veggie you love.  Add cream cheese, mayo (tested Hellman's), horseradish, garlic powder, salt and pepper to taste and grated parmesan cheese. Mix all together then spread on the inside of the hollowed bread pieces.  Or make this spread as a side appetizer and serve with crackers or crostini. 
Appetizer Ideas: If you want to make the beef rolls or garden spread an appetizer, simply use a small round 1/4″ slice of bread, toast it, then add spread, beef and Arugula leaves as a garnish. For garden spread, spread on toasted 1/4″ sliced bread, top with Parmesan cheese, broil a few seconds to melt cheese. Similar to this recipe Garden Pesto Crostini.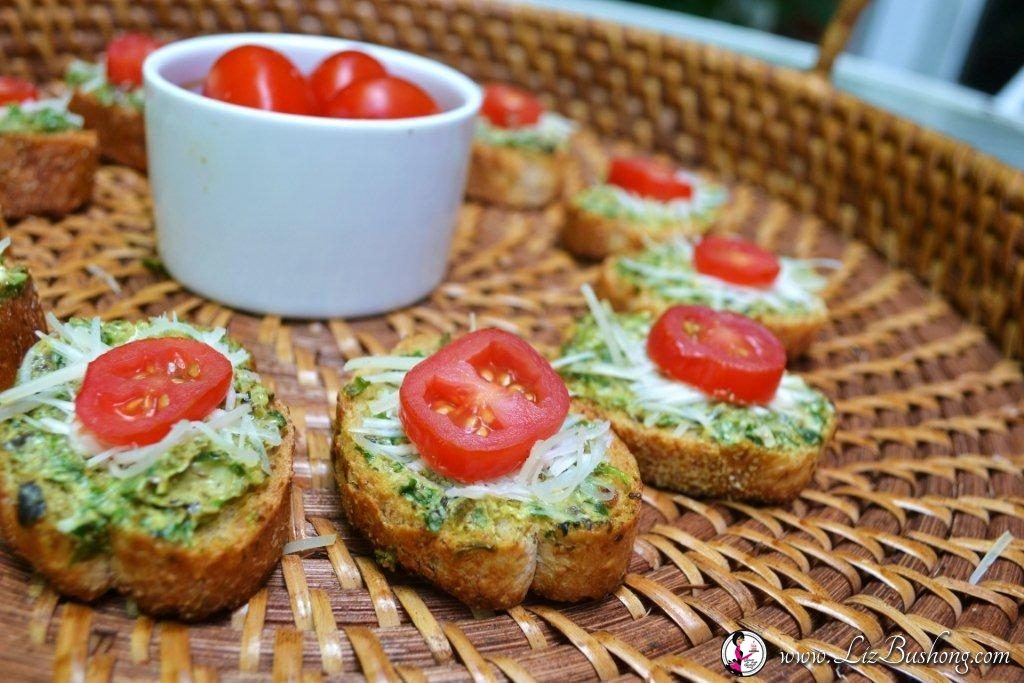 Here's the recipe.  Hope you enjoy it!  Get out of the kitchen and enjoy a picnic or light supper with these easy to make beef pockets.
Print
Beef Pockets Stuffed with Vegetable Spread Recipe
Author: Liz Bushong
Yield:

1

-

1/2

cups spread or

4

sandwiches

1

x
1–4 ounce package cream cheese, softened
4 tablespoons Hellman's mayonnaise
2 tablespoons creamy horseradish
2 tablespoons minced parsley
1/8 cup diced carrots, green onions, radish, cucumber, yellow squash, red, orange and green bell pepper, cherry tomatoes, arugula leaves
1/2 teaspoon garlic powder
1/4 teaspoon salt and white pepper
1/4 cup grated Parmesan cheese
Beef Pocket Ingredients
1/2 pound sliced deli beef, thin
4– 2" sliced crusty bread pieces
4–8 Fresh Arugula leaves
1/2 cup diced cherry tomato for garnish
Instructions
Place cream cheese, mayo, and horseradish in a large mixing bowl.
Add diced vegetables and seasonings.  Mix to combine.
Serve spread with Roast Beef Pockets or crostini.
To Make Beef Pockets:
Cut 4-2″ sliced bread pieces from long crusty loaf.
Hollow out each slice to create a pocket, being careful not to remove bread all the way through the slice.
Save bread pieces for bread crumbs for later.

Spread the vegetable mixture inside the bread pocket, add sliced beef and garnish with chopped tomatoes and Arugula leaves.
Other Ideas You Might Like to Try: