Fall would not be fall without the flavor of caramel apples. Ooey-gooey caramel combined with apples is as much a fall favorite as apple cider and pumpkin pie. This pound cake recipe features 3 cups of chopped apples and a taffy apple flavored baked-in filling. It's a simple recipe and bakes perfectly. Once baked in a bundt pan, the cake is topped with cream cheese frosting, chopped peanuts and drizzled with caramel ice cream topping. Deliciously moist and tender cake that freezes well without frosting. No bundt pan, no problem make cupcakes or loaf pan bake.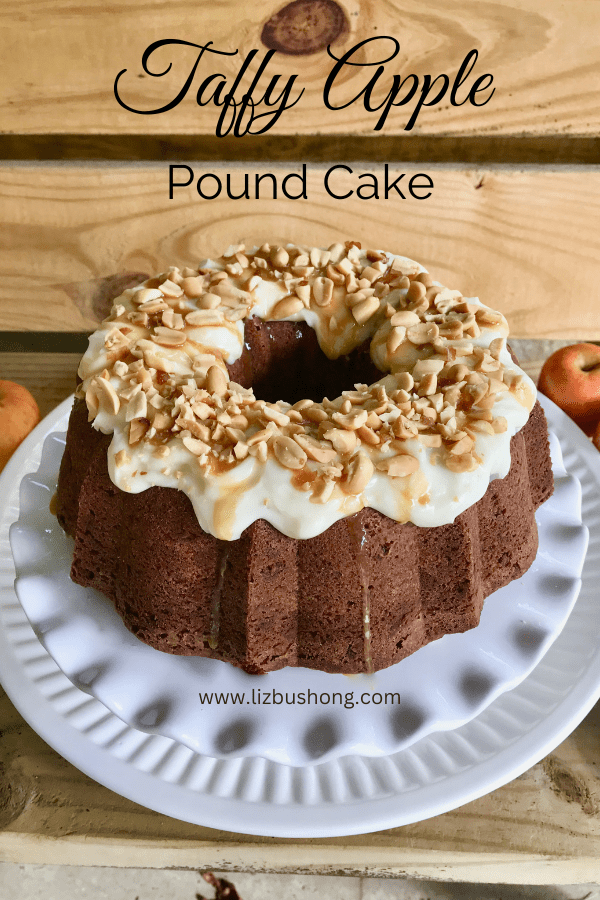 Each slice of this pound cake will remind you of caramel apples with chopped peanuts. While some people are allergic to peanuts, you can substitute with toasted pecans. You could also use pecans and drizzle the cake with dark chocolate in addition to the caramel. Treat the pound cake like a gourmet caramel apple. Check out my caramel apples recipe at the link. The caramel actually sticks to the apples. On with the Taffy Apple Pound Cake.
How to Make Taffy Apple Pound Cake
I used a beautiful bundt pan that I had ordered from Williams & Sonoma. The lines of the pan are crisp and defined while the cake height is taller than normal bundt cakes. You know me, presentation is important.. I love this pan. It is made by Nordic Ware called the Anniversary Pan with 10-1/2″ diameter x 4-1/2″ high. The pan will hold 10-15 cups of batter. This recipe makes a 10″ cake.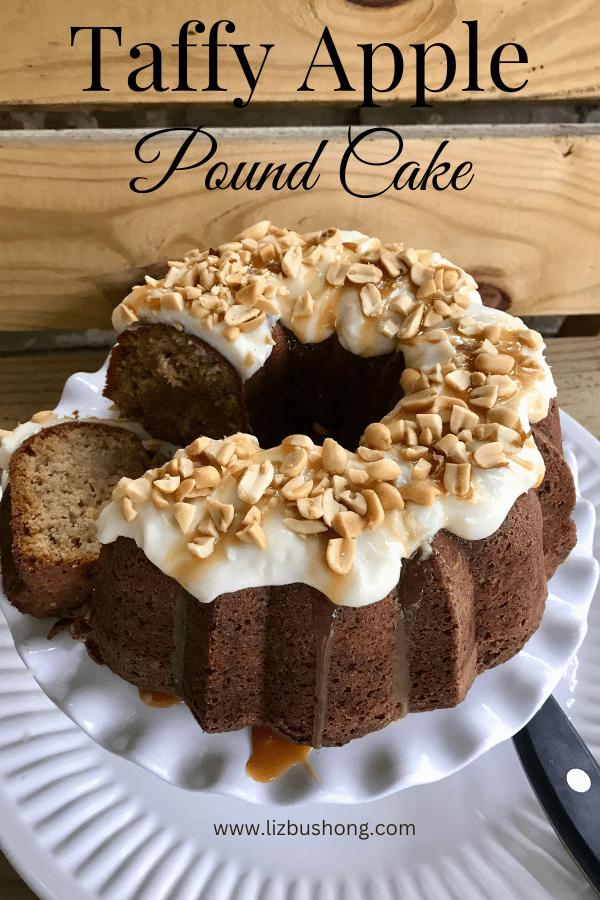 Once you have your bundt pan, lightly coat with cooking spray, sprinkle with all purpose flour or cake flour. Sprinkle lightly so the flour will not clump in bottom of pan. You can also use the baking spray which has flour in it, but I didn't have any on hand. In addition you can use shortening and flour to prepare pan. Set pan aside and preheat over to 350 F. You will bake the cake in middle of oven. You will also need to secure the cake pan by sitting on a baking sheet during baking.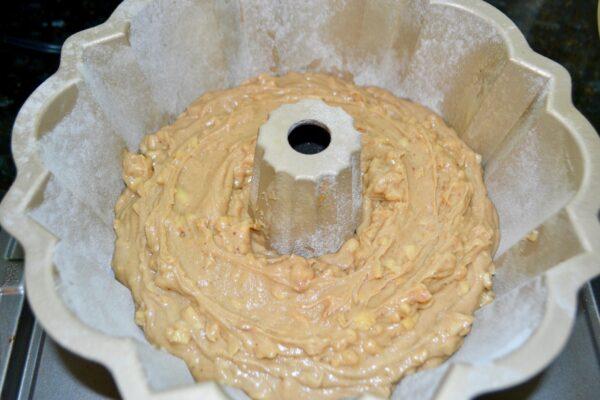 In small bowl, add apple pie spice, salt, flour, baking powder for the cake batter. Set aside. Make sure your cream cheese is room temperature for the filling and the frosting to come.
In medium bowl, add 3 cups diced apples, apple pie spice, remaining 1/4 up brown sugar and 2 teaspoons ground cinnamon. Reserve 1 cup for filling. Set aside.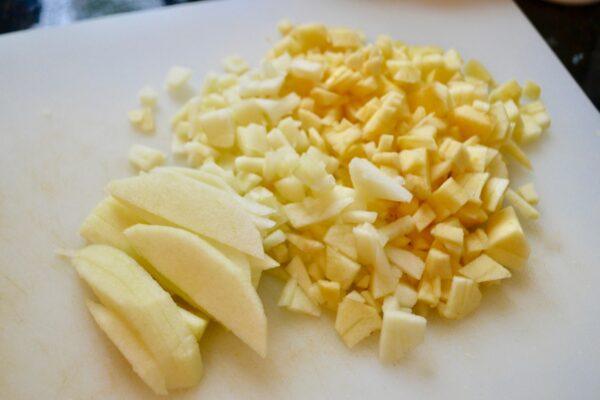 Making the Cake Batter and Filling
In a mixing bowl of stand mixer fitted with paddle attachment, cream together, sugars and melted butter for about 5 minutes. You want the sugar to be dissolved before adding the eggs one at a time. Add eggs one at a time, beat to cream. For the filling you will be using an egg yolk only… so add the remaining egg white to the cake batter at this time.
Add flour mixture to cake batter, beat for 2 minutes. Add diced apples, but reserve the 1 cup for the filling to the cake batter. Set aside while you make the taffy apple filling.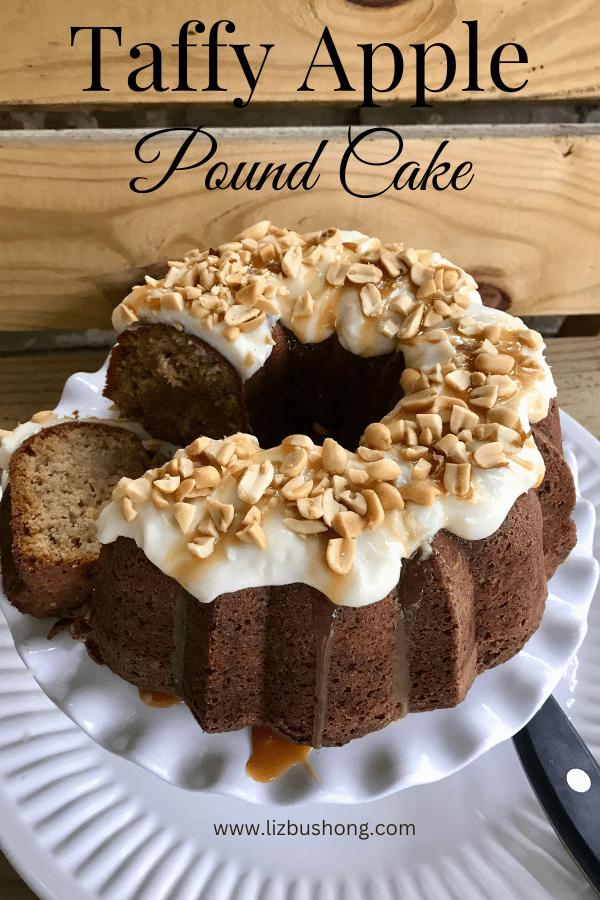 Make the Filling
In small mixing bowl, beat together cream cheese, brown sugar, peanut butter, 1 egg yolk and 1 cup of reserved diced seasoned apples. Mix until combined.
Assemble
Spoon 3/4 of cake batter into bundt pan, smooth top with off set spatula, with the back of a spoon make a center well in batter. Do not touch sides of pan or inner tube when making the well. Pipe or spoon Taffy Apple Filling in the well. Cover the filling with remaining 1/4 of cake batter, using off set spatula to smooth top of cake. Be careful not to go too deep when smoothing batter over filling.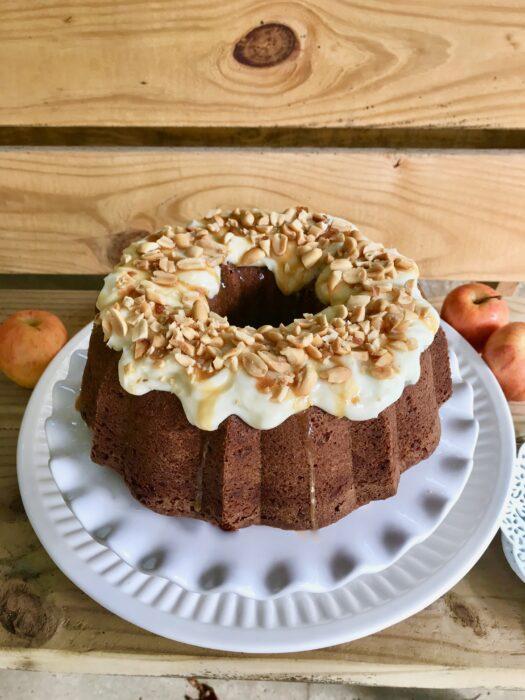 Place cake on baking sheet and bake at 350 for 60 minutes or until wooden toothpick comes out clean. Because there is the creamy filling in the middle, you might need to bake an additional 5-8 minutes. If you have a few crumbles on the toothpick that is ok, just as long as they are baked crumbles.
Remove from oven and allow cake to cool 10 minutes before inverting cake onto cooling rack. Invert and continue to cool cake completely before frosting. Meanwhile whip up cream cheese frosting. When cake is cool, spread the top crown of cake with the thick frosting, add chopped peanuts and drizzle with caramel ice cream topping right before serving. Store cake in refrigerator due to cream cheese frosting.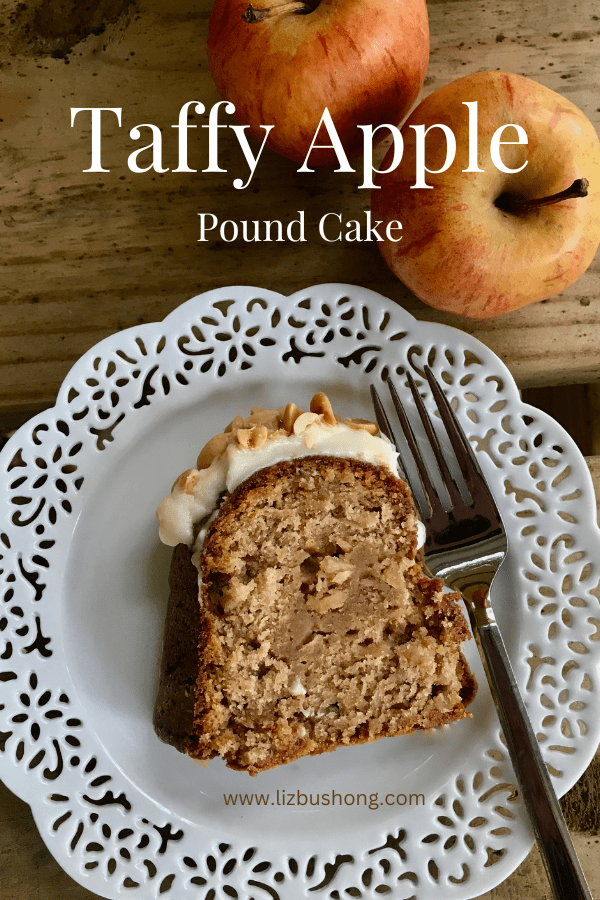 Hope you will try this recipe. It is so good! The cake tastes just like a caramel apple due to the peanut butter filling. It's crazy how that makes this taste like a caramel apple. Your family and friends will love it. If you don't want to make a bundt cake, you can make cupcakes, it will make 24-30 standard cupcakes.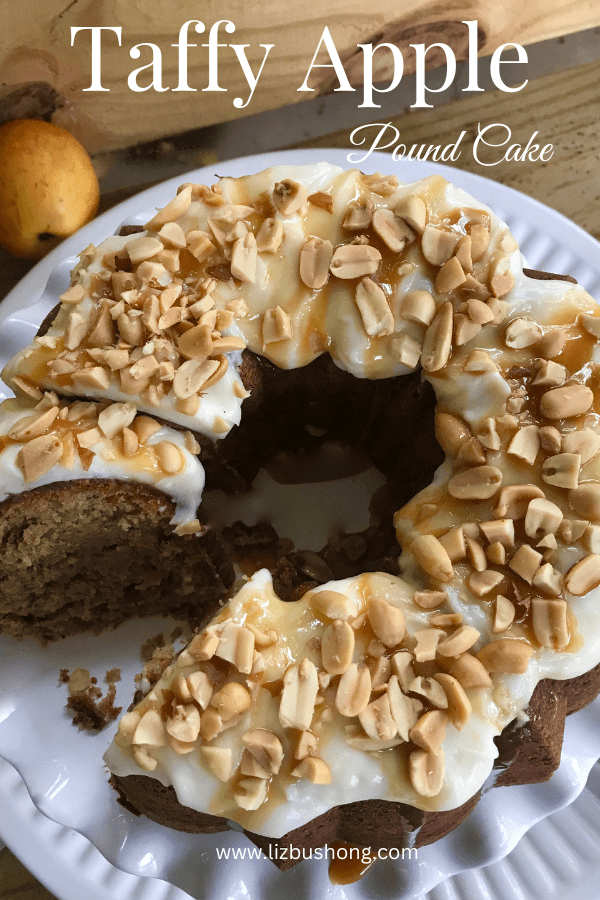 Print
Taffy Apple Pound Cake
Moist apple filled pound cake with taffy apple center baked in filling. Peanut butter is the key ingredient in the filling along with cream cheese, apple pie spice. Cake is frosted with cream cheese frosting, chopped peanuts and caramel drizzle.
Author: Liz Bushong
Prep Time:

20 minutes

Cook Time:

60 minutes

Total Time:

one hour -30 minutes

Yield:

1

–

10

" cake

1

x
Category:

Dessert

Method:

Baking

Cuisine:

American
1 cup sugar
1–1/4 cups brown sugar, light or dark, packed
1–1/2 cups butter, melted
4 large eggs
1 teaspoon vanilla
3 cups all purpose flour
2 teaspoons baking powder
1 teaspoon apple pie spice
2–1/2 teaspoons ground cinnamon
1 teaspoon salt
3 cups diced apples-tested Granny Smith-reserve 1 cup for filling*
Taffy Apple Filling
1–4 ounce package cream cheese, softened
1/2 cup brown sugar, packed
1/4 cup peanut butter, crunchy or smooth
1 egg yolk- place white in cake batter
1 cup diced Granny Smith apples*
Cream Cheese Frosting
1–4 ounce package cream cheese, softened
1 cup confectioner's sugar
2 tablespoons milk
1/2 teaspoon vanilla or creme bouquet flavoring
Garnish
4 tablespoons caramel sauce-warmed *tested Smucker's Caramel Ice Cream topping
1/2 cup chopped peanuts
Instructions
Preheat oven to 350 degrees. Lightly spray a 12 cup bundt pan with non stick cooking spray, dust with flour or use baking spray with flour.  Set aside.
In medium bowl, combine flour, baking powder, apple pie spice and salt, set aside. 
In large mixing bowl of stand mixer beat sugar, 1 cup of brown sugar, and melted butter at medium speed until combined about 5 minutes. Use the paddle attachment.  Add eggs one at a time beating well after each addition. Add vanilla.  
Gradually add flour mixture to batter, beat to combine. 
In separate bowl, toss diced apples with apple pie spice, and remaining 1/4 cup brown sugar and ground cinnamon.  Reserve 1 cup for filling.  
Add the 2 cups of coated apples to the cake batter, gently beat to combine about 1 minute. 
Filling:
In small bowl, add softened cream cheese and all ingredients including the reserved 1 cup diced apples. (Add separated egg white to the cake batter that you have set aside, beat to mix). Mix filling until smooth. Mixture will be thick and brown. 
Assemble:
Carefully spoon 3/4 of the cake batter in the bundt pan. Smooth top of batter, with back of spoon, make a small well in the center of the cake batter, not touching the sides or inner tube.  Spoon or pipe the filling in the well of cake. Cover with remaining cake batter being careful not to drag your spoon as it will remove your inner filling. Lightly smooth over the top of filling with off set spatula. 
Place cake pan over a baking sheet and insert into middle of preheated oven. Oven temperature should be 350 degrees.  Bake 60 minutes or until wooden pick inserted in center of cake comes out clean. This might take an additional 5-8 minutes due to the creamy filling in the center. Remove from oven, let cool 10 minutes before inverting onto cooling rack.
Allow cake to cool completely before adding cream cheese frosting and garnishes.
Meanwhile, mix ingredients for cream cheese frosting, beating until smooth and creamy.Once cake is cool, spoon thick frosting on top of the cake gently spreading on the crown of the cake or as desired. Sprinkle with chopped peanuts, drizzle with warmed caramel sauce right before serving. Be sure to add the additional ground cinnamon in addition to the apple pie spice. 
Store in refrigerator. Cake freezes well before adding chopped peanuts and caramel sauce.  The pound cake is very moist and tastes just like a taffy apple. 
Notes
Apple Pie Spice can be substituted with 1 teaspoon ground cinnamon, 1/2 teaspoon ground all-spice, 1/4 teaspoon ground nutmeg, 1/2 teaspoon ground cardamon, 1/8 teaspoon ground cloves. 
Keywords: Taffy Apples, Pound Cake, Peanuts, Cream Cheese Frosting, Apples, Apple Pie Spice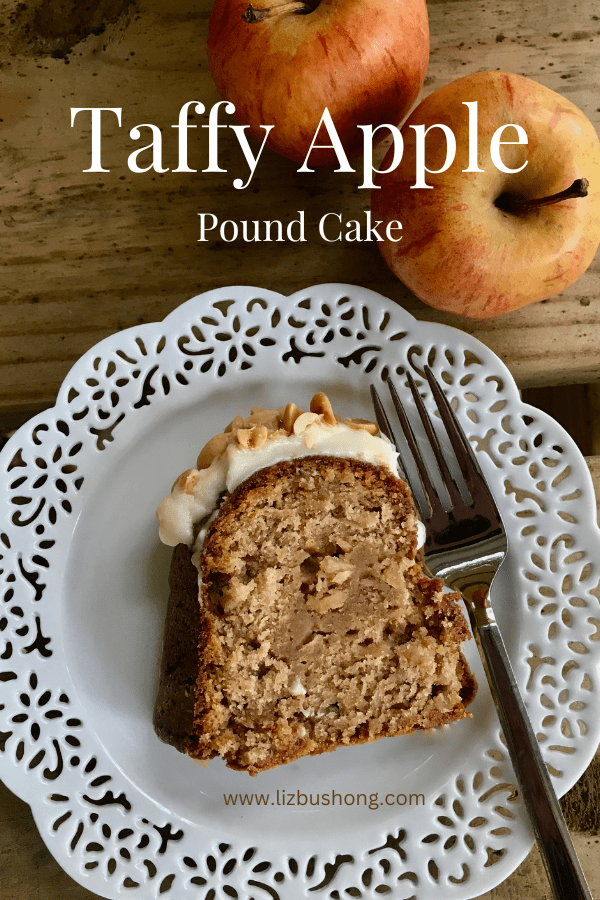 Other Ideas You Might Like To Try: