Do you love apples, cinnamon and donuts? Then you will love this recipe for apple cinnamon cider donuts. Since these donuts are baked and not fried, the recipe is easy to prepare and bake. Applesauce and apple cider reduction plays a key role in this recipe; making these donuts moist and full of apple spice flavor. You will want to make a double batch for they will be eaten as fast as you can make em. As soon as the donuts are removed from the oven and donut pan, they are brushed with apple cider. Cinnamon sugar coats the warm donuts.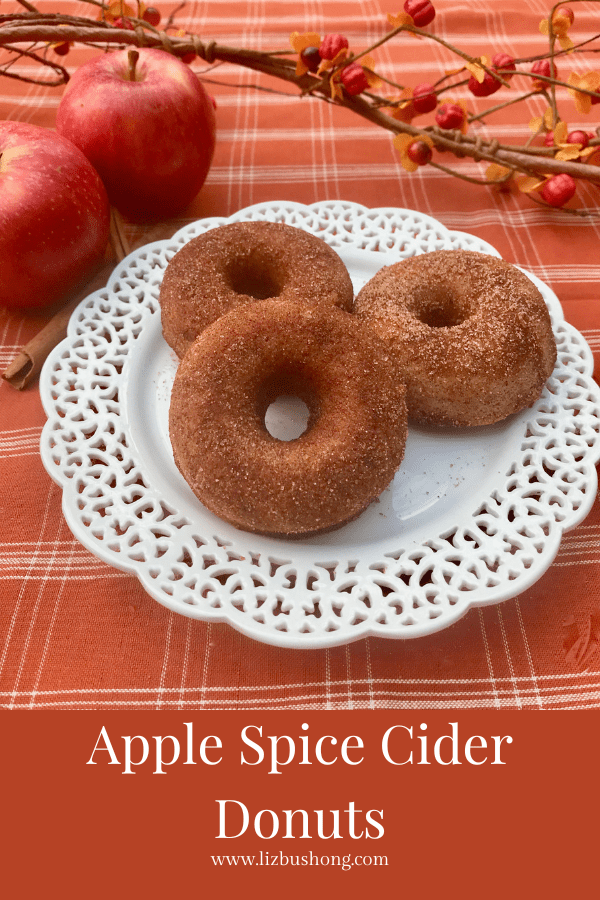 How to Make Apple Cinnamon Cider Donuts
I am sure you will not be able to eat just one of these apple cider donuts! The recipe makes 18- 2″ round donuts and you can double the recipe if needed. You will need a donut pan and apple cider for this recipe. I used three silicone donut pans with 6 openings per pan.
Prepare you donut pan with cooking spray and set the pans on a baking sheet. Also, line a baking sheet with parchment paper and place a cooling rack over the pan, set aside. This will be for brushing the donuts with reduced cider and dipping in cinnamon sugar mix after baking.
Preheat the oven to 350 F degrees. While oven is heating, make the apple cider reduction. Simply put, it just means boiling 2 cups of apple cider in a saucepan over medium high heat until the mixture reduces to one cup. I found it took about 15 -20 minutes. It is hard to gage how much you have in the pan, so about 15 minutes pour the cider into a glass measuring cup to see if you are at 1 cup reduction. If not boil a few more minutes. This mixture will not be thick, but will have enhanced apple flavor. Once reduced, set aside to cool.
Next, in a medium mixing bowl, add dry ingredients, flour, baking powder, salt and apple spice seasoning. Set this aside while you whip up the liquid ingredients. In a separate mixing bowl, add eggs, sugars and vegetable oil mixing with wire whisk to combine. Add 1/2 cup apple cider reduction, apple sauce, vanilla or creme bouquet extract stir to blend. Now add the flour mixture. Be careful not to over blend or beat this batter. If you have a few clumps in the batter that is ok.
Fill each donut well with 1/4 cup batter 3/4 full. Place pans on baking sheet and place in oven. Bake 22 minutes at 350 F. While donuts are baking mix together the cinnamon sugar mixture and get the remaining apple cider reduction ready for brushing on warm donuts.
Remove donuts from oven, allow them to sit 2 minutes in the pans, then invert onto a cooling rack. Once donuts are out of the pans, brush with apple cider reduction and roll into cinnamon sugar mix. Place donuts back on baking tray with cooling rack to finish cooling.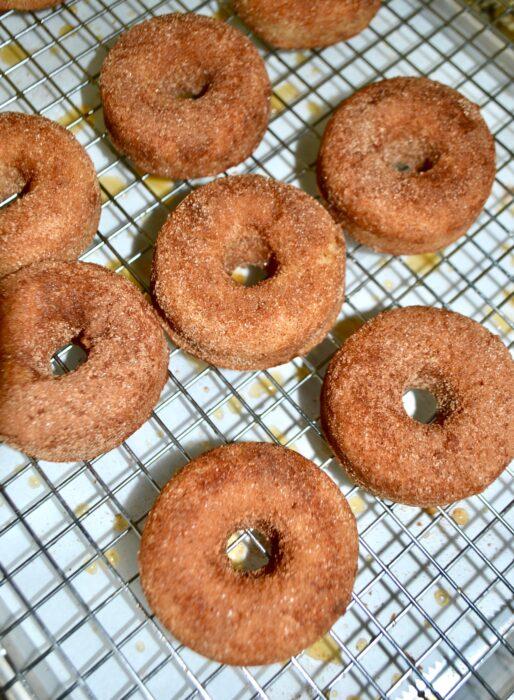 Note: If you don't have a donut pan, you can use a muffin pan, just bake 22-25 minutes at 350 and glaze with apple cider and sprinkle with cinnamon sugar. Donuts are best eaten day you bake em. However they will freeze well before coating with cider glaze and cinnamon sugar. To unthaw, remove from freezer 30 minutes before glazing and dipping in sugar mix. It is best to preheat oven to 350 and warm up the donuts so they will accept the apple cider and cinnamon sugar mixture. Warm the donuts about 5-8 minutes. Do not microwave, donuts will become chewy.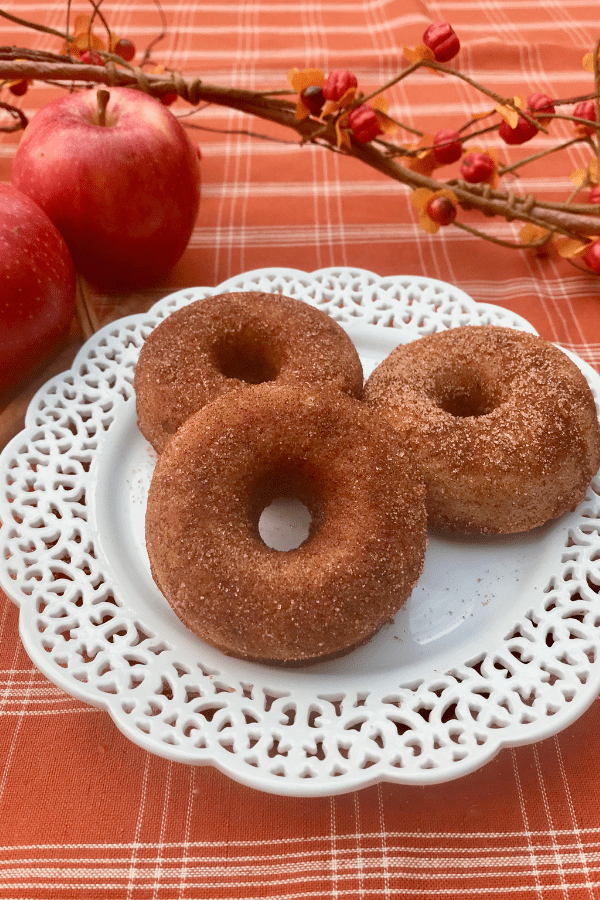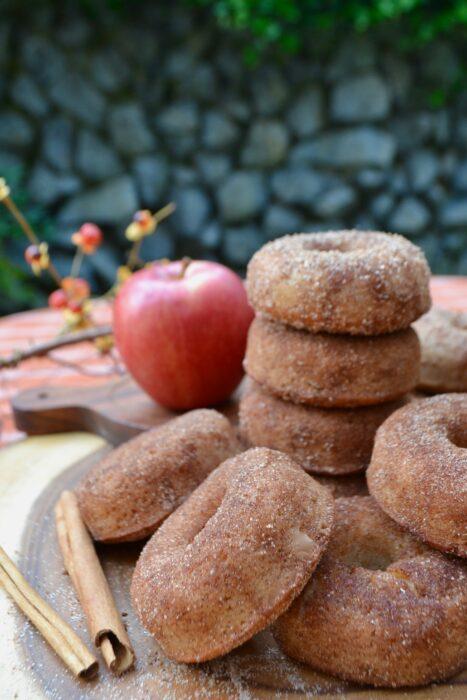 Print
Apple Cinnamon Cider Donuts
Moist apple cider spice donuts made with applesauce and apple spice seasoning. Baked donuts are brushed with apple cider reduction and dipped in cinnamon sugar apple spice mix.  Easy recipe. Bakes 22 minutes. 
Author: Liz Bushong
Prep Time:

20 minutes

Cook Time:

22 minutes bake

Total Time:

60 mintues

Yield:

18

–

2

" donuts

1

x
Category:

Dessert

Method:

Baking

Cuisine:

American
Apple cider reduction
2 cups apple cider-for 1 cup reduction
Donuts:
Dry ingredients:
1 teaspoon apple spice seasoning* see recipe below
2 cups all purpose flour
1/2 teaspoon sea salt
1–1/2 teaspoons baking powder
Donut Wet Ingredients:
3 large eggs
1/2 cup vegetable oil
1 cup granulated sugar
2 tablespoons light or dark brown sugar, packed
3/4 cup applesauce
1/2 cup apple cider reduction
1 teaspoon creme bouquet or vanilla
Cinnamon Sugar Topping Mix
1 tablespoon apple spice seasoning
1/3 cup granulated sugar
1/2 cup apple cider reduction-for brushing on warm donuts
Apple Spice Seasoning
1 tablespoon + 1 teaspoon ground cinnamon
1 /2 teaspoon ground nutmeg
1/2 teaspoon ground cardamon-optional
1/2 teaspoon ground all spice
1/4 teaspoon ground ginger-optional
Instructions
Preheat oven to 350 F. Lightly spray silicone donut molds with cooking spray. Place molds on baking sheets for stability during baking. Line another baking sheet with parchment paper and place a cooling rack over the pan, this is used for cooling donuts and brushing with reduced apple cider-cinnamon sugar mixture.
In small saucepan, add 2 cups apple cider, cook on medium high heat for 12-15 minutes until cider reduces to 1 cup. This will be used for the batter and for the after bake glaze.
Making the donuts: In medium mixing bowl combine oil, eggs, sugar, brown sugar, apple sauce, 1/2 cup of apple cider reduction, and creme bouquet or vanilla. Mix with wire whisk until eggs and sugar are well incorporated. ( If applesauce is more juice than pulp, drain some of the juice off 3/4 cup).
In separate medium mixing bowl, add flour, apple spice seasoning, baking powder, and salt. Toss to blend, then add to wet ingredients. Using a large spoon or rubber spatula fold in flour mix, batter will be lumpy. Do not over blend dough but blend enough that no flour is seen.
Fill each donut well 3/4 full with batter. Bake at 350 for 22 minutes. Meanwhile, mix together Cinnamon Sugar Topping in a medium bowl for dipping warm donuts.
Remove donuts from oven, allow pan to sit 2 minutes before removing from pan. Turn pan over on cooling rack, release donuts from pan. With a pastry brush, brush each donut on both sides with the remaining 1/2 apple cider reduction.  Dip each donut in bowl of cinnamon sugar, cover with mixture all over the donuts. Set donuts aside to set. 
Serve warm.  Donuts are best served day made. 
Notes
*Apple Spice Flavoring can be used in many recipes, pancakes, apple pie, any apple dish.
* Donuts freeze well. Wrap securely in plastic and foil up to 30 days. 
*If you don't own a donut pan, make muffins instead. Same recipe but increase baking time to 24-25 minutes.
Recipe inspired by saving dessert.com 
Keywords: apple, apple cider, donuts, apple spice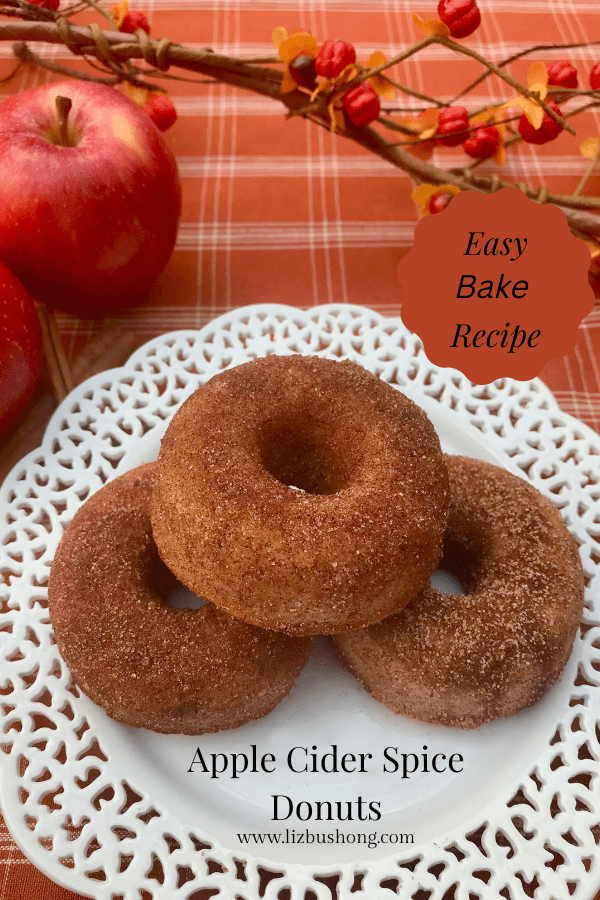 Other Ideas You Might Like to Try: