Help our feathered bird friends during the winter months with this home-made recipe for a Bird Seed Wreath.  Crumbled dried fruit suet, fresh cranberries, peanut butter, and wild bird seed are just a few ingredients needed.  For birds that visit your neighborhood will hang out in your back yard as soon as the wreath is displayed.  Purchased fruit suet contains nutrients and fat that will help nourish our little friends during the winter months.  Once you create this bird seed recipe, you can mold the berries and seed in a lightly greased bundt pan or clay pots for a special treat.
Whether you are creating a wreath or other cute little molded shapes the key is having the right recipe.  The glue that holds the seeds and fruit together is a mixture of flour, water, gelatin, suet and corn syrup.  One recipe will make one 4 cup bundt shaped wreath  or 3 small 4″ clay pots with several smaller molded shapes and even pinecones. Because these are so much fun to make, make two batches and hang all the creations throughout your trees with weather proof ribbon.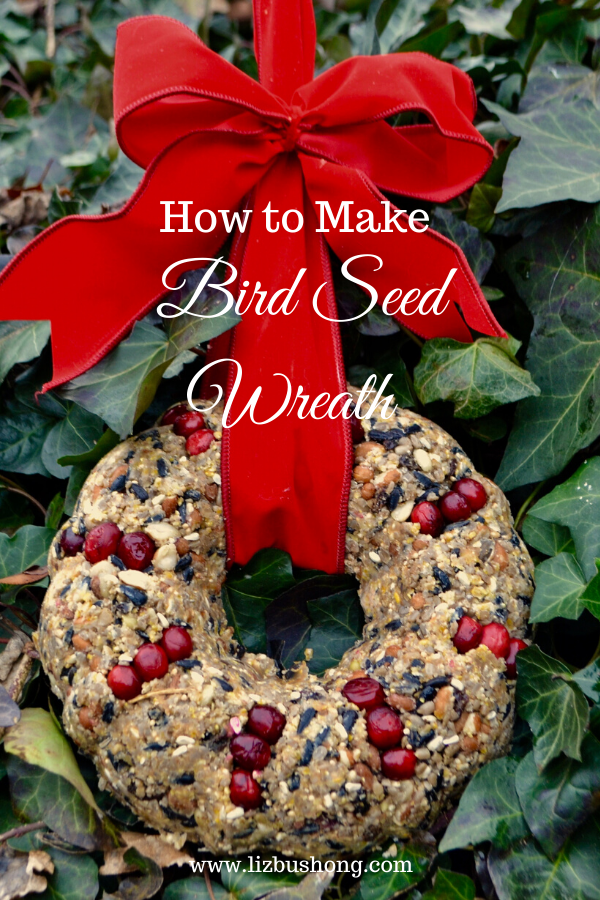 In as much as bird seed comes in a variety of sizes, think about a selecting medium to small seeds. Smaller birds will appreciate the smaller seeds.   Such birds as wrens, chickadees, nuthatches, woodpeckers, and cardinals will be the variety to visit your sanctuary. For a quick bird seed treat, slice apples in 1/4 " slices, spread with peanut butter and coat with mixed bird seed.  The birds will love this quick treat.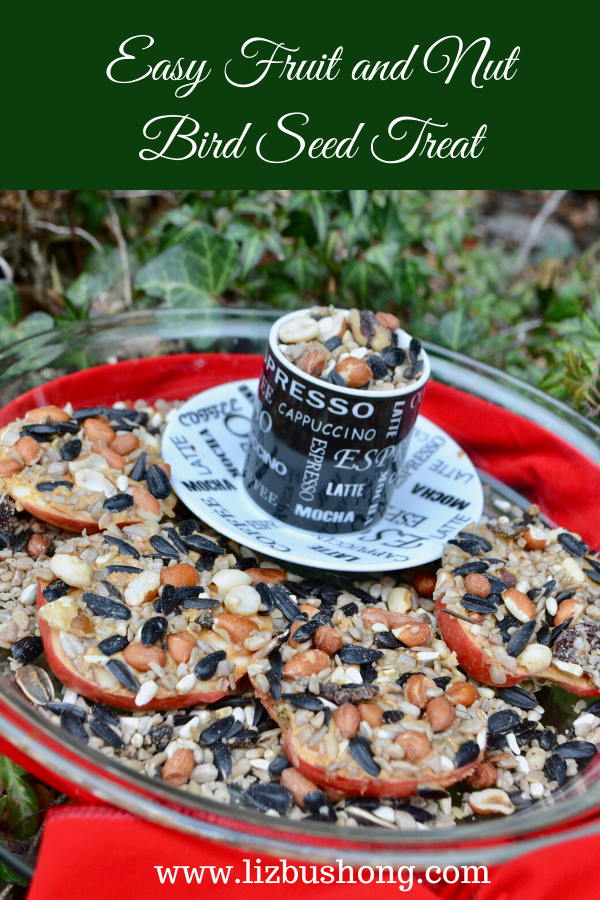 One note,  make sure you hang the wreath in cool temperatures and somewhat sheltered during inclement weather if possible. After reviewing a couple of recipes, I combined two to make this recipe custom for my feathered friends.
When making the mixture, the fruit suet smelled delicious.  Crumbling the suet to add to the flour and seeds made the mixture blend easily.

So what is Suet?
It is melted animal fat that provides high energy food for birds during cold winter months. Most bird suet is packaged in small square cages that can be hung from trees. Variety of flavors are added such as dried berries and millet.  Using suet in this wreath mixture adds healthy benefits for the birds as well as provides added thickening.
Recipe for Bird Seed Wreath
Print
Dried Fruit and Berry Bird Seed Wreath DIY
Make a pretty bird seed wreath for your feathered friends this winter using suet, peanut butter, dried fruit, berries and bird seed.
Author: Liz Bushong
Prep Time:

20 minutes

Cook Time:

25 second microwave

Total Time:

30 minutes

Yield:

1

-

4

cup bundt wreath

1

x
Category:

Main Course-For Birds

Method:

Stir and pack

Cuisine:

American
1/2 cup hot water
3 tablespoons light corn syrup
1– 1/4 ounce package unflavored gelatin
1/4 cup creamy or crunchy peanut butter
3/4 cup all purpose flour
1–11 ounce package dried fruit suet, crumbled
4 cups mixed bird seed, nut and fruit blend
1/2 cup fresh cranberries -optional
Instructions
In large mixing bowl, add flour, crumbled suet, and peanut butter and bird seed.
In one cup glass measuring cup add 1/2 cup water, microwave 25 seconds.
Add gelatin and corn syrup to hot water, stir to dissolve.
Add gelatin mixture with flour seed mixture, stir with wooden spoon to throughly mix.
Lightly spray with cooking spray bundt pan and other molds.
Place three fresh cranberries in groves of bundt pan. This is optional but adds a pretty design to the wreath.
Gently place seed filling over the cranberries as not to move from grooves of pan.
Continue packing filling inside bundt pan and other molds until mixture is compact.
Use the back of a measuring cup to help pack the bird seed mixture around the mold evenly.
Refrigerate over night or 24 hours to harden.
Release from pan, add ribbon and display for birds.
Notes
Do not use twine or rope as a hanger for it will cut into the wreath over time.
Hanger for clay pots:  Use pipe cleaners and washer to knot and pull through drainage hole for a hanger.  Once seed is removed from clay pot it looks like a bell. Add ribbon to the top of bell. Hang with pipe cleaner loop.
Keywords: Bird seed wreath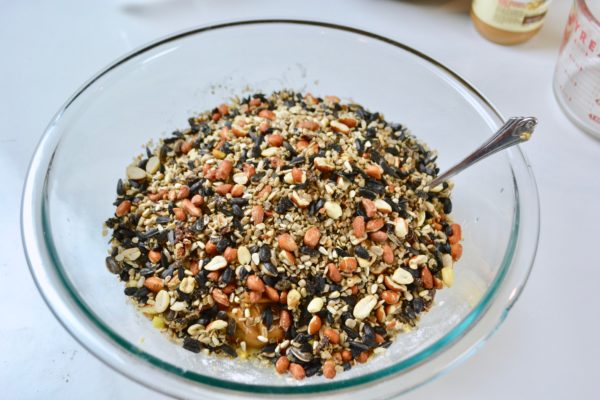 Mixing all ingredients together in large bowl.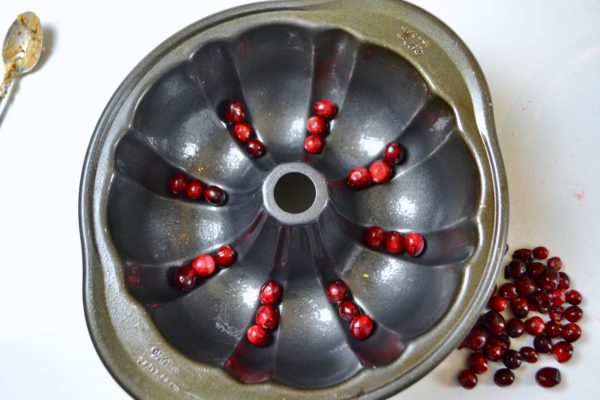 Add fresh cranberries to grooves of lightly greased bundt pan for easy decoration.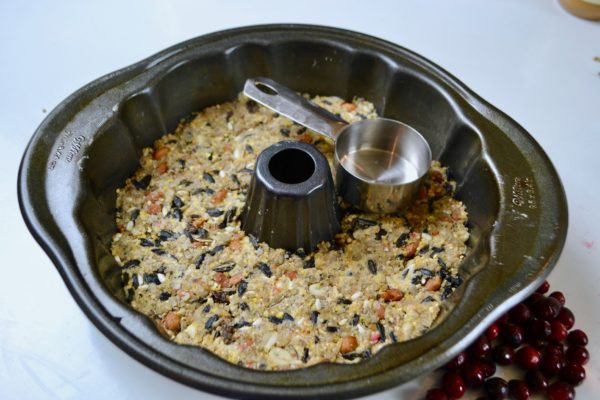 Pack seed mixture tightly in pan, use back of measuring cup to help pack and level.
Create other Bird Seed Shapes and Sizes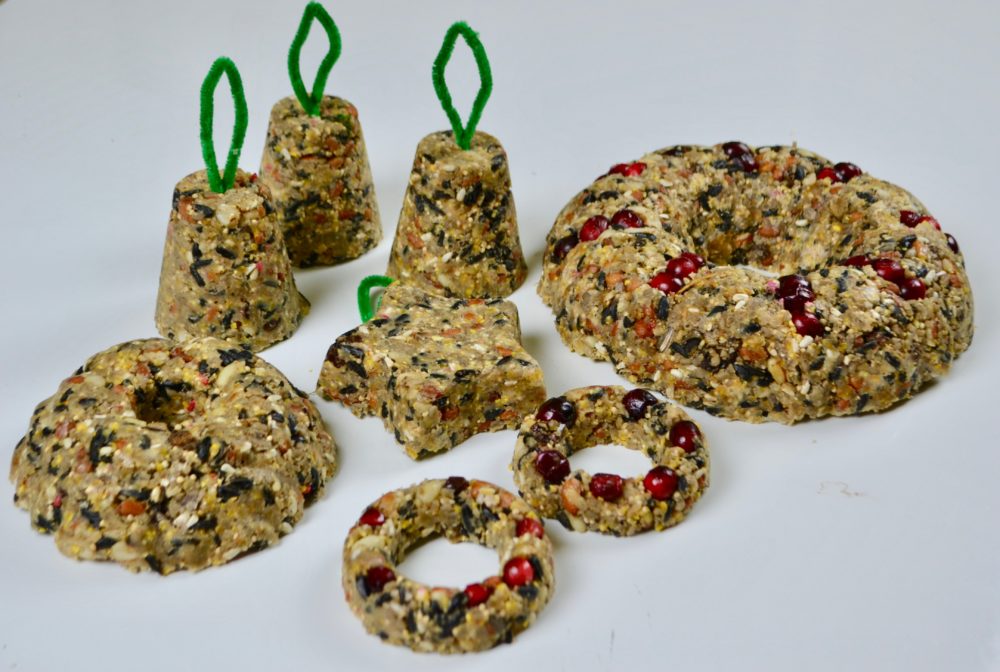 Clay Pot bird seed treat.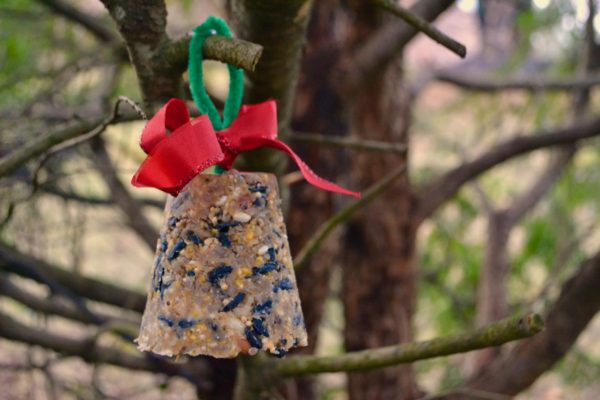 Hope you enjoyed creating treats for our feathered friends!
Other Ideas you might like to try: Click on photos