Surprise your sweethearts with a Box of Chocolates… brownies dressed up like candies. When you hand them this heart shaped box with bow, they will think they are getting a box of chocolates… candy that is.  As you watch the "look of surprise and amazement on their sweet faces your heart will be filled with joy!   Imagine what they will say, when they realize the chocolates are actually mini brownies decorated to look like a Box of Chocolates!  It's so fun and these are really easy to make.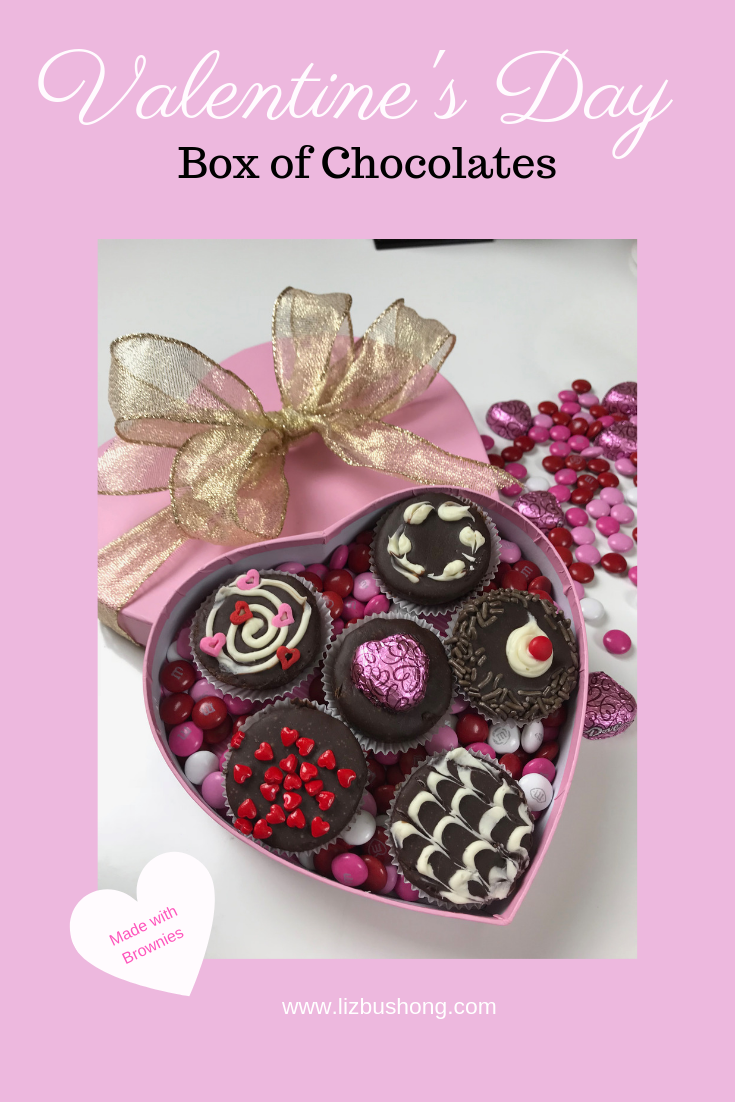 Your kids will love making these cake candies. Or invite a special friend when making these treats. You will have a lot of laughs and make memories all in one. Check out the recipe below that you can print off and be sure to watch the video with me and my friend Connie Clyburn making these treats. If you really want a good laugh… check out the video blooper of box of chocolates  we accidentally  recorded. That will be posted at the end of the page.  LOL.
Let's start with this Super Easy 3-Ingredient Recipe
Is this a craft or no-bake decorating project?  Go with the no-bake decorating project. You will need a pretty heart shaped box with 1-1/2″ sides and lid.  Our  6″ box had a pretty pink ribbon that came with the box for easy packaging.  If by chance this box is not available, go to Nashville Wraps under boxes.   A 6″ box will hold 6 mini brownies. Just enough for impact and candies.
Ingredients to make this Box of Chocolates
Purchased Mini Brownie Bites- Sam's or grocery store/or make em.
Canned Frosting, chocolate and vanilla or your choice.
Assorted Valentine Candies- M & M's, Red Hots, Foil Wrapped Hearts, whatever you love
Tools you will need include: 
Mini cupcake liners to hold the chocolates, I used white but dark papers would look more authentic for chocolates.  Two piping bags with tip # 3, that is a small round tip for piping dots, swirls and string of pearls.  (Hey that rhymes.. ha ha.) Say that three times in a row.
Whether you want to pipe frosting in swirls or string of pearls to make hearts ( video will show you how to make those) piping bags can also be a small plastic zip lock bag that you can clip one tiny opening on the end of the bag.
Tip:  Using M & M's or small red hots to fill in around the candies (brownies) will keep the brownies in place as well as fill the box with colorful fullness. Just keep em small as not to distract from the decorated brownies.
Next you will want to watch my video on How to Make these Chocolates.
This is a fun video featuring my friend, Connie Clyburn as we decorate these "chocolates" from my kitchen.  We had more fun doing this video. We made a blooper video too. That will be at the end of this post. LOL.
How to Make A Valentine Box of  Chocolates 
Hey if you like the video, consider subscribing to my You Tube Channel and if you are not a subscriber to this website I would love for you to join us here. Thank you in advance. xo 
Here's the DIY Recipe 
Print
Valentine's Day|Box of Chocolates
Purchased brownies are decorated with chocolate ganache and decorated with assorted Valentine candies.  The brownies are placed in small white baking cups in a heart shaped box lined with Valentine M & M's.  Perfect for gift giving.
Author: Liz Bushong
Prep Time:

25 minutes

Total Time:

25 minutes

Yield:

24

-

36

brownies

1

x
Category:

Dessert

Method:

Decorate

Cuisine:

American- Valentines Day
24– 36 purchased mini brownies
1 can dark chocolate frosting
1 can vanilla frosting
Assorted Valentine Candies- M & M's, chocolate jimmies, red hots, foil covered hearts, sprinkles .( use small candies like M & M's to fill in the spaces between brownie/chocolates in the box).
24–36 Mini cupcake liners
3–6 Heart shaped boxes ( my box is 6″ which equals 6 brownies)
Disposable piping bag
Tip # 3
parchment paper or decorating Valentine wrapping paper to line box
Wired edged ribbon to coordinate with heart box
Instructions
Spoon 1/4 cup chocolate frosting in glass microwaveable bowl and place in microwave 15 seconds until melted.
Stir until smooth, set aside.
Arrange candies in separate bowls for easy decorating.
Fill piping bag with tip #3 with vanilla frosting, set aside.
Arrange brownies on baking sheet for decorating.
Dip brownie top into melted chocolate glaze. Let drip upside down to remove excess frosting.  Dip again if necessary to coat top of brownie evenly.
Place frosted brownie on baking sheet, decorate with assorted candies as desired.
Allow brownies to set for 20 minutes before placing in paper cup liners.
Line heart shaped box with pretty wrapping paper or parchment, place brownie chocolates into box.  Fill in extra spaces with valentine M & M's.
Place lid on box or cover with plastic wrap or cellophane and tie with ribbon.
Notes
Be careful not to boil frosting in microwave.
Think about the sides of your box to determine the height or thickness of valentine candy. You will want to use candies that will allow you to cover the box once packaged.
These are perishable.  Best to serve the day you make them.
Have a great time!  Sending you Warm Wishes for a wonderful Valentine's Day!  Xo 
Here's the link to the blooper video. What's funny, we didn't know we were taping at the time.  This was one of the first live taping videos we did using my phone. LOL.  It wasn't until I began editing that I realized we had these fun takes.  Enjoy.
Other Ideas you might like to try!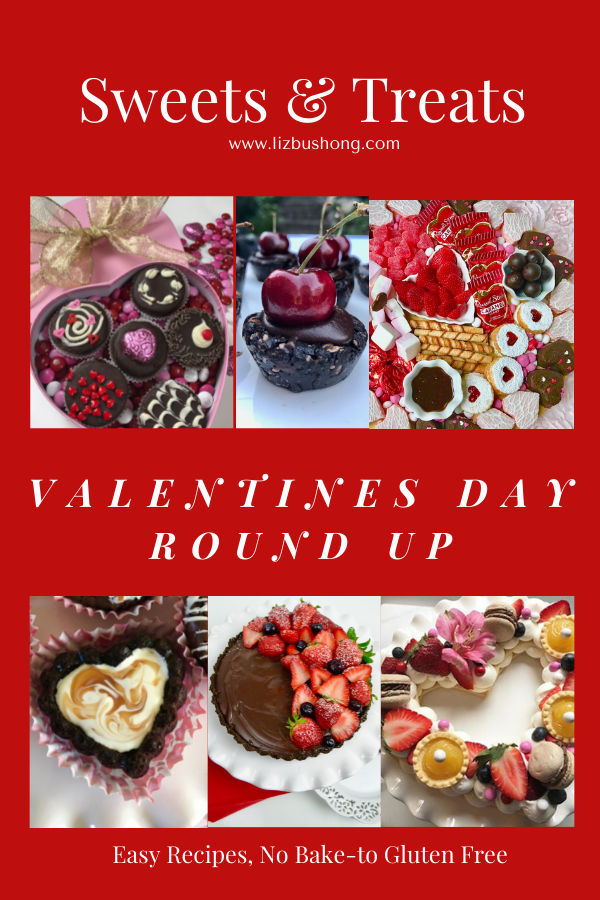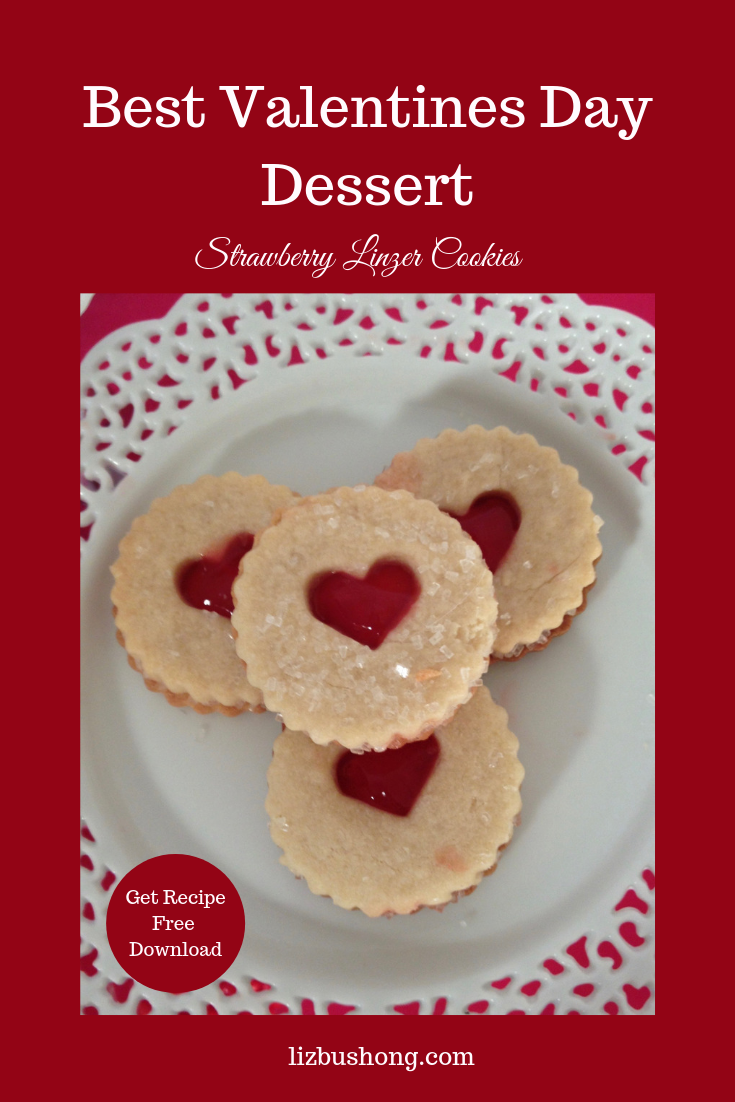 This Cherry Pie pastry note is sooo good!