Just a few weeks away until the sweetest holidays…Valentines Day.  To help inspire you for making your holiday sweet here is a round up of sweets & treats I know you will enjoy.  These recipes are not hard to make or create, in fact if you made a New Years resolution to eat better I have the perfect healthy treat for you.

Let's start with Super Easy Recipes first
Super simple treat for all.. Box of Chocolates!   All you need are purchased brownie bites… I got mine from Sam's, but any mini brownie will work.  You can make your brownies too using a mini brownie pan  with a brownie mix.
You will need chocolate frosting, chocolate and vanilla, assorted Valentine candies from foil covered hearts to M & M's and anything you love.  Plus a heart shaped box.  Click on the link to see how we made these brownies.  There is a fun video featuring my friend, Connie Clyburn as we decorate these "chocolates" from my kitchen.  We had more fun doing this video.  I should do another one.   Between you and me… videos take a lot of time and great lighting.  My kitchen  does not get a lot of light so in comes the artificial. Still working on getting this right.  Anyway… tap on the photo to take you to the fun how to make easy recipe.  Grab your kids  and have some together time making sweet memories.
Hey if you like the video, consider subscribing to my You Tube Channel and if you are not a subscriber to this website I would love for you to join us here. Thank you in advance. xo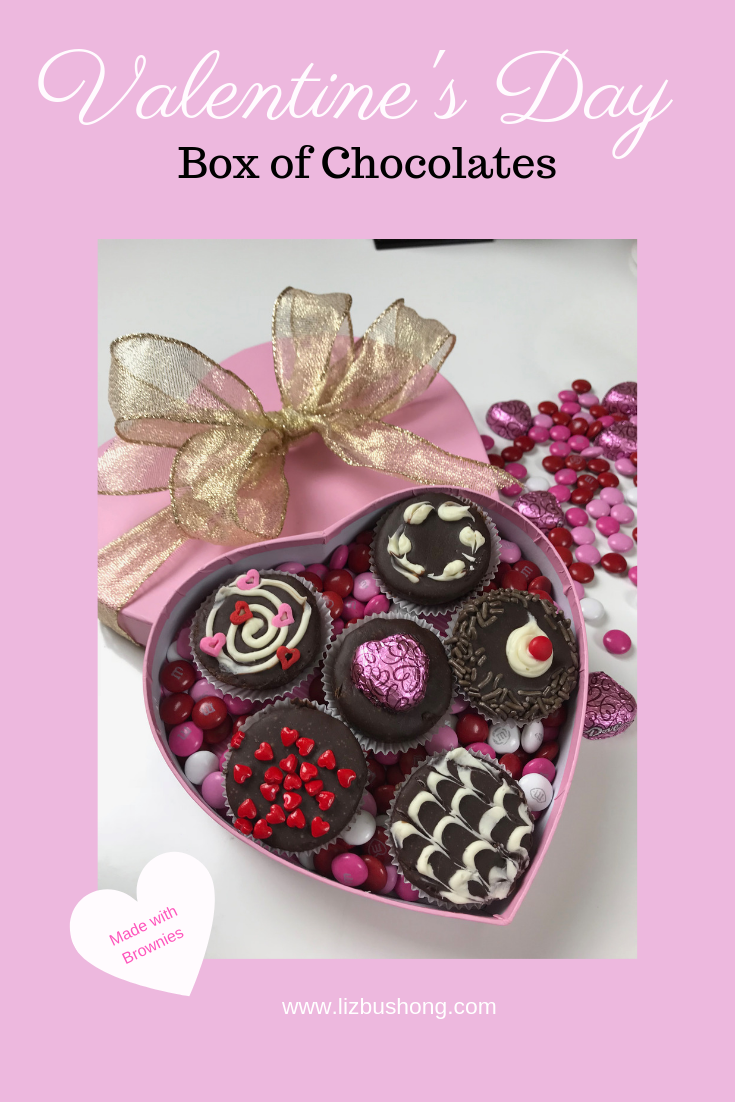 Fun to make!  Use purchased brownies, frosting and Valentine Candies.  Looks can be deceiving.  This is not as hard as you might think to make.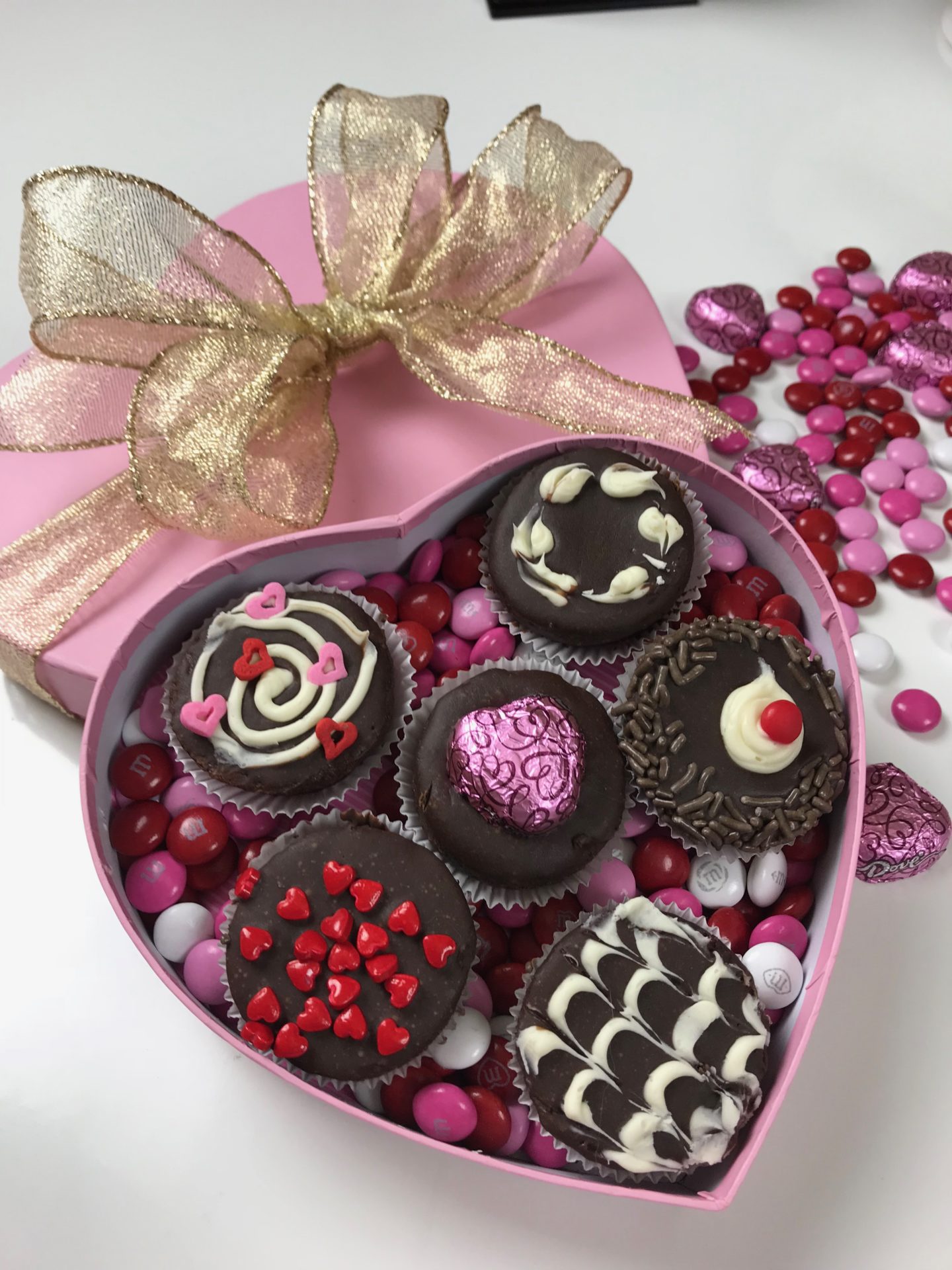 Purchased cakes and candies, berries and even marshmallows for chocolate dipping sauce makes this board easy and sweet. No savories on this platter but you certainly could add a few salty things, like yogurt covered mini pretzels or salted nuts.  The only home made treat on this board is the heart linzer cookies.  Get a big board here.   These boards are wonderful to have on hand for easy entertaining.  ( Here's another board you might like to try) 
Close up of treats on board.  Linzer cookies are filled with strawberry jam. Get recipe here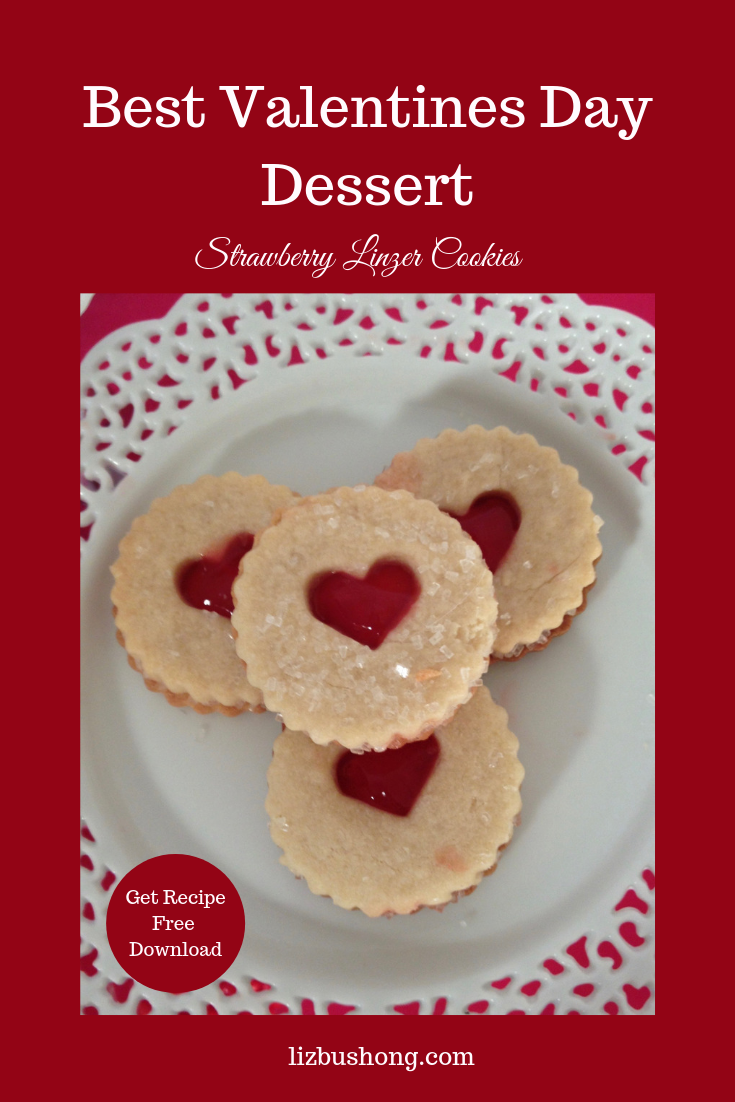 Check out this Caramel Coconut Oreo Brownies.  They have Oreo's baked inside the brownie. Easy to make and delicious!  Fun to decorate too. If you don't like Oreo's, sub with your favorite sandwich cookie… or even mini candy bar bites.  Mini Snickers would be awesome inside these brownies.  I must like brownies..  ha ha.  These are brownies from a box mix.  Tip:  Keep a batch of baked brownies..undecorated in your freezer for quick desserts or for snacking.  Frost with canned frosting or make your own. Serve with ice cream for a great dessert.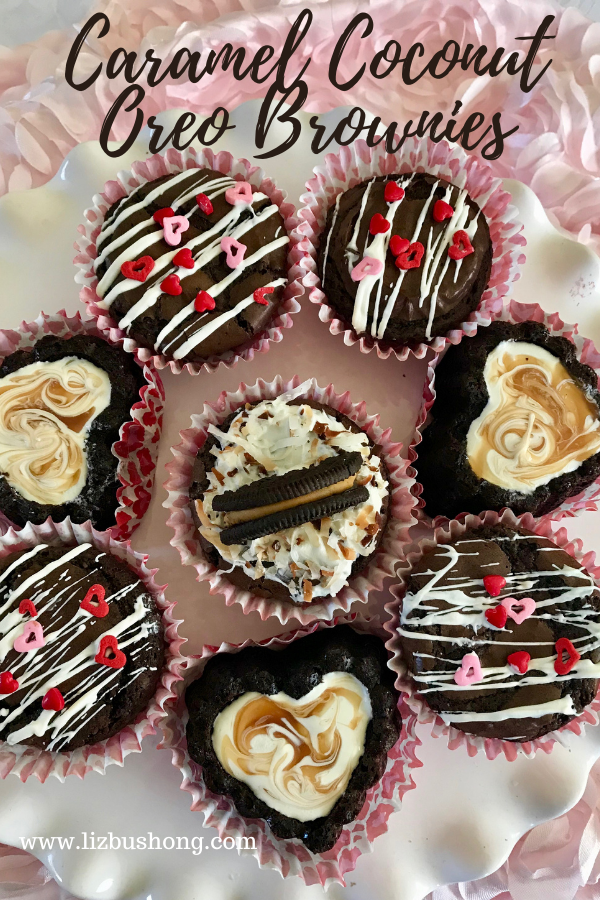 Or try this lovely heart shaped French Style Tart. Two butter cookie crusts cut in shape of heart are layered with whipped cream and decorated with fresh berries, mini lemon curd tarts, chocolate macrons and small candies.  Easy to make and looks tastes as good as it looks.  You can make one too.  Complete instructions here.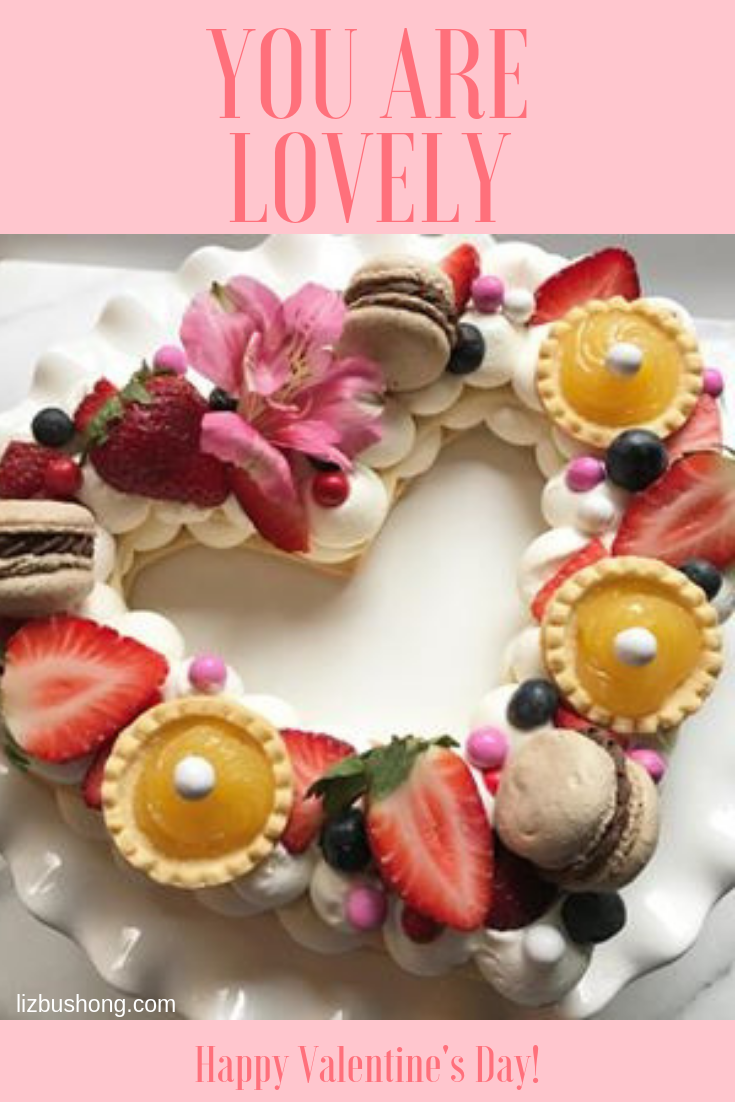 Need a light and refreshing dessert for two?  Try this Strawberry Mock Romanoff parfait. 
As a garnish, tuxedo strawberries DIY is included with the recipe.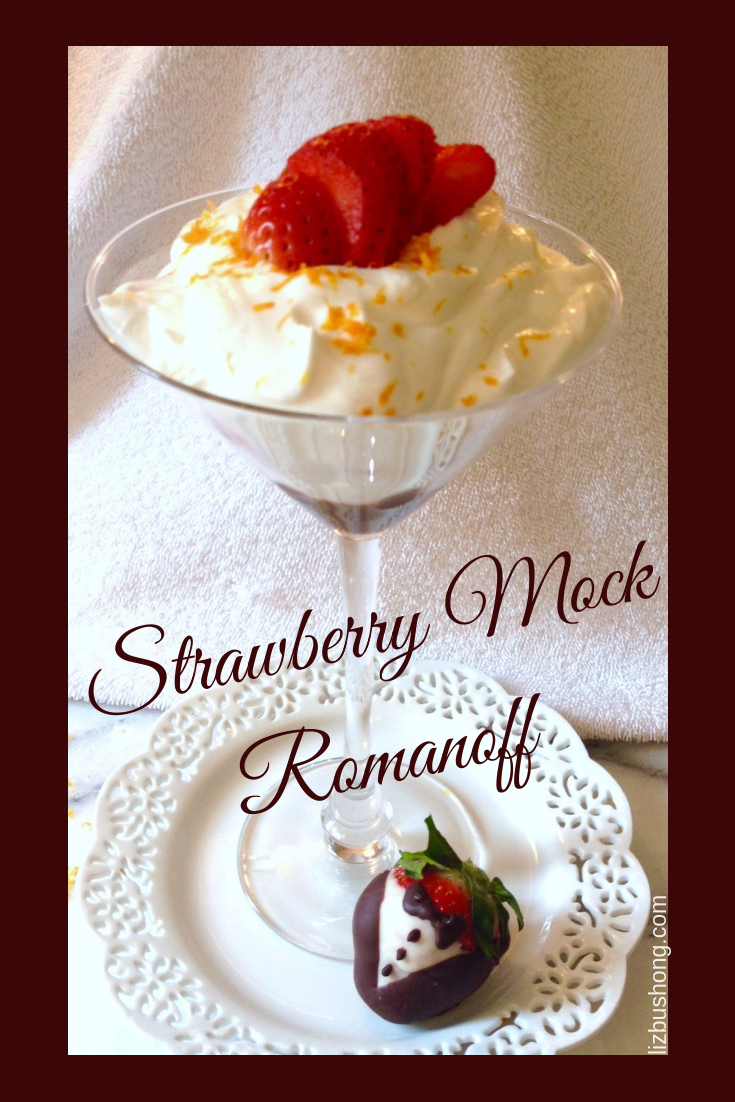 Need to go healthier?
Then check out this gluten free Cherry Brownie Tart recipe that's No Bake!  Instead of filling a heart shaped box with mini brownies that look like chocolates you could fill the box with these cherry tarts, just add mini liners and cut the stems on the cherries so they will fit with the lid on the box.  Hum.. might have to revisit this recipe to create something fun with presentation.  If you can' t find cherries use strawberries or raspberries.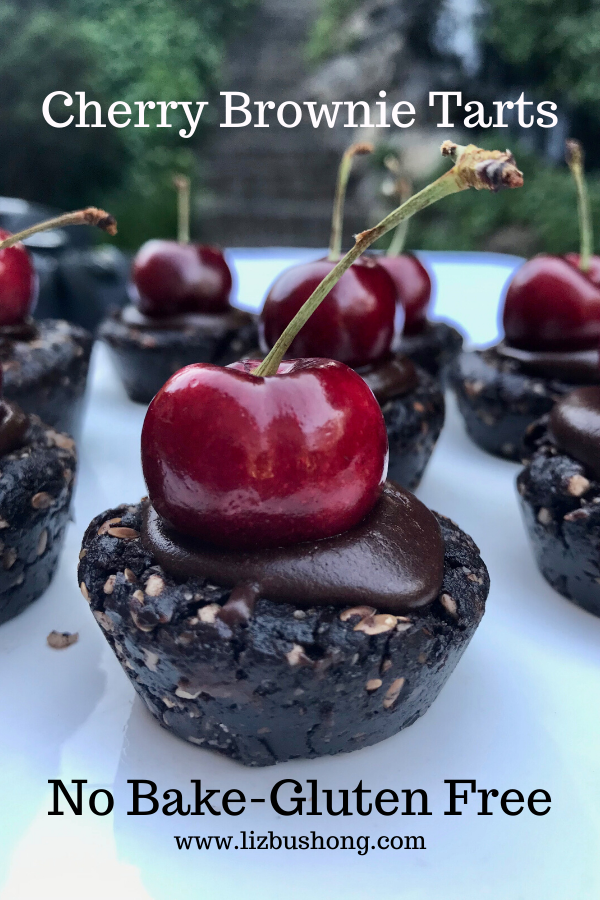 And this recipe is EASY TO MAKE and NO BAKE.  Strawberry Ganache Tart is rich and has a cookie crust.  Get recipe here. Just garnish with fresh fruit when ready to serve. You could make 4-6 smaller tarts using this same recipe and fruit garnish if hosting a special dinner party.  Tip:  Use 6″ spring form tart pans for best results while baking. After the bake, chill until cool, then remove the tart from the pan by pushing up the bottom of the tart.  Easy and pretty impressive if served at each place setting.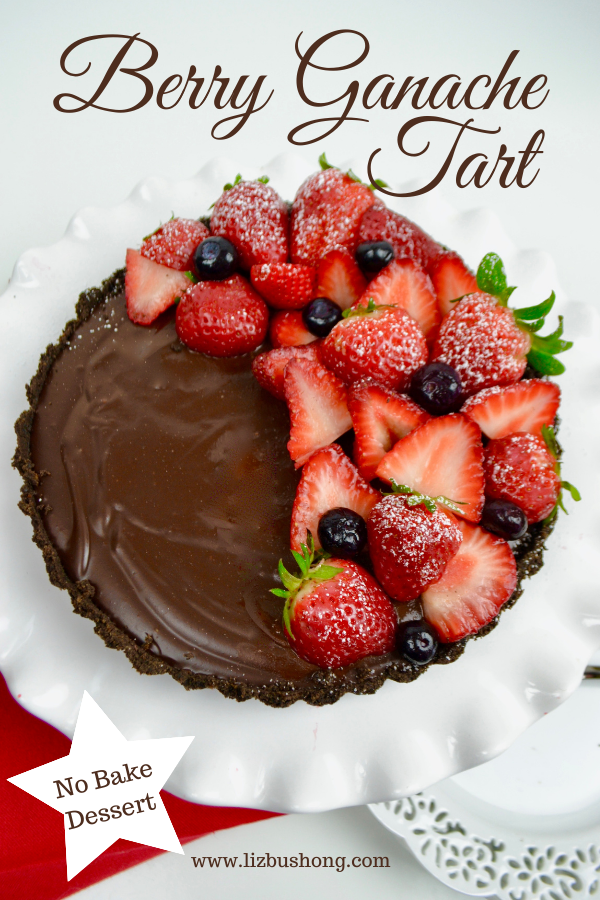 Sending you lots of Love this Valentines Day!
Hey if you like the video, consider subscribing to my You Tube Channel and if you are not a subscriber to this website I would love for you to join us here. Thank you in advance. xo 
Update:  On my printable recipes there is an update with US measurements and Metric for my European friends. This is a new option and while all my recipes do not have this feature, I will be working on fixing that option.  Enjoy!  Let me know if you made any of these Sweets & Treats.
Other Ideas You Might Like to Try:
Tap on photos for links.
Black, red and white Valentine Table Scape- Mini Black Forest Cakes