Print
Mini Hot Browns Recipe|Appetizer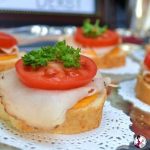 Ingredients
12 -1/4″ sliced french bread, both sides toasted

4 tablespoons melted butter or olive oil

6-thin slices cheddar cheese, cut in quarters

1 cup finely grated Parmesan cheese

6 slices bacon, cooked and crumbled

1/2 pound deli smoked turkey, thin sliced, cut into bite sized pieces to fit bread round

4 Roma tomatoes,sliced into 4 thin slices

2 tablespoons smoked paprika, salt and pepper

¼ cup chopped parsley as garnish

Instructions
Preheat oven to 400.
Brush both sides of bread with butter or olive oil, place on baking sheet.
Bake 4-6 minutes or until lightly browned.
Cut cheddar cheese into 4 squares or triangles
Place cheese slice and bacon bits on toast.
Layer 2 turkey pieces and one cut tomato slice on top of cheese and bacon.
Sprinkle with paprika, salt and pepper.
Garnish with chopped parsley and finely grated Parmesan cheese.
Serve immediately.
Notes
Serve these appetizers for Kentucky Derby Parties/receptions.