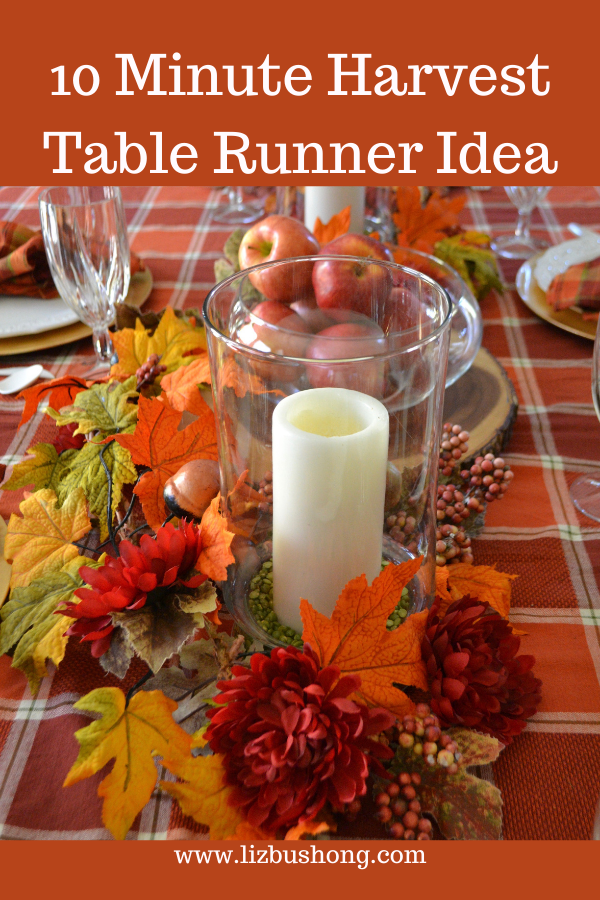 Create a beautiful harvest table runner in 10 minutes or less with these fresh and woodsy items. Easy to put together with simple items you probably have at home. This table runner features fresh gala apples, fall leaf garland, a log slice charger, and faux mums. No pumpkins here, but they could be added.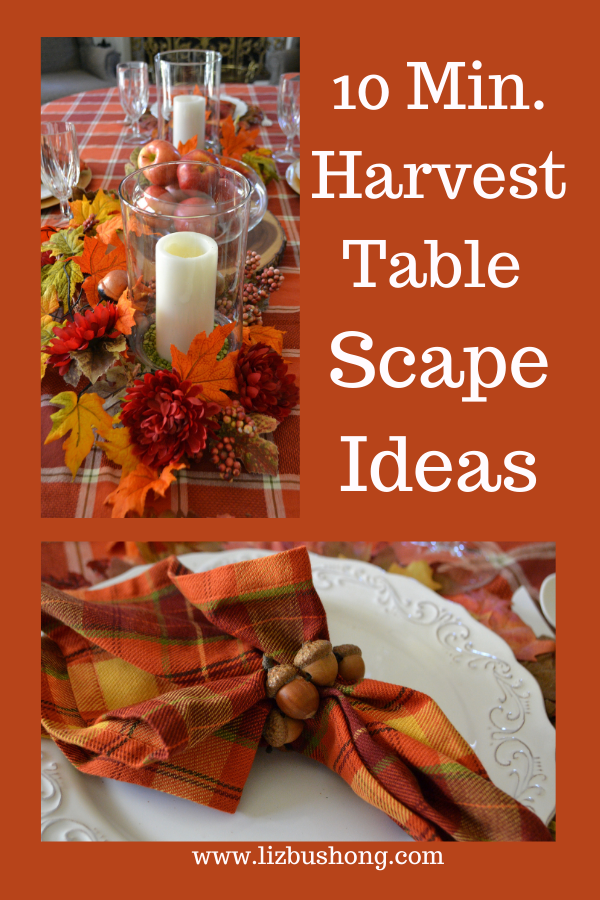 Materials Needed or Table Runner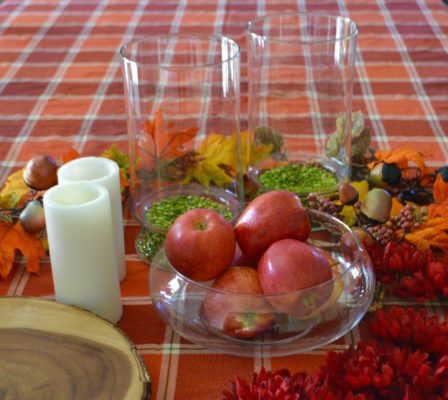 Two glass urns or large candle holders, green split peas to line base of urns, fresh gala or red delicious apples, glass bowl to hold apples, two white pillar candles, a leaf garland, faux burgundy mums, and wooden log charger or tray.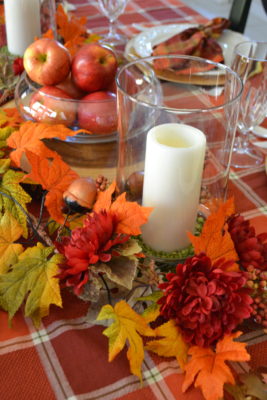 Or you can add assorted pumpkins and fresh grapes with pine cones.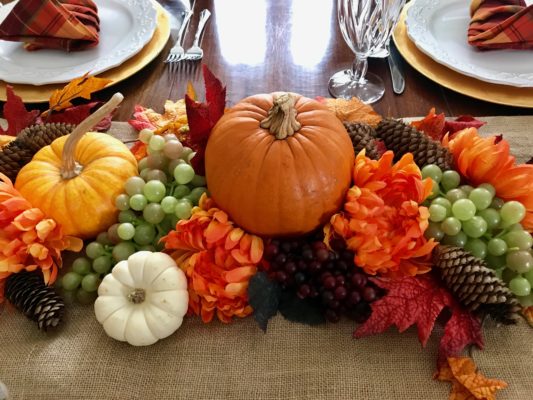 Using clear glass for candle urns and apple centerpiece will enable your guests to see each other on the opposite side of the table.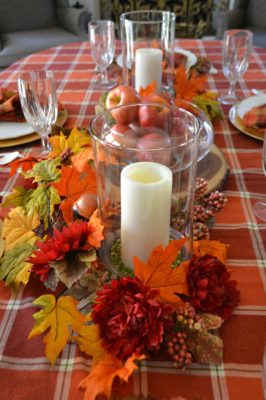 Position long leaf garland down the center of the table. Wrapping ends around the two glass candle urns.
Fill the glass urns with green split peas to add color and stability to candles.
Place the wooden charger in the center of the table. Place glass bowl with apples on top of wooden charger.
Last add faux burgundy mum heads throughout runner.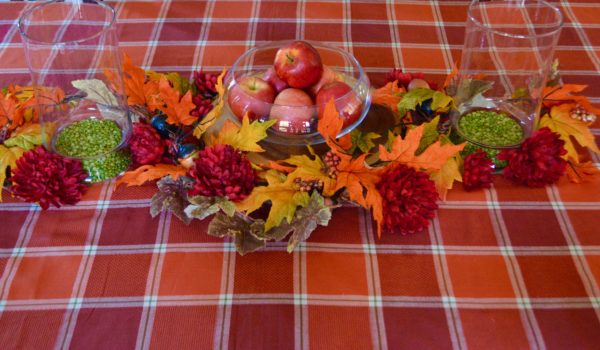 Add candles to glass urns to complete table runner. Takes 10 minutes or less to create.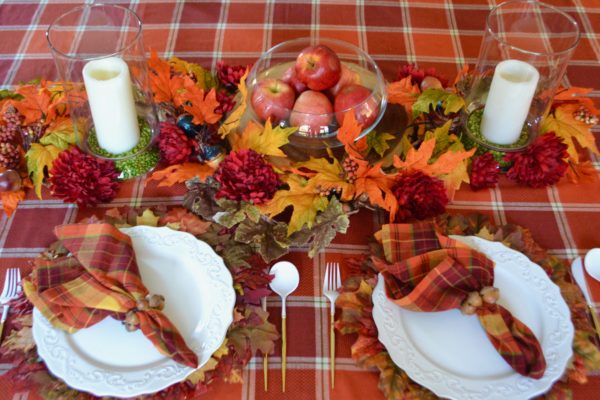 Other items you can make for your table scape: leaf covered chargers and acorn napkin rings.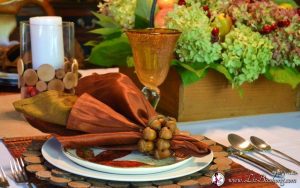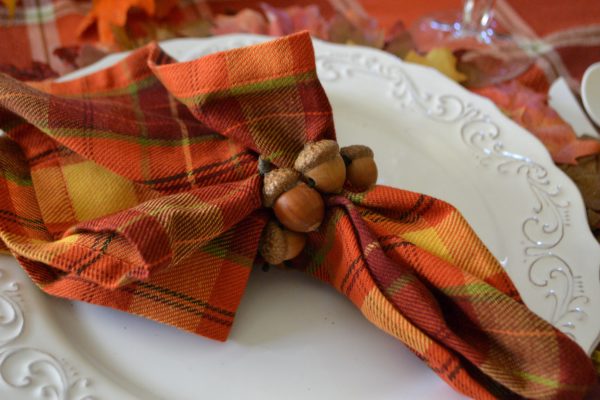 To Make the Acorn Napkin ring: Drill small hole through middle section of tiny acorn then run elastic thin cording in the small opening to connect, form a circle and tie off with a small knot. Don't be surprised if the head of the acorn pops off, no worries, just hot glue back in place. I found my acorns in my yard but you can purchase online or go to craft store.
Tip: After drilling holes, place acorns in oven at 275 for 10 minutes to help kill any mold or tiny bugs that might be inside the acorn. Cool completely before stringing together.
No table cloth No problem-Use Burlap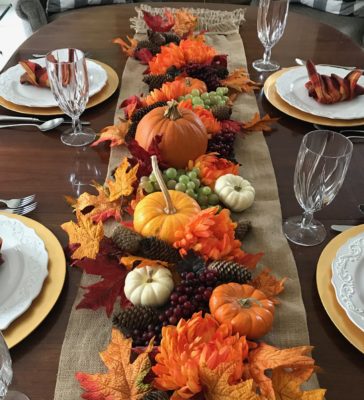 If you don't want to use a table cloth or apples, use a burlap runner, add pumpkins, grapes, leaves and faux orange mums with no candles. Many options in making a pretty table runner.
Add special elements to the table
Decorate each place setting with a pretty napkin fold. Click on photo to see how to fold the turkey napkin.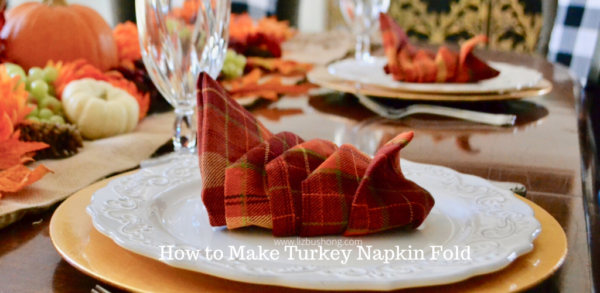 Create pretty chargers by hot gluing faux leaves around the rim of gold chargers.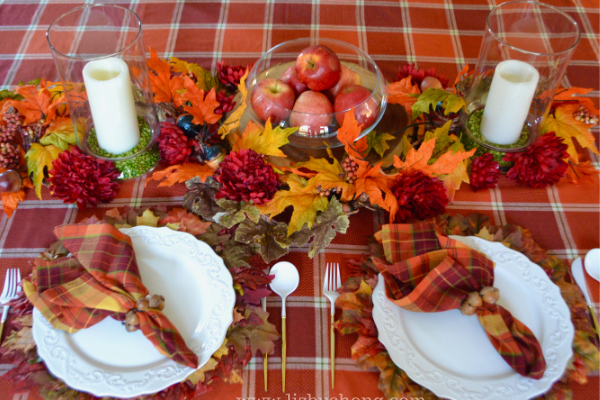 Easy to make table runner for Thanksgiving or fall entertaining at home. Hope you will make your's special. xo Liz
Other Ideas you might like to try: