The new trend is creating Big Board Charcuteries for entertaining family and friends. Make snacking before the big Thanksgiving Dinner a breeze with this one big board of treats. Whether you purchase cookies or make home made, slice apples for caramel dip, or drizzle white chocolate over mini pretzels, this board has something for all.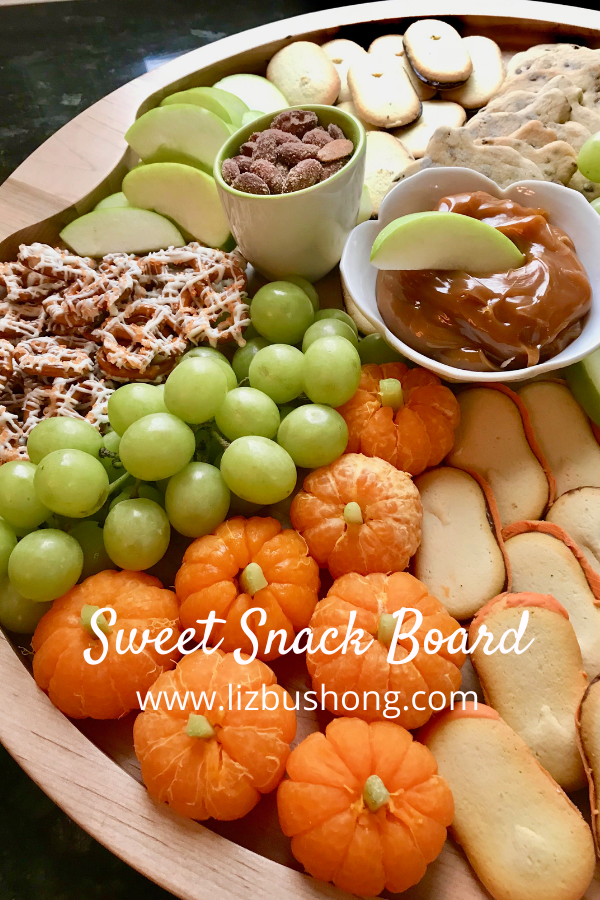 What is a Big Board Charcuterie?
So glad you asked. Basically it is serving food on a food safe board usually made from maple hardwood. But the food you serve is a board sensation, meaning the bites can be healthy, wholesome, meat and cheese filled items to desserts..my favorite. Really, any themed food event can be created on a large board. This board is 20″ and acts like a Lazy Susan even though there are no visible bearings under the board. It has great handles and sides to help carry and keep the food from sliding off the board.
Inspired by the creator of the Big Boards, Sandy Coughlin of Reluctant Entertainer, I purchased the board here. Sandy also has a new book out called Big Boards for Families. Would be great for Christmas gifts.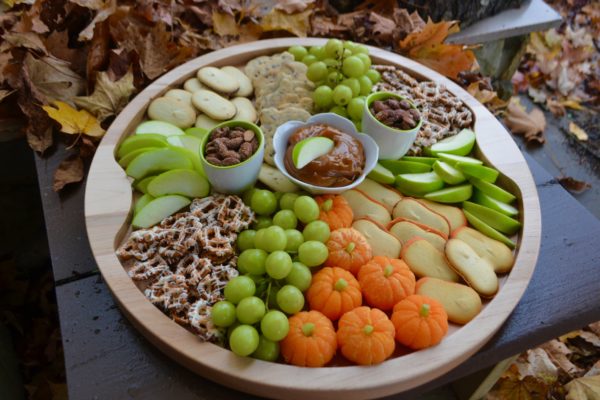 How to Create this Fall Snack Board
Grab your board, this one is 20″ and food safe. If you don't have this type of board, you can make your own here.
Gather your food/treats. For this board you will need the following items:
Seedless grapes
Mini cutie oranges, peeled and celery stick stem
Pepperidge Farm, Milo Pumpkin Spice cookies and Chocolate Orange
2-Granny Smith Apples + lemon juice- dip apples in juice to prevent discolor
Mini Pretzels-tested Rold Gold
Ghirardelli White Chocolate Melts
Assorted Flavored Almonds- Apple Pie Maple and Honey Roasted
Caramel Dip- Purchased
Mini Pumpkin Shaped Sugar Cookies (Chocolate Chip) Cookies- no frosting
Arranging on the Board
Start with the apple dip in a small bowl placed in the center. Next add two decorative cups filled with almonds or nuts of choice. Now for the fun part… think of your board as a pie and divide into sections on a piece of paper or in your mind.
Arrange sliced apples in one of the wedges and repeat on the opposite side of the board in same pie section.
Do the same for each food item. This will create harmony and balance to your board. In my board, because I didn't have enough mini cuties (pumpkins) I used pumpkin shaped cookies for the opposite treat.
How to Make the Cutie Pumpkins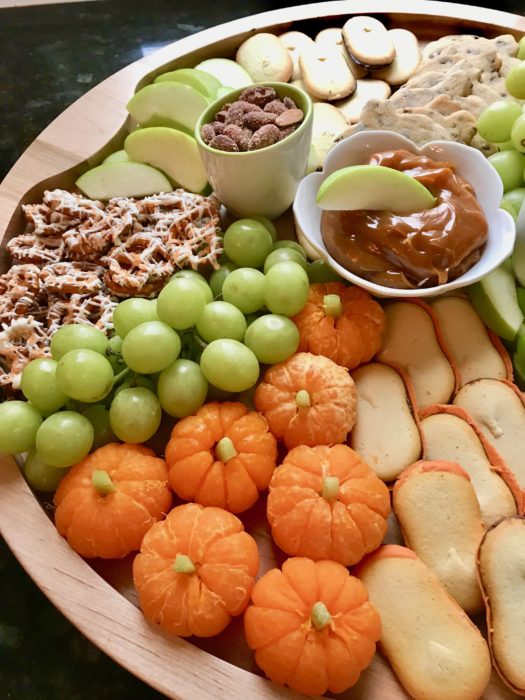 First they are very easy to peel, but to remove the pith, rinse the peeled orange in water and with paring knife scrape the sides of the orange, the pith will slide right off. Looks like I didn't get all the pith off some in my photo. But this method works well. For the stem cut celery in small pieces to fit in center of orange.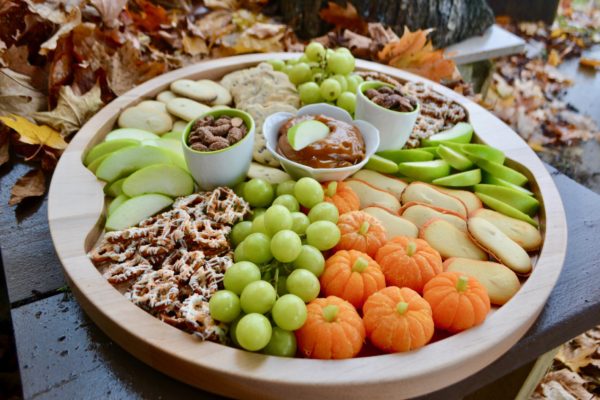 Drizzling White Chocolate over Pretzels
Whether you like white chocolate or dark chocolate you can decide, maybe do both for dipping pretzels. Just a thought… you could dip dried apricots in half chocolate and arrange those opposite the orange cutie pumpkins. That would be very pretty.
To make the drizzle, line a baking sheet with wax paper or parchment. Arrange the mini pretzels on the baking sheet right side up and not overlapping each other. In a zip lock bag, add white chocolate melts.
Because you don't want to burn your chocolate, fill a glass bowl with water and microwave on high for 30 seconds. Place the sealed bag of melts in the water. Massage the bag until the melts ..melt. Clip a tiny opening on one end of the bag. With a sweeping motion, drizzle the pretzels lengthwise from one end of the tray to the opposite end, with out stopping the pressure flow. Repeat method going across the width of the tray. Immediately sprinkle with sparkling sugar before chocolate hardens. When dry, place on board.
Tip: Make these right before you plan to serve otherwise the pretzels will get soft if stored too long in air tight container. I usually leave them in a bowl on the counter.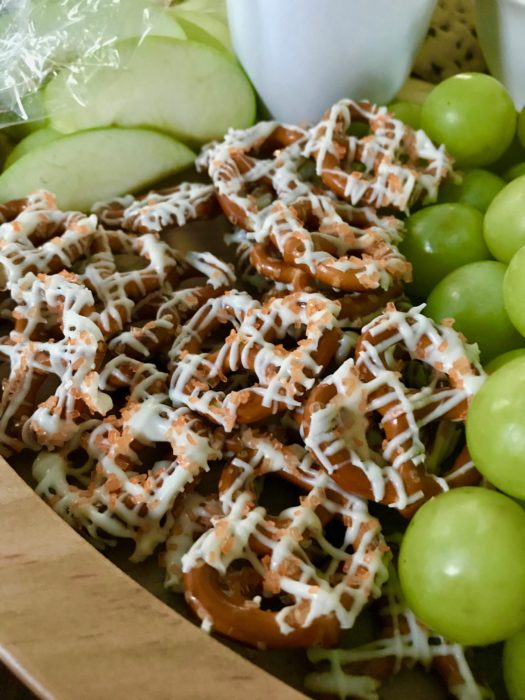 In conclusion, serve this sweet board in the center of the kitchen table or where family gathers, this will be a great conversation piece and handy for all the nibblers stalking the kitchen before the big Thanksgiving Dinner.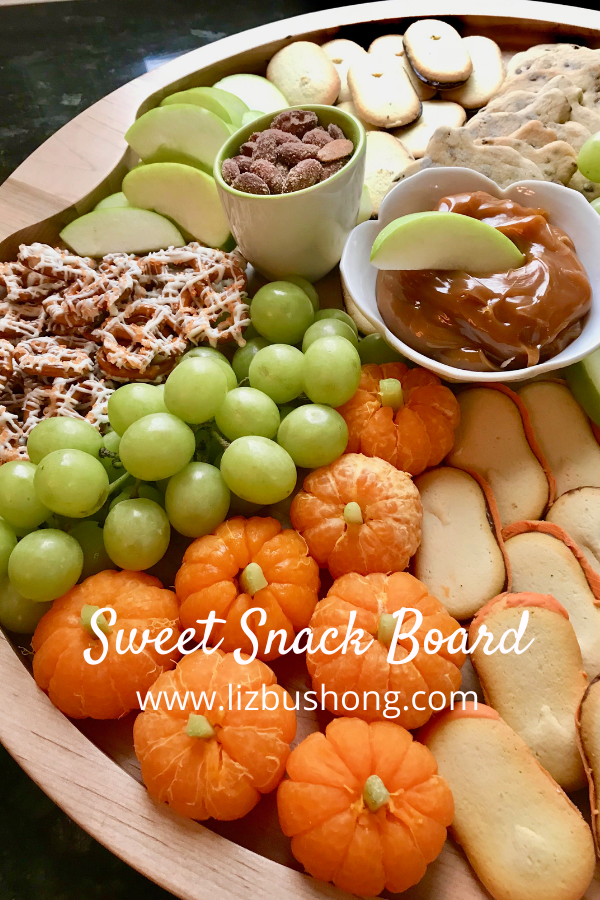 Hope you will get a board and create some fun foods. Let me know if you make this recipe or share pictures of the board you create.
Helping you Make a statement, Make it Sassy and Make it Your's! ®
Other Ideas You Might Like to Try: