It is Football Fever… Tailgating Time! 
Score Big with these fun recipes and Ideas. It's football fever and tailgating fun! At the first sign of fall, when the trees are beginning to dress in brilliantly colored leaves, tailgaters are getting their gear packed and ready for the first collegiate game of the season. Score Big with these fun recipes and Ideas.
Because Football is fun and tailgating is funner these recipes and ideas will ensure a great victory for any team.  Whether a Tennessee fan or part of the big 10, these recipes can be easily adapted to your favorite team.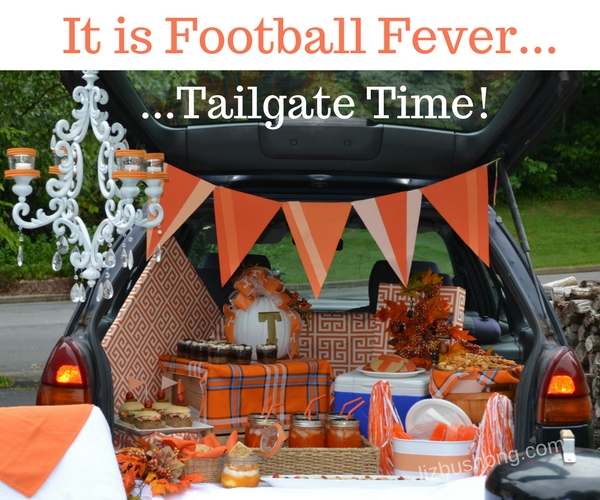 For those who don't sport the "tailgating experience," tailgating is not following someone too close on the road, but rather a social eating and sporting event for fans of all ages. Most fans will dress the part wearing their favorite caps, jerseys, themed T-shirts and even body paint in the team colors, not to mention decking out the tailgate of their trucks and cars, with appetizers and beverages. Some tailgaters will set up tents with elaborate team – themed décor with festive foods, grills, generators, and flat screen TV's to watch the big game.
Two important points to remember for Football Fever-Tailgating Time…
Winning the game & Serving the best food
Whether you are planning to tailgate in the parking lot of a stadium or hosting a party at home, you will score big with your family and friends at this years tailgating extravaganza.Tackle the task of cooking for the big game with this easy to create and take, tailgate menu. You won't be fumbling around the kitchen with these make ahead dishes.
Easy Foot ball Fever Tailgate Menu- Recipes Below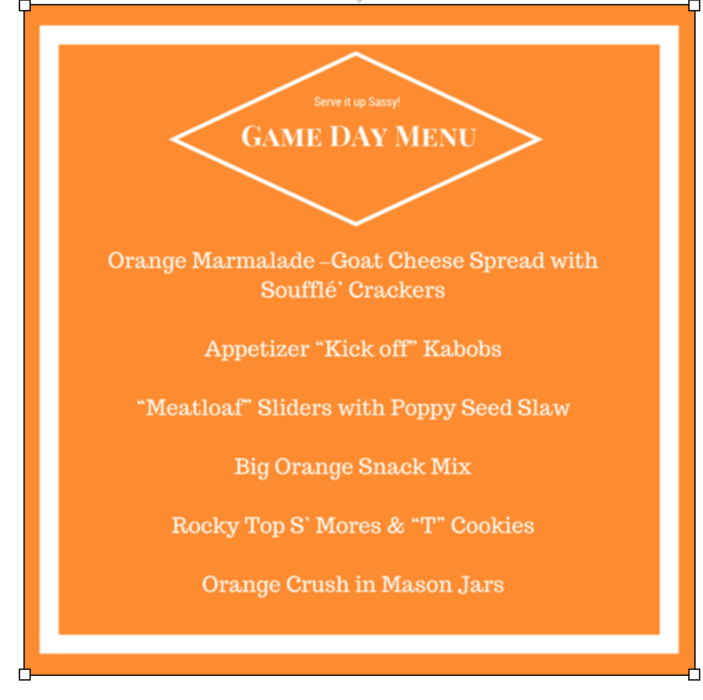 For the Kick -Off -Serve Grilled Meatloaf Sliders
A thick slice of grilled meatloaf dressed with triple pepper ketchup and poppy seed slaw sandwiched between the best rolls in the south, Sister Schubert Dinner Rolls.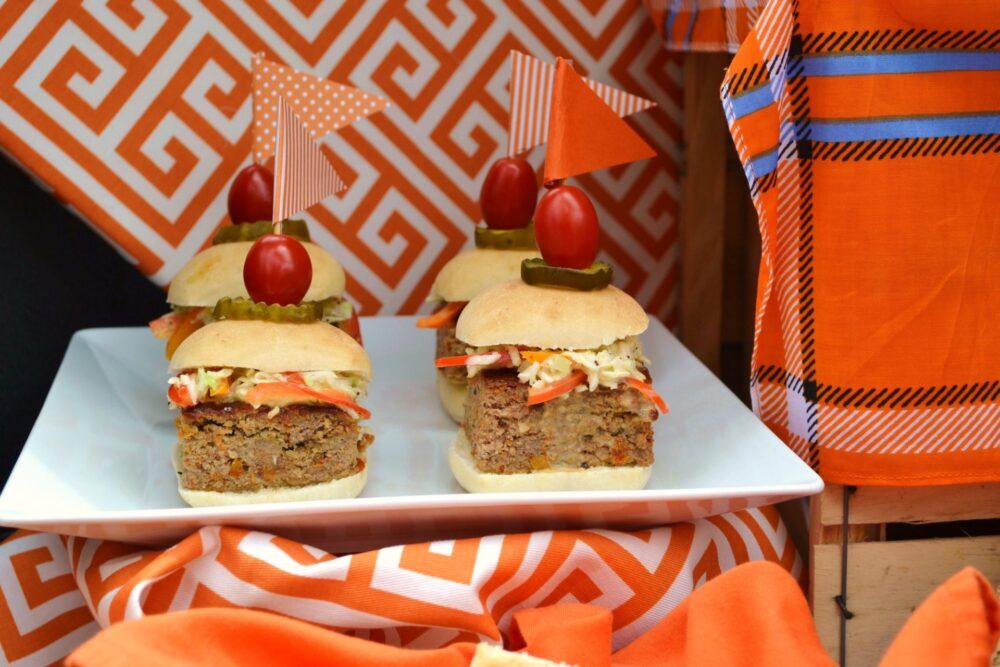 Kick-off Kabobs
As a side dish that's teaming with colorful veggies and cooked tortellini are the kick-off Kabobs. Easy to make the night before the event. Serve cold.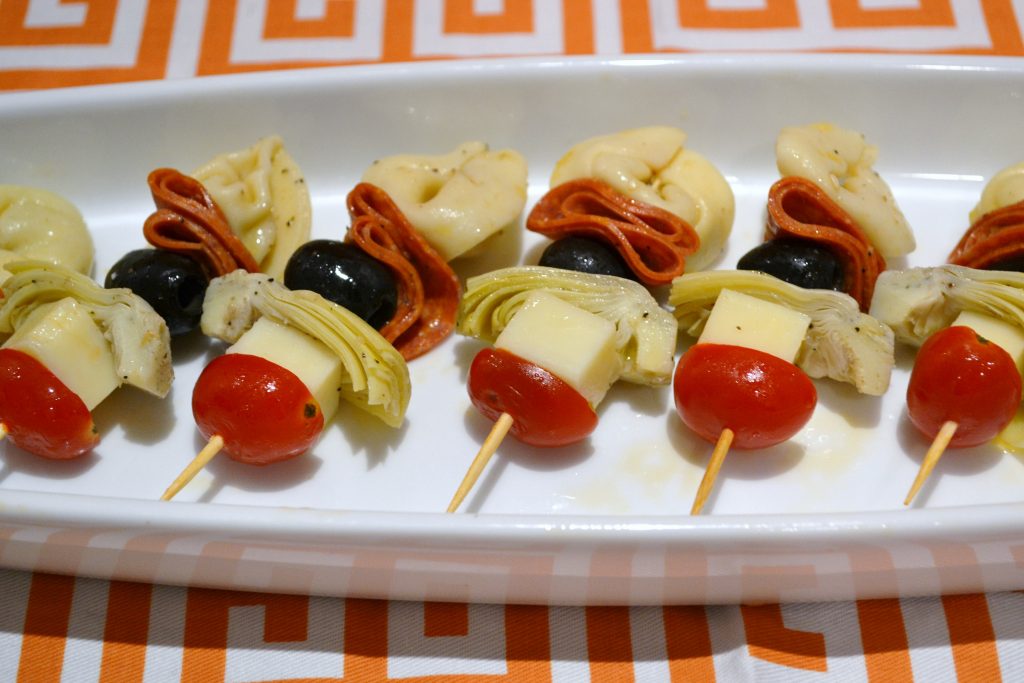 Save Room For Dessert Rocky Top S'Mores
And for the winning touchdown, re-heat the Rocky Top S' mores on the grill for dessert. This dessert is a brownie baked ahead in the half pint jar . As you bite into this dessert a caramel kiss  is found in  the middle.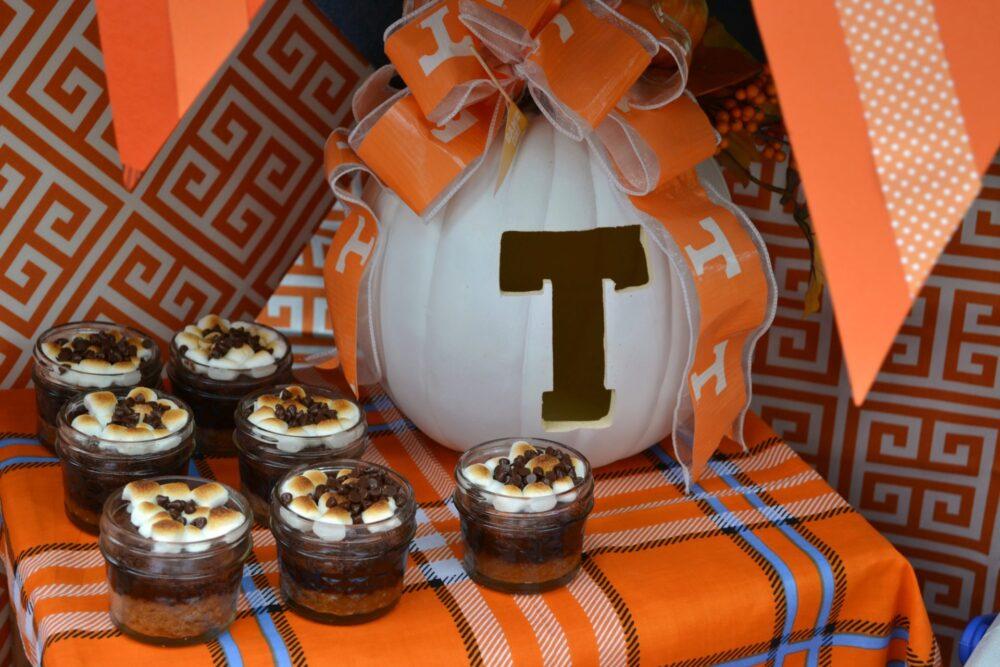 Toasted mini marshmallows are broiled at home after the brownies are baked.  For fun, skip the broiling of the mallows and let guests toast their own dessert with a small portable lighter or on the grill.  Sure to please everyone at the tailgate.  You can cover the brownies with the jar lid and place on the grill to warm up the morsels.
Set a Stunning Tailgate with These Ideas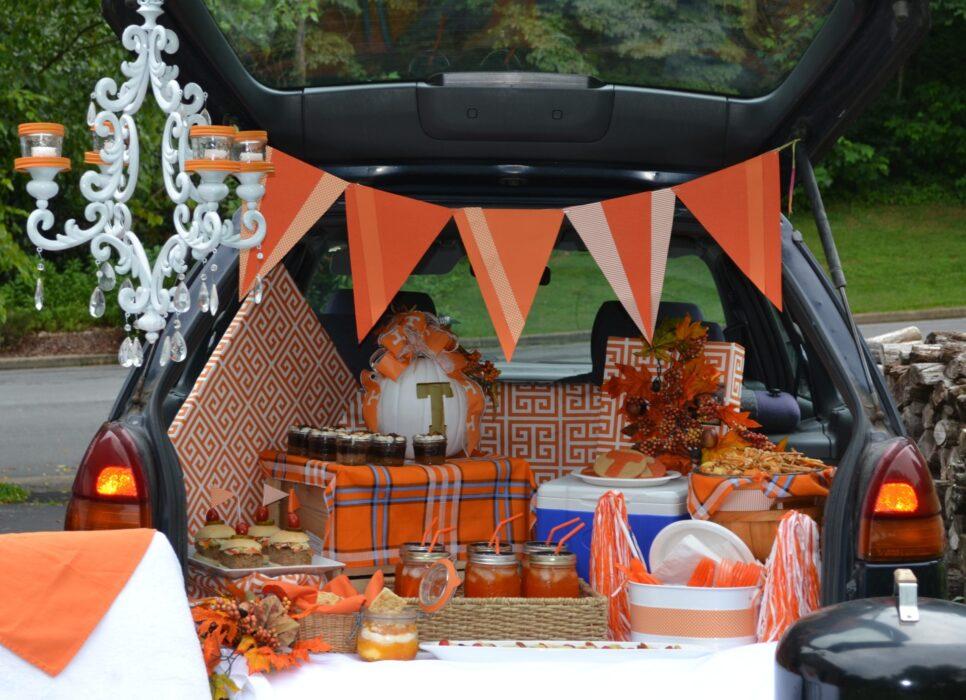 As guests arrive, they will cheer for your spirited tailgate decorations.  An outdoor candle chandelier hanging from the hatchback will come in handy for those evening games. The chandelier features the half pint canning jar as the candle votive holder. Painted lids and rims in team color are placed over the original arm of the chandelier so it can be reused for other outdoor entertaining needs.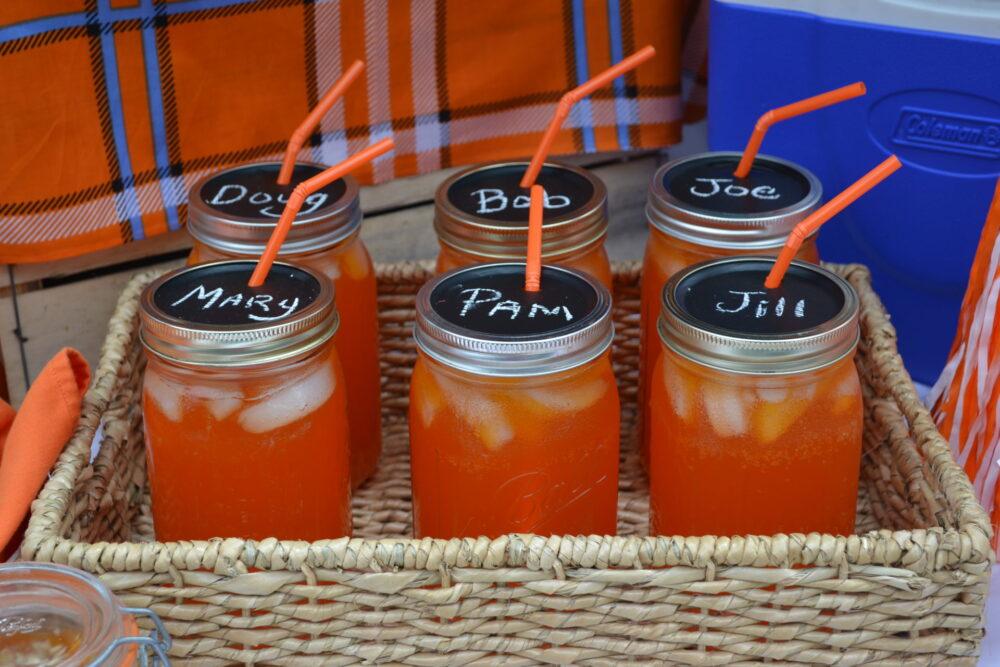 Other festive finds include quart mason jars with a chalkboard lid, etched with guest's name and a whole for a drinking straw. Like a glass charm, these blackboard lidded jars will keep each guest connected to their beverages as well as serve as a take home favor."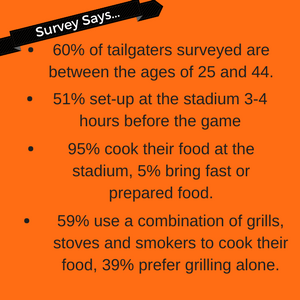 According to the American Tailgating Association
" the first original tailgating event occurred during the Civil War in 1861 at the Battle of Bull Run. At the battle's start, civilians from the Union side arrived with baskets of food and shouting, "Go Big Blue!" their efforts were a form of support and were to help encourage their side to win the commencing battle. The act of pre-game celebration would not be introduced to competitive sports until 1869, when the earliest signs of tailgating at a sporting event took place at the inaugural intercollegiate football game between Princeton and Rutgers."
As your guest huddle around the tailgate for one more bite of whatever is left, you know your tailgating party is about to end and the big game is about to begin. It is time to paint your face, clean up the place, grab your tickets, and head to the game. These ideas are winners and a shoo-in for MVP (Most Valuable Party Décor).
Here Ya Go!
---
Print
Orange Marmalade –Goat Cheese Spread with Soufflé' Crackers
Simple Spread to make ahead for game day. Be sure to serve souffle crackers with this creamy and sweet spread. Purchased Orange Marmalade, cream cheese, goat cheese, Italian cheese, mandarin oranges and almonds.
Author: Liz Bushong
Prep Time:

20 minutes

Cook Time:

none

Total Time:

20 minutes

Yield:

3 cups

spread with 48 crackers

1

x
Category:

Appetizer

Method:

Mix

Cuisine:

American
Orange Marmalade Spread
2 cups orange marmalade- divided
1 -ounce package cream cheese, softened
1 –4 ounce package goat cheese, softened
1/2 cup Italian mix grated cheese
1 cup mandarin oranges, drained
1/2 cup chopped almonds
Souffle' Crackers
48 saltine crackers
Ice water
1/2 cup melted butter
1/4 teaspoon cayenne pepper
White sesame seeds
Instructions
Spread:
In small bowl, mix cream cheese and goat cheese until smooth.  Add grated Italian mix cheese.
Place 1 cup orange marmalade in bottom of glass crock or container then layer the remaining ingredients in the following order; cream cheese/goat cheese mixture, mandarin oranges, cream  cheese mixture, top with remaining 1 cup orange marmalade and chopped almonds.
Serve with crackers of choice.
Souffle Cracker Instructions:
Preheat oven to 400 degrees.  Brush two baking sheets with melted butter.
Fill large pan with ice water. Add crackers and let float to absorb water, but not soggy.
Remove crackers carefully; allow excess water to drain off.
Transfer to baking sheets;   mix cayenne pepper with butter. Lightly brush crackers with butter mixture and sprinkle with sesame seeds.
Bake 15 minutes. Reduce oven to 300 degrees and continue baking until golden- 5 -10 minutes.
Store  in sealed container when cool.
Notes
Best to make the spread the day before as well as the crackers.
Store crackers in sealed zip lock bag or container to maintain the crunch.
Keep spread chilled
Keywords: Spread, Appetizer, crackers, cream cheese, orange, marmalade
---
Print
Meatloaf Sliders
Make ahead meatloaf cut into square to fit dinner rolls. Best to assemble the morning of the tailgate or entertaining event. Keep chilled until serving.
Author: Liz Bushong
Prep Time:

25 minutes

Cook Time:

90 minutes

Total Time:

2 hours

Yield:

24 sliders

Category:

Main Dish

Method:

Baking

Cuisine:

American
24 Sister Schubert Dinner Rolls- www.sisterschuberts.com
Meatloaf Sliders
1 pound ground sirloin
1 pound ground chuck
1 cup cubes country bread with crust
1 cup milk (for soaking bread)
2 medium carrots, peeled and cut into chunks
½ medium Vidalia onion, cut into chunks
2 medium celery stalks, cut into chunks
1 cup grated parmesan cheese
1 can diced basil, garlic tomatoes-drained
1 ½ teaspoons salt and pepper
1 teaspoon dried oregano or Italian seasoning
2 tablespoons olive oil
Glaze with Spicy Balsamic Pepper Ketchup*
*2 tablespoons olive oil
2 tablespoons balsamic vinegar
¼ cup minced onion
1 can rotel, drained and pureed
1 can diced tomato, with garlic and basil, drained and pureed
¼ teaspoon thyme
1 cup ketchup
½ teaspoon black pepper
Making glaze:
In food processor fitted with blade, puree tomatoes and Rotel.
In medium saucepan, combine all ingredients and simmer until thickened. Cover and chill. Can be made -ahead up to 2 weeks.
Instructions
Preheat oven to 375 degrees.
Line 9 x 13 pan with Reynolds oven bake parchment. Set aside.
In small bowl, pour milk over bread cubes. Soak bread until soft, squeeze bread to remove excess milk.
Place bread into large mixing bowl.
With a food processor and steel blade, process carrots, celery and onion until finely ground.
Add this mixture to the bread, add all remaining ingredients.
Using hands form loaf into a 2 inch thick oblong loaf.
Place in 9 x 13 inch pan.  Top with glaze.
Bake one hour and 15 minutes.  Let rest in pan 10 minutes before removing from pan and cutting into 2 inch squares.
To assemble: Heat Sister Schubert rolls as directed. Slice in half, place 2 x 2 inch slice of meatloaf on roll. Top with Poppy Seed Slaw if desired.  Garnish with pickle and cherry tomato pick.
Notes
Tailgating Tip: Bake rolls ahead and slice in half.  Wrap baked meatloaf squares in aluminum foil and store in refrigerator or cooler with a lot of ice.  Package slaw in separate container-refrigerate. At the tailgate, grill the meatloaf to reheat, and assemble sandwich as desired.
Keywords: meatloaf, sliders, cole slaw, tailgating menu
---
Print
T- Butterscotch/Peanut Butter Cookie Recipe
Author: Liz Bushong
Prep Time:

20 minutes

Cook Time:

5-8 minutes

Total Time:

45 minutes

Yield:

2

dozen large cookies

1

x
Category:

Dessert

Method:

Baking

Cuisine:

American
Cookie Dough
1 cup butterscotch or peanut butter morsels
1/2 cup granulated sugar
1/2 cup firmly packed brown sugar
1 cup butter, softened- no substitutes
2 tablespoons milk
1 tablespoon vanilla extract
1 egg
3 cups all purpose flour
Orange color paste or color of choice
Instructions
Melt chips in saucepan over low heat or microwave in glass bowl 20 seconds at a time.
In large mixing bowl, combine sugars, butter and melted chips, beat until smooth.
Add milk, vanilla and egg, blend well. Lightly spoon flour into measuring cup, level off.
Add flour to mixture.
Divide dough in half. To one half of dough, add orange color paste mix to blend. Wrap each half of dough in plastic wrap and refrigerate for 1 hour.
Heat oven to 375 F. On well floured surface roll out each half of dough into 1/8" thickness.
Cut out cookies with  large round cookie cutter from both the orange and butterscotch dough.
 With a T letter cookie cutter, cut out the center of each round cookie, replace with center of opposite color.
Place cookies on parchment lined double baking sheets.
Bake at 375 for 5-8 minutes or until set. Cool 1 minute before removing from baking sheet.
Notes
Refrigerate cut out cookies for 5 minutes before baking.  This will help set the center cutouts and firm up the dough for baking.
After baking, let cool 10 minutes before removing from baking sheets.
Store in air tight container.
Can be made a head and frozen until ready to serve.
Keywords: cookies, Butterscotch, Peanut Butter, tailgate, Desserts
---
Print
Big Orange Snack Mix
Mixture of sweet and savories crackers and candies makes this snack great to eat any time of the year.  Select your team colors for candies and crackers in this recipe.
Author: Liz Bushong
Prep Time:

20 minutes

Cook Time:

none

Total Time:

25 minutes

Yield:

15 cups

1

x
Category:

Appetizer- Snack

Method:

Toss and Package

Cuisine:

American
10 cups Cracker Jack- purchased or home made*
1 box Cheeze it Duoz crackers
5 cups pretzel sticks
2 cups chocolate covered pieces- in team colors
Instructions
Mix all ingredients together. Serve it up Sassy is team colored basket or individual paper bags.
Keywords: trail mix, tailgating, appetizer, snacks
---
Print
Rocky Top S'More Brownies
Graham Cracker crust and Brownies are baked in half pint jars, filled with unwrapped caramel kiss, topped with mini marshmallows and chocolate chips. Name your S'more brownies to your teams mascot/colors.
Author: Liz Bushong
Prep Time:

20 minutes

Cook Time:

25-30 minutes

Total Time:

45-60 minutes

Yield:

12

-

1/2

cup servings

1

x
Category:

Dessert

Method:

Baking

Cuisine:

American
For crust:
2 cups graham cracker crumbs
1/4 cup sugar
1/2 cup butter, melted
1 egg white
For batter:
2 packages your favorite brownie mix
2/3 cup vegetable oil
2 large eggs
6 tablespoons water
12 foil wrapped milk chocolate caramel pieces*
2 cups mini marshmallows
1 cup mini chocolate chips
1/2 cup chopped peanuts-optional
Instructions
Preheat oven to 350.
For crust: In small bowl, combine crumbs, sugar and egg white, stir with a fork,  add melted butter.  Press this mixture into the bottom of 10 half pint canning jars, or mini cheesecake pan. 

Set aside.
For Batter:
In medium bowl, combine brownie mix, oil, eggs, and water to combine well. Evenly divide batter between prepared crusts.
Bake for 25-30 minutes. Do not burn or over cook.
Press chocolate caramel piece into center of each brownie.
Add desired amount of mini marshmallows to top of brownie.
Preheat oven broiler. Broil 2-3 minutes or until lightly toasted.
Add mini chocolate chips and peanuts if desired.
Keywords: Rocky Top Brownies, Brownies, Chocolate, Dessert, Mason Jar Baking
This was featured in VIP Seen Magazine and Southern Living Digital Blog-Magazine.
Other Ideas You Might Like to Try: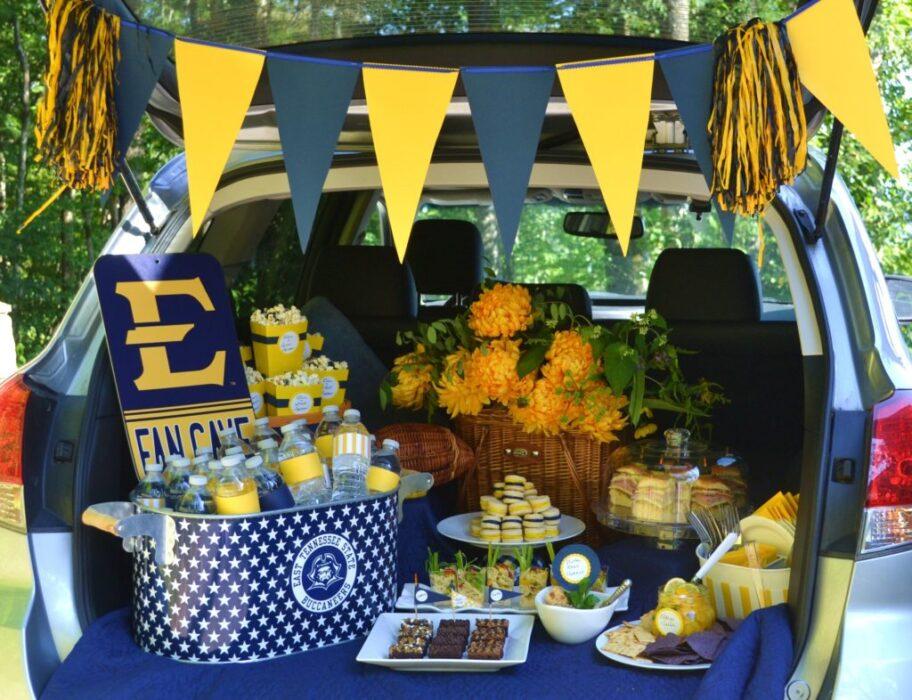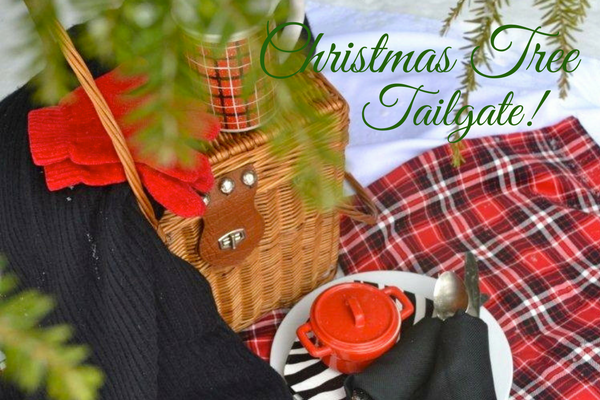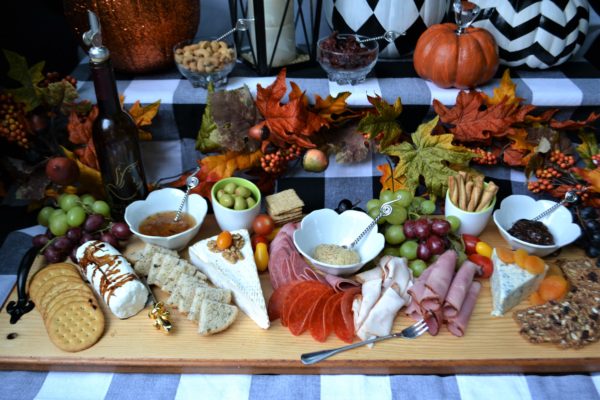 ---
Written By: Liz Bushong
Liz Bushong is an expert in the three-dimensional art of entertaining. She transforms simple dining occasions into beautiful and memorable moments by adding a touch of her own "sassy style". For the past several years Liz has been entrusted to decorate several high profile homes for the Holidays including the White House, Vice Presidential Personal Residence, Governors mansions and more. She is a featured monthly guest chef/designer on regional CBS/ABC Affiliates Daytime Tri-Cities, Daytime Blue-Ridge Roanoke and other television shows. Liz is the author of Just Desserts and Sweets & Savories cookbook as well as a contributing writer for several magazines including VIP SEEN & Lovely Bella.
All recipes, food styling, photography and article are created and developed by Liz Bushong.
Please link this website if you reference any content in this article. Thank you!