Roasted pecans in rich butter cream cupcakes make an easy dessert for fall parties and entertaining.  They also make a great dessert for tailgating, thanksgiving, even Christmas gift giving.  All in all these cupcakes will take you through out this autumn- winter seasons.  You will love this little cupcake.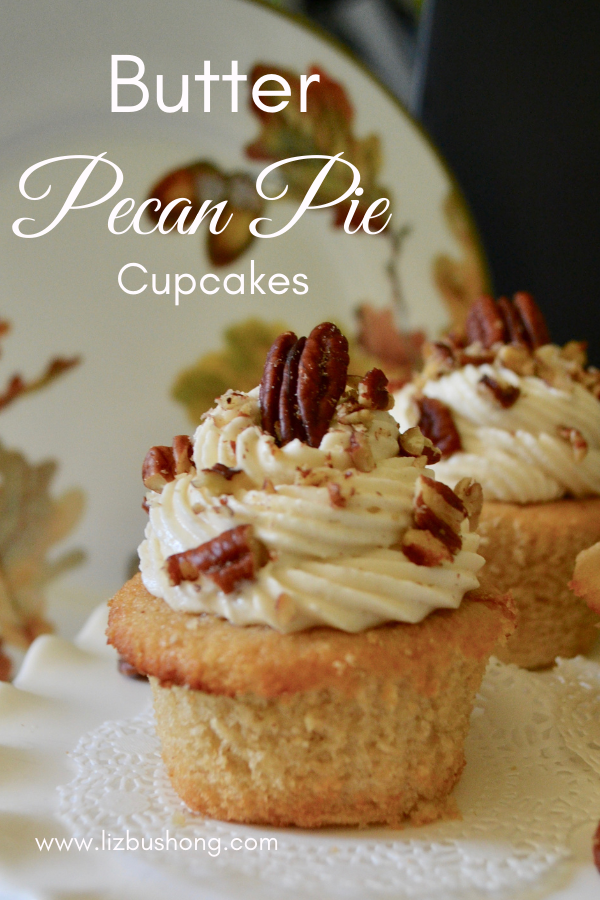 Because pecan pie is very sweet, you will discover these cupcakes are not as sweet. The frosting has a cream cheese and butter flavor.  In addition, to add more butter flavor I added  Butter Pecan Extract. Yes there really is such a product. Bet you could use the extract in pecan pies too.  Hum… might have to try that sometime. LOL. Other ways to use the extract would be in nut breads, pancakes and waffles.
Butter vs Margarine.. best butter flavor
Creaming together real butter instead of margarine gives you a great butter flavor. Such brands as Land a Lakes and Kerry Gold are wonderful pure butter fat flavors. Margarine does not have enough butter fat to get the full flavor of real butter and also has a lot of water which isn't the best for baking.  Conduct a butter tasting test and determine which butter brand you love. Both are pricey but worth every bite of it.

Grab your Skillet for Toasting Pecans
If you have a cast iron skillet, this is time to use it.  Because it doesn't take long to toast pecans, ..they can burn really fast, the cast iron will provide even heat. Add pecans to dry skillet or if you want to add a tiny bit of butter to the skillet you can for a buttery flavored toast.  To candy the pecans, sprinkle with about 1 teaspoon of granulated sugar and allow sugar to melt over the pecans. Remove pecans after toasted to parchment paper to cool. Store in air tight container until ready to use. These can be toasted ahead of baking the cupcakes.  Pecans are only sprinkled on the frosting but if you want to add to the cupcake batter you can.  Try 1/2 cup chopped or up to 1 cup.

Making the Cupcakes
Because cupcakes make quick desserts, the cake batter uses ingredients you have in your pantry, except for maybe cake flour and buttermilk.  Cake flour just makes "cakes" lighter in texture due to the 27 times of being pre-sifted and is pure soft flour with no leavening agents or salt.  You can mix 2 cups cake flour and 1 cup all purpose in the recipe if you need the cake to be firmer for holding thicker frosting and decor on top of cupcakes.
Tip: To use all purpose flour instead of cake flour, substitute 1 cup + 2 tablespoons of cake flour for each cup of all purpose. 
Make the cupcake batter by mixing softened butter, brown sugar, vegetable oil and salt in large mixing bowl.  I like to use my stand mixer with a paddle beater. Scrape down the sides of the bowl beat butter sugar mix for about 5 minutes then add egg whites and one yolk one at a time, beating until blended.
Scrape down sides of bowl once a again, and alternate the dry ingredients with the buttermilk beginning with flour and ending with flour.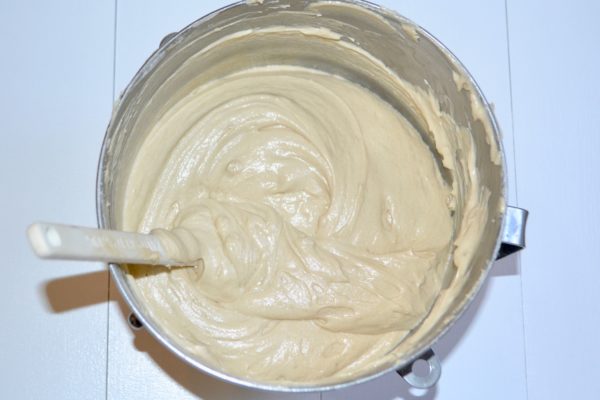 Scoop cupcake batter into cupcake liners using a 2″ spring loaded scoop. Bake cupcakes at 350 for 20 minutes or until toothpick tester comes out clean.  Let cupcakes cool before frosting.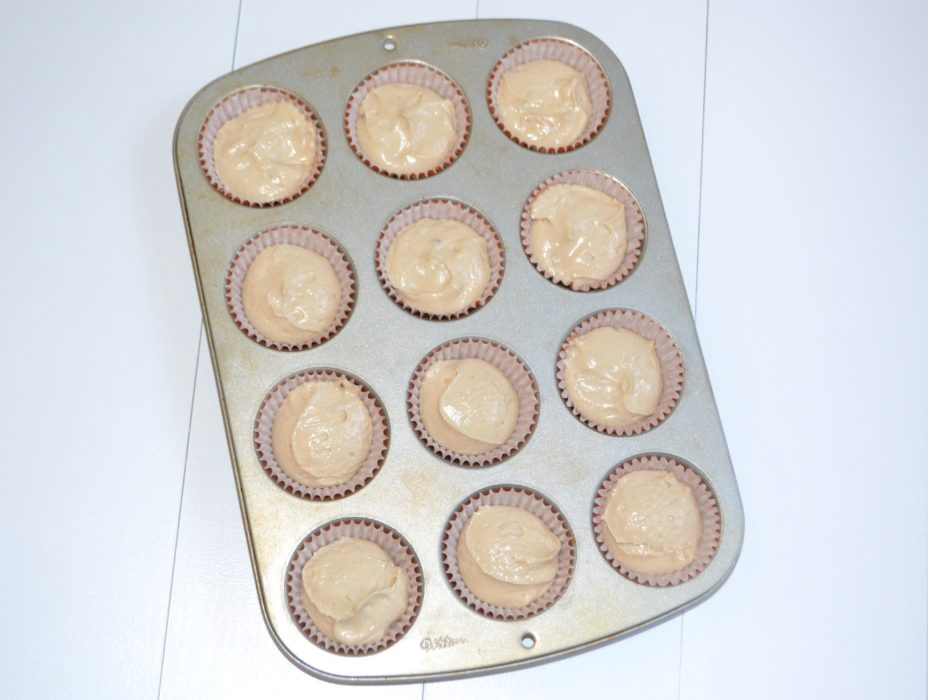 How to Make the Cream Cheese Butter Pecan Frosting
In clean mixing bowl, fitted with whisk attachment, whip softened butter and cream cheese.  Add extract. Mix ground cinnamon with confectioners sugar, then add to the butter cheese mixture.  Beat until light and fluffy about 4 – 5 minutes or until desired creaminess.  Starting with room temperature butter and cream cheese will make the frosting whip light and creamy.
Fill large piping bag with tip 88 and begin piping swirls on cupcakes. Add one whole pecan and several chopped pieces to crown of frosting on cupcakes.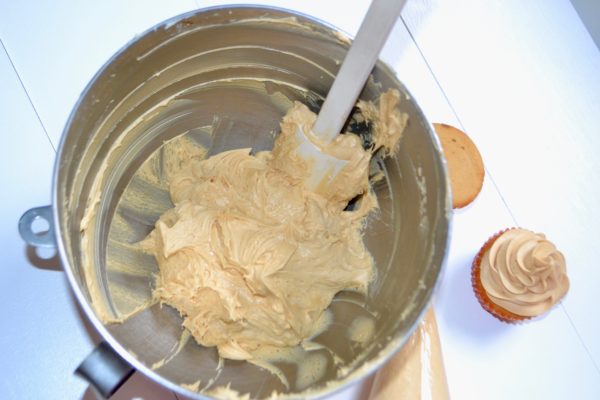 As a result of creamy whipped frosting piping the cupcakes is a breeze. Use tip # 88 for swirl. Its the right amount of frosting. Not to high or so much yet delicious.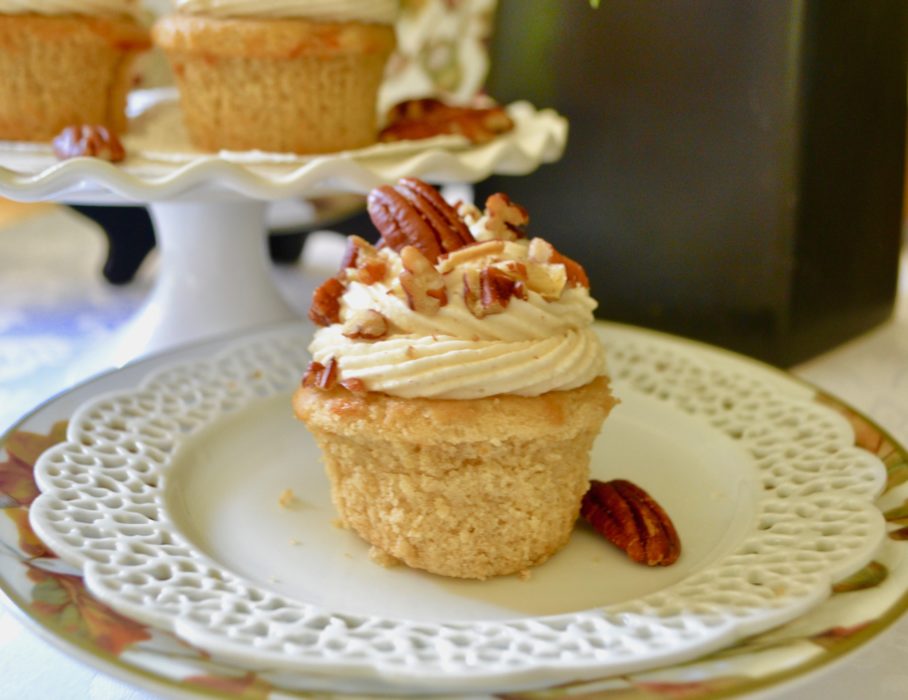 Print
Butter Pecan Pie Cupcake Recipe
Made from scratch cupcakes with a brown sugar flavor is frosted with butter pecan cream cheese frosting and sprinkled with toasted chopped pecans.
Author: Liz Bushong
Prep Time:

20 minutes

Cook Time:

25 minutes

Total Time:

60 minutes

Yield:

24

-

30

cupcakes

1

x
Category:

Desserrt

Method:

Baking

Cuisine:

American
3 cups cake flour (or 1 cup all purpose flour and 2 cups cake)
2 teaspoons baking powder
1/2 teaspoon baking soda
1/2 teaspoon ground cinnamon
1 teaspoon fine sea salt
1–3/4 cup butter, room temperature
1/4 cup vegetable oil
1– 3/4 cup light or dark brown sugar, packed
1– 3/4 cup buttermilk
1 tablespoon vanilla
4 eggs- room temperature
Butter Pecan Cream Cheese Frosting
8 ounces cream cheese room temperature
3/4 cup unsalted butter room temperature (1– 1/2 sticks)
1 teaspoon vanilla or butter pecan extract 
1 teaspoon ground cinnamon
3 cups powdered sugar
2 teaspoons milk or half n half
Garnish
1  cup pecans toasted and chopped- pecans are not in the cupcake batter.
Instructions
Toasting pecans/candied pecans
In a large skillet, melt 2 tablespoons of butter and stir in pecans. Toast over medium heat (about 3-4 minutes) pecans can burn quickly so watch carefully. If you want candied pecans, sprinkle with a little bit of granulated sugar during the toasting process.  Remove from skillet onto parchment paper and let cool.  Chop 3/4  but leave some whole if desired for garnish
Cupcake Batter
Preheat oven to 350 degrees.  Line muffin tins with cupcake liners. Set aside.
In large mixing bowl, add cake flour, baking powder, baking soda, cinnamon and salt. Whisk to blend. Set aside.
In stand mixer with paddle attachment, add softened butter, brown sugar, oil, and vanilla.  Whip on medium-high speed until light and fluffy about 5 minutes.
Scape down sides and bottom of bowl, add room temperature -one egg at a time  mixing well between each addition.
Decrease speed to low and add dry ingredients, alternating with buttermilk, beginning and ending with flour.  Stop mixing when just a few streaks of flour show through, then fold by hand the remaining streaks with large rubber spatula. This helps with texture of your cake batter, no tunnels after baking.
Using 2″ scoop fill cupcake liners 2/3 full. Run a knife through the cupcake batter to remove any air bubbles. Bake cupcakes in middle of oven at 350 for 20 minutes.  The cakes are done when toothpick tester inserted in the center comes out clean.
Allow cupcakes to cool about 5 minutes in pan before removing from tin.
Butter Pecan Cream Cheese Frosting Directions
In stand of large mixing bowl with paddle attachment, cream together softened  cream cheese and butter until light and fluffy. About 4 minutes.
Mix ground cinnamon with powdered sugar then add 1 cup at a time until desired consistency is reached. Add cream and vanilla or butter pecan extract. Beat on high speed until light and fluffy.
Pipe frosting using tip # 88 or other favorite tip # 1M onto cooled cupcakes and sprinkle with toasted or candied pecans.
Notes
If piping frosting on cupcakes- you need a medium consistency.
Adding pecans to the cupcake batter plan for additional 1 cup of toasted pecans, chopped or as desired.
Keywords: Butter Pecan Cupcakes, Pecans, Butter, Cupcakes
Try these great cupcakes.  You will love em.  Perfect for fall entertaining.
Other Ideas you might like to try:
Salted Caramel Popcorn Cupcakes with Dulce de Leche Frosting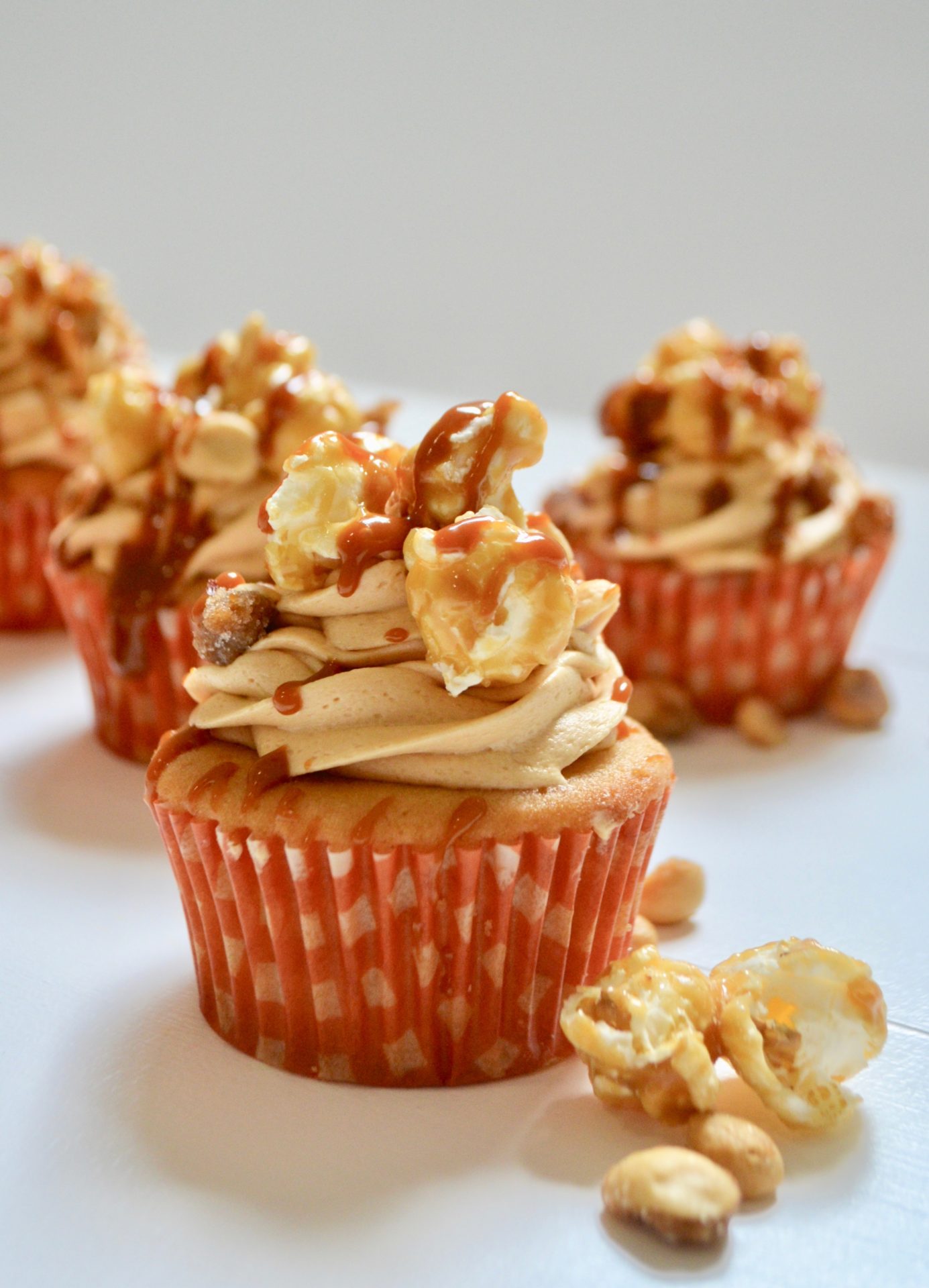 Candy Ornament Cupcakes with White Chocolate Cranberry cupcakes