Remember when you were a kid and your mom would make oatmeal cookies? Jus Just like oatmeal cookies, this recipe uses oats, coconut, brown sugar, chocolate chips, pecans, raisins and dried cherries. However, since we are making granola bars, honey, vegetable oil, instant non fat dry milk and coconut flour thickens or is the glue that holds the bars together. This is not a Paleo recipe or gluten free but it is very delicious and simple to make. Mix up a batch for breakfast or after school snack. You're family will love these and you will love how easy the recipe is.

How to Make Granola Bars
This recipe is pretty straight forward, its a matter of mixing dry ingredients with wet, shaping into a large 9″ x 13″ rectangle, baked, cooled and cut into 2″ x 1″ bars. If you really want to make them delicious… drizzle with melted chocolate. Well, I didn't do that for they can get messy with the chocolate drizzle, but still it is a delicious thought.

What Makes the Granola Bars Stick Together? Check out these 4 Tips!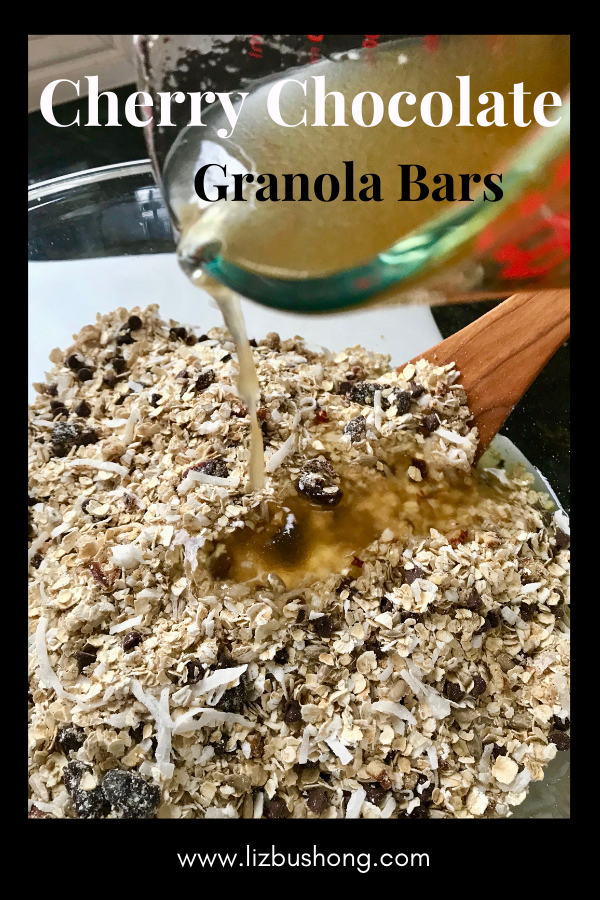 Sometimes when making granola bars they will spread during baking and not become firm enough to slice. I think I found out how to make these bars firm enough to cut. Check out these three tips for the best sliced granola bars.
Tip: Make sure your granola mixture is wet enough to stick together, but not so wet it melts during baking. Yes you have to bake these for about 40 minutes.
Tip: The second tip; after shaping place in refrigerator for about 20 minutes to help solidify. Bake in 325 degree oven until toasty brown. Then don't slice the bars right out of the oven. Let them cool completely before slicing.
Tip: This is one of the most important tip ever….Let them cool completely before slicing.
How to Shape the Bars?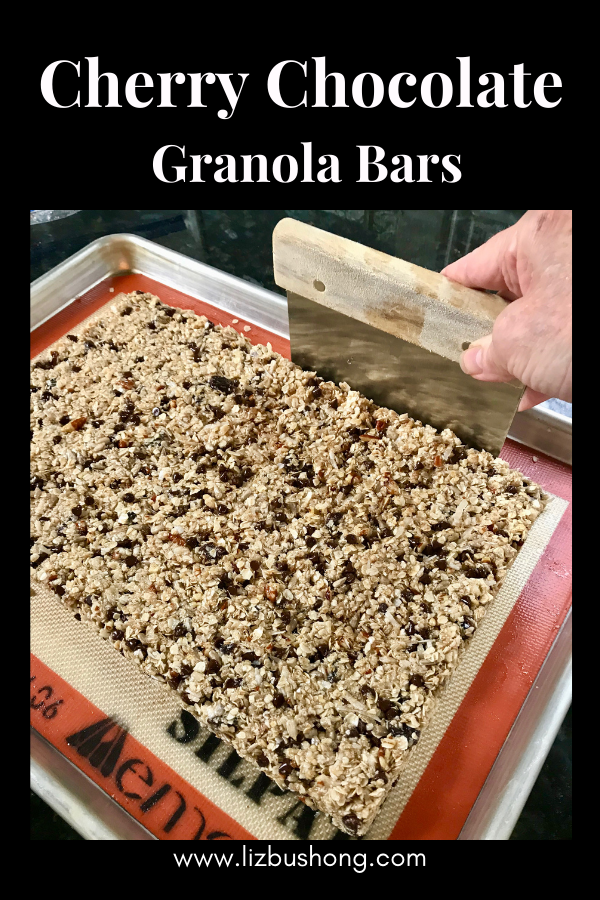 After you mix the wet ingredients with the dry until fully coated. Press the mixture into a crisp rectangle, using a dough scraper to help sharpen sides of granola bar rectangle. Chill 20 minutes then bake. Bake at 325 for 40 minutes. Remove from oven and do not cut until fully cooled. ( I used a silpat baking mat but decided the second batch I used parchment paper lined baking sheet). I prefer the parchment lined baking sheet for extra crispness and browning.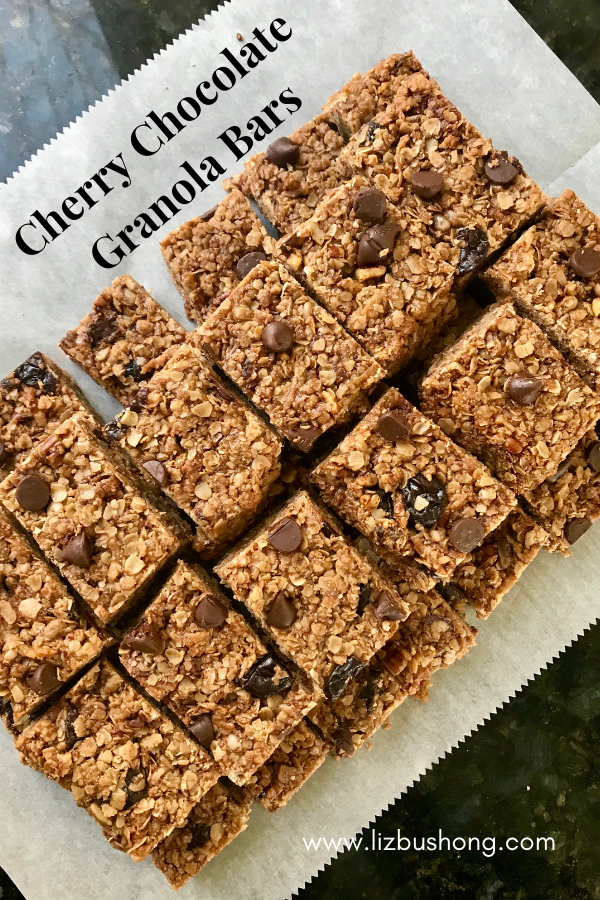 Print
Cherry Chocolate Chip Granola Bars
Author: Liz Bushong
Prep Time:

20 minute+ 20 minute chill

Cook Time:

40 minutes

Total Time:

2 hours

Yield:

30

bars

1

x
Category:

Dessert

Method:

Baking

Cuisine:

American
5 cups old fashioned oats or quick oats
1/2 cup almond flour
1/2 cup shredded unsweetened coconut
1/3 cup dark brown sugar
1 cup chocolate chips
1–4 ounce package dried cherries, chopped
4 tablespoons non fat dry milk
1/2 cup sunflower seeds
1/4 cup toasted pecans, chopped
1 teaspoon sea salt or salt
1 teaspoon vanilla
3/4 cup honey
3/4 cup vegetable oil
Instructions
Preheat oven to 325.  Prepare cookie sheet by lining with parchment paper. Lightly coat paper with cooking spray. Set aside.
In large mixing bowl, add the first 10 dry ingredients, toss to stir.
In mixing cup add honey, vegetable oil, and vanilla. Stir to combine.
Pour liquid over dry ingredients.  Stir completely to coat each ingredient.
Place granola mixture on baking sheet, shape into 1″ thick 9″ x 13″ rectangle. Use a dough scraper to help shape the rectangle sides so they are straight. This is optional.
Chill 20 minutes.
Bake @ 325 for 40 minutes. Remove from oven and do not touch until they are completely cooled.
Slice granola into 3- 2″ x 1″ pieces or 3 x 1″ lengths.
Store in covered container at room temperature.
Notes
You can substitute other dried fruit and nuts for the cherries and pecans.
Individually wrapped with parchment paper will remain fresh for 7 days.
Baked granola bars can be frozen.
Hope you will try this recipe. It's pretty simple to put together. Mix it up with different ingredients, nuts, raisins, and dried fruits. Enjoy! xo Liz
Other Ideas you might like to try: