Love peanut butter and dark chocolate? Create a peanut butter mousse and add ganache in layers for a simple easy dessert. Peanut butter mixed with cream cheese and whipped cream layered in pretty parfait dishes with ganache. Nothing better than chocolate ganache. Make this dessert at a moments notice.

How to make Peanut Butter Mousse
Whether you use creamy peanut butter or crunchy is totally up to you. I used creamy natural peanut butter. Just make sure you stir your natural peanut butter well to incorporate the natural oil in with the peanut butter.
Ingredients you need for the mousse includes, creamy peanut butter, cream cheese, powdered sugar, and fresh whipped cream. That pretty much it. Whipped on high speed until smooth and creamy, the mousse is ready to layer in parfait glass.
First Step: Mix cream cheese with powdered sugar and peanut butter.

This is what the mixture will look like after stirring together.

Next add whipped cream. Stir with wire whisk to blend.

Finished Peanut Butter Mousse. Ready to layer in parfait dish.
Easy Ganache for the Mousse
As with many of the recipes I share, ganache is by far the easiest richest chocolate that you can make. Here's how it's done. Heat heavy whipping cream in microwave until very warm but not boiling. Pour into a mixing bowl, then add mini or regular semi sweet dark chocolate chips or dark chocolate like Bakers Semi Sweet.
Warm heavy whipping cream and chopped chocolate resting.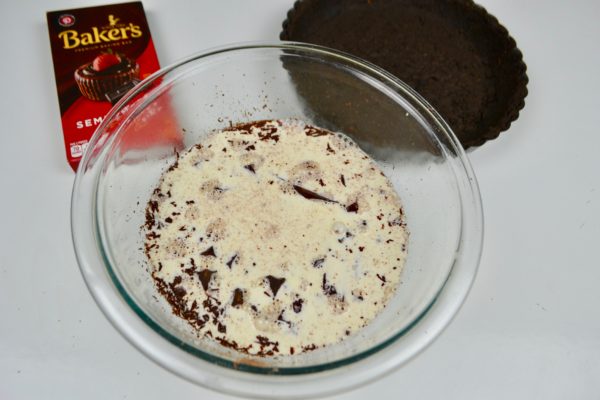 While it is tempting to stir this mixture right away. Allow the chips and cream to sit about 5 minutes before touching with a spoon to stir. Then stir the cream into the chocolate until the ganache this thick and creamy.

Finished ganache ready to layer between peanut butter mousse.

Can I make this parfait without using Peanut Butter?
Yes, substitute almond butter for the peanut butter. Follow recipe as normal just switching out the nuts. Garnish the parfait with chopped almonds or almond slivers. Be sure to toast the nuts before garnishing the layered parfait.
You can substitute any nut butter, cashew, pistachio, and almond is most popular. To make your own nut butter check out this recipe.
Assemble the parfait
Once the ganache and mousse is made. Layer the ganache first in the bottom of the parfait dish, add mousse, ganache, mousse and top with ganache, whipped cream dollop with chopped peanuts. TaDa you are finished!
Print
Peanut Butter Parfaits with Ganache
Author: Liz Bushong
Prep Time:

20 minutes

Cook Time:

microwave-45 seconds

Total Time:

25 minutes

Yield:

4

-

1/2

cup servings

1

x
Category:

Dessert

Method:

Mixing

Cuisine:

American
Peanut Butter Mousse
4 ounces cream cheese, softened
1/2 cup creamy peanut butter
1/2 cup  + 1 tablespoon confectioners sugar-divided
1–1/2 cups  heavy whipping cream, whipped
1 teaspoon vanilla
Ganache
1/3 cup heavy whipping cream
1/2 cup semi sweet chocolate chips or chopped Baker's semi sweet chocolate
Garnish
1/2 cup chopped roasted peanuts
Instructions
Peanut Butter Mousse
In mixing bowl, add cream cheese, peanut butter, 1/2 cup confectioners sugar, Beat on low speed with electric mixer until smooth.
Whip heavy cream in separate small bowl, add 1 tablespoon confectioners sugar and vanilla.  Whip on high speed until still peaks form.  Reserve 3/4 cup for dollop garnish. Add whipped cream to peanut butter mixture.  Whip until mousse is creamy and smooth. Set aside.
Ganache– In microwave glass measuring cup or bowl, heat heavy cream for 40 seconds.  Remove from microwave and add chocolate pieces to the warm cream. Let sit 5 minutes before stirring.  Stir together until creamy smooth and thickened.
Assemble Parfait
In small parfait glass, layer ganache, mousse, ganache, mousse, ganache, top with whip cream dollop and chopped toasted peanuts. You can pipe the whipped cream dollop with Tip # 1 M if desired or star tip.
Chill in refrigerator without chopped nuts for 2 hours. Add nuts right before serving. Serve cold.  Keep refrigerated.
Notes
This is a rich dessert so consider using a small parfait glass or 1/2 pint jelly jar.
Keywords: Peanut Butter Mousse, Ganache,Dessert
Other ways to use the Peanut Butter Mousse
Pies: Consider making the mousse in pies. Bake a graham cracker pie shell, then add the mousse. Chill until ready to serve about 4 hours. Garnish pie right before serving.
Cake Filling & Frosting: check out the recipe for peanut butter frosting. Make a batch of chocolate cupcakes and whip up peanut butter mousse to frost the cakes. Super easy and delicious.
Chocolate Cups: If you don't have parfait glasses, make chocolate cups and serve the mousse in the edible cups. Your guests will love this idea. Heres a tutorial for chocolate cups, only make them larger with a standard cupcake paper.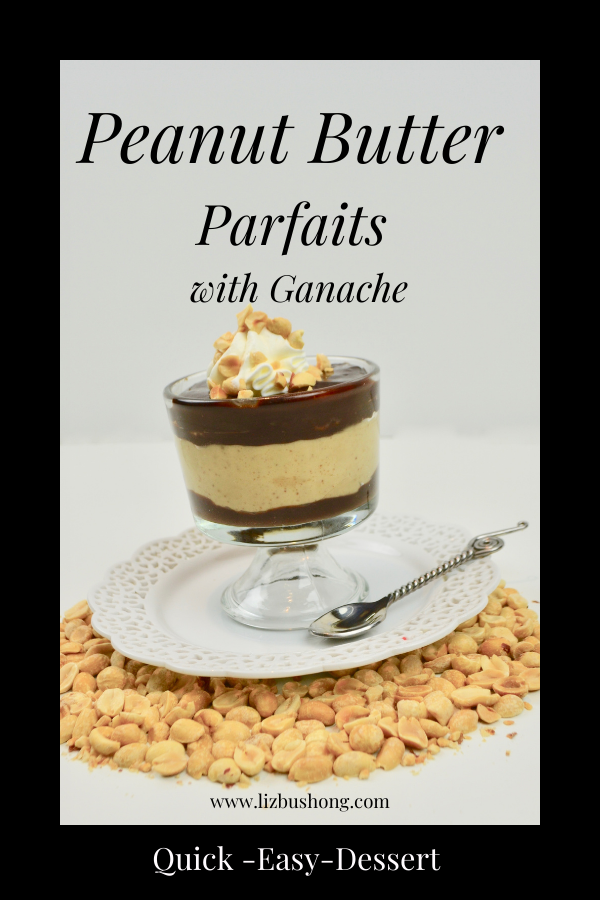 This parfait is pretty quick to make and delicious. Make this dessert any time of the year on any occasion. Hope you will try it.
xo Liz
Other ideas you might like to try: