Another great flavor chocolate and raspberry takes center stage with a new twist, vertical layers inside the cake. A pinwheel of chocolate sponge cake filled with raspberries and whipped cream makes an 8″ cake. Two flavors of shortbread almond and chocolate provides the base for the 8″ round vertical layer or zebra cake. Once cake has chilled fresh whipped cream is the frosting for the entire cake with piped dolloped swirls and toasted sliced almonds. Serving the cake with each slice exposes chocolate and cream vertical layers inside the cake… creating a new twist to baking and serving cream torte. I highly recommend that you read the entire recipe and gather your supplies before beginning this cake for ease of preparation.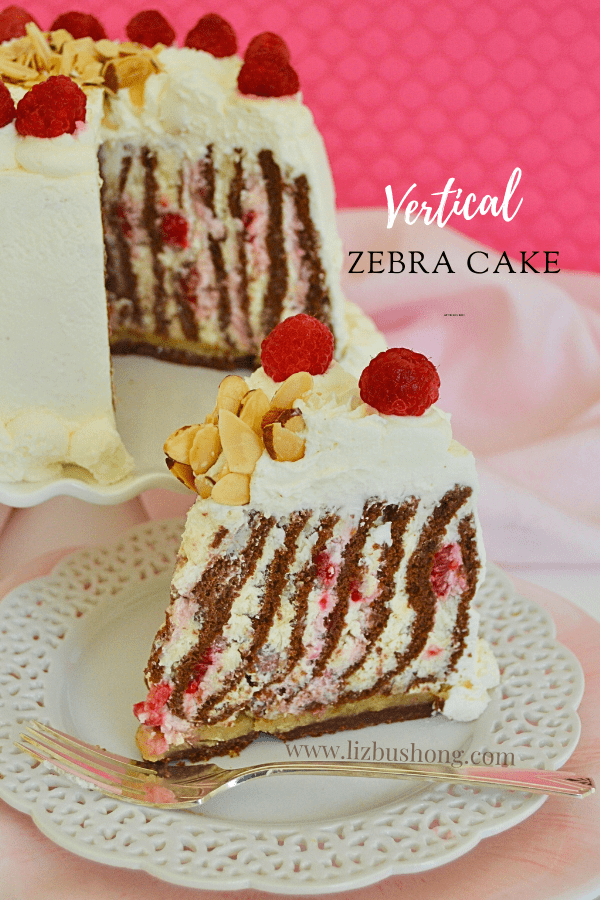 How to Make the Chocolate Raspberry Zebra Cake
You will need the following tools, 2- 12″ x 16″ baking sheets, one-8″ round springform baking pan, parchment paper, two 14″ x 18″ or larger tea towels for rolling cake. Piping bag with tip # 1 M. Off set spatula, rubber spatula for folding, whisk attachment and beater attachment. Ruler and pizza wheel or sharp paring knife.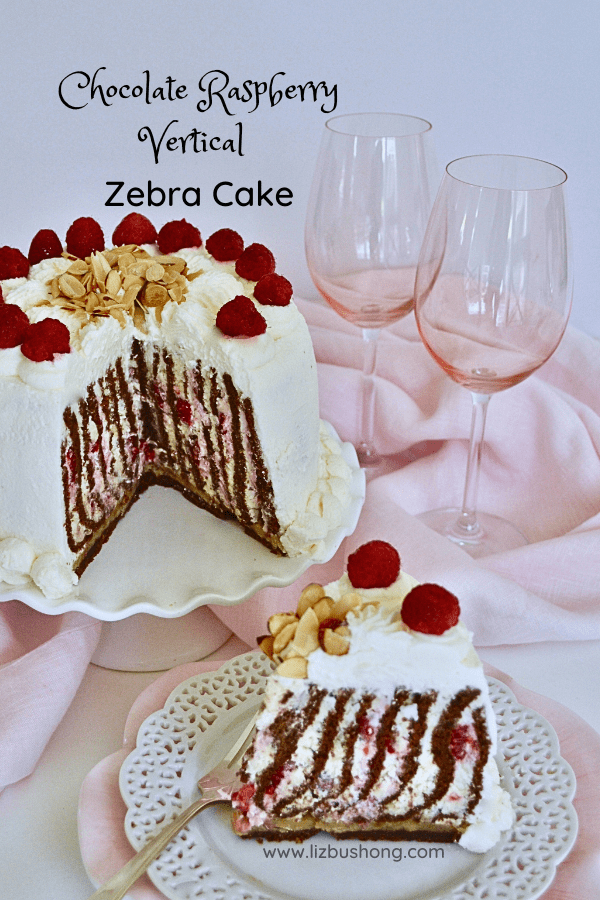 Make sure your egg whites and yolks are separated with no trace of yolk in the egg whites and vice versa, these must be at room temperature.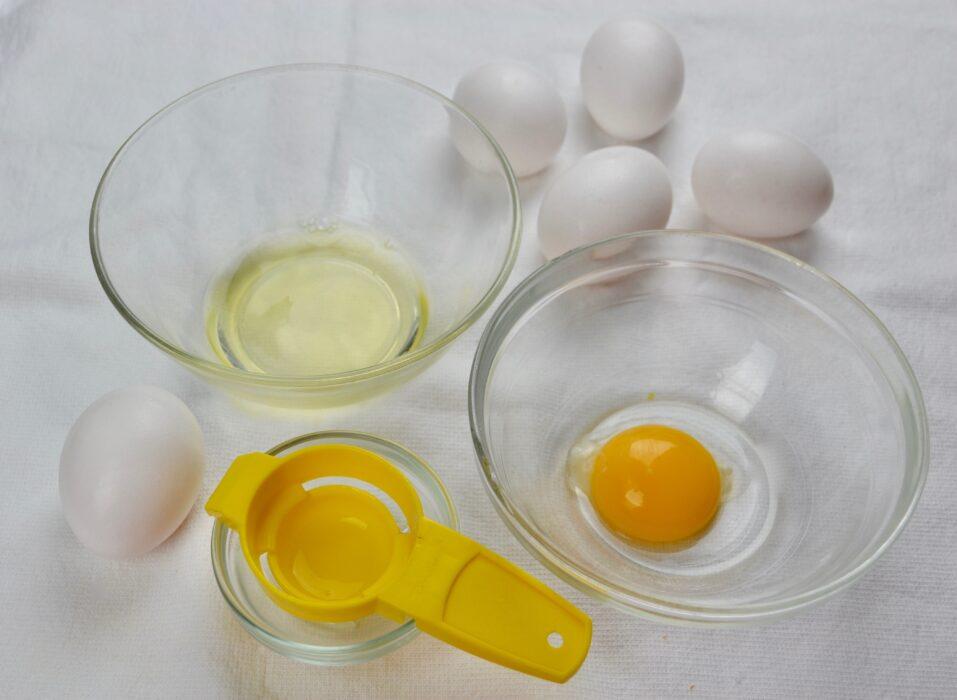 Make the shortbread crust. One is almond and the other One is chocolate. The two are stacked together and baked as one unit. In a medium mixing bowl, add almond flour, brown sugar, flour and salt, toss to combine then add chilled butter pieces. Incorporate butter with flour mixture until mixture forms a tight ball. Gather the dough and form a disc, wrap in plastic wrap and chill for 30 minutes. Repeat this process for the chocolate dough, wrap and chill 30 minutes.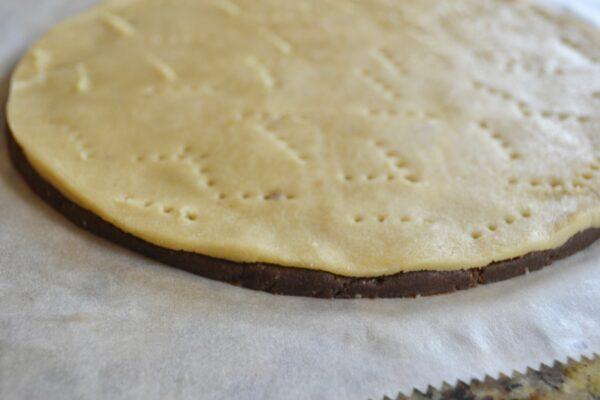 Meanwhile, prepare your baking sheet for the shortbread. Line baking sheet that is at least 9″ wide with parchment paper. Preheat oven to 375 degrees F or 190 C. If you have a convection oven, use this for even baking, if not a standard oven works too.
Rolling the Shortbread
Once doughs are chilled, roll each dough separately into an 8″ round disc. I used an 8″ round cake pan to trace the shape on the rolled out doughs. Place dough between two pieces of parchment paper and roll into a circle about 1/4″ thickness. Repeat with chocolate dough.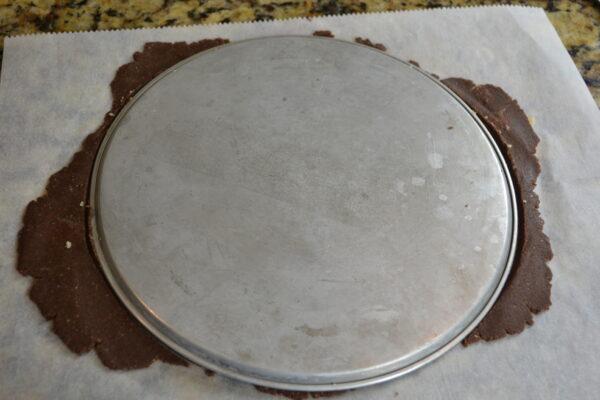 Place almond flavored dough over the top of the chocolate dough on the parchment lined baking sheet. Gently press together without changing the size of the circle. Prick with a fork. Bake in over for 8 minutes convection oven or 10-12 for standard.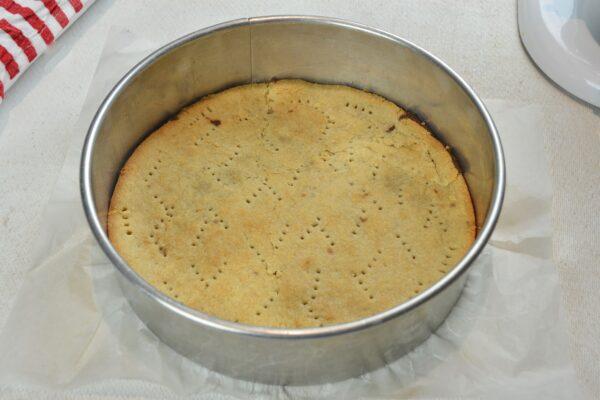 While shortbread is baking, separate your egg yolks from the egg whites, they need to be at room temperature before whipping. Remove baked cookie from oven and allow to cool before removing from baking sheet.
Making the Chocolate Sponge Cake
Grease and line 2-12″ x 16″ baking sheets with cooking spray and parchment paper. Spray parchment paper. In a medium mixing bowl, sift together flour, cocoa, baking powder and salt, set aside.
In second medium mixing bowl, add egg yolks and sugar. Beat on medium speed until sugar is dissolved and mixed with the yolks. Batter will be lemon colored, beat about 4-5 minutes until thickened. Add flour mixture to the beaten yolks using a spatula to fold in.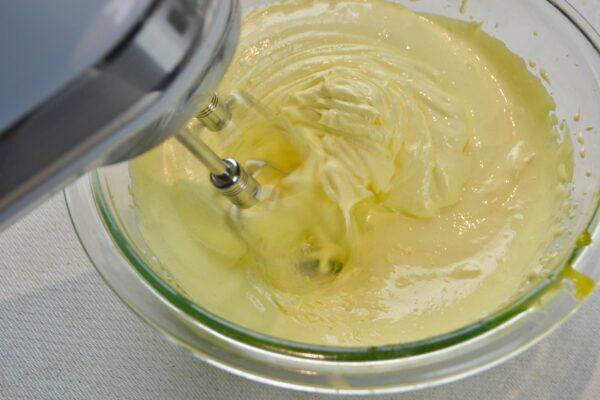 In metal mixing bowl of stand mixer or hand held, with whisk attachment, whip room temperature egg whites until stiff and fluffy.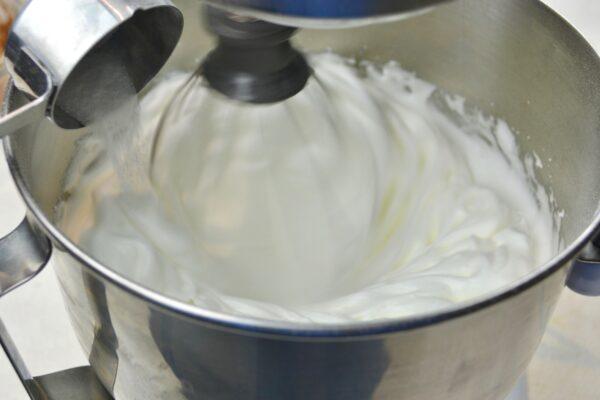 Gradually add the granulated sugar and continue to whip on high speed until stiff peaks form.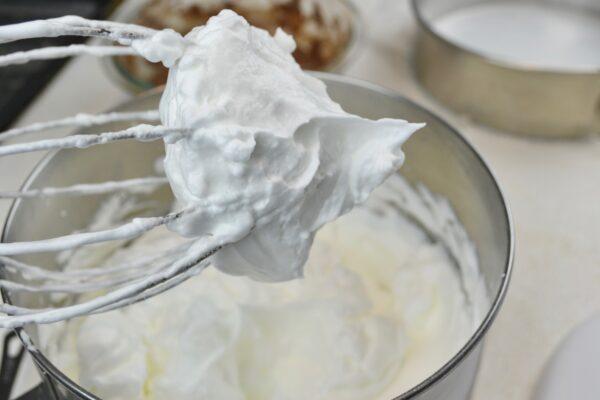 Mix half of the batter with half of the whipped eggs, using a rubber spatula folding the egg whites into the flour batter, once blended, add remaining egg whites, fold until blended. BE CAREFUL NOT TO OVER MIX RESULTING IN FLAT CAKE.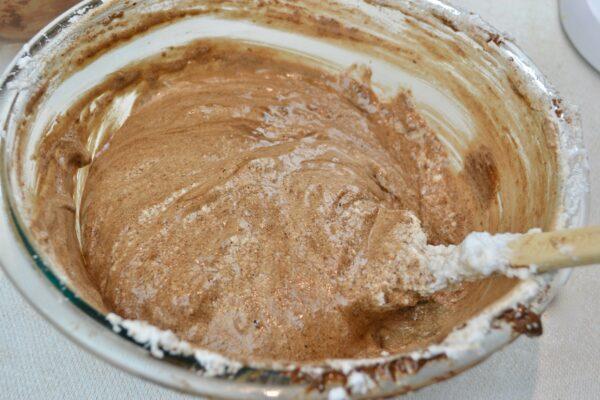 Divide batter between the two baking sheets evenly, gently slide pan back n forth to level cake batter. Make sure batter is extended to the 4 corners of the baking pan. Bake in preheated oven 375 for 8 minutes-10 minutes. Cake top will spring back when touched with finger when done.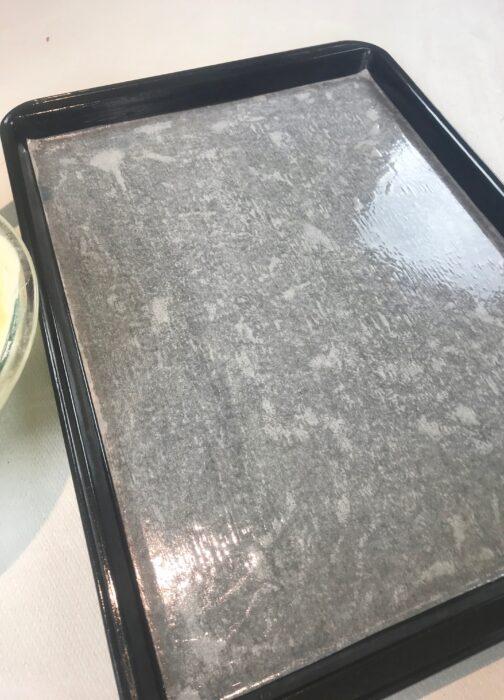 On two pieces of parchment paper larger than the cake pan, sprinkle with granulated sugar. Run a sharp knife around edges of the baked cake to help release the cake when flipped on parchment. Flip cake on the sugared parchment. Remove the baked parchment from flipped cake, cover the cake with dampened tea towel. Roll cake beginning at the narrow end, rolling towel within the rolled cake jelly roll style. Roll cake while cake is slightly warm.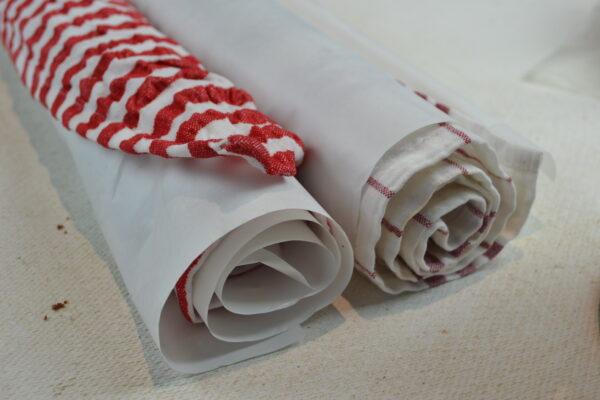 Tip: When the cake is rolling, the underside of cake will crumb coat itself, which is a good thing. Don't panic if this happens, it is supposed to. The towel helps keep the cake together and will not stick to the cake once cake is cooled.
Allow cake roll to cool before filling with whipped cream and raspberries.
Making the Whipped Cream Filling
In a chilled mixing bowl with wire whisk attachment, whip fresh heavy whipping cream on medium high speed until thickened, then gradually add sugar, whip cream on high speed until stiff peaks form. Add vanilla or creme bouquet extract as stiff peaks form.
Assembling the Vertical Cake
Unroll cakes leaving parchment paper underneath. With ruler cut each cake into 3- 3-1/2″ vertical strips. You should have a total of 6 strips. Separate the strips one from the other. Spread each strip with melted raspberry jam. Spoon dollops of whipped cream onto each strip in three sections, spreading with off set spatula the length and width of each strip.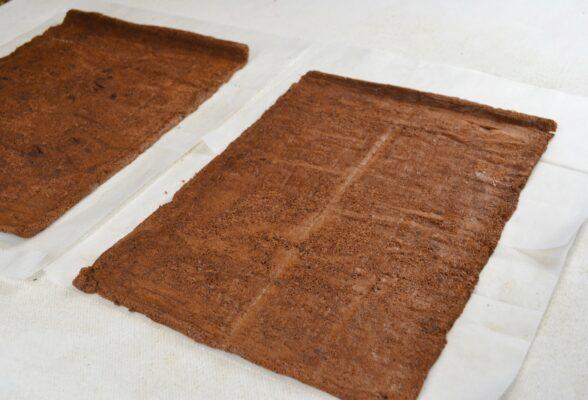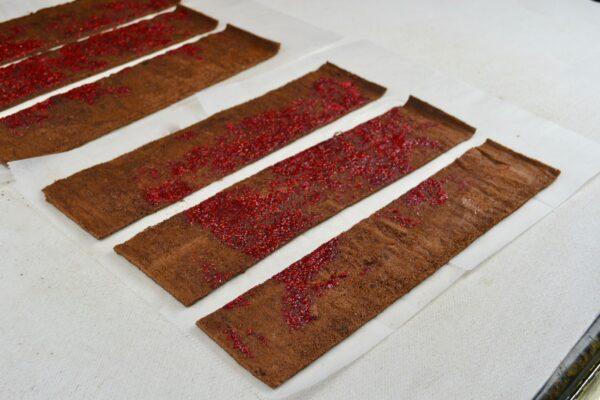 Spreading cake with raspberry jam above photo.
Cut in half each fresh raspberry and place on top of whipped cream. I used 10-12 berries per strip. Begin rolling one of the strips into a jelly roll, continue to roll each strip as if one continuous strip, the cake will become larger as you roll. The cake should be an 8″ round.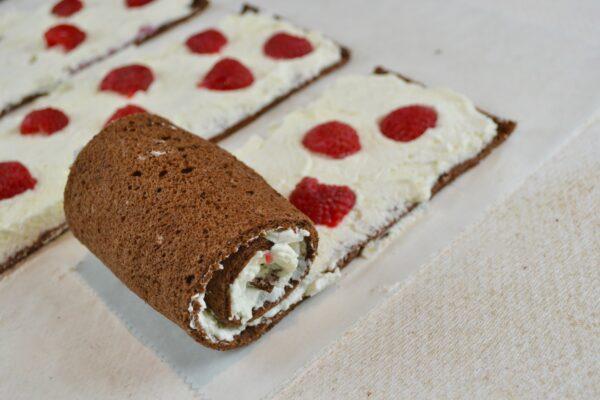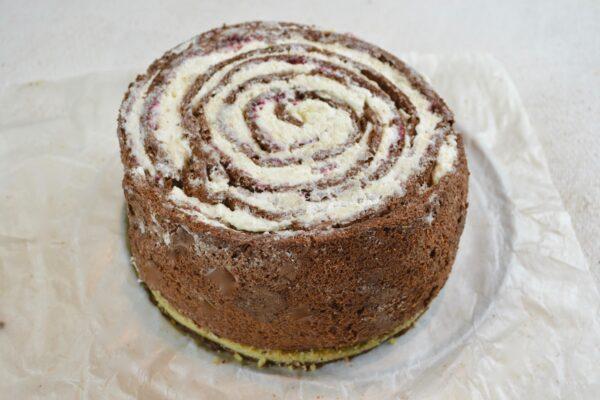 Tip: If your filling is too thin in height as you spread on cake strips, the cake will roll into a smaller round, but thats ok, it will just be a smaller cake. My filling was about 3/8″ almost 1/2″ thick. You might have to trim the shortbread round if the rolled cake is smaller than the 8″ round. Easy to do, with paring knife.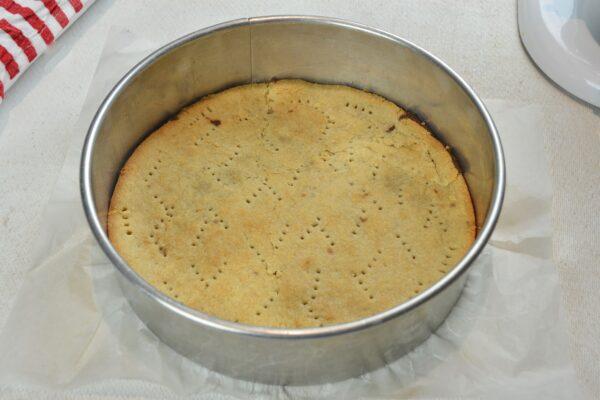 Remove cookie crust from springform pan, but leave on parchment paper. Place the rolled cake upright so you see the spiral, position on top of the shortbread base. which is still on the parchment paper. Be careful not to force the cake the fit the base, with the cream filling the cake is very soft. Place the cake in the refrigerator to chill at least 2 hours before frosting with whipped cream. You will be glad you waited to frost the cake after the big chill.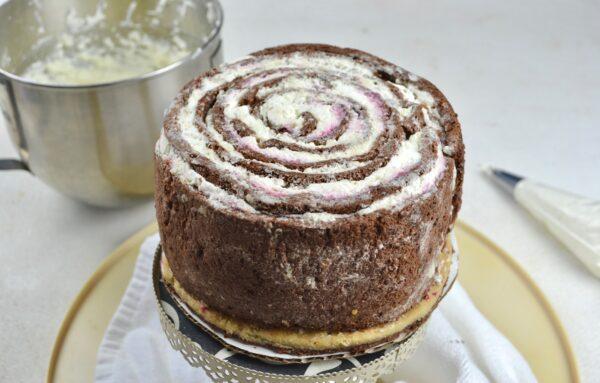 Garnishing the Cake
Make second batch of whipped cream and smooth over the top and sides of cake smoothing as possible. Fill disposable piping bag with tip 1 M with whipped cream, pipe dollops onto of cake top around the edges. Pipe a loose shell design from the dollop toward the center of the cake, sprinkle center of cake with toasted almond slices and add one fresh raspberry to each dollop. Store cake in refrigerator. Cake will serve 6-8 depending on slice size.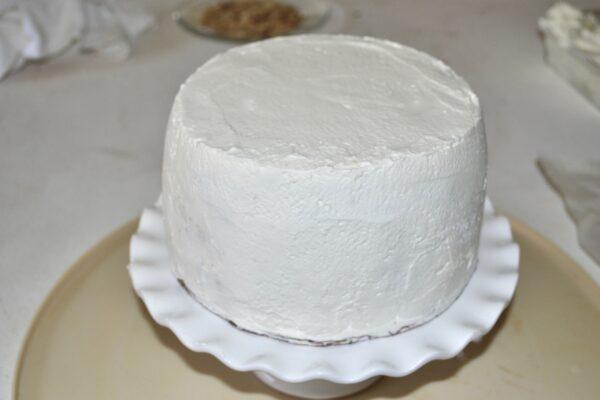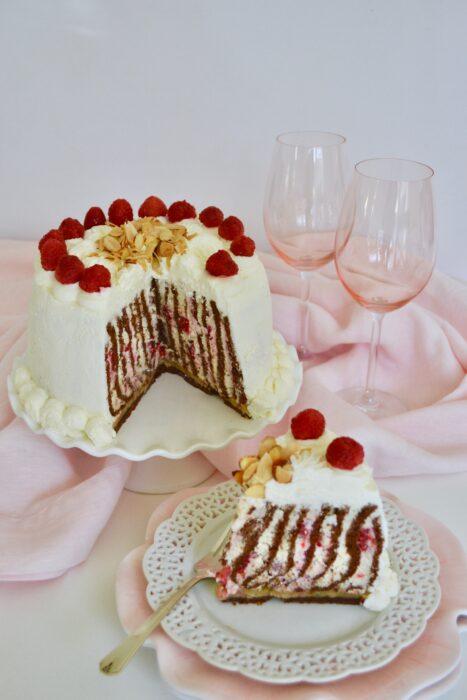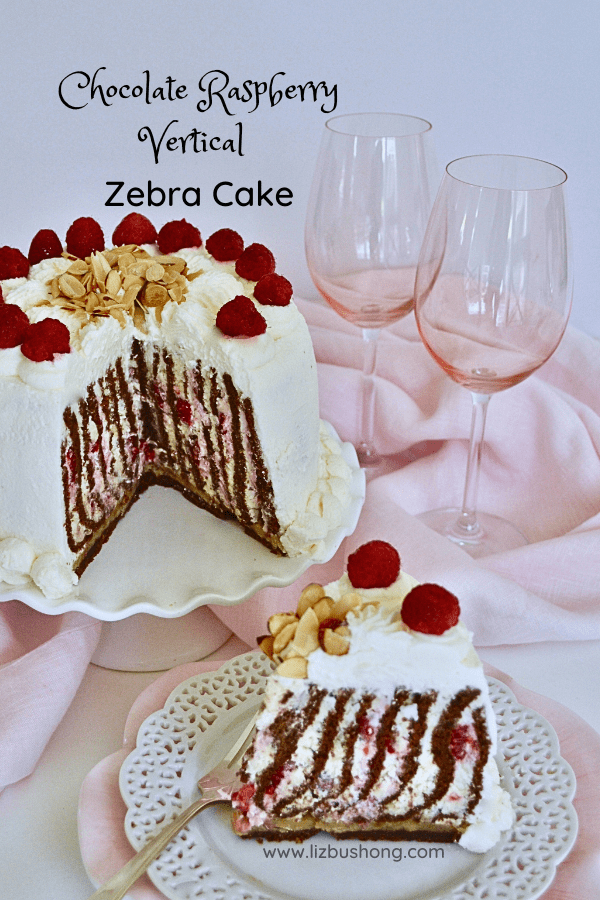 Print
Chocolate Raspberry Cream Torte
Chocolate Vertical Cake with upright layers inside the baked cake. Whipped cream and fresh raspberry filling sets the vertical stripes apart, while the whipped cream frosts the top and sides of cake. Fresh raspberries along with toasted almonds garnish the 8″ cake.
Chocolate and Almond Shortbread Crust
1/4 cup butter, chilled & cubed
1/2 cup almond flour + 2 tablespoons cocoa
2 tablespoons brown sugar, packed
1/3 cup all purpose flour
1/2 teaspoon salt
1 teaspoon water
Almond Shortbread
1/4 cup butter, chilled & cubed
1/2 cup almond flour
2 tablespoons brown sugar, packed
1/3 cup all purpose flour + 2 tablespoons
1/2 teaspoon salt
1 teaspoon water
Chocolate Sponge Cake
8 eggs, separated and room temperature
1 cup granulated sugar, (divided 3/4 cup + 1/4 cup)
1 teaspoon vanilla
1/2 cup all purpose flour
1/2 teaspoon baking powder
1/2 teaspoon salt
Red Raspberry Jam for Filling
8 tablespoons, melted
Whipped Cream & Raspberry Filling
2–1/2 cups heavy whipping cream, chilled
1/2 cup confectioners sugar
1 teaspoon vanilla
1 pint fresh raspberries, rinsed and drained, reserve 10-12 for garnish
Whipped Cream Frosting
4 cups heavy whipping cream
2 boxes white chocolate instant pudding and pie mix-or cheesecake flavor
1/3 cup confectioners sugar
Garnish:  1/4 cup sliced almonds, toasted, 10-12 fresh raspberries
Other Ideas You Might Want to Try: