Need a Spring Tablescape Idea with Gerber Daisies? Try bright red and orange Gerber Daisies with yellow viola's. in a large scalloped white bowl. To create this centerpiece read more as I share the details. After creating the centerpiece, deck out your table cobalt blue and orange color scheme. From place-settings in cobalt blue to vibrant orange napkins sets a pretty table. So perfect for Spring or Summer entertaining. Setting a pretty table will make everyone happy and your food more appetizing. So, lets get started with this pretty table centerpiece.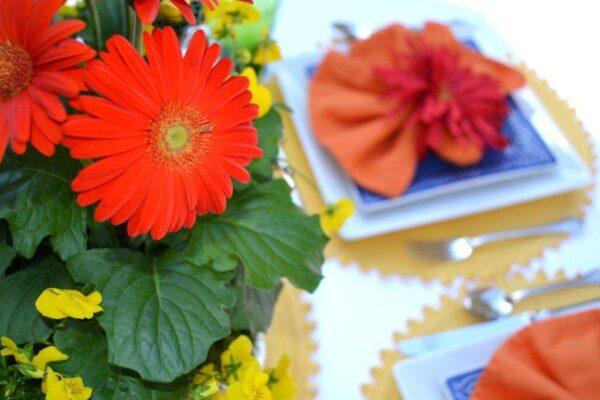 How to Make Gerber Daisy and Viola Centerpiece
Start with a beautiful white ruffled bowl. I purchased this bowl from pier 1 years ago and have used it for many arrangements, check out Fruit & Floral Centerpiece, Stars & Stripes Tablescape, and Simple DIY Tulip Centerpiece. As you can tell I love this bowl as a vase. It is very deep and tall so it does take a lot of florals to fill it, but that is what makes it so beautiful.
For this centerpiece, I used potted spring plants. Gerber Daisies have full flower heads in bright colors, which make a bold statement for spring and summer. The other potted plant was yellow violas. The smaller blooms are bright yellow making the red and yellow a fun color combination. Like the primary colors on the color wheel.
Tip: Using a color wheel will always prove to be smart when putting color combinations together whether it is for floral arrangements to home decor even food on a plate for presentation.
Once you have your potted plants you will need to cover the raw dirt with green moss. The moss will finish the centerpiece with perfection and no one will know they are potted plants.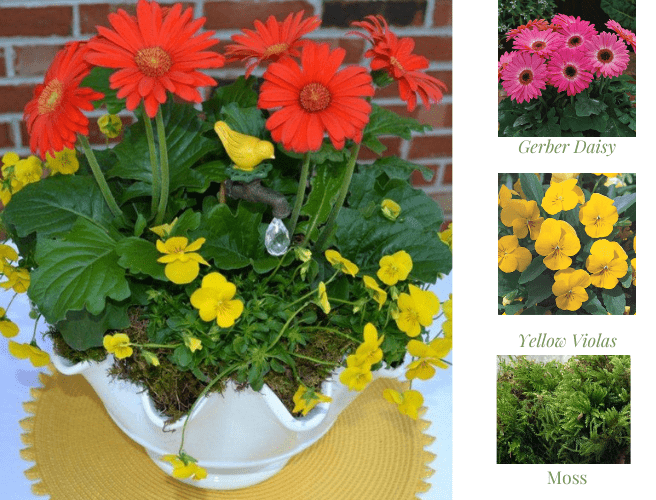 Making the Centerpiece
Gather your supplies including the following; a large white bowl for the container. I used a ruffled bowl that was purchased from Pier 1.  Scissors or pruning shears in case you need to remove spent leaves, garbage bag to line the bowl, hand digging trowel,  small bag of miracle grow soil, and cute garden pick.  I found a tiny yellow bird sitting on a water spigot with crystal raindrop. It was so cute I had to have it plus it was part of the color scheme.  I purchased the spigot from our local nursery a few years ago. 
Select Your Gerber Daisies, Violas, & Moss
Select your Gerber Daisies or potted flowers desired.  I used two large semi bloomed plants for my 10″ white bowl vase.  (Depends on size of bowl, the more plants the fuller the arrangement.) Three 4″ yellow violas worked well with my Gerber Daisies. They work as a filler and somewhat spiller, if you tilt the container in the bowl,  to add casual ease and softness to your arrangement.  If you don't want to use violas select other varieties and colors, such as pansies, johnny jump ups, or lobelia. 
Tip: Selecting filler and spiller plants help fill-in around the centered potted flowers and create the falling or trailing spiller effect with 3-4 smaller flowers or greenery. 
I used green moss from my yard, but you can purchase moss from craft stores.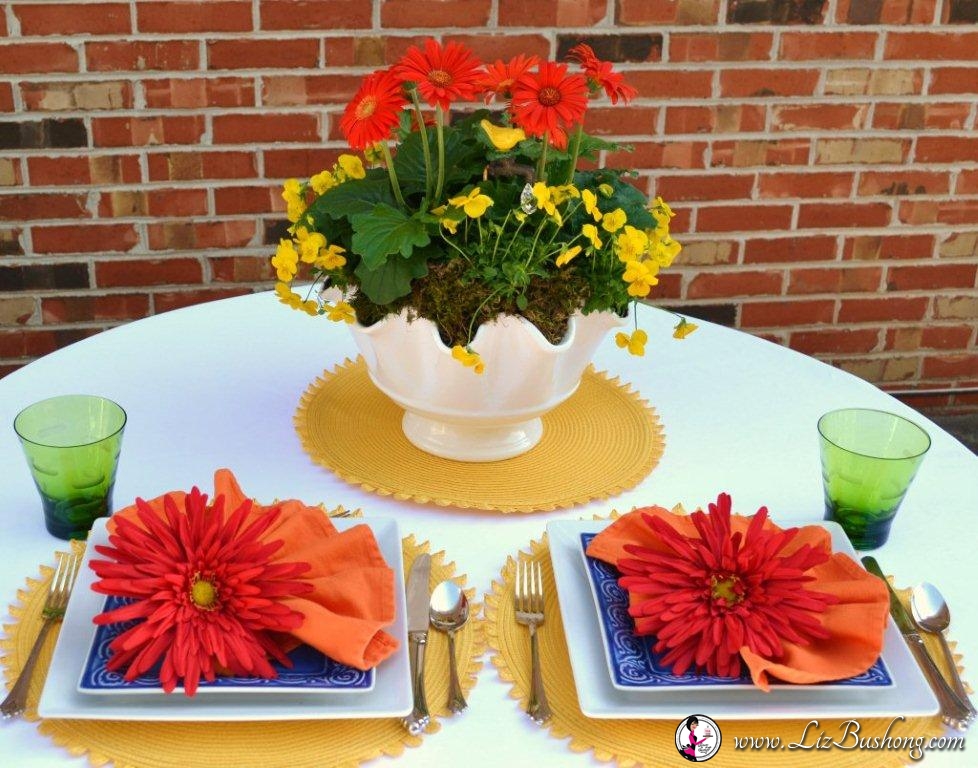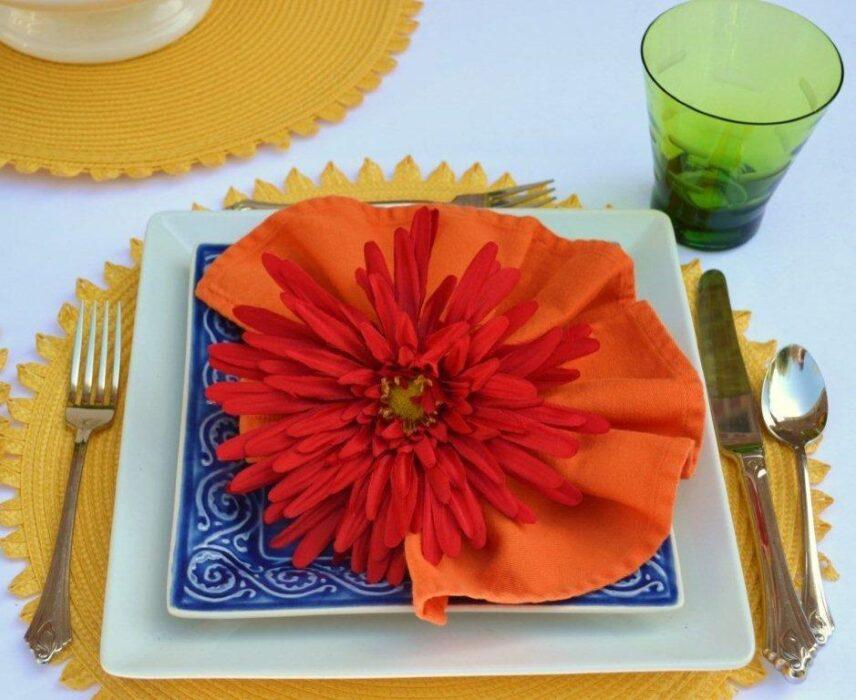 Ready to Arrange Centerpiece
Line your beautiful white ruffled bowl with a plastic liner such as a garbage bag, tuck in the edges so the bag does not extend over the bowl. Fill bowl vase with 2 cups of miracle grow soil and smooth out evenly. Next, tap on potted daisy vase to loosen from the pots. and place inside the center of the lined bowl. Take the second daisy pot and position around the first daisies. You will have to arrange the flowers so they look like they belong together in the vase, no gaps in the center of the arrangement.  Pat the dirt firmly around the roots of the flowers to secure in place and support the stems.
Next, remove the violas from the 3 pots, and position around the daisies equal distance apart in the vase.  Pack the plants with extra soil to fill in the container.  You will probably have soil leftover depending on the size bag you purchased and the size of your vase.
Tip: Its always a good idea to use odd numbers in stems/plants for centerpieces, threes, fives, ect. 
Last, add moss around the edges of the flower vase and flowers.  Look down from the top of the vase to see if you need to add moss inside the centerpiece.  You want the flowers to look like they are naturally growing in your back yard.  Don't forget to add your decorative pick with bird or butterfly… whatever you love to add whimsy to your centerpiece. 
Thats it!  Place on your table and enjoy!  When the flowers begin to fade, you can replace them with something new and have fresh flowers throughout the season. 
Watering:  Do not water excessively.  Purchase a water meter to measure how wet or dry your plant is before watering.  These can be found at Lowe's, garden centers and amazon. You will use this tool all season. Great for houseplants too.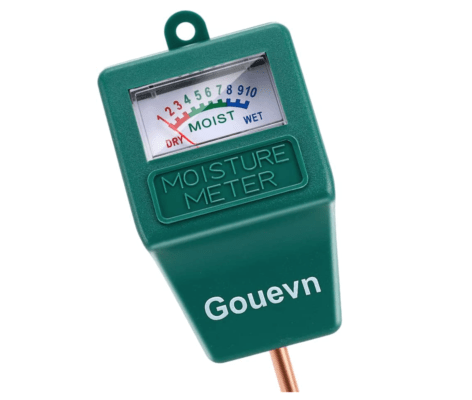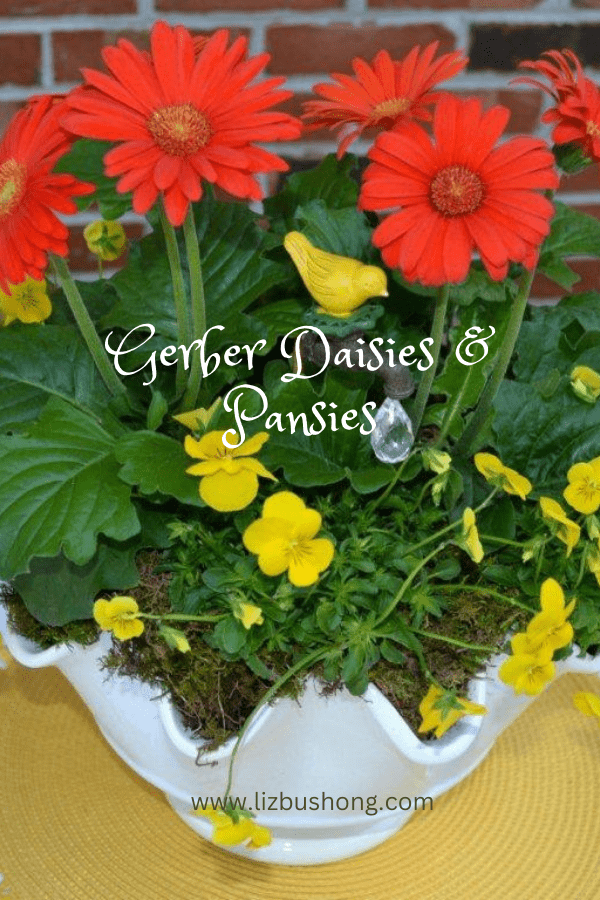 Other Ideas You Might Like to Try: