Whether hosting a Christmas open house or dinner for 8, this Chocolate Cherry Forest Cake will make a presentation statement.  Three thin layers of dark chocolate cake filled with home made cherry jam, fresh whipped cream fills the layers and outside of cake while white chocolate piped trees stand perfectly on top of the cake. You have heard of the "cherries on the top"… well this is where these cherries sit; right on top of the pretty forest cake.

How to Make the Cake.
Whether you use a cake mix or make this cake from scratch, the results are great. I used a cake mix.. why?  Cake mixes are exact measurements for dry ingredients, they are quick to mix together and results are good.  Adding a few additional ingredients to the cake mix makes the cake even better which is what I normally do.
To the mix, add one package of instant chocolate pudding and pie mix, additional eggs and vegetable oil. The cake becomes more of a pound cake texture but helps hold the whipped cream frosting.  After mixing the cake batter, pour the batter into three 8″ cake pans.  I use cooking spray to coat all sides and bottom of pans, then add a parchment round to the base, lightly spray the parchment too.
Preheat your oven to 350 degrees convection or standard oven. Convection circulates the air better around the cake for even baking.  Bake cakes for 15-20 minutes or until the cakes are well risen and begin to shrink away from sides of pan.  Turn out on a cooling rack, peel off parchment and allow to cool completely before decorating. Because you have three layers the baking time is shortened. Test with toothpick in center of cake to see if cakes are done.  There should be a tender crumb on the toothpick.

At this point you can wrap and freeze these cake layers to decorate later for easy make ahead step. Do not frost cake before freezing.
I would recommend you do this for a couple of reasons. If you make the cake in two pans instead of 3 layers, You will need to cut the cakes in half horizontally, freezing the cakes will make it easier to cut with out crumbs. Second, it takes the stress off decorating the day cake is served.
Yes, Cake is Best Decorated Right Before Serving.
Due to the nature of whipped cream this cake must remain refrigerated.  Not to worry though, if you frost about an hour or two before serving, you will not need to make room in the refrigerator. Plus…after serving you will not have many slices left to store.

For the Cherry Filling.
Drain the jars of cherries, reserve the juice. Chop the cherries into desired pieces, I chopped in quarters and then half the quarters, but if you like chunkier cherry bites just quarter.  Set cherries aside while you make the thickened juice.
Take 1/4 cup reserved cherry juice in a custard cup and add cornstarch. Mix with a fork to remove any lumps. Pour this mixture, remaining juice and sugar in a medium saucepan, stir constantly over medium heat until mixture boils slightly and is thickened.  Simmer 2 minutes, remove from heat, add diced cherries and allow to cool.  Refrigerate filling at least 60 minutes for up to 5 days.  You can make ahead the cherry filling and store covered in refrigerator.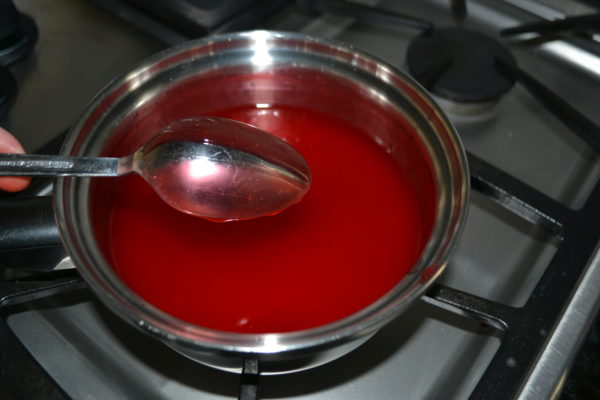 Note:  1/2 cup of filling is spread over each 2 layers of the cake except for top cake layer.
Option:  If you can't find fresh or canned dark cherries, use an All Fruit cherry jam spread + chopped well drained maraschino cherries over cake layers except for top layer, then whipped cream.  Garnish with well drained long stemmed maraschino cherries.

Make the Decoration/Garnish.
Now for the fun part…making the white chocolate trees.  Make a pattern 3 "wide x 5″ tall out of paper. Draw a tree shape within the pattern. Repeat this pattern 2 more times, making one tree shape pattern 3″ x 4-1/2″ and one 3″ x 4".  Next tape the pattern to the counter and lay a piece of parchment paper over the top of tree.  Tree Template PDF. Christmas Tree Template lizbushong.com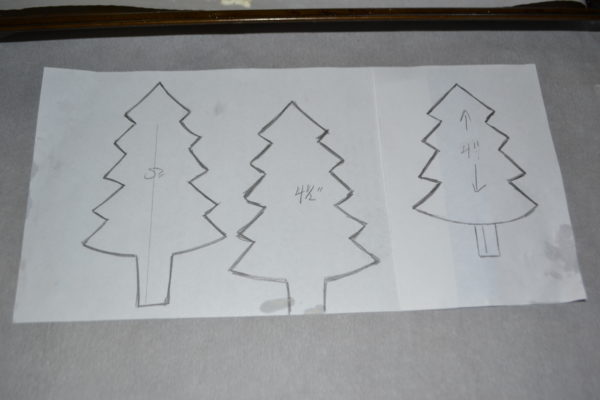 Melt white chocolate candy melts in zip lock baggie by heating a glass bowl with very warm water.  Place the sealed candy melt bag in the warm water to let it melt. Massage melts until completely melted. Snip off a small opening on one corner of the bag, pipe the chocolate over the tree patterns. Making sure you have thick lines for strength.  You will need to pipe 9-12 good trees for the top of the cake, incase some trees break when assembling.  After you pipe the trees, allow them to harden-set before removing from parchment. These can be made ahead and chilled until ready to decorate the cake.

Making the Whipped Cream Frosting.
Nothing better than fresh whipped cream for layers and frosting cakes. In a chilled mixing bowl with whisk attachment, whip heavy cream with a little bit of confectioners sugar until medium peaks.  Add vanilla or cream bouquet and whip to stiffen the whipped cream.  You will be spreading whipped cream between layers on top of the cherry filling then covering the sides, and top of cake.  Two -three circular swirls cover the cake edge.  You will need 4 cups of whipped cream.

Assembling the Cake.
Remove cake layers from the freezer and slice horizontally into halves making 4 thin layers.  Place bottom cake layer on cake stand, spread with jam, then whipped cream, add another cake layer, repeat jam and cream, add another cake layer, repeat jam and cream, end with top cake.  Place cake in refrigerator to chill about 25 minutes.
Frost stacked cake with whipped cream, smoothing the top and sides.  In a piping bag fitted with star tip 1 M; pipe dollops or swirls around the top edge of cake.
Now, place chocolate trees on the sides of the cake vertically, spacing evenly around cake.
Add stemmed cherries to top of cake. Cut in half remaining cherries and place around the base of the cake.
Thats It!  Its so pretty and really if you make the cake and decor in stages it will not be difficult to make.  Ok let me know if you make one.  Here's the recipe.
Print
Christmas Chocolate Cherry Forest Cake
3 layer dark chocolate cake with cherry whipped cream filling frosted with fresh whipped cream. 5 Long stemmed cherries along with white chocolate piped Christmas trees fill the center of the frosted cake, while halved cherries surround the base of cake.
Author: Liz Bushong
Prep Time:

30-60 minutes

Cook Time:

30 minutes

Total Time:

2 hours + chill

Yield:

8

-

12

servings

1

x
Category:

Dessert

Method:

Baking

Cuisine:

German
Cake:
1– Dark Chocolate Cake Mix- Tested Duncan Hines Dark Chocolate Fudge
1-package chocolate instant pudding and pie mix
1–1/3 cups water
3 large eggs
1 teaspoon almond extract
Cherry Filling
2–10 ounce jars Maraschino cherries, reserve juice  1 cup + 5 –7 good cherries with stems for the top cake garnish, 20 cherries without stems cut in half for base of cake garnish, dice  1/2 cup of the remaining cherries for the filling.
1/4 cup water or purchased cherry juice
2 tablespoons corn starch or arrowroot
2 teaspoons granulated sugar
1 teaspoon almond extract
Whipped Cream Frosting
4 cups heavy whipping cream, whipped
8 tablespoons confectioners sugar, sifted
2 teaspoons almond extract or creme bouquet
Garnish White Chocolate Trees
2–10 ounce package white chocolate melts -tested Ghirardelli
1/4 cup sparkling sugar or granulated sugar
Instructions
Preheat oven to 350 degrees.  Line 3-8″ round cake pans with cooking spray and parchment round for bottom of pan.  Lightly spray parchment round.
In large mixing bowl of stand mixer fitted with beater attachment, add cake mix, pudding mix, water, oil, eggs, and extract. Beat for 2 minutes to blend.
Pour cake batter into three pans evenly.
Bake 25-30 minutes or until cake is risen and starts to leave the sides of the cake pan. Remove from oven, to wire rack, let sit 3 minutes, then turn over to release cakes.  Remove parchment round from cakes. Let cool.
Wrap and freeze 60 minutes or overnight if desired or continue to frost and serve.
Cherry Filling
Chop reserved and drained cherries into small pieces, about 1/2 cup.
With 1 cup of juice reserved from cherries place in medium saucepan along with sugar.  Stir to dissolve sugar.
In small custard add 1/4 cup water and 2 TBSP. cornstarch, stir to blend with a fork until smooth.  Add cornstarch mixture to cherry juice in saucepan.  Stir over medium heat, simmer until thick about 2 minutes or until the back of a spoon is coated. Draw your finger across the back of the spoon if it stays in one place, it is ready.
Add chopped cherries and extract to the thickened juice, stir to combine. Chill 2 hours or up to 5 days, covered in refrigerator.  Filling must be firm before spreading between cake layers. You will spoon 1/2 cup between layers, except for top of cake. 
*** If you want to use cherry jam spread instead of making the thickened juice, that is a great option. Choose an "All Fruit" cherry jam  You can add additional chopped cherries to the purchased jam for your cake filling.
Chocolate Trees & Dipped Cherries
Make tree pattern one tree 5″ tall with long trunk, one 4-1/2 " with trunk, and one 4″ with trunk. Place parchment over the template to pipe on a baking sheet that will fit in your refrigerator.
Place diced white chocolate pieces in a zip lock bag. In microwave safe bowl fill with 3 cups water. Microwave 2 minutes to heat water. Place sealed bag in hot water, massage until melts are melted. Remove from water, dry off bag and clip tiny end of one corner.  Gather the chocolate to that clip.
Pipe tree pattern. Make 3- 5 ", 3 -4-1/2" trees and 3- 4 "trees. 9 trees total. Sprinkle wet chocolate with sugar or coarse sparkling sugar. Allow to dry before adding to center of frosted cake. Place baking sheet with trees in refrigerator.
Assembly and Garnish:  Place one layer on cake stand. spread  1/2 cup cherry filling on the layer edge to edge or if using purchased jam spread large spoonful over the the layer. Next pipe whipped cream around cake rim and a couple of pipes on top of the layer, with off set spatula lightly smooth whipped cream over the jam or filling.
Add second layer, repeat with filling and whipped cream, add last cake layer. Frost cake top and sides with whipped cream creating smooth sides and top. Pipe large swirls* around top of cake edge. Use tip # 1 M or large star tip for design.  Add white chocolate trees in center of cake or as desired.  Cut 20 cherries in half and remove stems, place cut halves around bottom edge of cake.
Alternative garnish- place all cherries in center of cake and leave outside swirls free of cherries.  Place trees on sides of cake vertically. You could also pipe dark chocolate trees instead of white chocolate.
Store in Refrigerator, Lightly covered with plastic wrap.
Notes
Dividing batter into three cake pans, use a digital scale if you have one. weigh the batter and divide by 3 to get weight in grams for each cake.  If no scale, pour batter in large glass measuring container and determine the 1/3 increments.
Freezing the cake will make the cake easier to slice in half horizontally. Easier to frost too.
* Piping whipped cream in a swirl using tip # 1 M or large star. Fill large pastry bag with tip in place, pipe in large swirls continually around the rim of the top of cake. Making circular motions.
Keywords: Black Forest, Cake, Cherries, Chocolate, Whipped Cream,

Don't be intimidated by the length of this recipe.  It is very good and you can make the filling, trees and cake ahead. Yahoo!  That makes it easier. 

Other Ideas You Might Like to Try: