Dining Alfresco (outside) in style is simple with this tabletop and recipe. Rustic caprese galette is featured as the edible centerpiece while rhododendron leaf placemats and brown paper runners help set the outdoor table. Dining outside has never been easier and the table is lovely.  Entertaining at it's best and you can do it with these ideas.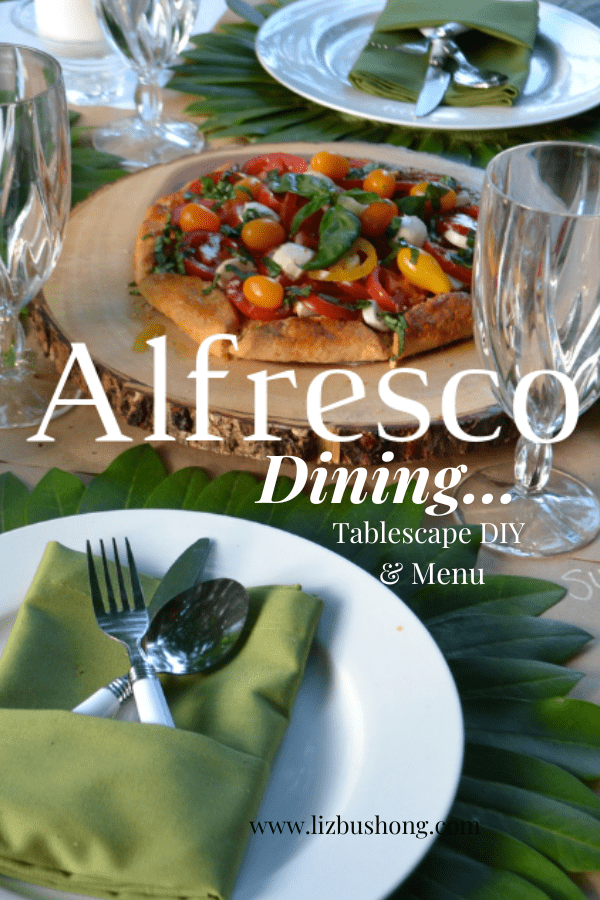 DIY Dining Alfresco Table top and Recipe Details
Do -it-Yourself dining begins with setting the table with a white table cloth and brown paper table runner.  Line a round table with the paper in an x pattern.  White dinner plates with white silverware adds punch to the green rhododendron placemats.
I made the placemats by gathering leaves from my backyard.  Using a charger as the pattern, I traced it off on brown paper.  Then added 2″ to the outside edge of the drawing.  Cut out the paper round and hot glue the leaves to the outside edge of the paper pattern. Tip:  glue only the very end of the leave instead of the full length of the leaf to avoid burn marks on the delicate leaves.  You will also have to cut the leaf stem close to the leaf to avoid bulk when placing the leaf on the pattern.  However, there is no need to fill the entire pattern with leaves.  Your plate will cover the ends of the rhododendron leaves. Yeah! Once you make your placemats, place under the white plates.  Add your folded napkin, silverware, drinking glasses and all that is left is your centerpiece.
Making the Edible Centerpiece
Since we were eating outside, having the centerpiece as the main course made things relaxing and self serving. Meaning the guests could select the pieces of the Caprese Galette.
What is a Galette?
Simply put it is a rustic tart, where buttery crust is rolled into a pie shape, filled with vegetables, fruits or meats.  The crust is then covered over the edges of the filling and baked until done.  There is no pie plate just a baking sheet lined with parchment to catch any juices.  Actually the filling is pretty solid, meaning it doesn't have a lot of liquid.
Be sure to watch the video below on how to make Rhododendron leaf chargers, pocket napkin folds and the delicious Rustic Caprese Galette.
Watch Video on How to create this Table-Scape with Main Course as Centerpiece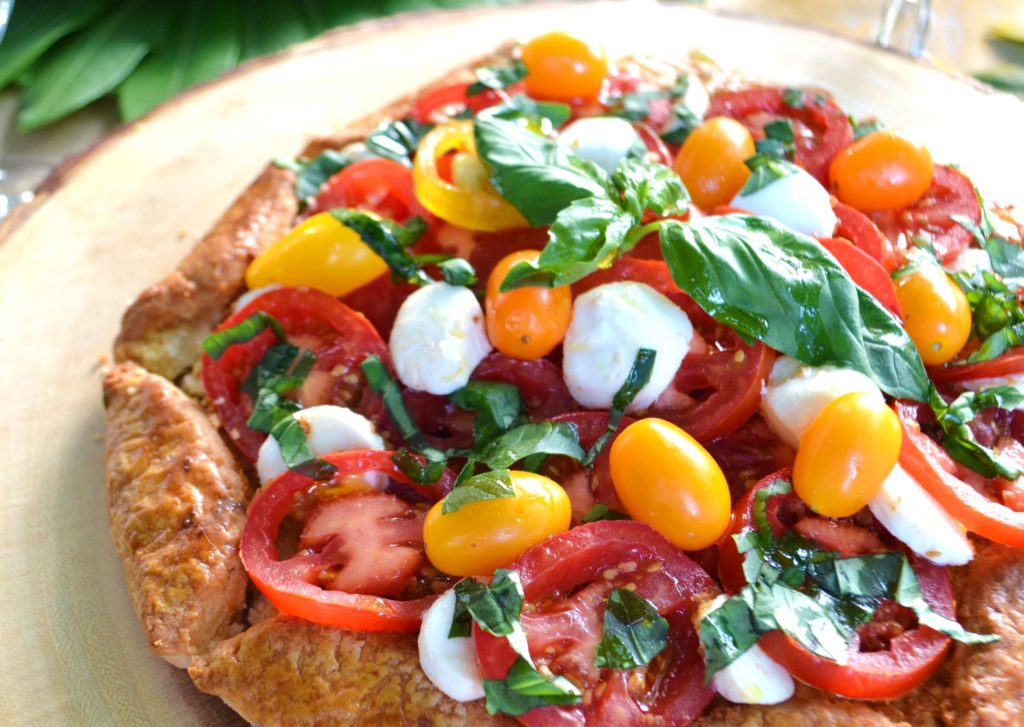 Other ideas you might like to try: Tap on photos for recipes
Serve this dessert for the Dining Alfresco Dinner.  Tomato-peach-fig-ice-cream-topping over French Vanilla Ice Cream.