Want to make a DIY Flower Arrangement in a Spring Basket? You can …it's simple just purchase several blooming bulbed flowers, moss, a pretty basket and twigs then arrange the way you like it. Begin with living healthy blooming bulbs for best results. In addition to having a beautiful living arrangement after the season is over, you can keep the bulbs for planting. Regardless of what season it is, any time is a great time to create living arrangements.
Invite springtime into your home with this creative and fanciful arrangement, that boasts this season's vibrant scents and colors. You don't have to be a green thumb to enjoy the beauty of the season. Bring the outdoors in with a beautiful potted arrangement.
How to make a Spring Flower Basket Arrangement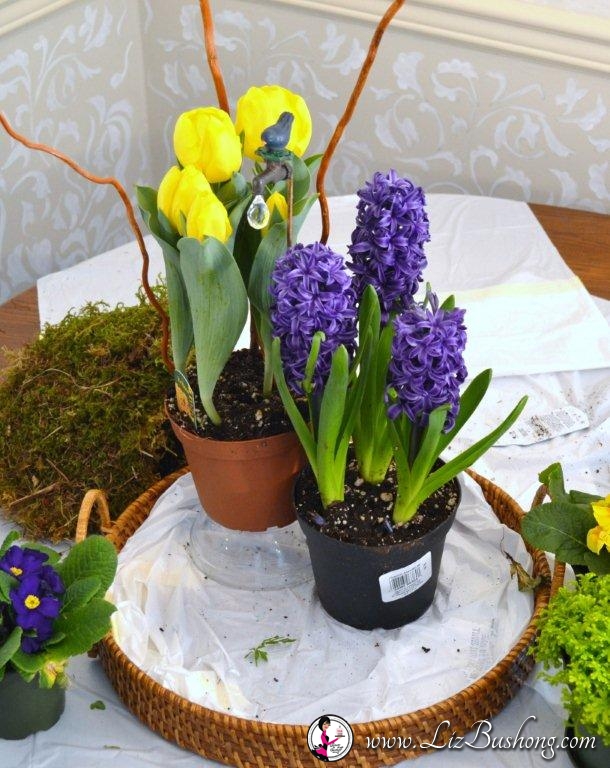 To create a springtime centerpiece for your table, gather some of the season's best blooming potted bulbs, primrose and ferns.
Place 3- 5 potted blooms at different levels inside a plastic lined basket at various heights.  No need to remove the plants from the pot. (I lined the basket with a trash bag  so that water would not run through onto the table.  You might want to place an extra round place-mat underneath your living arrangement just in case of an accidental water leak.)
Place potted flowers in a pleasing manner, elevate some using upside down bowls or cubes.  Varying the heights will add more interest to your living arrangement.
Tuck in willow  or small tree sticks into potted plants.
Cover and tuck moss over the potted flowers and between spaces inside the basket.
What Makes a Good Looking Basket of Flowers
Regardless if you grow your own or purchase potted plants, a good mix of flowers would include two to three colors with different textures and heights.  Leafy green ivy and low packed ground cover with reindeer moss will add to the fullness of the arrangement. For a bit of whimsy as I mentioned earlier, I  added a small bird sitting on a faucet with dripping water crystal.  An empty bird nest would also be a great touch to this spring arrangement too.
How to care for this Fresh Flower Basket
Water this arrangement when needed.  You can purchase a plant watering meter to help gauge when to water.  
To use the gauge, insert into the middle of the plant and watch the small needle go from low to high.  If the needle lands in the middle it means you water lever is normal. It will tell you what you need to do.  I found mine at Lowe's home and garden shop.
After the flowers are spent, you can plant the bulbs in your garden for next spring.
A Special Note About Tulips
You can plant Gladiolas and Dahlias this spring for flowering this summer.  In September as fall arrives plant tulip and daffodils for next spring.  Spring bulbs should be planted in the fall or early winter because they require a long period of cool temperatures in order for them to flower.  In the fall, it is important to get the bulbs in the ground before the ground freezes.  They need time to develop strong roots.  You could also plant bulbs in individual containers as the merchants do forcing the bulbs to grow.
 Finished Arrangement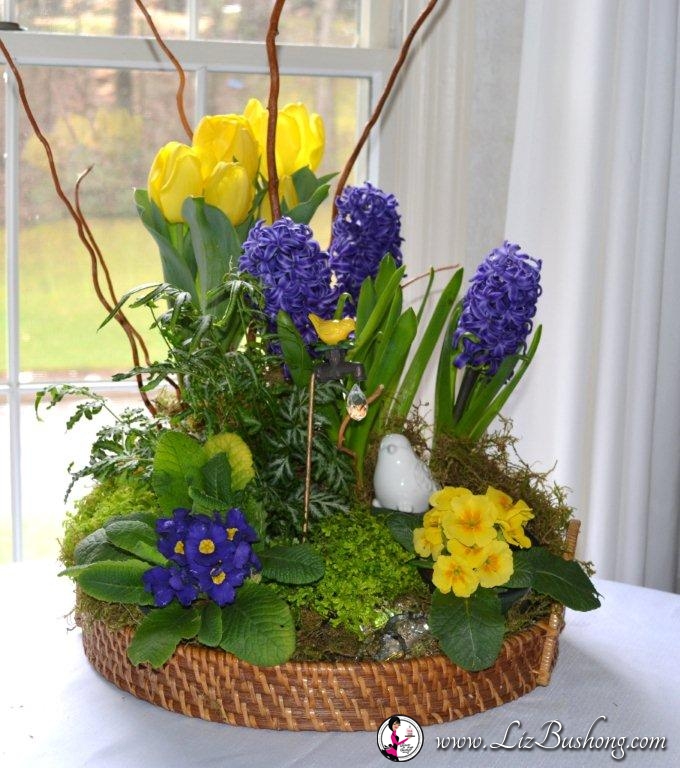 Some Fun Moments with JJ my little helper!.. Mischief maker.
My sweet bunny JJ was excited about spring too!   He is an adorable New Zealand white bunny with red eyes.  JJ allowed me to take a few photos of him checking out the floral arrangement while I was putting it together. He looked out the window, chewed a few willow branches, smelled the flowers by standing on his hind feet, and finally laid down beside the finished arrangement.  Enjoy these photos.  He's a cutie.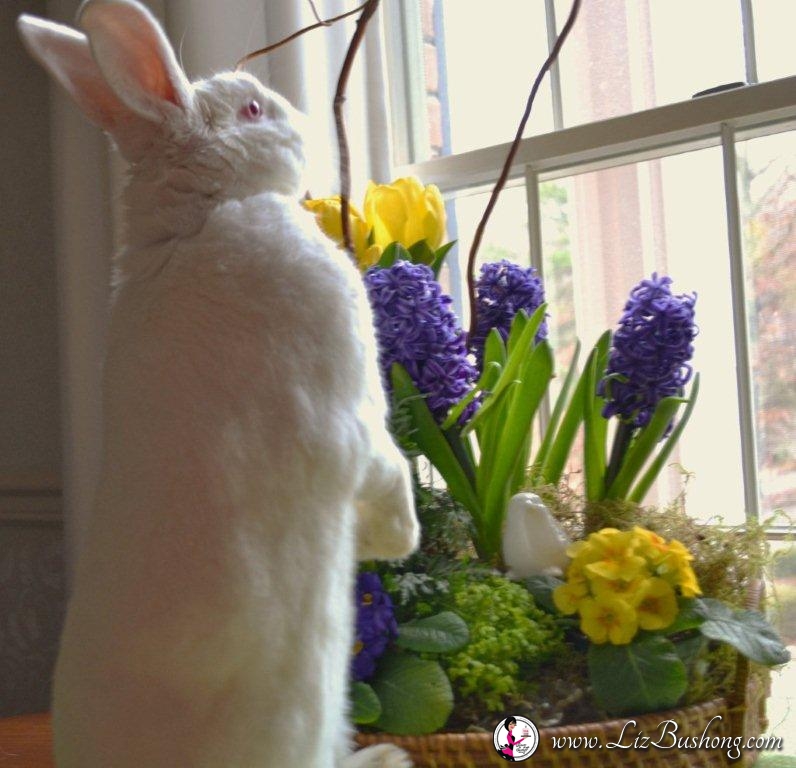 Check out VIP SEEN Magazine Article featuring this arrangement and more!
Helping you Make a Statement, Make is Sassy and Make it Yours! ®
Other Ideas you might like to try: click on photos